Before the Halloween candy had even settled, I decided to decorate our mantel for Christmas….two different ways!
I know it feels too early for some, but it's 2020. I say, do what brings you joy! Decorating our house for Christmas is always a long process for me, and I like to take my time and enjoy it! Plus, my talented friend Mikel is offering you all a steal on her hand lettered stocking tags, and I wanted to show you how pretty they are styled with stockings!
Chalkboard Stocking Tags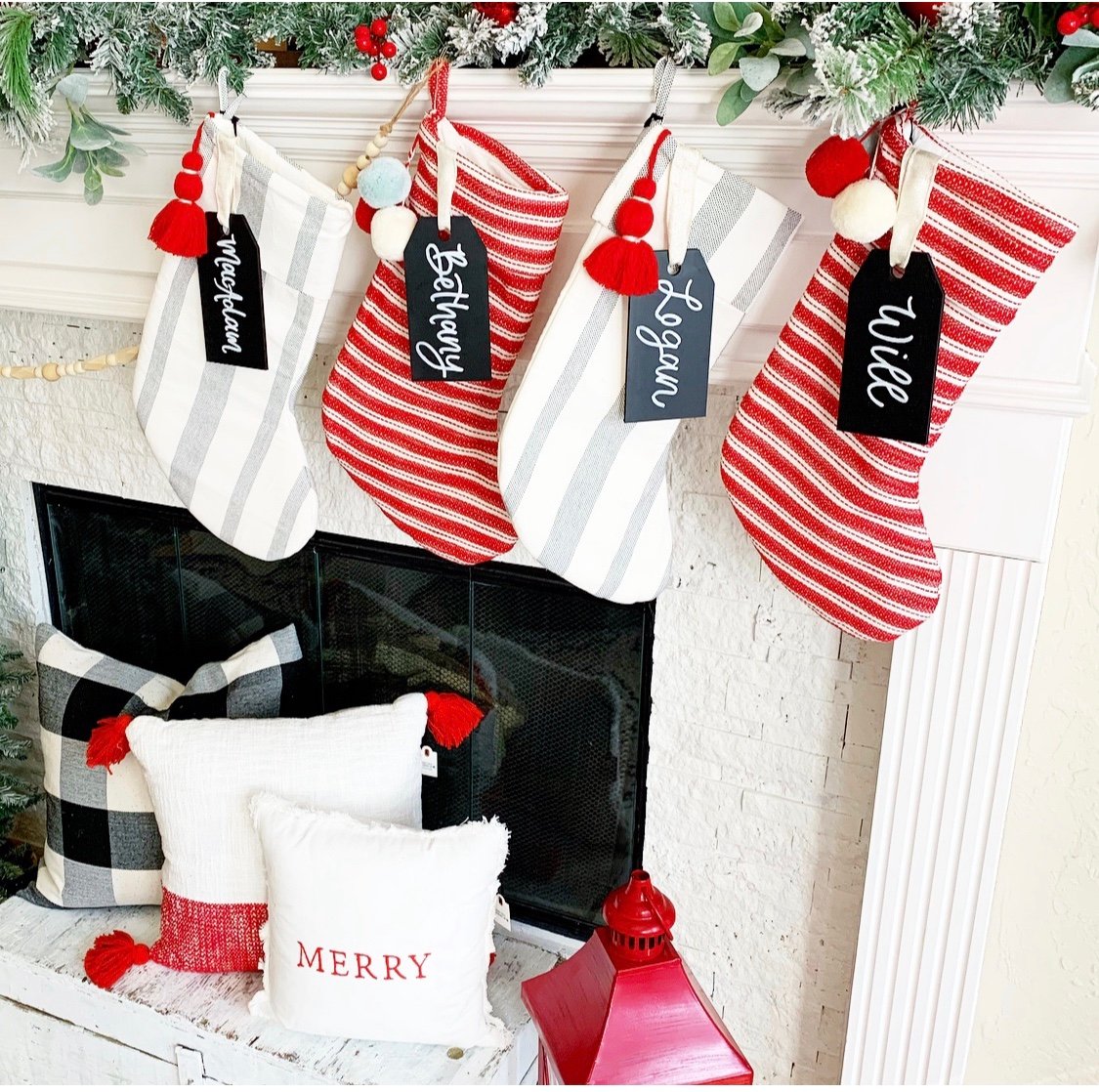 These large chalkboard stocking tags are just $5 with FREE shipping with code MERRYCRISP through the end of the day on 11/8.
Find them HERE.
These were cut by hand and then hand lettered with paint, so they will not smear or smudge. I love what they add to our mantel!
Aside from your stockings, they are cute used as name cards on your place setting at your table for Christmas…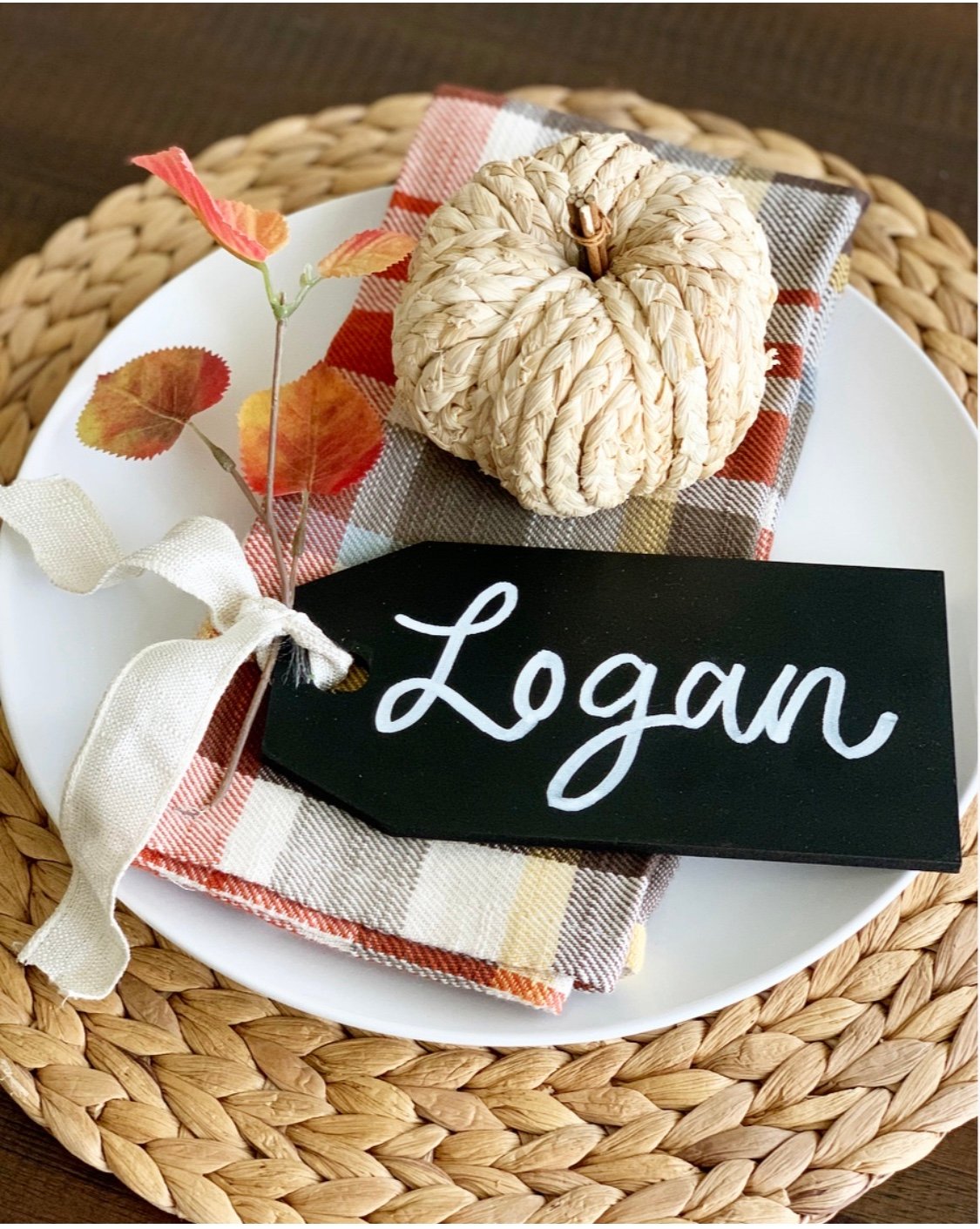 or for Thanksgiving! The black and white is not Christmas specific, so you can use them at your table year round!
They are available in Mikel's shop HERE.
Stockings
The quality of these Hearth and Hand stockings is always great, and I love how you can mix and match all the colors/patterns. I grabbed THESE and THESE this year!
Find these options by clicking the pics below:
Leather Stocking Tags
Mikel also made these unique leather stocking tags!
They are hand cut from quality leather. She hand letters the names, and then her handwriting is burned into the leather tags!
Find them HERE and use MERRYCRISP for FREE shipping at checkout.
They are so cool and unique for a more modern/boho vibe!
These are $12 with FREE shipping with code MERRYCRISP at checkout.
Find them HERE.
Christmas Signs and Mirrors
I love layering signs and mirrors on my Christmas mantel!
A few years ago I snagged this huge Pottery Barn mirror on Facebook Marketplace for a third of what it costs on their site! SCORE! It is super heavy and makes a great backdrop every season. You can find it at Pottery Barn HERE, but I also found very similar, more affordable versions HERE and HERE.
For the red matel, Mikel made this Merry Christmas sign. She handpainted the plaid and the lettering is a wood cutout in her hand lettering. I love the 3D effect!
You can find this sign HERE.
This sign with an excerpt from, "The Night Before Christmas" is from Kirkland's and is super affordable. Use the code FRIENDS to get 20% off at checkout.
Find it HERE.
Find more Kirklands signs by clicking any of the images below:
Mikel also made this sign with a line from, "O Holy Night."
Again, I love the wood cut outs that make it 3D. This is one of my VERY favorite Christmas songs!
Find this sign HERE.
The rounded mirror is several years old and no longer available, but I found a similar one HERE and HERE.
Lanterns and Pillows
Another way to make your mantel, or anywhere in your home, feel festive for Christmas is by incorporating lanterns and pillows.
These red lanterns are very affordable and would be adorable in your home or on your porch!
Find them HERE.
These lanterns also come in black, white, and galvanized. Find them for under $10 HERE.
I also grabbed these flameless candles. They run on batterries and even have a timer setting where they will be on for 5 hours, shut off for 19 hours, and then automatically come back on for 5 hours again! So cool and they come in lots of size options HERE.
Pillows are grown women's stuffed animals, and I am ALL IN. Never enough pillows! Below are a few fun options for the season!
Just click on the image to be taken directly to the listing.
Neutral or Red?
Which Christmas mantel do you gravitate more toward…
Neutral?
Or Pops of Red?
Either way, you can't go wrong! Happy decorating and I hope that you will take advantage of my code MERRYCRISP for FREE shipping in Mikel's shop! You can find more gift ideas from her shop HERE. The code ends at midnight tonight!
Find more Christmas decor ideas HERE.