Sharing a delicious air fryer breakfast idea!
Do you have an air fryer? There is a little bit of a learning curve, but once we got it down, we have used ours a TON! I love using it for veggies, meat and for smaller portions…like when I'm making lunch just for me! It gives foods the crispy "fried" taste that we like, without all the extra fat!
Today I am sharing an easy air fryer breakfast that we make often! You may have made something similar on your cooktop, and called it "egg in the hole" or "egg in a basket."
Ingredients: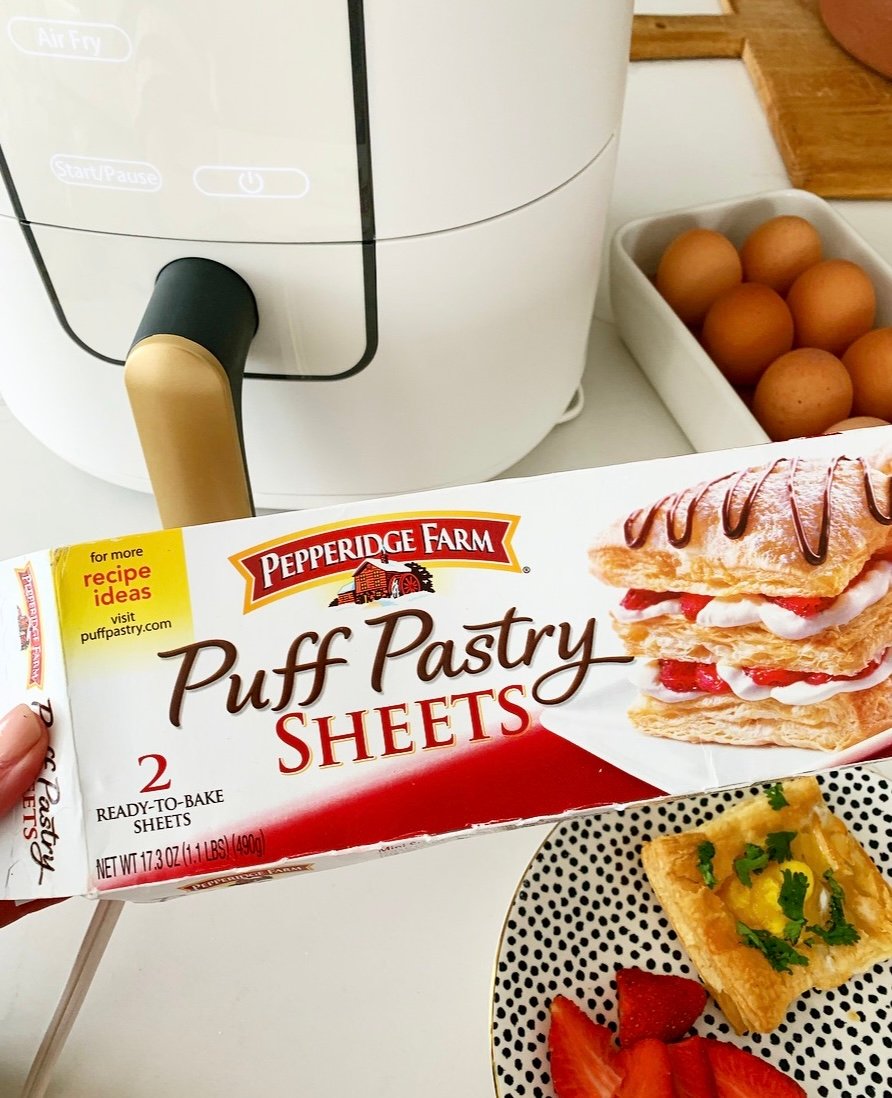 I usually grab these in the frozen food section.
A non-stick spray-I usually use coconut oil
Eggs
Cheese of your choice (optional)
Cilantro (optional)
Directions:
Cut your frozen puff pastry into a square or rectangle. Place it at the bottom of your air fryer. Cook it at 360 degrees for 3-4 minutes. Open the air fryer and with the back of a spoon make a "basket" or hole for your egg. Crack an egg inside. You may also want to add a little shredded cheese.
Cook for another 1-2 minutes at 360 degrees, depending on the consistency that you prefer for eggs. I like mine a little runny. Remove from the air fryer and sprinkle with cilantro if you'd like!
We also made our bacon in the air fryer for this meal! This bacon is pretty thick, so we did 8 minutes at 400 degrees.
If you don't already have an air fryer, THIS ONE is super user friendly, pretty and practical. It has settings to air fry, reheat, dehydrate and roast. I also love that the try inside is easy to remove for cleanup.
It comes in four pretty colors
HERE.
There is also a larger version
HERE
.
And the toaster oven in this line also has an air fryer setting! You can find it
HERE.
I am partial to the white and gold and have several appliances from this line from
Walmart Home.
You can shop the entire line
HERE.
If you have an air fryer, I hope you'll try this air fryer breakfast recipe! If not, I hope you'll consider giving it a try!
I have been pleasantly surprised at how much we actually use ours!
This post was sponsored by Walmart, but as always, all items were selected and purchased by me, and all opinions are my own!