Today I'm sharing two semi-homemade sweet treats for Easter!
If your kids are like mine, they love to help in the kitchen, but their attention spans are pretty short! These two ideas are quick, festive and SO easy! I hope they make their way to your Easter celebrations!
Chick Cupcakes
I found THE cutest cupcake decorating kit at Walmart!
This little chick cupcake decorating kit is available online HERE
You can also check HERE to see if your Walmart has it in-store.
I was excited to see so many fun Easter baking options!
They also had a bunny version of this set that you can find HERE.
Ingredients:
To make these adorable chick cupcakes, you will need:
Boxed cake mix or ingredients to make your favorite cupcake recipe
If you wanted to make this extra easy, you could also buy cupcakes in Walmart's bakery and flatten out the icing! We decided to make our own, so that we could make them gluten-free for Mac. We used THIS GF cake mix. We have tried so many, and this one never disappoints! Be sure to read your cake mix box to check that you have all the ingredients needed for the one you choose to use.
Icing-we used THIS kind
Cupcake liners HERE
THIS chick cupcake kit-it includes supplies for a dozen cupcakes.
Instructions:
If you are baking your own cupcakes, make them according to the package instructions or whatever recipe you choose to follow. Cupcake liners are a MUST for this project! Be sure to only fill your cups halfway so that they are more flat on the top.
Let cupcakes cool completely. Once cool, ice them.
Open your cupcake kit and put the yellow sprinkles in a bowl that is large enough for you to dip your cupcake.
Place the beaks, wings, feet and eyes in separate bowls or separate them on a plate so they are easy to grab.
Dip each cupcake into the bowl of yellow sprinkles, fully covering the top.
Place the eyes, beak, wings and feet in the desired spots.
Both my boys thought this was so fun! They cracked a few eggs, but I did most of the baking…they decorated pretty much on their own! Using the method of dipping the cupcake in the sprinkles also left very little mess to clean up after!
Bunny Coconut Cake
Dare I say this next one is even easier?! This bunny cake would be super cute to make and take to any Easter celebrations you have!
You Will Need: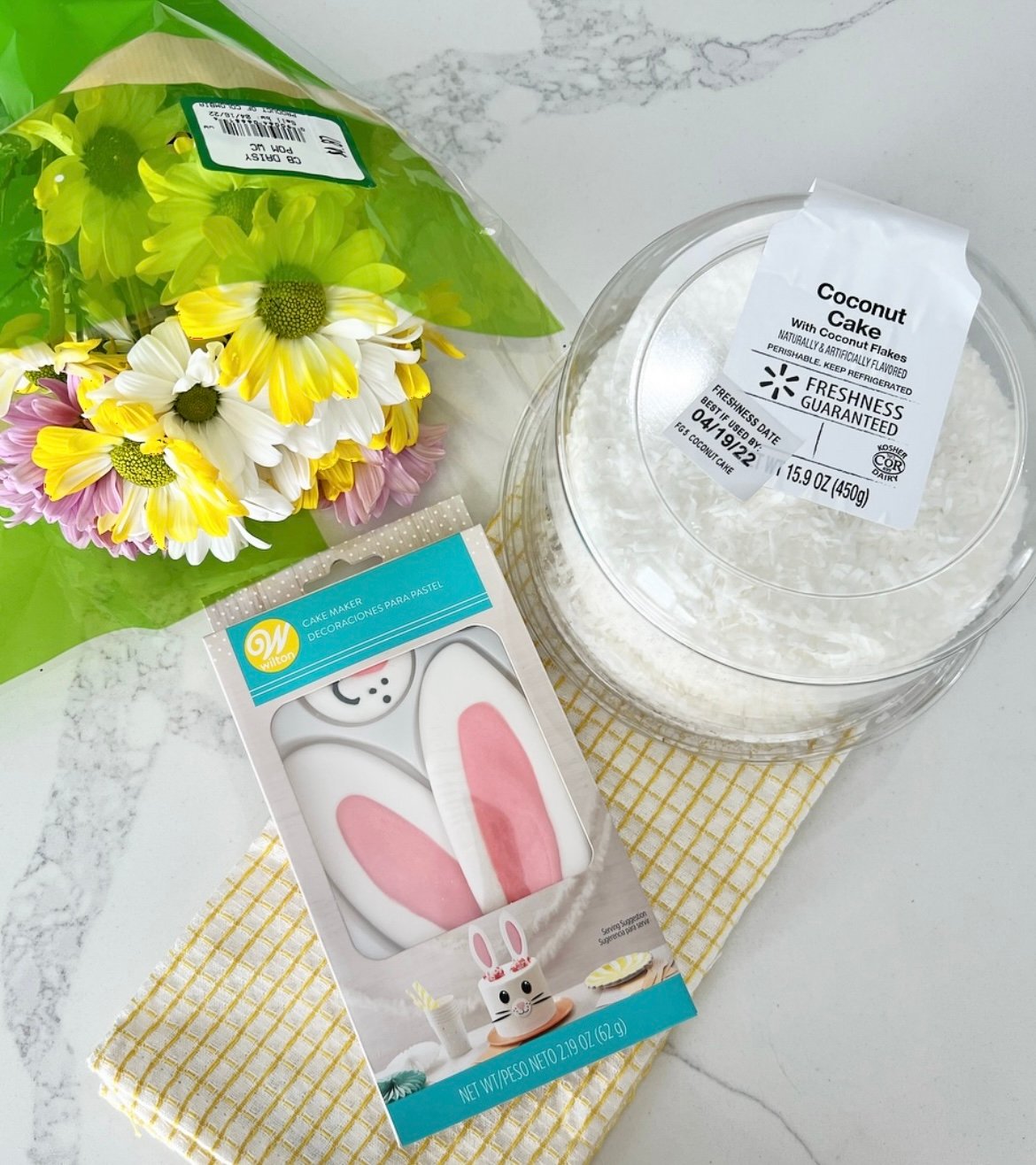 A small white cake. I grabbed THIS coconut cake from the Walmart bakery. I like that the coconut looks like fur. It also tasted delicious!
THIS bunny set from Walmart. My coconut cake was only tall enough to use the ears, but if you grab or make a taller cake, use the face parts as well!
Fresh flowers. I grabbed THESE.
Instructions:
Take your cake out of the container or bake it, let it cool and ice it.
Place your bunny ears on top of the cake.
They have tabs that you can press into the top to keep them in place.
Snip the blooms off a few of your flowers to create a headband for your bunny. Place you or two flowers at the base.
That's it!
Serving
I have used this tiered tray many times for serving, and thought it was perfect for these two treats!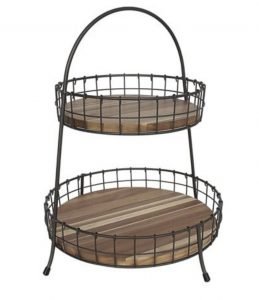 Find it HERE.
The cake fits at the top, with room to cut, and the cupcakes fit on the bottom.
Walmart is always my go-to for holiday supplies! They always have a wide selection of cute choices at affordable prices. I rounded up a few more Easter finds as you prep this week: d
This post was sponsored by Walmart, but, as always, all items were selected and purchased by me, and all opinions are my own.