This summer flew by!! Second and fourth grade, here we come!
Meet the Teacher/First Day of School Teacher Gift Ideas
It's not necessary to get your teacher a gift, but I think it's always appreciated!
I rounded up some teacher gift ideas for any budget along with free printables HERE.
The Night Before….
There is a whole series of "The Night Before" and first day of school books, especially if your little is starting kinder!
We have this one from when Logan started kinder. I also interviewed him and wrote his answers in the front.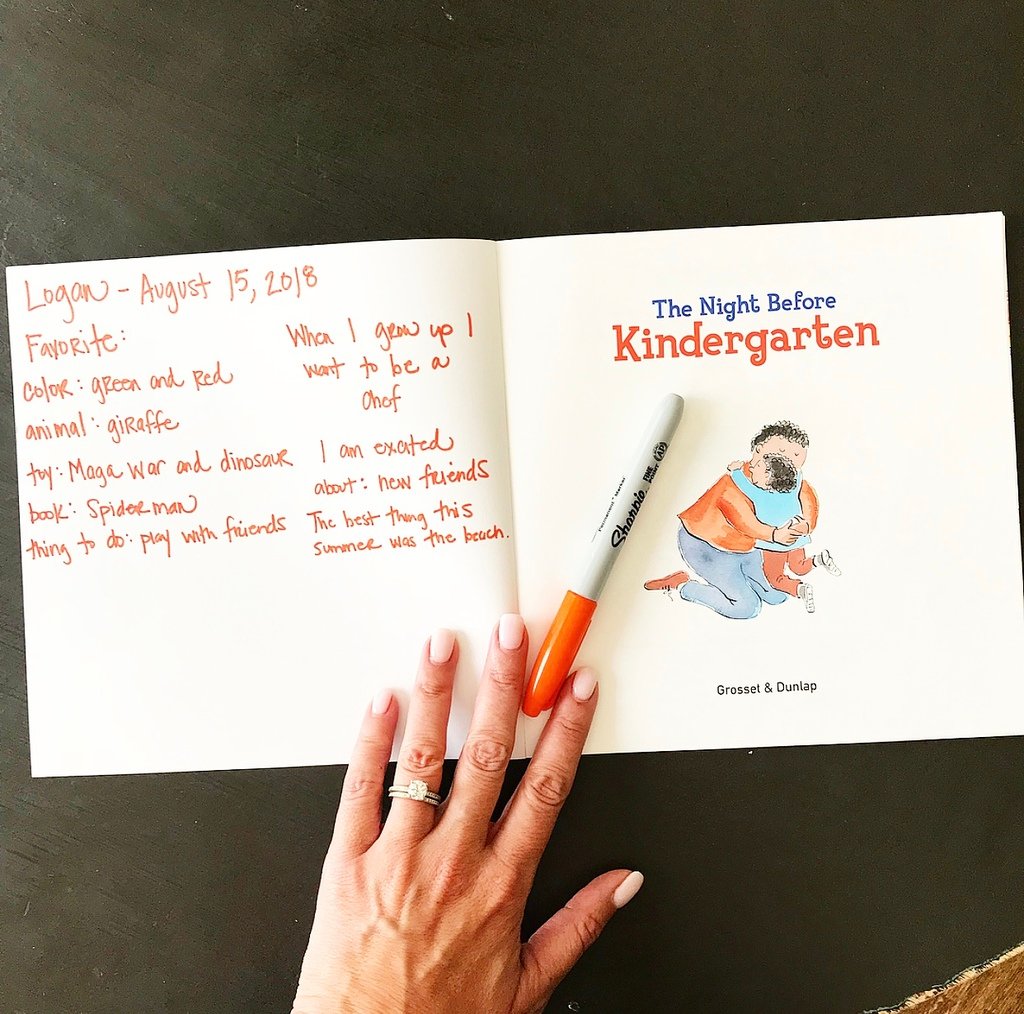 I gathered up several night before (preschool, kinder and 1st grade) and some other back to school books available on Amazon prime!
A Special Breakfast
A few east breakfast ideas to start the day out right!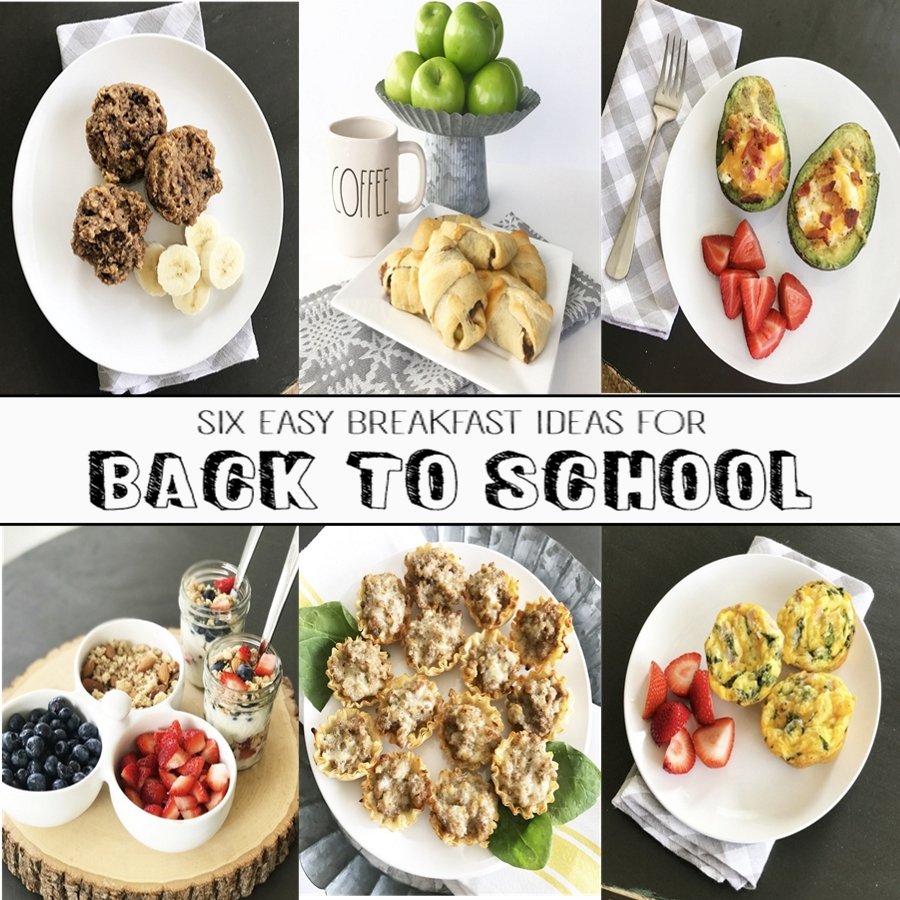 Find all these recipes HERE.
Front Door Pics
I think the first day of school is my FAVORITE day on social media! Seeing all the littles so smiley and ready for school seriously warms my mama heart!!
Here are a few first day sign options that are all Amazon prime:
First/Last Day Free Printable
I created this 16×20 printable that you can download and print for the first day.
First Day 16×20 printable
I printed ours at Walmart for $11 for the 16×20. Just download and save the file above. Then upload it to print HERE.
I framed it with a black frame I already had, but you can find inexpensive ones HERE and HERE.
You can write in the answers OR use an app that allows you to add text over print. I used PicCollage to add the boys' information.
That way I can use these signs again for the last day too!
Graduation Tee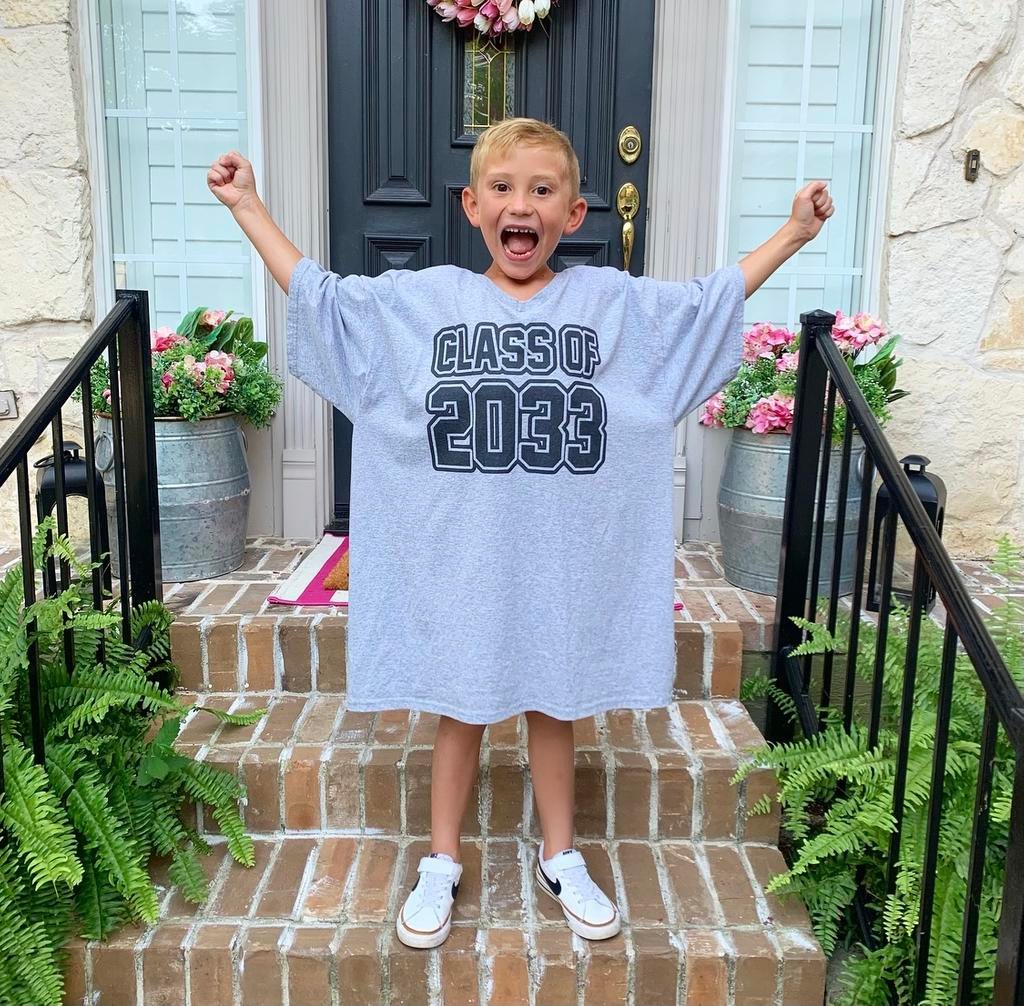 I ordered my boys shirts with their graduation years in a men's large. The idea is to get a pic in it every year until their senior year…when this tee will probably actually fit (blows my mind and breaks my mama heart a little!)
Now, this one is going to take some major effort to keep up with…like not losing the shirt! Haha… but I think these pics will be SO neat to have when they are seniors!
I rounded up some different styles/years of these shirts below:
Mom Celebrations
Cheers and Tears, Boo Hoo Woo Hoo Brunch….whatever you decide to call it, you should probably schedule a little celebration of your own because YOU Mama, are amazing! I went to brunch with a few girlfriends, and it was just the distraction I needed to not worry about my babe all day!
And if you host a cheers and tears brunch this should probably be on the agenda! This MOM-osa bar is perfect for baby showers and Mother's Day, but I'm pretty sure it applies here too! You can find these free printables HERE.
Cheers mama to wrapping up another summer of sweet memories and to all the ways your children will learn and grow this year! It is such a bittersweet journey to watch our children grow up, but mostly it is THE greatest gift!
If you have more back to school traditions, I'd love for you to share!