Happy Father's Day!  As we celebrate all the special Dads out there, I wanted to take a minute to share just how special my sweet Dad is to me!  This post could be a mile long, but I have narrowed it down to 5 reasons I feel truly blessed to call him my Dad.
His Servant's Heart
If you have ever read, "The Five Love Languages" by Gary Chapman, my Dad is the definition of acts of service.  He selflessly prides himself on taking the best care of his family.  He brings my Mom coffee in bed every morning, cooks her breakfast and warms up her car when it's cold.
We haven't shopped much in recent years, but Black Friday used to be a yearly tradition for us.  My Dad would always go, not because he liked shopping, but because he would drop us off at the front, park, go inside and wait in the lines for us while my mom, sister and I shopped.  By the time we had chosen our items, he was at the front of the line, and we would not have to wait.  Have you shopped Black Friday?  That is love people!!  I cannot tell you how many tool kits he has put together for me "in case of emergency", projects he has just shown up at my house to complete, or times he has brought me random treats when I was having a bad day.
My parents have been married over 40 years, and while there are many attributes that make up their marital success, the way my Dad continually dotes on my Mom, brother, sister and I is definitely inspiring!  He doesn't expect anything in return or keep score, he just genuinely loves taking care of us!
His Childlike Spirit
My Dad has always encouraged us to play, use our imagination and have fun.  He is a big kid at heart!  Some of my favorite memories of my Dad have been at Halloween….he LOVES Halloween.  He dresses up every year, usually in a costume he has made, decorates the front yard and thinks of creative, fun ways to hand out candy to trick or treaters.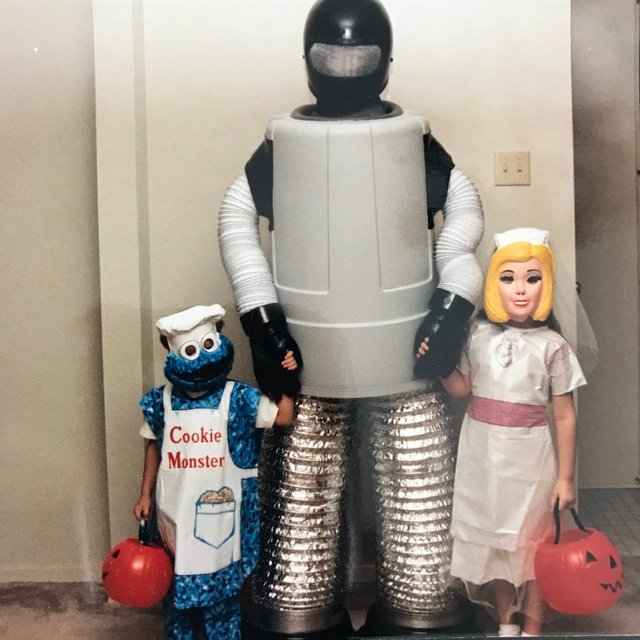 This is my brother and I at 4 and 5 with my dad in his homemade robot costume.  Let me tell you, I was SO excited about this plastic Barbie bride costume and thought my Dad was the coolest guy ever!
In the sixth grade I had a Halloween party, and he turned our garage into a haunted house with black light, dry ice, glowing eyes and a creepy wizard (him) that jumped out and scared my friends.
My mom loves The Wizard of Oz, so last year we decided all the cousins would dress as the characters.  My oldest was the Tin Man, so I called my Dad to help me figure out how to make his costume.  We had fun thinking of unconventional items to use, spray painting, cutting, and putting it all together.
My little tin man!
The crew.
And, of course, my Dad was the only adult to dress up…in his Ghostbuster costume he made!
As "Poppy" to my boys we love to go on adventures!  My Dad is retired now, so we are lucky to get to spend more days with him. The joy he gets from watching my boys learn something new, giggle and play is the best.
His Creative Eye
My Dad is one of the most creative people I know.  When I was in high school I made the dance team, and my Dad volunteered to "help" with our Spring show.  My Dad does not do anything halfway, so when I say "help" he ended up cutting/editing the music, running the lights,  building the sets and coming up with some of the themes.  He was a technical theater major in college, so all of this was right up his alley!  He was hired by my college team to help produce their show as well, and ended up working with them long after I was gone.  His passion and creativity is part of what made me want to teach and have my own team!
My Dad and I worked together for 9 years on countless sets and productions.  He was my creative sounding board, confidant, cheerleader, and handy man.  With the help of tons of parent volunteers, we made so many visions come to life and had so much fun!
This 16 foot "cake" was for my team's 10th year anniversary celebration and the number of volunteers and man hours it took was crazy.
My Dad, of course, was there for it all, in addition to working 40-60 hour weeks at his "real" job.
The girls busted through a tunnel in the middle of the cake to surprise the audience.
Life size Barbie boxes…our team was called the Rosettes, so our Barbies were called Rosie.
My family at our 2010 Spring show.
Don't get me wrong, Dad and I butted heads creatively…often!  He was my biggest critic, and would sit in the audience each night of my show with a clipboard and take notes of all the things he felt needed improvement. At the end of the day, he made me better, pushed me, and I loved the whole process start to finish, especially because I got to experience the ups and downs with him.  It is hands down what I miss most about leading a dance team!
His Tendency to go Overboard
Minimalist is not a word you could EVER use to describe my Dad.  If you ask him to go to the store for a roll of paper towels he will come back with a case.  When we would have prop days to build sets my Dad would literally roll up with 15 tool boxes in his car, just in case!  If it were not for my Mom constantly reeling him in, you might see my Dad on an episode of Hoarders….he can't help himself!
But in an apocolyptic crisis, his house is where I want to be! He probably has supplies to survive for years and can build you anything from the random array of "treasures" in the garage.
60 DADisms we gave my Dad for his 60th birthday…sayings, inside jokes, and memories of this awesome guy!
His Positive Outlook and Free Spirit
My Dad deals with medical issues that would keep most people down.  At each setback he has never complained, just adjusted his life as needed, and made the CHOICE to find joy!   He spends his time focused on his family, serving others and projects that fill his cup.  I am constantly inspired by his positive outlook and reminded to never take a single day for granted!
I was also blessed with a wonderful father-in-law!  There is no one my husband admires more, and their relationship is one I hope my boys have with their Dad one day.  He is brilliant, funny, the voice of reason, a wine expert, a story teller and an amazing Pap-Pap to my boys.  We are very blessed by all that he does for our family!
If you need a little cocktail to help celebrate Dad, I shared this Manly Mule and printable here.  My Dad does not drink, so this was made with my sweet hubby in mind!
I hope this Father's Day is filled with love, laughter and a thankful heart for all those wonderful Dads!
Love you Dad!