This slow cooker Dr. Pepper pulled pork has been a family favorite for years!!
So when I got my Instant Pot I wanted to figure out how to translate this recipe to the IP for days I didn't want to slow cook for 6-8 hours.  This recipe is equally delicious, but takes closer to an hour and a half total (most of that time in the IP) rather than all day.
In the original recipe I shared our green chili cornbread waffles and cabbage slaw (you can find them here).  But this time I remixed them a little and made green chili cornbread pancakes that served as the top and bottom of a little BBQ slider.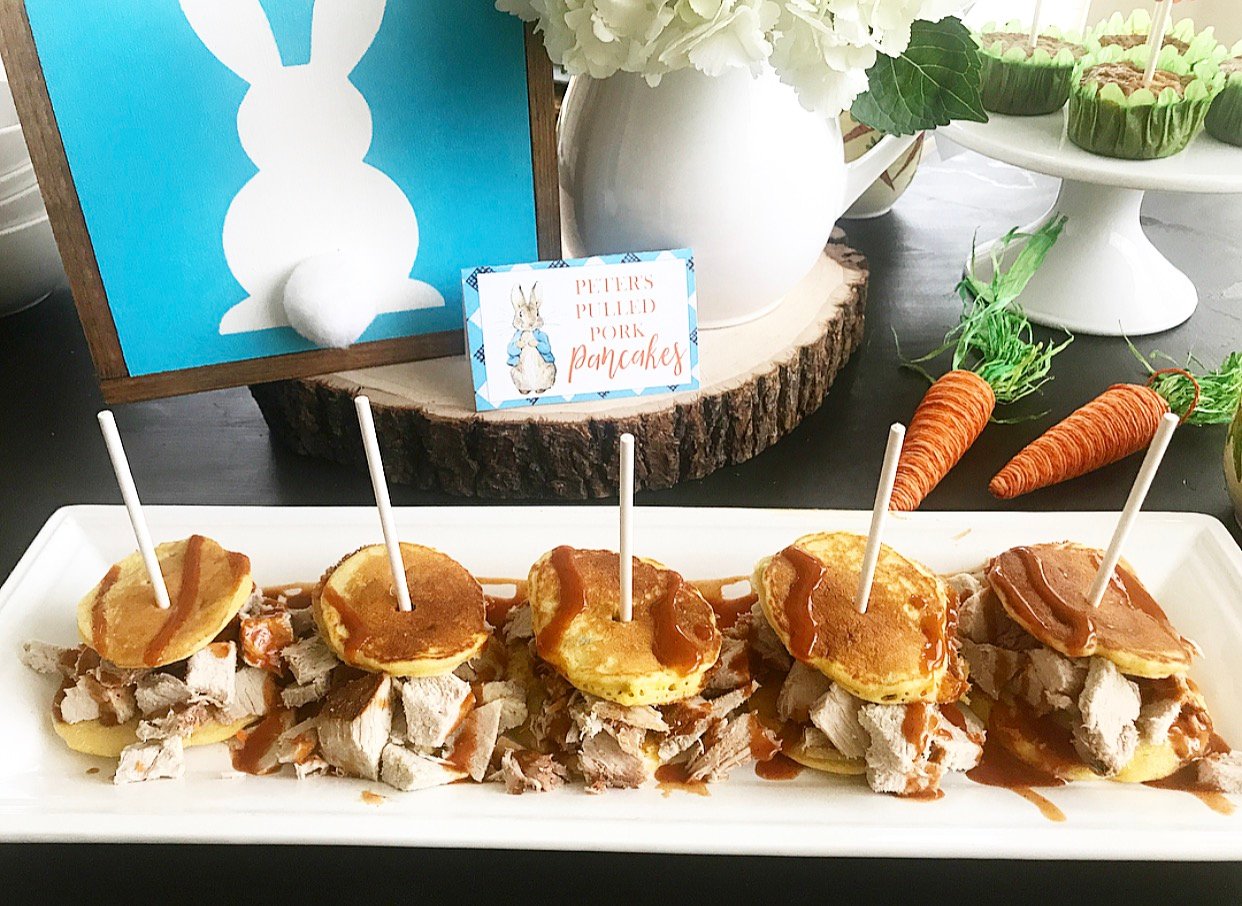 Perfect for brunch, a party, a shower, or anytime you want to mix up the traditional pulled pork sandwich!
We served them for our bunny brunch here.
Dr. Pepper Pulled Pork
Ingredients:
1 pork butt/pork shoulder (3-5 lbs.)
Salt and Pepper to taste or your favorite dry rub
2 cans of Coke or Dr. Pepper (no diet though!)
1 sliced onion (optional)
12-18 oz of your favorite BBQ sauce
Directions:
Salt and pepper your pork butt (or dry rub if you want!) and place it in the Instant Pot
Pour in 2 cans of Dr. Pepper and onions
Set Instant Pot to manual high pressure and cook for 60 minutes, natural pressure release for 10 minutes.
Remove pork and shred with a fork.  Add BBQ sauce to the pork, along with the onions and juice from IP if desired.
Cornbread Pancakes
Ingredients:
1 box of cornbread mix (I used Jiffy, check box for additional ingredients needed)
1 can of green chilis
Non stick spray for griddle or pan
Directions:
Combine cornbread mix and other needed ingredients in a bowl, according to package instructions.
Add a can of green chilis
Spray griddle or pan with non stick spray.  Pour batter, trying to make the pancakes similar in size, so the top and bottom of the slider are the same.  When batter bubbles, flip pancake to the other side.  Cook for a few more seconds and remove when cooked thoroughly and golden brown.
Pulled Pork Sliders
Place one pancake on a plate or platter, top with pulled pork and place another pancake on top.  I added additional BBQ sauce ,and put a stick down the middle, just to help keep the slider together!
Fun, easy and delicious!!
If you still have not jumped on the Instant Pot bandwagon, you can purchase one here and here.   DO IT!!