Sharing some Easter brunch recipe ideas today!
Over Spring Break the boys, Gramma and I went to see the new Peter Rabbit movie!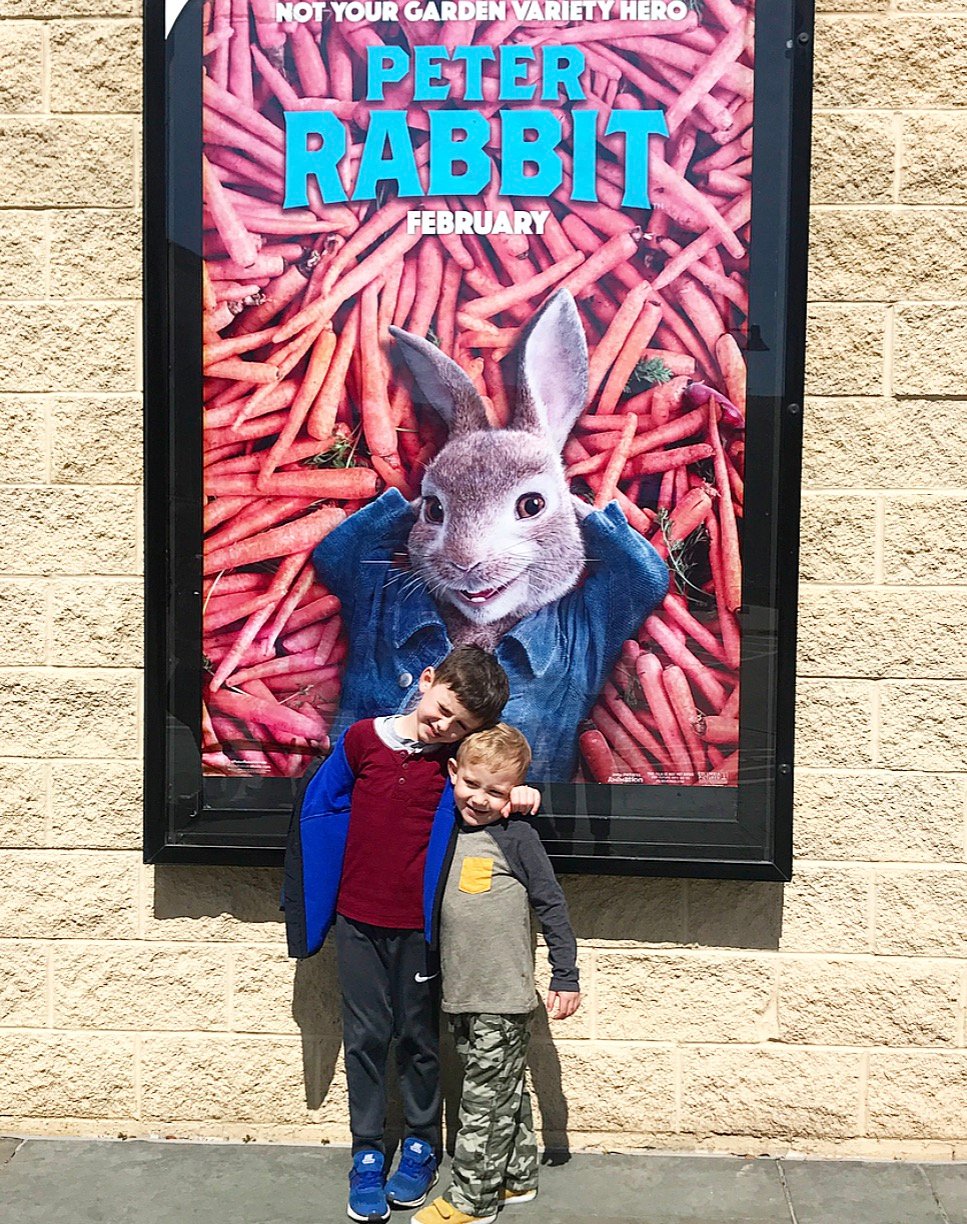 Other than one controversial scene about food allergies (eek!), it was really cute, and my boys loved it!
Each year we kick off Easter with a bunny breakfast for dinner, so with Peter Rabbit fresh on the brain, and some cute accessories from World Market, we put together a little Peter Rabbit party for four!
I wanted to share these recipes with you in case you are needing some dishes to make or take this weekend for Easter, or if you just want to brush up your brunch game!
I also made some Peter Rabbit printables for a friend's shower and decided to make a few extras for us!  I included them at the bottom of the post if you want to download and print to make things a little more festive for your little bunnies!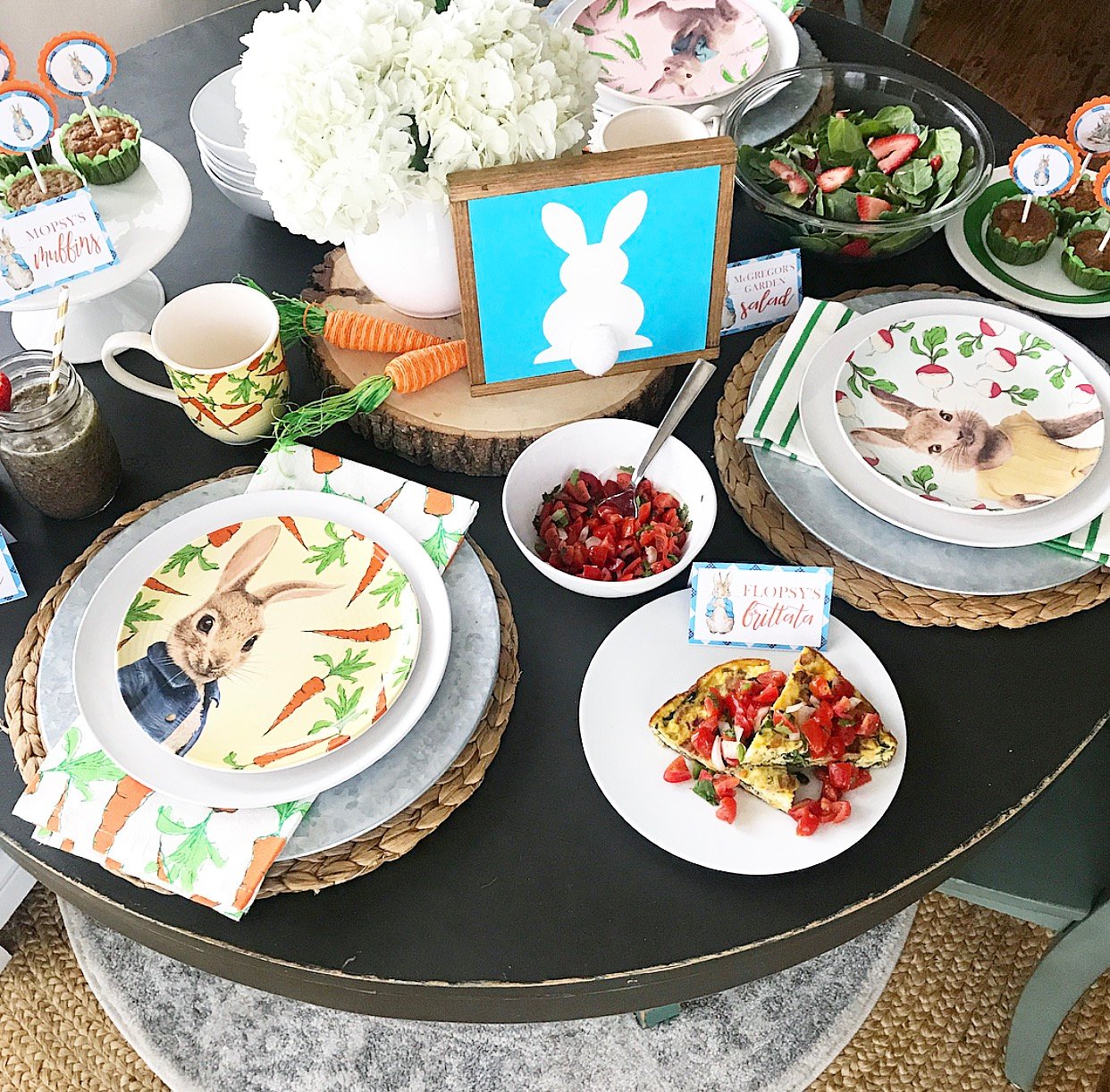 For each recipe, just click on the picture or the link in the text to take you to a full post with ingredients and directions.  Peter and his friends each have their own dish!
Peter's Pulled Pork Pancake Sliders
This pulled pork can be made in the Instant Pot (here) or the slow cooker (here) .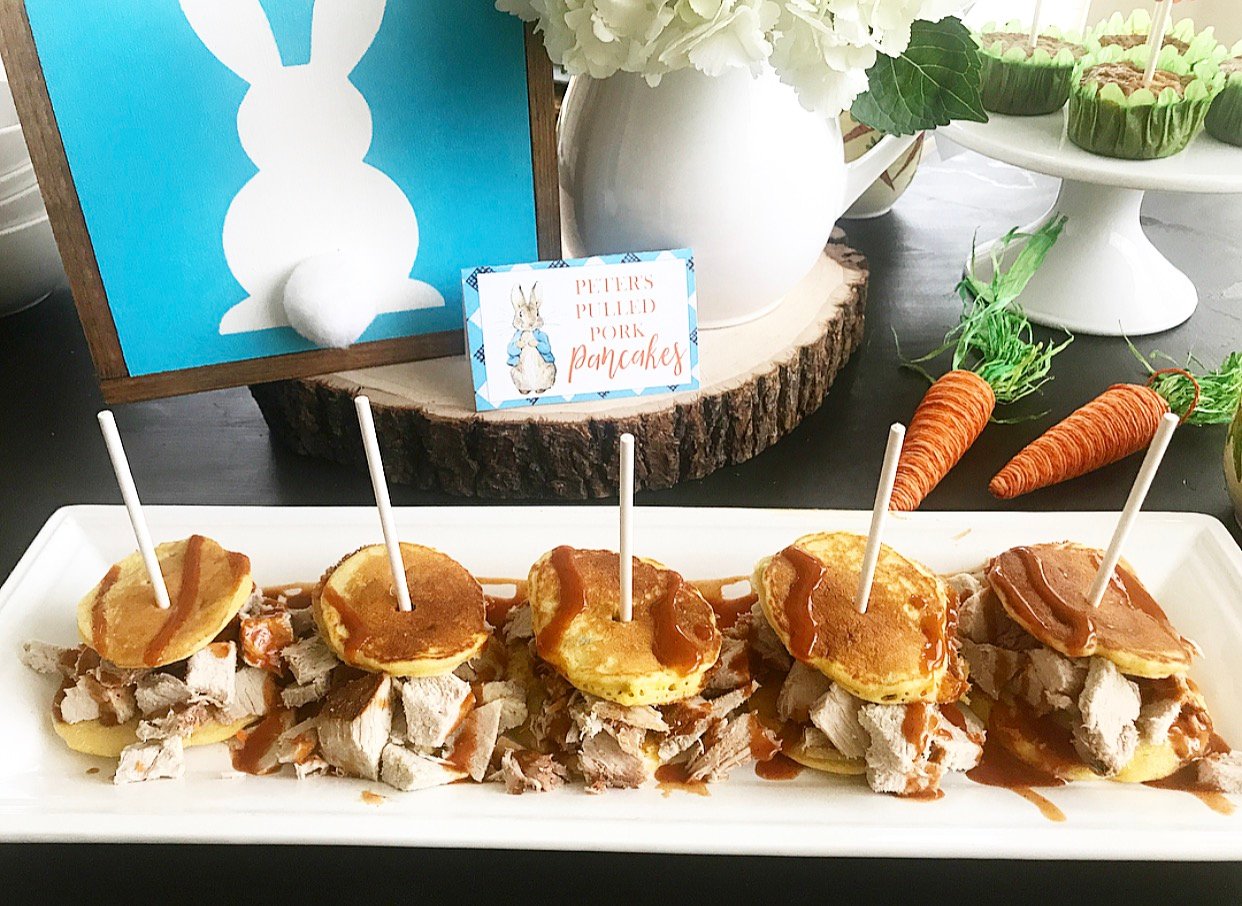 We made sliders using green chili cornbread pancakes and our favorite BBQ sauce!  SO good!
Find the slider recipe here.
Flopsy's Frittata
Our family is a big fan of quiche, AKA "egg pie"!  This frittata recipe is very similar to my quiche recipe, minus the crust of course, and with a quicker cook time!
Find it here.
McGregor's Garden Salad
This spinach strawberry salad is one of my favorites paired with THE best strawberry dressing!
Find it here.
Mopsy's Muffins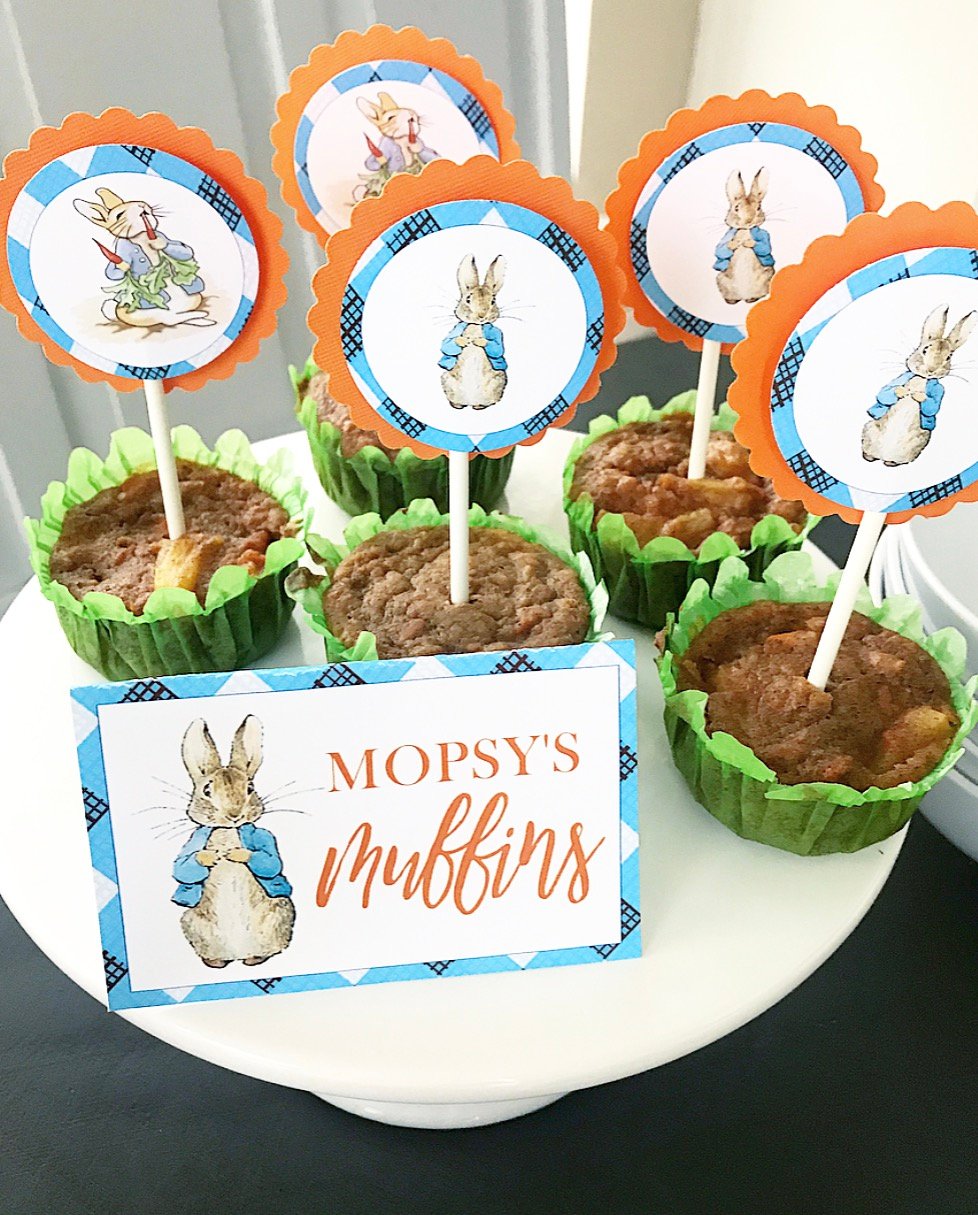 Carrot cake flavored of course!  This recipe includes applesauce and pineapple which makes them so yummy and unique!
Find the recipe here.
Cottontail's Coconut Treats
Almost look like bunny tails, right?  These little balls are the perfect combo of a little sweet, packed with protein!  Perfect for breakfast or a snack!
Find the recipe here.
I also made Benjamin's Berry smoothie….it was just ok!  That recipe is going to need a little tweaking before it's ready to share…
even the color is not all that appetizing!  Lol!  Heading back to the blender on that one….
Black smoothie aside, it was a great meal, and making memories with these two is the joy of my life!
These printables were originally made for a baby shower, but they worked great for our bunny brunch too!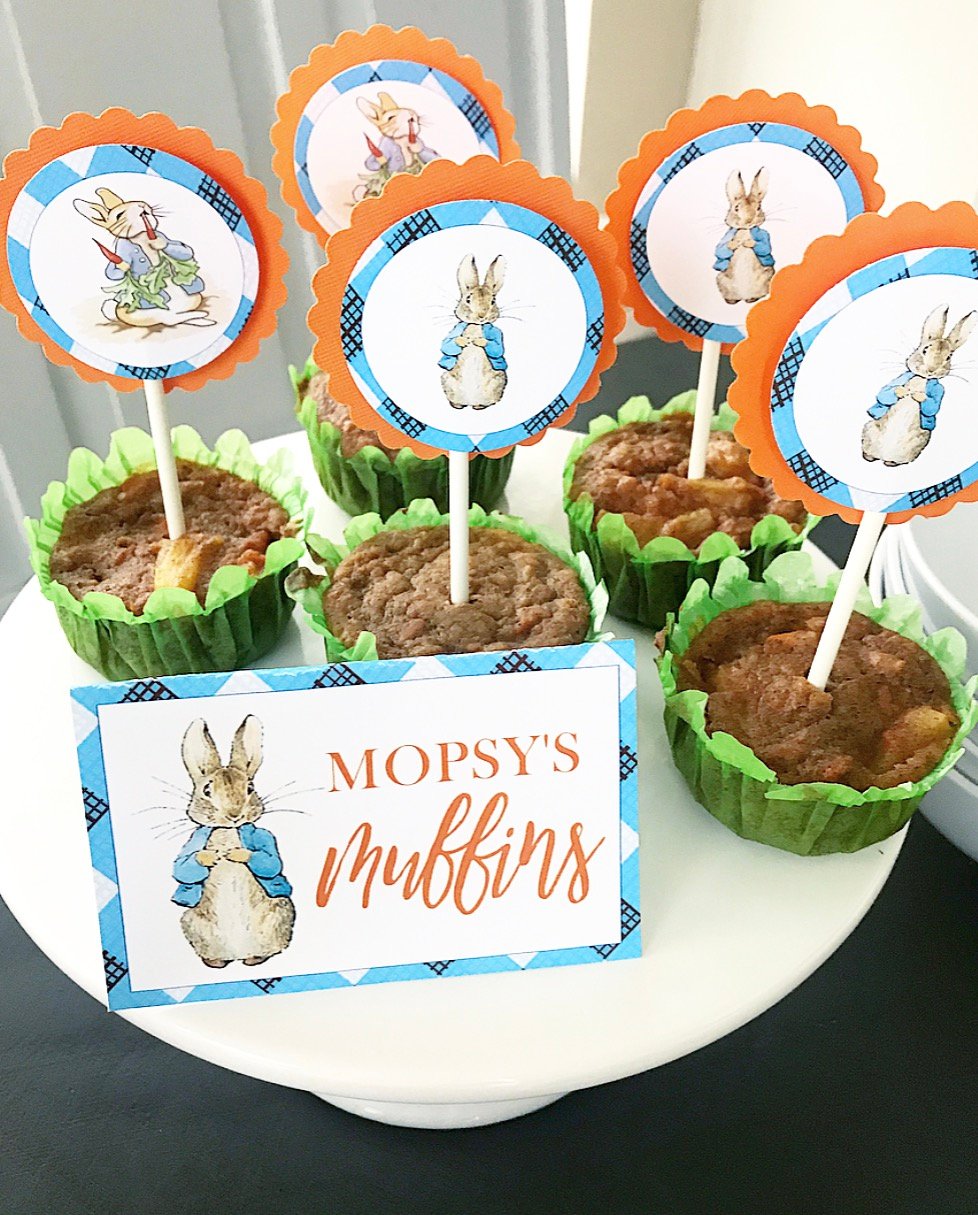 Peter Rabbit cupcake topper jpeg
Peter Rabbit cupcake topper pdf
Just download files above, print, cut or punch and glue to sticks for cupcake or muffin toppers or punch a hole for favor tags.
 For the menu cards, just download, print, cut in half vertically and horizontally and fold!
Peter Rabbit Menu cards 1 jpeg
Peter Rabbit Menu cards 2 jpeg
No matter how you celebrate this weekend, I hope you are surrounded by friends and family, and are filled with the amazing joy that
HE IS RISEN!!!
Shop the Post: