Today I'm sharing another super simple supper using Trader Joe's ingredients:  carne asada salad!
If you follow me on Instagram, you know that every Tuesday I share a Trader Joe's recipe!  Most are easy dinners you can throw together in under 30 minutes, and this salad falls into that category!  Life is busy, dinner needs to be easy…and delicious!
What to grab at Trader Joes:
Carne Asada- This is pre-marinated, tender and full of flavor!
Pico de Gallo Salsa
Melange a Trois – Trio of pre-cut peppers in the frozen section
Roasted Corn – Also in the frozen section
Mexican style cheese blend
Baby spring mix or the salad mix of your choice
Directions:
Cook the peppers in a skillet over medium heat according to package directions until soft and tender.
Cook roasted corn in the microwave or on the stovetop, per the package instructions.
Cook carne asada on high heat in a skillet until the temperature is at least 160 inside (I use a simple meat thermometer!)
Let meat rest for a couple of minutes and slice into strips.  The meat cooked fully in about 10-12 minutes!
Once these three ingredients are done cooking, fill your bowl about 1/2 full with the spring mix.  Top with cheese, pico de gallo, peppers, corn and steak!
And that's it!  A delicious, healthy meal in about 20 minutes.
You can add a dressing if you like, but I didn't think it needed it!  Feel free to add other ingredients you might like too…guacamole, tortilla strips, sour cream…easy to adjust this salad to what you and your family likes!
This carne asade would also be great prepared on the grill outside when weather permits!  It is perfect for salads, fajitas, nachos, or quesadillas and just SO easy to make!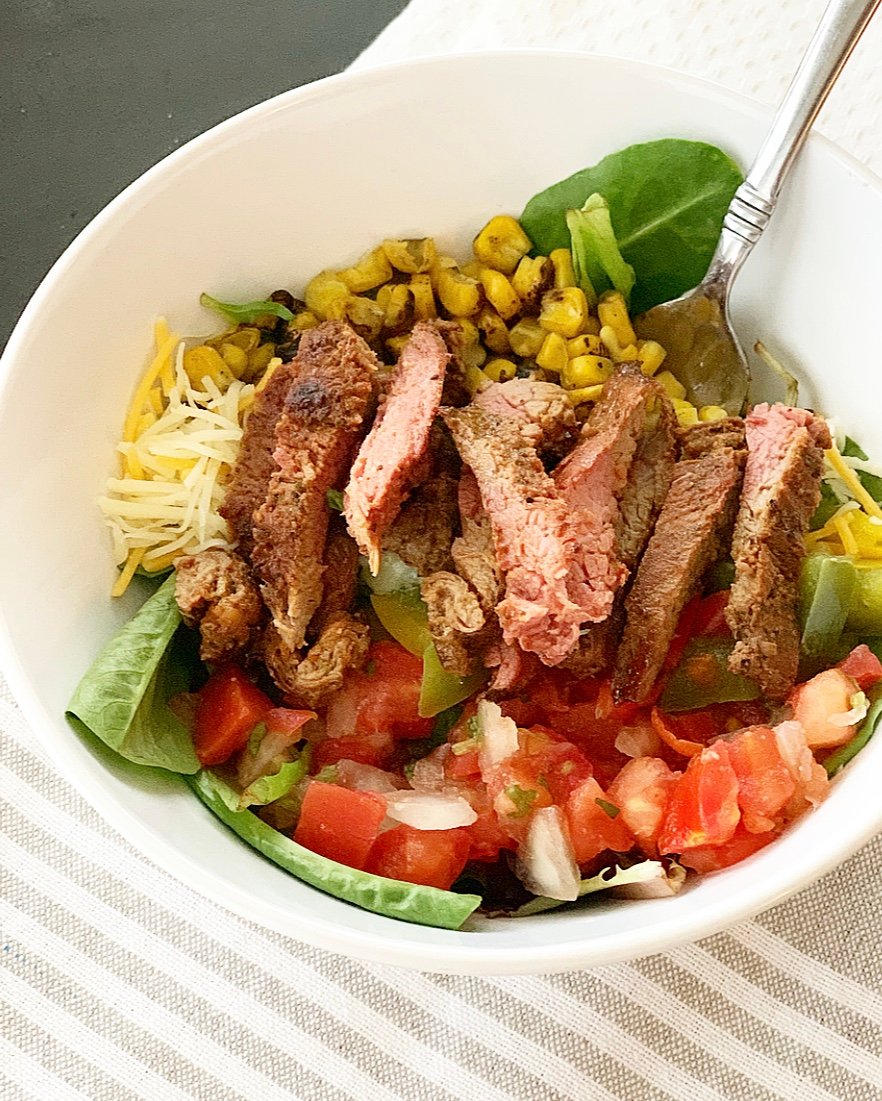 To find more Trader Joe's simple suppers, be sure to check out this post.