I am SO excited to share this whimsical girl bedroom I had the opportunity to style with rainbows and a bright, cheerful color palette!
SWEET FRIENDS
Awhile back my sweet friend Anithia reached out to see if I would want to come help decorate her girls' bedrooms.   My boys have had playdates with her girls and another sweet girl friend for years, and I am SO thankful they include them in their little girl gang.  These girls take no nonsense from my boys, and I LOVE it!  My boys adore them, and I feel like they help so much in teaching my often rough and tumble boys how to treat girls.  Throwing a few pillows around is the least I could do, so of course I said YES!
Oh, and secretly, getting to shop for frilly, girly things…SO MUCH FUN!
THE BEFORE
Anithia's family recently got all new flooring (so pretty!) and wanted a fresh start in the girls' rooms.  They had newly painted walls, new floors, and these adorable daybeds that will grow with them and have tons of storage!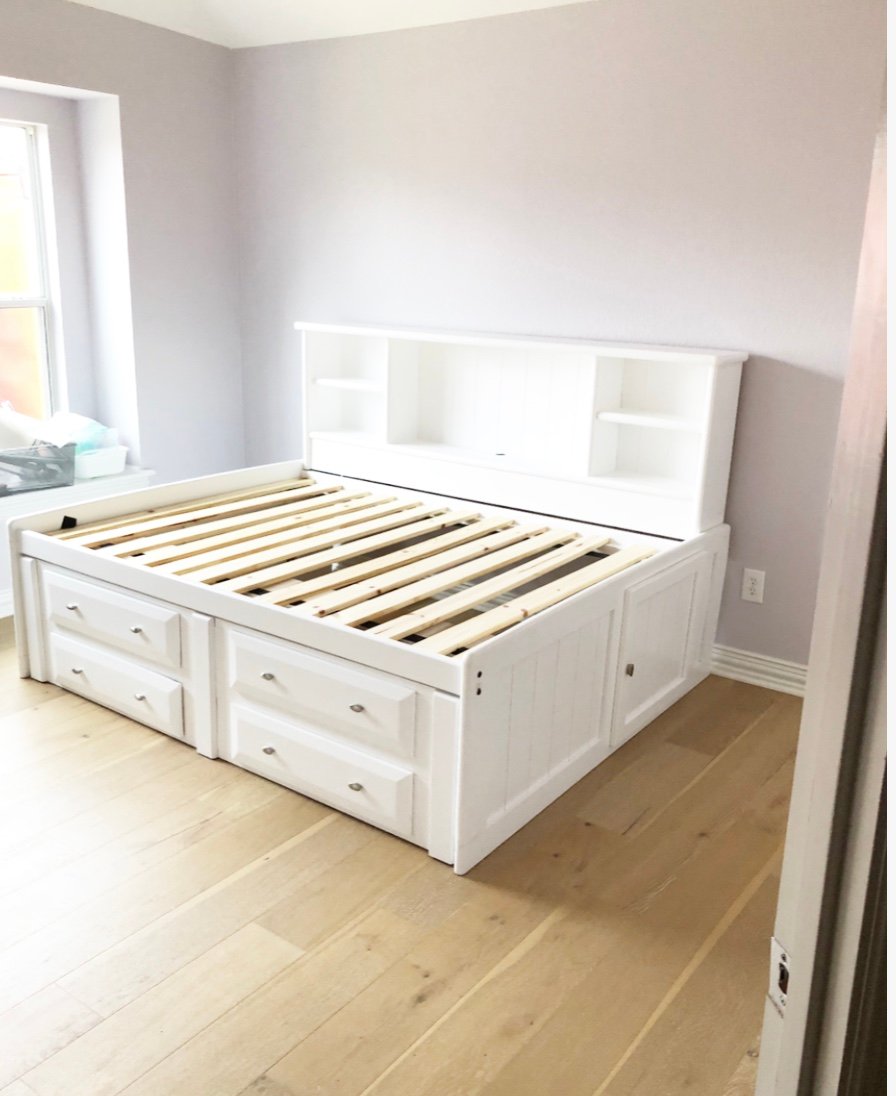 Full Daybed with Storage //Paint Color: Opera by Behr
REQUESTS
Anithia said she wanted each girl's room to reflect their individual personalities!  This project was going to be a surprise, but she asked each girl what they might want, since they were setting everything back up anyway after having new floors installed.
This was her "inspiration piece"….perhaps these girls have watched an episode or two on HGTV!  Haha!  She wanted her room to be playful, happy and to somehow incorporate rainbows.
Anithia had a few requests for each girl's bedroom:
Bedding that looked polished and put together, and a backrest pillow for the girls to sit on their beds and read or use their ipads.
A new light fixture
Decor for over the bed
A pouf or ottoman
A lamp
New fabric to recover the window seat cushions, decorative pillows and window treatments
THE AFTER
We set a date and the plan was to start putting the rooms together while the girls were at school, and finish them by the time they got home for a surprise reveal!  They had NO IDEA this was happening!  SO fun, right?!?
HUGE shoutout to my mom who saved the day!  She was going to come help me, but ended up grabbing my youngest from school instead when they called and said he was running a fever!  Thank you Mom!  Just a little virus and my guy is on the mend!
Ready to see the room?!?
I hope this space exudes happiness and whimsy!
I was SO excited to find fun rainbow print bedding at H&M.
It was almost crazy how the colors matched the snow globe exactly…meant to be!
The cinched comforter is from the Pillowfort line, and I love how it pulls out the bright pink!  The pom pillow also has little flecks of yellow and adds some fun!
This style of backrest pillow (one of Anithia's requests) is actually in both girl's rooms, and I may have to snag a couple for my boys!  It is the perfect size, very soft and a great price point!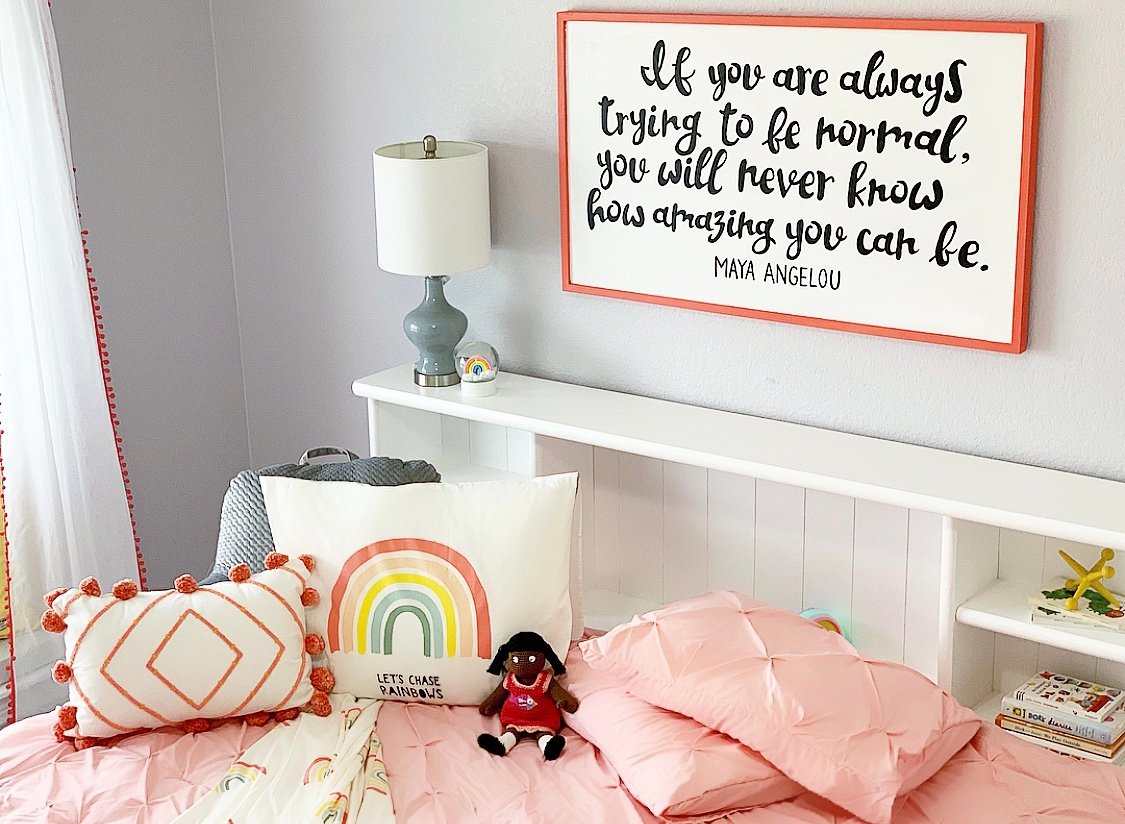 Anithia picked quotes for each girl and our sweet friend Jacqui painted them!  I grabbed large signs from Hobby Lobby on a week that they were half off and took Jacqui the pom pom curtains.  She painted the frame to match that bright coral and painted over the existing words on the frame with white.  Maya Angelou holds a special place with the girls' grandma so Anithia knew the girls would immediately connect these quotes with her.  I LOVE that our talented friend painted these and that they have such special meaning….my favorite type of pieces! (sappy, table for one!)
The lamp is from Hobby Lobby!  They have some cute ones that go 50% off often!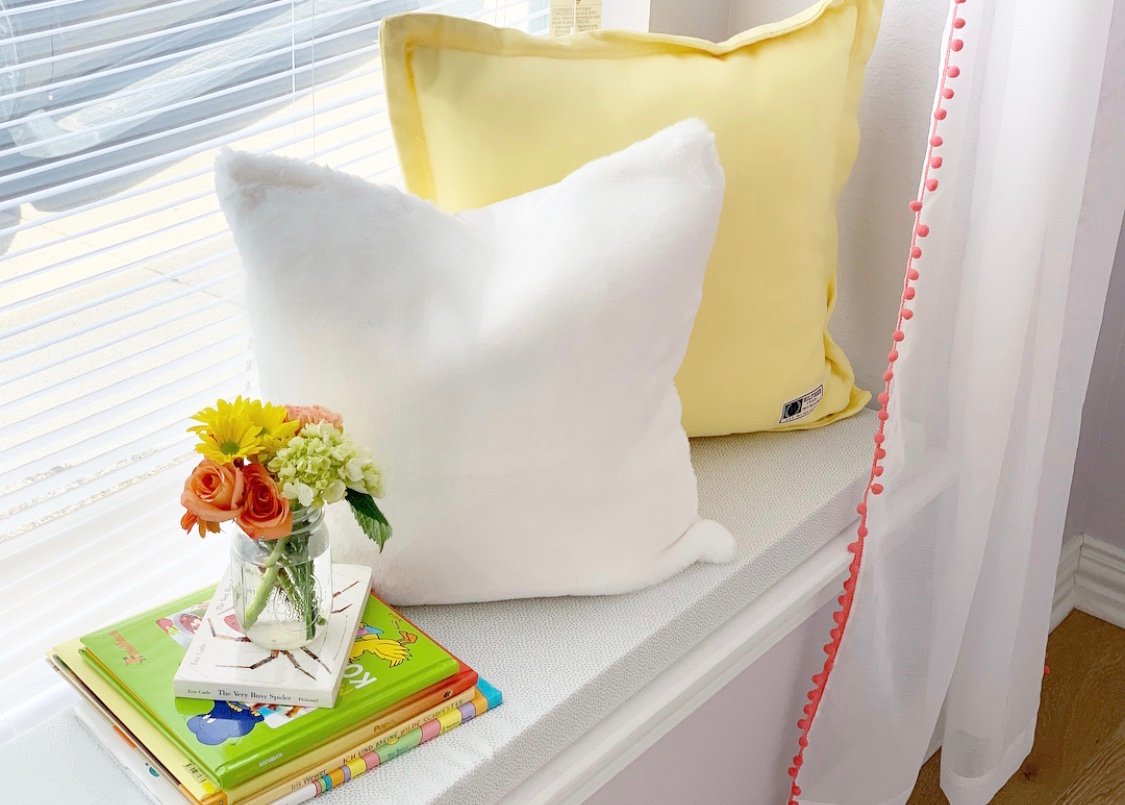 The fabric that previously covered the window cushion was bright and bold.  We went with this more subtle white with a metallic silver pattern.  I love the texture of these white faux fur pillow covers!  We have pulled in the yellow!  The curtains are one of my favorite pieces with those adorable coral pom poms!  They were a Home Goods find.
I always like to add some special touches when we first set up a space, so I made these little bouquets to match the colors of each girl's rooms.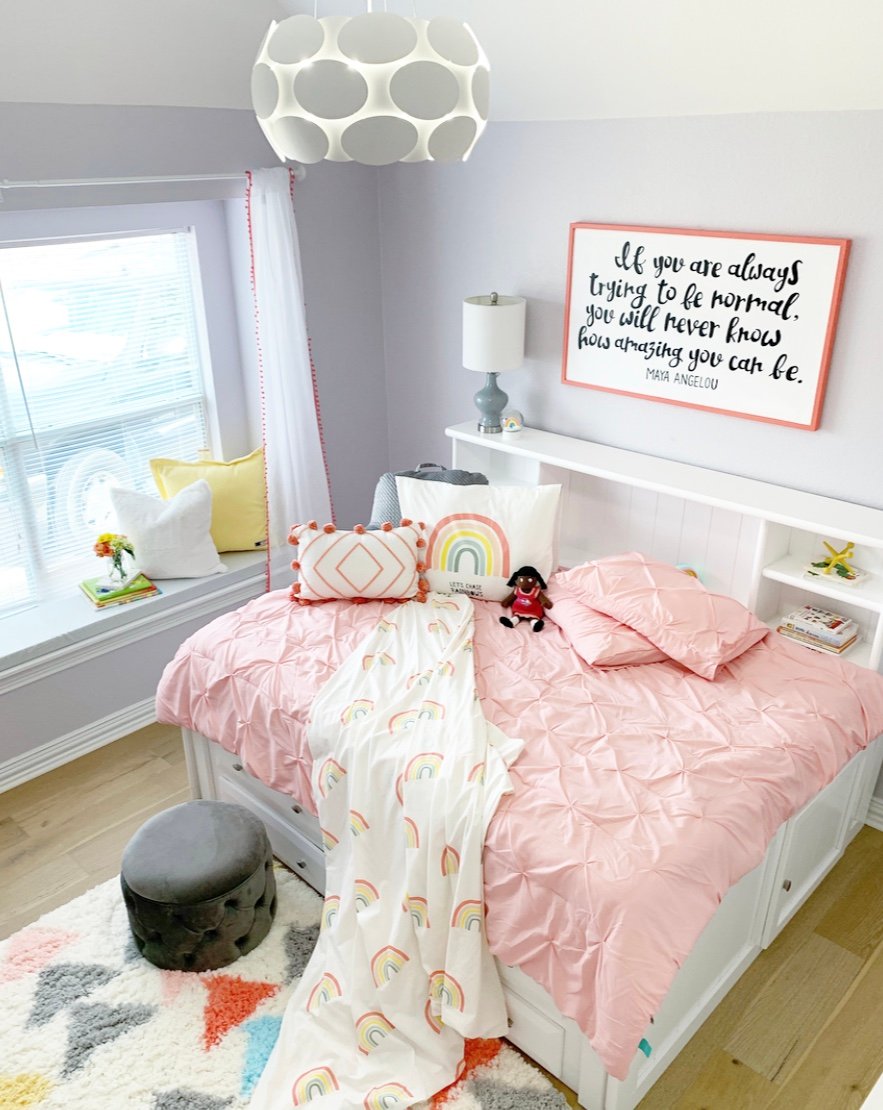 Triangle Shag Rug//Storage Ottoman
I love how this rug pulled in so many of the colors in the room.  Her ottoman was a Home Goods find and has a lid so it can be used for storage.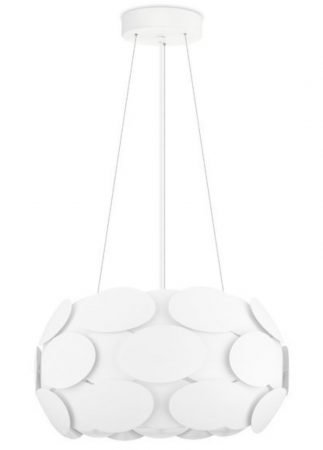 This light fixture is actually made of metal.  I thought it added some whimsy and fun to the room!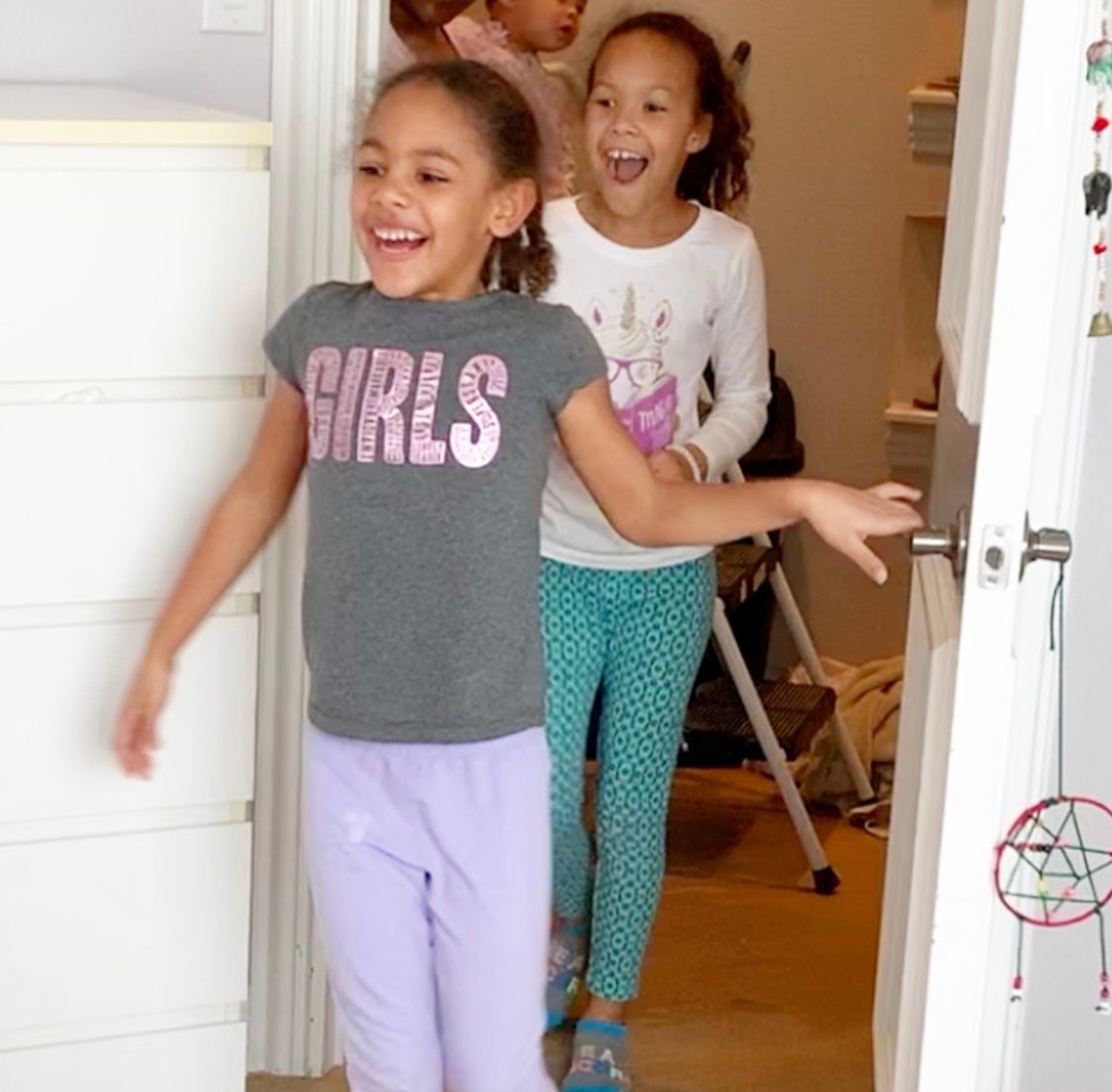 Getting to witness the surprise reveal…I have to tell you…it was THE SWEETEST thing!  They were SO excited, and I think this face says it all!
I was honored to get to create a room that this girl loves.  The best compliment was when her sister said, "This room is SO YOU!"  Mission accomplished.
Make sure to go check out her sister's room here. 
SHOP THE POST