Warmer temps called for this simple spring bedroom refresh!
Hello Spring!
It's officially Spring…cue the flowers blooming, birds chirping, and sunshine streaming in!  I live in Texas where we don't always fully experience all four seasons like other parts of the country, but I know one thing that is coming for sure…HEAT!
Back in the Fall my hubby and I grabbed some sherpa bedding for the cold months that we have honestly loved, but as it's getting warmer, cozy and warm has become uncomfortable and hot.  Nothing is worse than trying to sleep while sweating…yuck!  Bring on the springtime swap…courtesy of my friends at Joss and Main. 
This post is sponsored by Joss and Main, but all products were selected by me and opinions are my own.  They are hands down one of my favorite sites to shop because of the HUGE selection and variety of price points!  People are always great about leaving reviews and pictures there too, which is SO helpful….I know purchasing big pieces like furniture and rugs online can feel daunting!  Hearing others' opinions and seeing pieces in people's real homes makes a huge difference!
The Swap
The main swap we needed to make was in our bedding!  The sheets were fine, but the sherpa pillowcases and comforter HAD to go.
I opted for this adorable tassel duvet cover.  It is light and holds our medium weight down comforter inside.  One thing I LOVED about it is that I ordered the king and guess what?  It actually fit our king sized bed…..hanging down evenly on BOTH sides!  I cannot tell you how many times I have ordered duvets or comforters that SAY king, but just barely fit to the edge.  HALLELUJAH!
I also grabbed this quilt set to serve as a cover at the end of the bed.  It will be useful for the occasional chilly night we may have and adds pretty layering and texture.
I also ordered these reversible memory foam cool pillows that I know my hubby, especially, will appreciate!  He is a human heater! If yours is too, this would make a great gift!
I also grabbed this metal and fabric bench for the end of the bed to give the room a more finished look.
The Reveal
SO much lighter, brighter and ready for Spring!
I am loving the bench for the end of the bed!  It makes the space look more finished and gave me a place to hang my hat!  It was quick and easy to assemble.  My hubby and I put it together in about 20 minutes!
Guest Room Spring Refresh
You may remember our guest room got a fun remodel back in December!  You can read the full post HERE about why this was more than just a room remodel for me…it was more like therapy!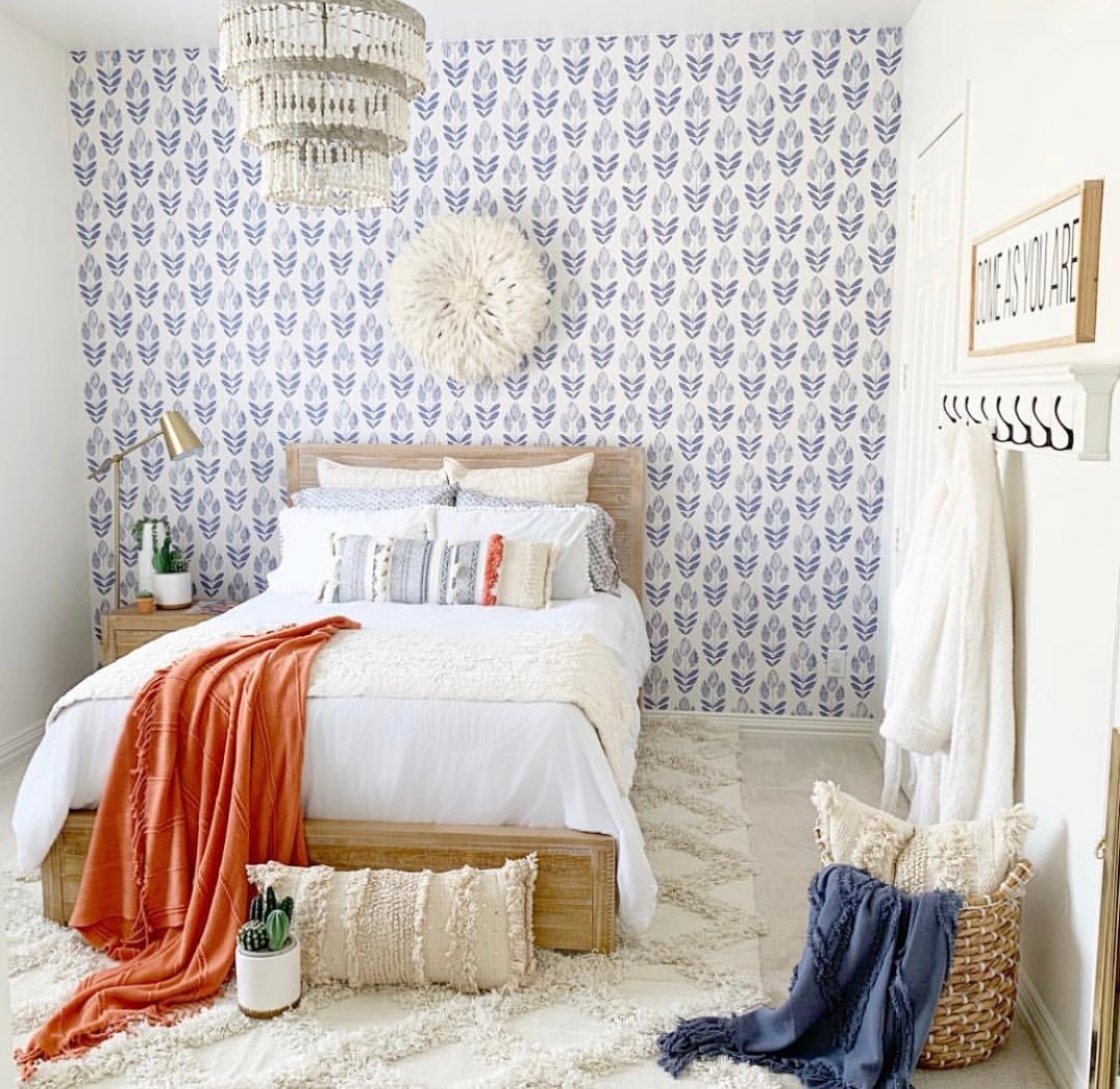 I gave it a little refresh too with just some pops of color!  Amazing how some color made this a happier, more inviting space!
This lightweight blanket in salmon added just the bit of cheer this room needed to take it into Spring.  It is affordable, comes in 6 colors, and is SO soft!
Have you thought about how you will make some changes this season?  I hope this was helpful as you begin to brainstorm, spring clean and maybe do a little spring swap in some spaces of your own!