I'm excited to share three summer cocktails from Trader Joe's that you MUST try!
If you follow me on Instagram, you know I LOVE me some Trader Joe's!  Maybe because the closest one to my house is about 35 minutes away, so it feels like a treat to go!  Maybe it's the samples or the unique food finds.  Maybe it's the cookie butter.  I don't know, but regardless, I love it!  I do Trader Joe's Tuesday and share a recipe using Trader Joe's ingredients each Tuesday!
Over the last few weeks I've shared three cocktail recipes I wanted to share here a we get into the dog days of summer!  I live in Texas and the temps hit 100 this week!  Bring on the pooli time, sun screen and summer sips!
Watermelon Cucumber Cooler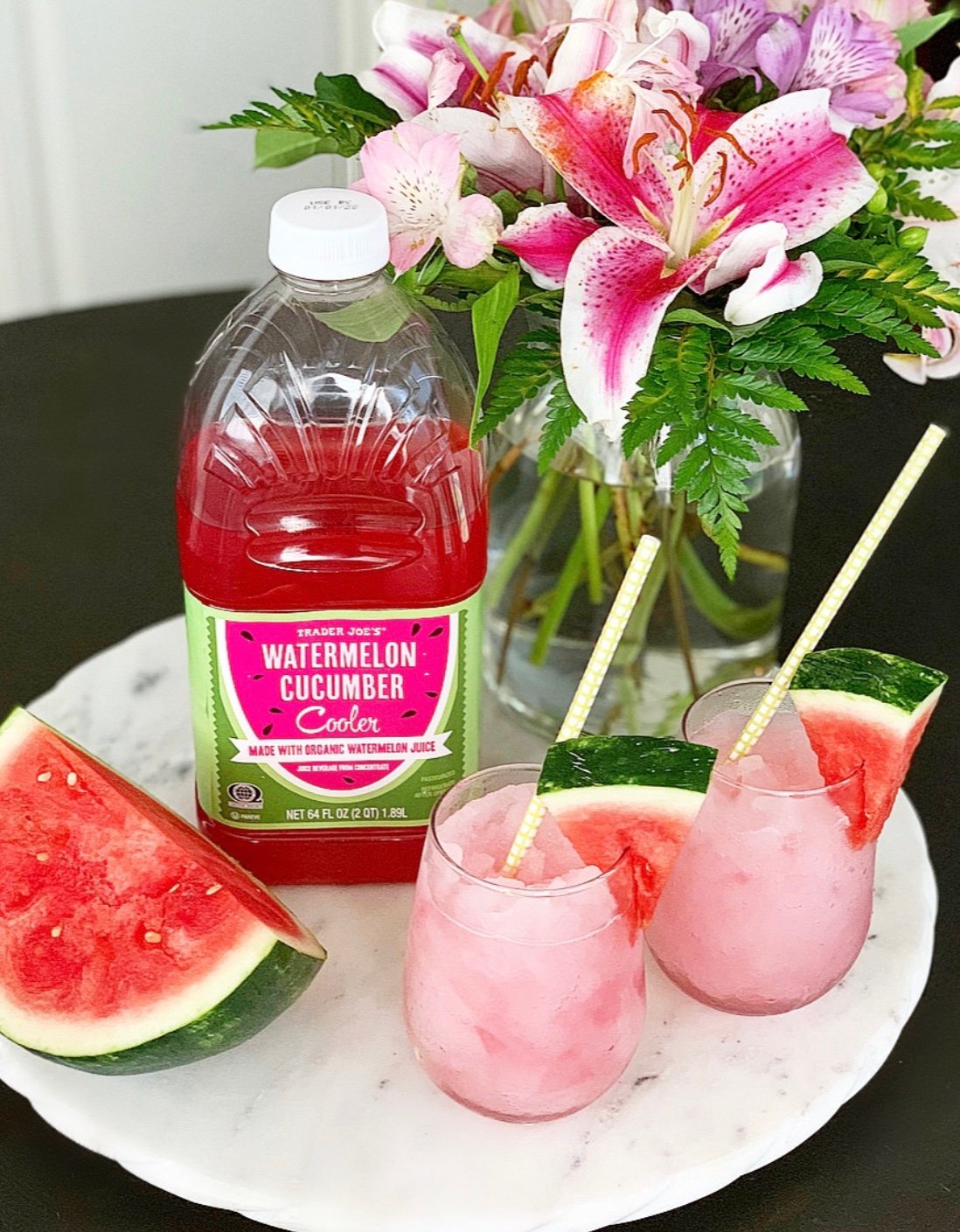 When I saw this juice at my Trader Joe's, I immediately thought vodka #dontjudgeme.  The mixing if the two does not disappoint!  I made them frozen here, but you can also just enjoy over ice.
Find the recipe here. 
Jalapeno Limeade Margarita
I love a spicy margarita!  When I saw this organic jalapeno limeade, I instantly thought it would make the perfect easy mixer!  Turns out, I was right!  An easy spicy margarita with just the right amount of kick!
Find the recipe here.
Pineapple Coconut Cocktail
  This one makes a great mocktail or cocktail!  It is bubbly and refreshing!
Find the recipe here! 
I hope these tasty drinks find their way to a poolside near you!  Enjoy the rest of your summer!
And if you love Trader Joe's like me…
Find ten simple suppers here.
and five recipes using cookie butter here.