Today I'm sharing one of the meals we make again and again from Trader Joe's, orange chicken with fried rice.
I hate to call this a recipe…it's more of a meal idea that is SO easy! I grab these ingredients every time I head to TJs to have on hand. It's a meal you can put together quickly (in about 20 minutes) that your family will love!
You can definitely tweak this to your family's liking, but today I'm sharing our favorite way to make this meal!
Ingredients:
1 bag of Trader Joe's Mandarin Orange Chicken (in the frozen section)
1-2 bags of Trader Joe's vegetable fried rice
1 bag of riced cauliflower or this cauliflower medley
**One bag of the TJ veggie fried rice is not enough for our family of 4, so I usually do 1 bag of fried rice and 1 bag of the cauliflower! Bonus that this method adds some veggies to this meal.
1 egg-optional
Green onions, chopped- optional
Air Fryer Orange Chicken Directions:
Using our air fryer is my favorite way to cook this chicken! It is hands off, and it comes out crispy and perfectly done every time! You can also prepare the fried rice while the air fryer is working so it is all ready at the same time-in about 20 minutes!
Empty the contents of the orange chicken bag into the air fryer, minus the sauce packets.
Cook the chicken at 400 degrees for 8 minutes.
Open the air fryer and give the chicken a good toss.
Cook for 8 more minutes at 400.
Before the chicken is done, pour the contents of the sauce packets into a microwave safe bowl that is large enough to also hold the chicken….bonus if it has a lid! Warm up sauce 20 seconds at a time until runny and warm.
Add the chicken to the bowl. If the bowl has a lid, put the lid on tightly and shake, tossing the chicken evenly in the sauce. If it does not have a lid, stir chicken until coated with the sauce.
Don't have an air fryer? We love THIS ONE. We've had it for years and love it!
The bag also has directions for cooking this chicken on the stove top or baking in the oven!
Rice Directions:
Pour the contents of the veggie fried rice and cauliflower medley into a large pan over medium-high heat.
Cook for 6-8 minutes, stirring occasionally. Sometimes we also like to crack an egg or two into the mix.
Once chicken and rice are done, add them to a bowl and add chopped green onions on top!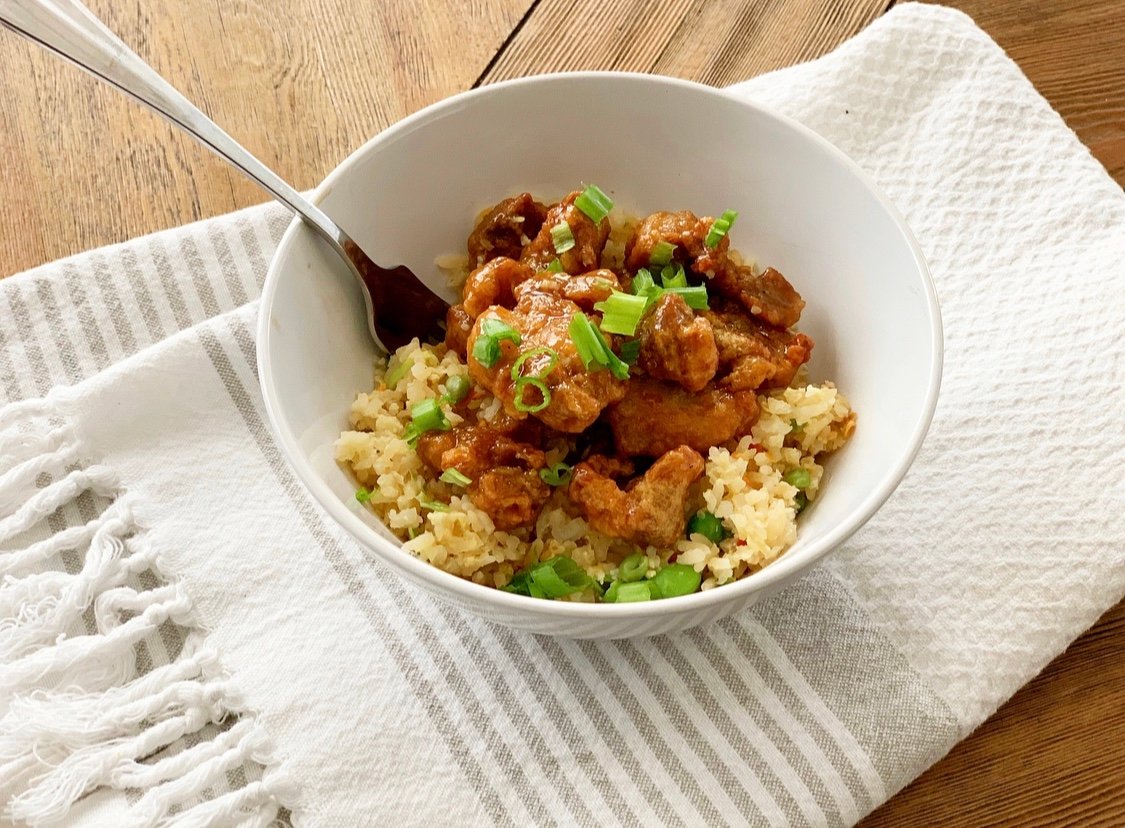 An easy weeknight meal that my family eats up every time! It's in regular rotation at our house, and I hope you'll give it a try!
We also make a very similar meal using Trader Joe's Kung Pao Chicken instead!
For more easy Trader Joe's weeknight meals, be sure to check out this post below:
Find these eight easy recipes HERE.