Today I'm sharing Fall favorites from Trader Joe's!
I LOVE that Trader Joe's has so many seasonal items! The tray above includes just a few of them! I have Fall items I look forward to year after year, and was excited to find some new ones to try this year too!
Hopefully this list will give you ideas of what to look for on your next TJ run, but grab them fast! Once your store runs out, they are typically not restocked until next year!
Oh my gourd-ness!!
It may still be warm here in Texas, but TJ's puts me in the mood for fall! Pumpkins, squash and gourds for decor or dinner! 69 cents each!
Pumpkins
They go quick, but Trader Joe's has great prices for pumpkins. These fairytale pumpkins were just $6.99.
These dried accents (wheat, etc.) are also great for putting out in vases for Fall.
Cinnamon Brooms
I had never purchased these before, but grabbed two small ones and one large one. The cinnamon scent is strong, so if you don't like cinnamon, definitely pass! I plan to use the large broom in my decor to look like a witch's broom, and love the smell!
Seasonal Flowers and Greenery
Always so pretty and affordable!
Seasonal Joe Joe's
I grabbed these Halloween Joe Joe's for my boo's lunches!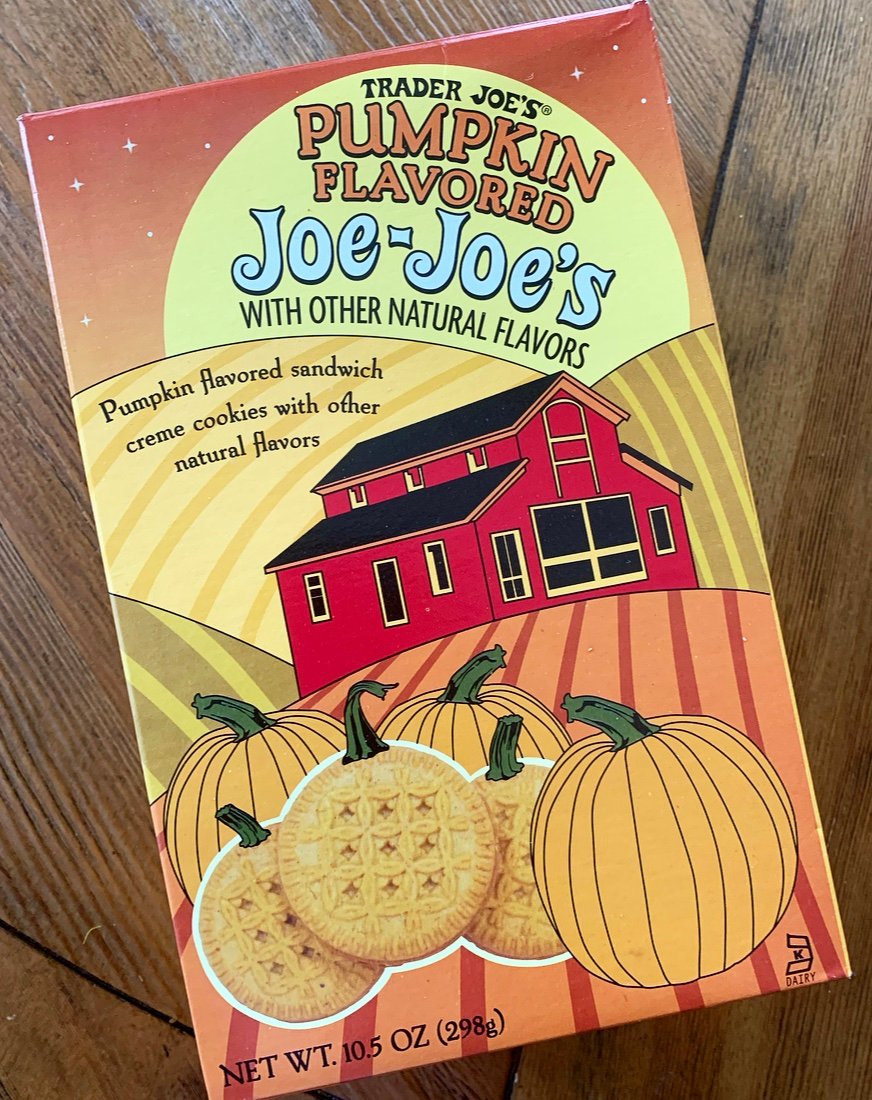 Perfect for our fall tray!
Pumpkin Kringle
I look for these kringles every time! They change the flavors often and the current one is pumpkin! These freeze well, so they are a great item to grab for the holidays.
When you want to make it, just thaw overnight and then cook in the oven for three minutes. SO good!
Apple Cider Cookies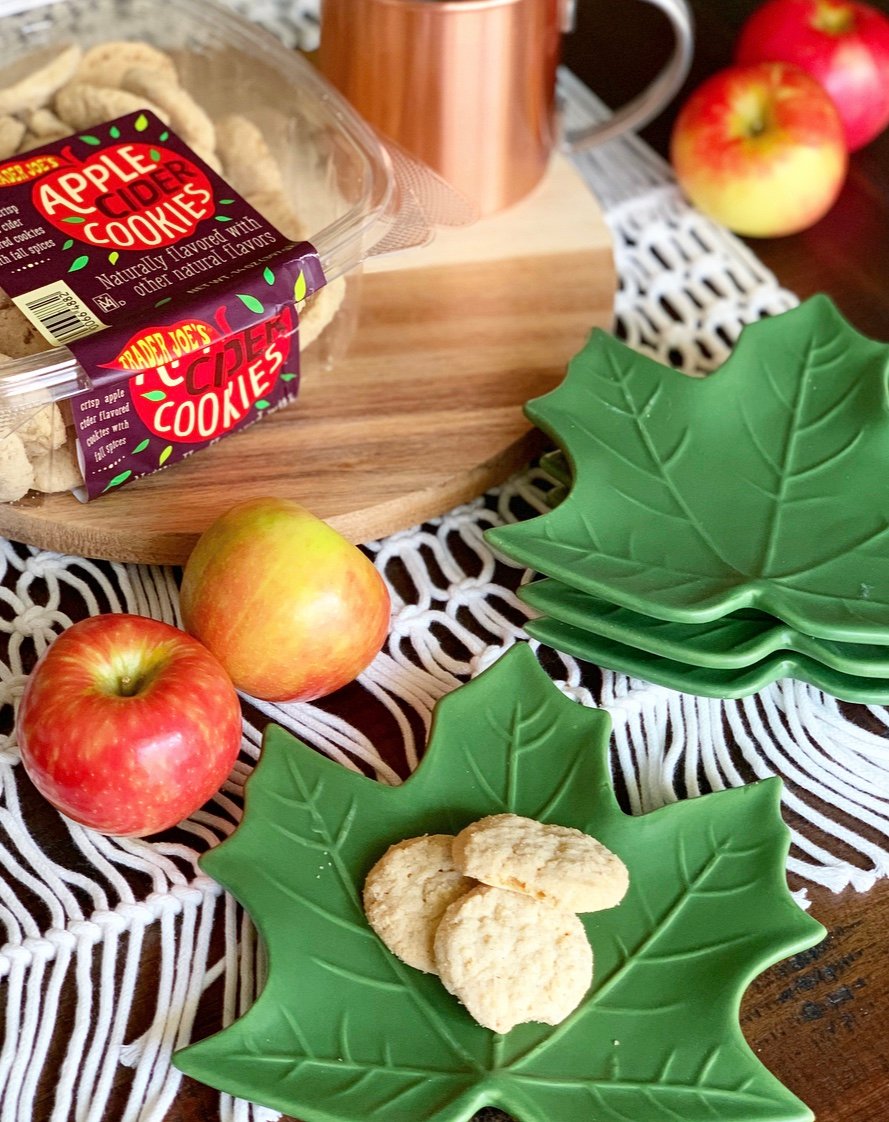 Sweet, mini cookies perfect to pair with your coffee
Apple Cider Donuts
Another apple cider flavored treat! I also grabbed this maple oat milk for my coffee!
They also have pumpkin spice coffee!
Pumpkin Ravioli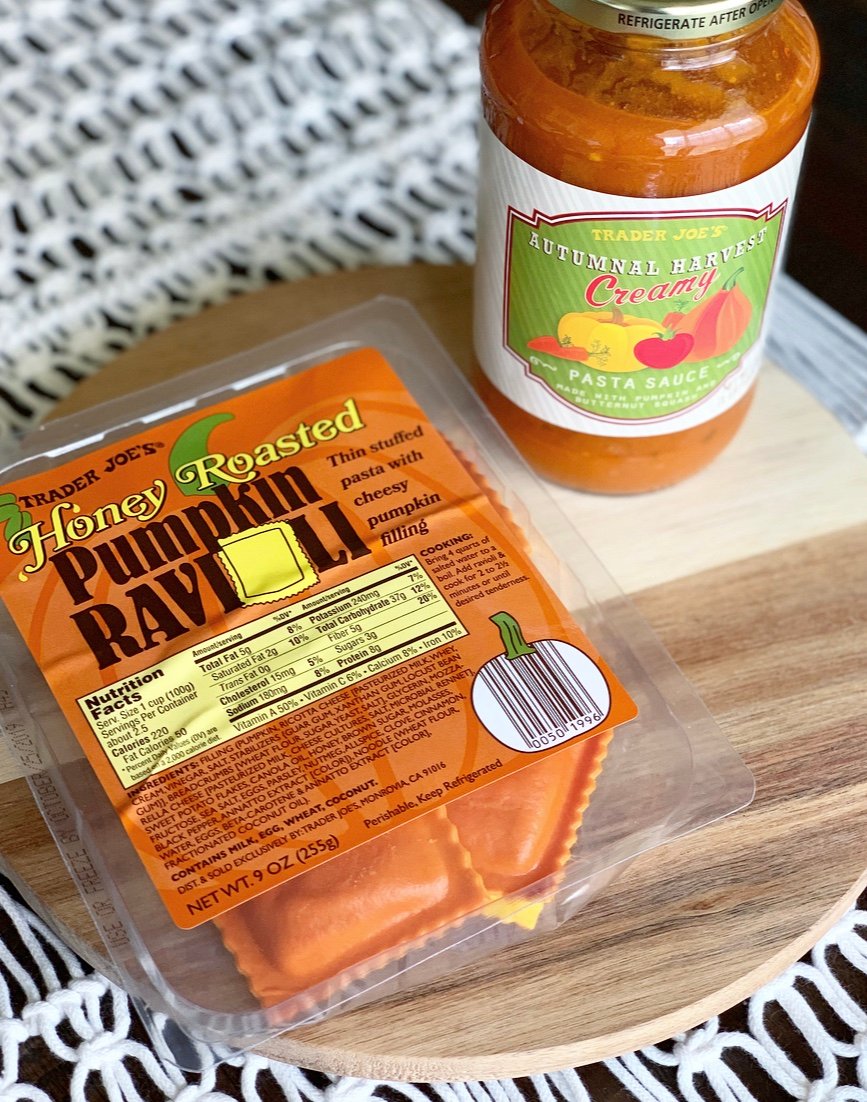 TJ Ravioli always makes an easy dinner! Can't wait to try this pumpkin!
Fall Zucchette Pasta and Autumnal Harvest Pasta Sauce
They were sampling this combo on the day Will and I went, and we both loved it! Add some ground turkey or sausage and it's a meal! Plus the pastas are in the shape of pumpkins….I'm a sucker for cute details like that!
These two soups are super yummy, and make an easy lunch or add a sandwich and you have dinner!
Gluten Free Mixes
The hubs is trying to avoid gluten, so I grabbed these two mixes. We have made the muffin mix many times! We usually add chocolate chips.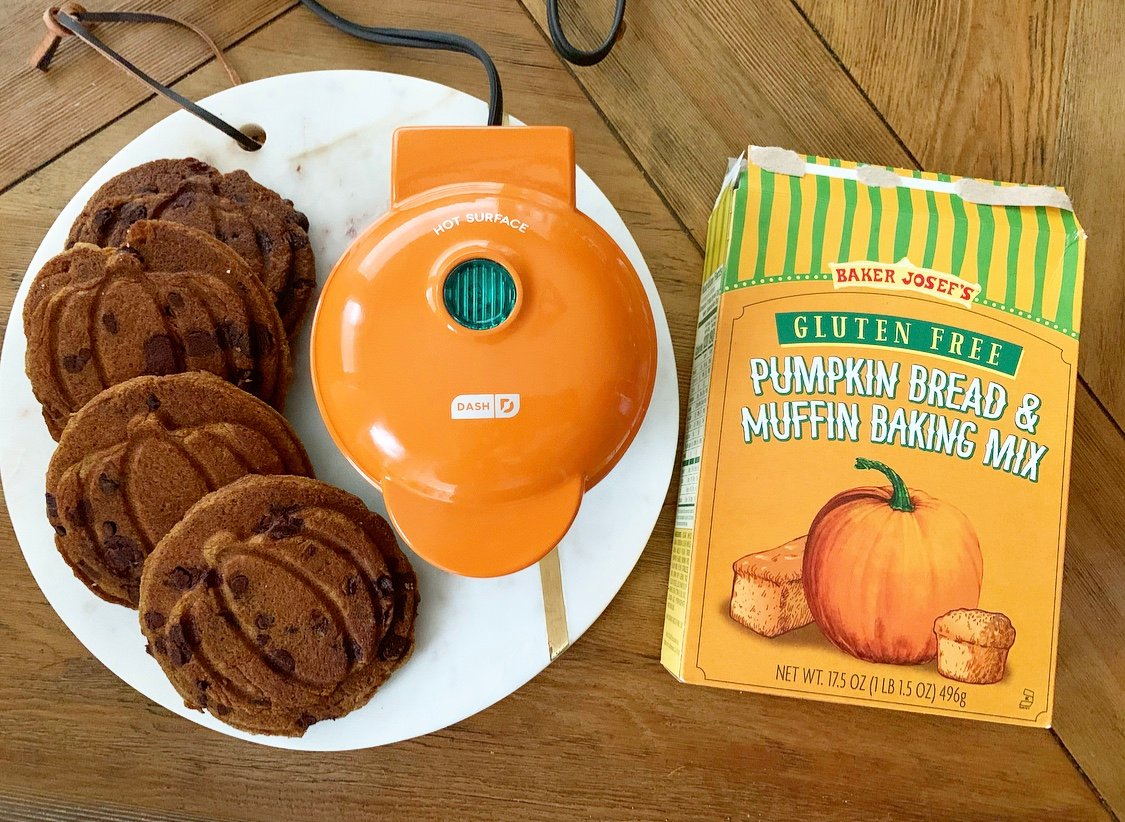 And I used this adorable mini pumpkin waffle maker to make the pumpkin muffin mix the other day! Just a festive touch!
Find the $10 waffle maker HERE.
Pumpkin Biscotti
Another yummy treat to pair with your coffee!
Cinnamon Bun Spread
My hubby is a HUGE cinnamon roll fan, so I knew he would love this! I put it on gluten free vanilla muffins last week! Also yummy for dipping apples!
Pumpkin Spiced Pumpkin Seeds
These are SO good! One of my favorite finds for sure!
Pumpkin Butter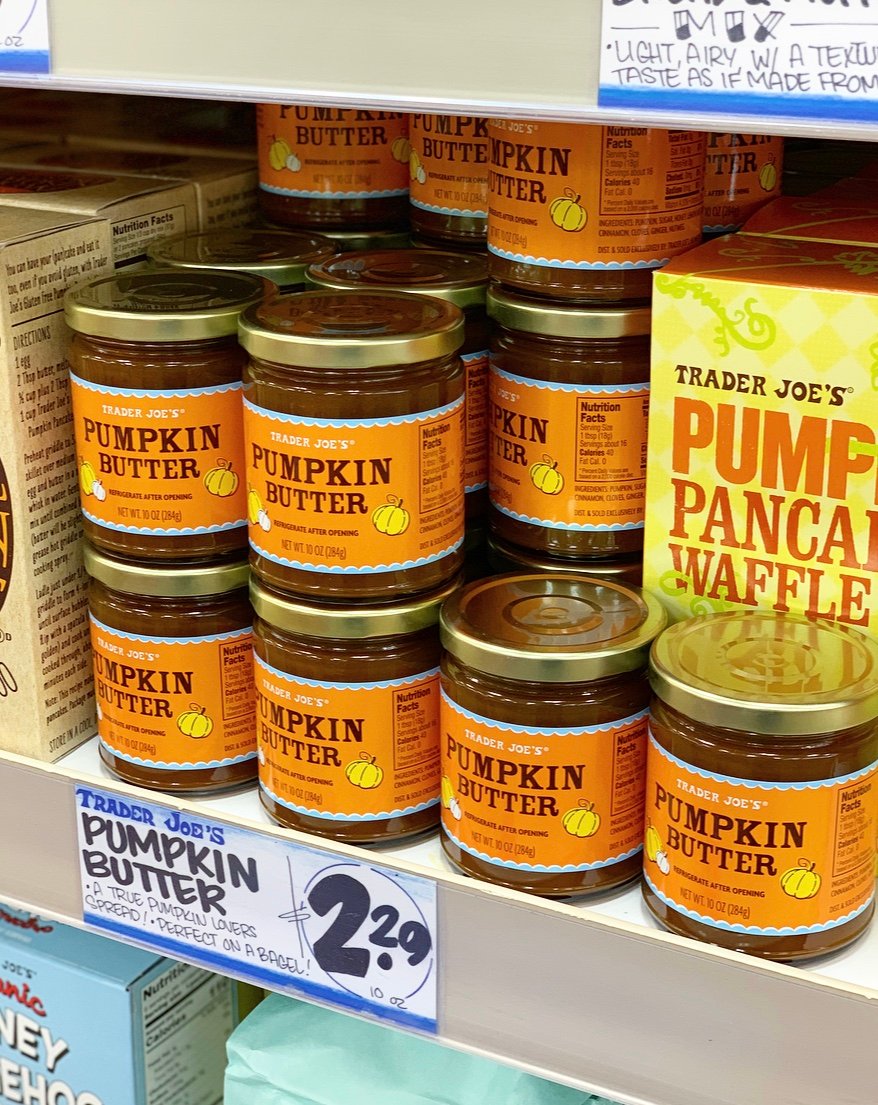 Pumpkin butter! Yummy on toast and muffins!
I toasted some of this bread and put the pumpkin butter on top! Yes please!
Pumpkin Body Butter and Apple Cider Soup
These both smell SO good!
Haunted House Cookie Kit
A fun little Halloween activity to do with your kids!
This Pumpkin walks into a Bar….
We love these cereal bars anytime, but the pumpkin flavor is only available seasonally, so grab 'em while you can!
Popcorn
I found the candy corn one to be a bit too sweet for me, but my boys loved it! The maple and sea salt was my FAVE! I love the mix of salty and sweet!
Leaf chips and Spinach and Artichoke Dip
How cute are these chips?!? And this spinach and artichoke dip is not seasonal, but is SO good! Ready in under 5 minutes!
Fall Harvest Salsa
This salsa is seasonal and worth picking up! My family couldn't even wait until I was done with this post to open it! Haha!
Caramel Apple Flavored Granola
My boys had this for breakfast this morning with plain Greek yogurt and a little honey! SO yum!
I hope you love these Fall favorites from Trader Joe's as much as I do!
If you like these Fall Favorites from Trader Joe's, be sure to check out these Trader Joe's recipe roundups below: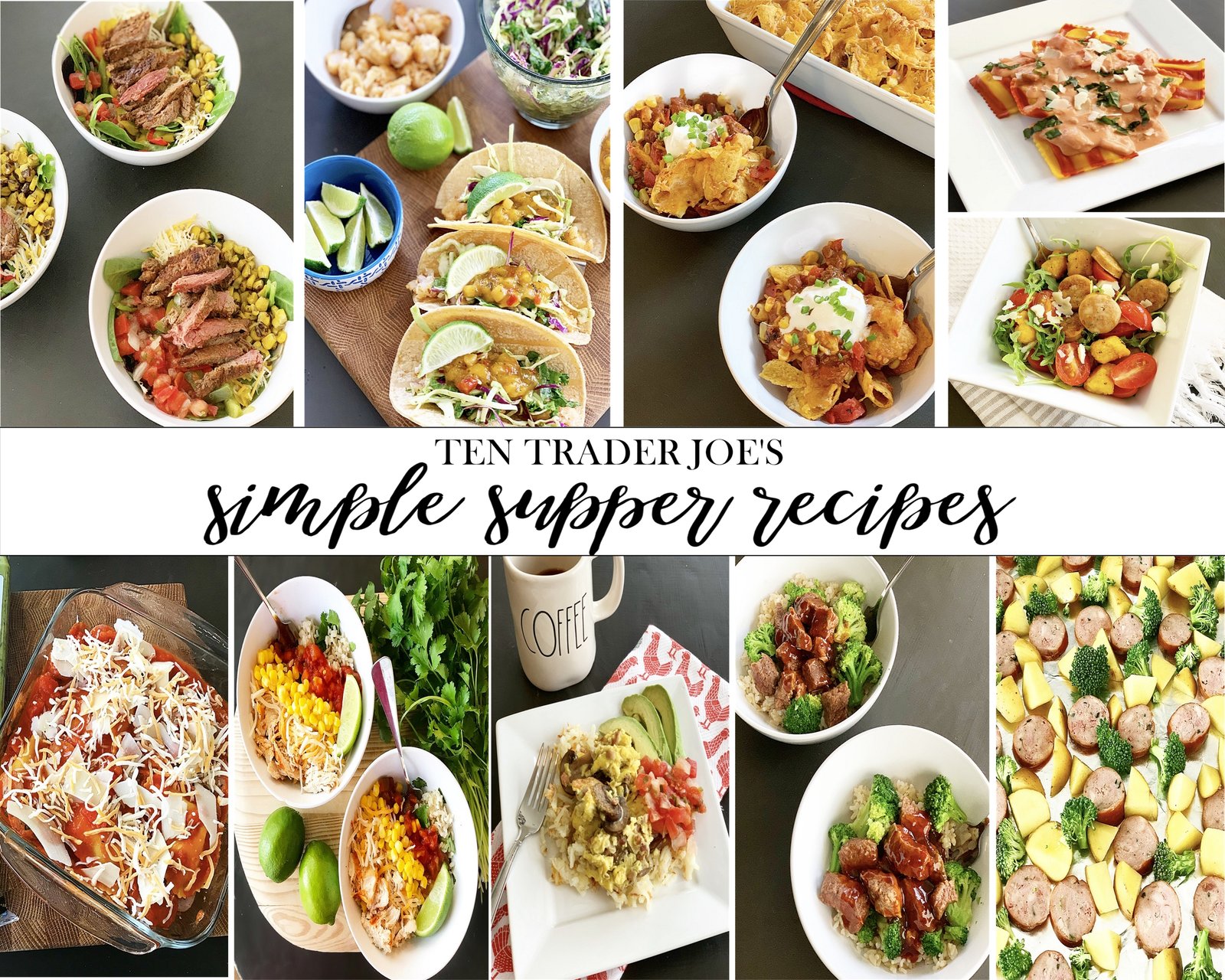 Ten Trader Joe's Simple Supper Recipes
Find this post here.
Five Cookie Butter Recipes
Find this post here.