Today's Tuesday Transformation is about my kitchen!  8 years ago when we decided to get out of the rent race my husband was traveling a lot for work.   We decided not to renew our lease on our Uptown apartment, so we had 6 weeks to find a house, make an offer and close…..and he would only be home 2 of those weeks…..hello, panic mode! Luckily we knew the area we wanted, and we had a very sweet, patient realtor, that no joke, took me to see at least 50 houses.  We narrowed it down to the top 3, and that is all we took the hubs to see.  He is the kind of guy who typically researches the type of vacuum we should buy for months, so the fact that we chose a HOUSE, closed and seamlessly moved from the apartment to a home is nothing short of a miracle!
SO many memories in this home….we've hosted parties and holidays, brought our two precious boys home here, and truly become a family.  And while this is the stuff my dreams are made of, the grape wallpaper and splatter paint is the stuff of nightmares!  Ok, that's a bit dramatic, but there was and is a LONG laundry list of changes, updates and upgrades that needed to be made.  In truth, our home is almost twenty years old, and will always be a work in progress.  Once we finish one thing, something breaks, or five years have passed and that décor I loved, I am now totally over….you know the drill!  So, the kitchen……
Bare in mind, we did this project three years ago, and I did not know then I would be starting a blog.  That being said, I would have taken better "before" pics, but you'll get the idea!
         Orangey-oak cabinets, white corian counter tops and a tile backsplash.  You can't see the floor here, but it was an orangey, engineered wood laminate that almost matched the cabinets.
Sanded, painted, slightly distressed edges, granite countertops and a new backsplash!  When that microwave breaks I want one that's flush with the cabinets….I have BIG dreams people….
Through the fuzziness, you can see the lovely orange floors here.  We replaced them with white oak, handscraped wood and stained with special walnut.  And yes, I have had the same kitchen rugs for 3 years!  They actually got terrible reviews on the Target website, but I have washed them so many times and they are still going strong!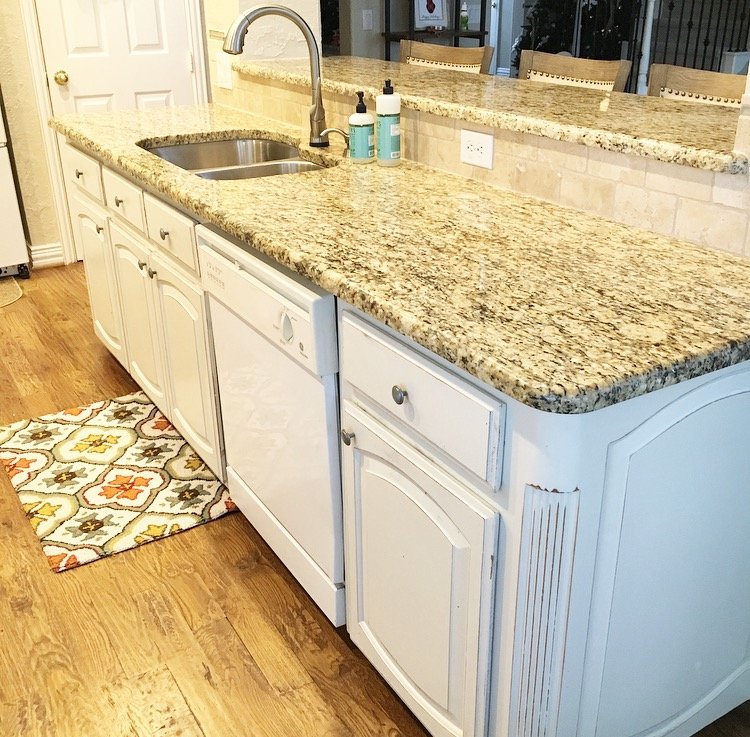 The sink was cracked on the corner and in need of some TLC.
This faucet was actually my hubby's only request!  It is a touch faucet, so you can just touch anywhere along the curved part and it turns the water on.  It's great when your hands are full, dirty or if you're trying to wrangle a little one..which is me daily!  The sprayer also detaches!  We have loved ours! We got is at Lowe's.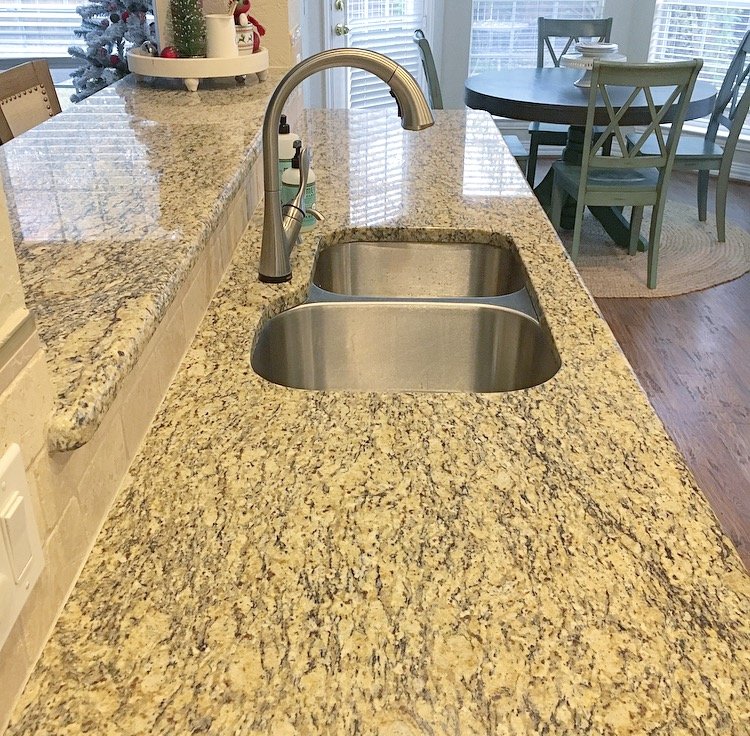 Dear dishwasher, feel free to break so I can replace you too!  This guy is SO loud, but it gets the job done!
I WISH I had taken pics of this breakfast nook area before.  It had splatter painted wall paper and the cornice boards were covered in a navy and maroon fabric with tassels.  Awesome.  I recently found some awesome décor deals for that area that I'll be sharing soon!
This entire process/project took about two weeks to complete, but the dust….well, I might still be cleaning that up!  Just a word of warning, anytime you sand cabinets in your home it is amazing how the dust infiltrates EVERY area.  I had not really anticipated that, but it was worth it!  This kitchen is much brighter, feels more spacious and is just a happier space to make meals and hang out!