Do you love Chick-fil-a's avocado lime ranch dressing?
Today I'm linking up with my sweet, hilarious friend Heather, aka Blonde Twin Mom, for another round of Tasty Tuesday! Since we are in the thick of swimsuit season, Heather and I are making a conscious effort to eat healthier! So this month's theme is salads, but to be fair, my recipe is more about the dressing than the salad….cheating already!
Call me a basic, suburban mom, but my boys and I LOVE Chick-fil-a! I love that I can order on the app ahead of time, the playground is always clean, the staff is always helpful and they always answer with, "It's my pleasure." I am obsessed with their avocado lime ranch dressing. Put it on any of their salads, or just drink it through a straw for that matter….it's delicious! BUT, I flipped over the packet to look at the nutritional facts and OUCH. One two oz. serving has 32 grams of fat and 310 calories. The main ingredient is soybean oil, a fatty vegetable oil, that is not kind to the waistline….kind of defeats the purpose of getting a salad.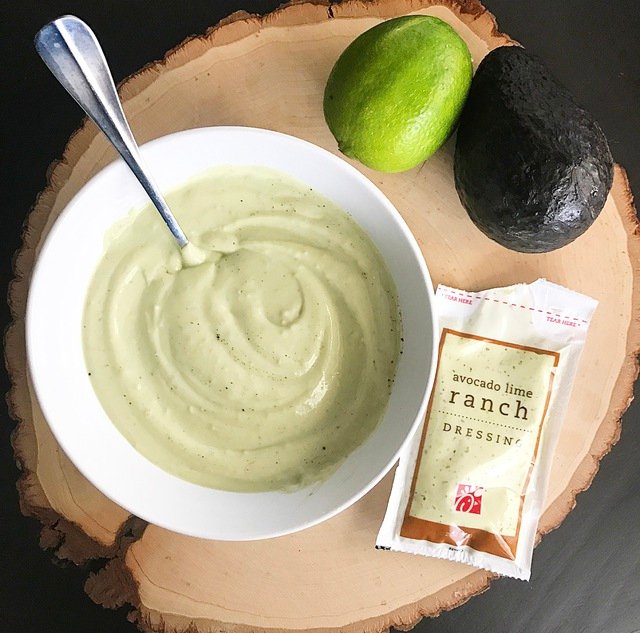 So I decided to try my hand at making my own version at home. I drove through chick-fil-a for lunch, in the name of research of course, and went to work! The base of my dressing is Greek yogurt rather than oil, so the consistency is a little different, but the flavor is very similar, and definitely healthier. This would be great on any salad, as a veggie dip, or even on a taco!
Avocado Lime Ranch Dressing Ingredients
3/4 cup plain greek yogurt
1/4 cup lowfat buttermilk
2 medium avocados, peeled and sliced
1 clove of garlic
Juice of 2 limes
Pinch of cumin (optional)
Salt and Pepper to taste
Directions:
Place yogurt, buttermilk, avocados, garlic and lime juice in a food processor. Blend until consistency is creamy and smooth.
Season to taste with salt and pepper! My hubby taste tested both the Chick-fil-a version and mine, and the cumin was his addition! I did like the flavor it added, but up to you!
This makes a good amount of dressing you can store in your fridge and use for several meals.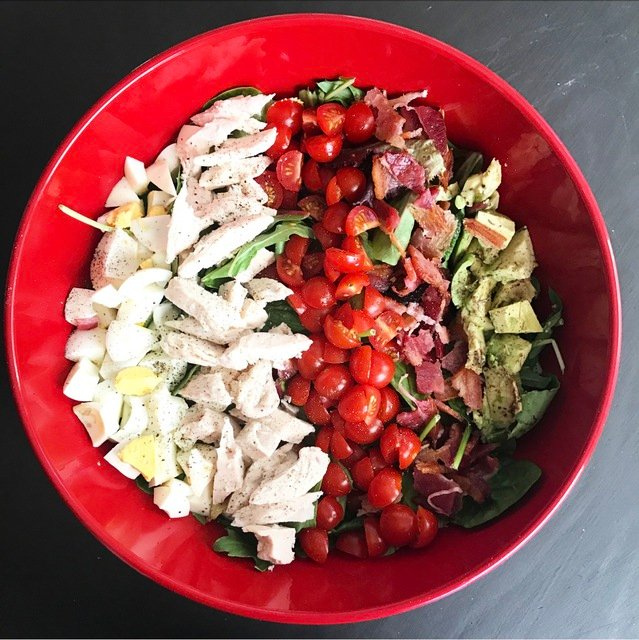 To go with our dressing…because this meal was really about the dressing…I made a pretty traditional cobb salad. Mixed greens topped with boiled egg, grilled chicken, tomatoes, bacon and avocado, seasoned with a little salt and pepper.
If you love Chick-fil-a's version, or even if you've never had it and are looking for a dressing that will make you want to eat more veggies and salads, this is it! Plus I love that when you make something at home you know exactly what goes in it, and you can tweak it to your family's taste!
Thanks for stopping by! I had fun finding a healthier version of this delicious dressing….in fact,
"It was my pleasure!"
Be sure to head over to Heather's blog for her salad recipe and some fun, affordable fashion! Heather is the life of the party, hilarious, down to earth, and just keeps it real…I love her!
Here's our sweet babes sharing a summer snow cone! Love!
You can check out past editions of Tasty Tuesday below: