We recently celebrated my son turning five with a barnyard bash at the Crisp Corral!
It was such a fun day celebrating with friends and family!  You can read about it here!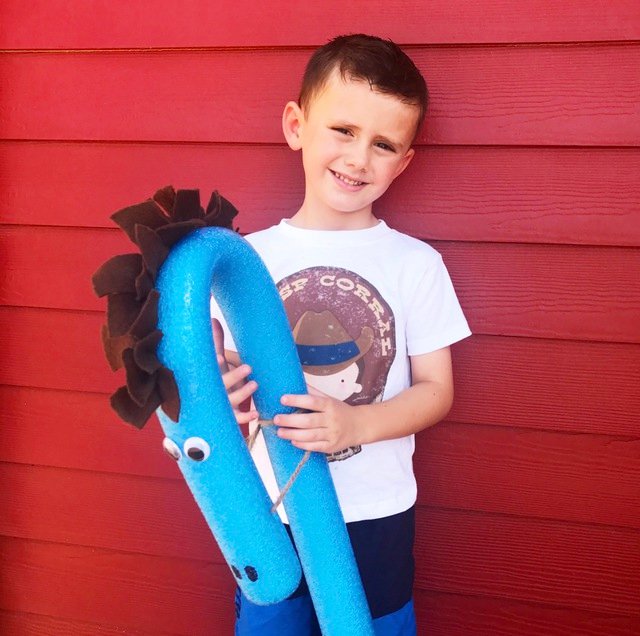 As I was searching for creative farm party favors for the party I stumbled upon this tutorial on Pinterest for pool noodle stick horses.
Since the party was at a splash pad and the theme was barn/farm I thought these were the perfect combination!
I simplified the tutorial just a bit to make 35 of these horses…the night before…you can read more about that here.
My procrastination aside, these were SUPER simple to make, inexpensive (under $2 each all in) and the kids loved them!
These would be perfect for a farm/barn/rodeo/cowboy/rodeo/Kentucky derby themed event…or just for your kids to play with around the house!
Supplies:
Pool Noodles- Since I needed a lot of them, I purchased my pool noodles in bulk here.  If you only need a few I would check Walmart, Target, or any dollar store!  You can usually find them for about $1 each.
Googly Eyes
Scissors
A knife
Black Sharpie
Jute or Rope
Felt for hair-I used brown
Hot glue gun and glue
Directions:
With your knife, cut a slit at one end of the noodle to serve as the horse's mouth.
Thread rope or jute into the slit (mouth), bend noodle and tie to create reins at your desired length.
Draw nostrils with sharpie and glue on googly eyes with hot glue.  The glue will melt the noodle, so put the glue on the eyes and then stick them on.
Cut your felt into strips and then cut slits to create hair.  I bought 2 yards and was able to do all 35.  Just play around with length and size of slits-it doesn't have to be exact!  My manes were a little like a mohawk!
Take your knife and cut a slit on top of your horse's head.  Insert felt to look like hair.  You may want to add a touch of glue to make it stay.
Yeehaw!  You're done!  So easy….BUT I kind of felt like this at a few points making all of these the night before…
You probably never wait until the last minute like me…..the things we do for our kids!
Thanks for stopping by! Find more goodies for your next barn/farm bash here.