Today I am so honored to be joining some fellow bloggers to show how we are decorating our homes for Fall!  They are all incredibly talented (and kind!) so be sure to click their links at the bottom for beautiful Fall inspiration!
"Life starts all over again when it gets CRISP in the fall." -F. Scott Fitzgerald
To be honest….I totally chose this quote because it has our name in it, but isn't it the truth?!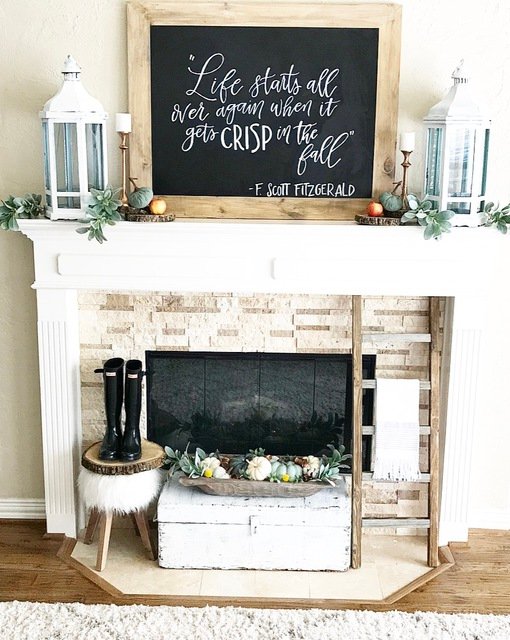 Fall is FULL of life…football, pumpkins, sweater weather, Halloween, the State Fair…it is my VERY favorite season!
Thanks to my talented friend Courtney for the beautiful calligraphy!
This year I used this quote as my inspiration and decorated with apples, muted greens, shades of white, pumpkins, cotton and touches of copper!
Cotton in a copper cup….say that five times fast!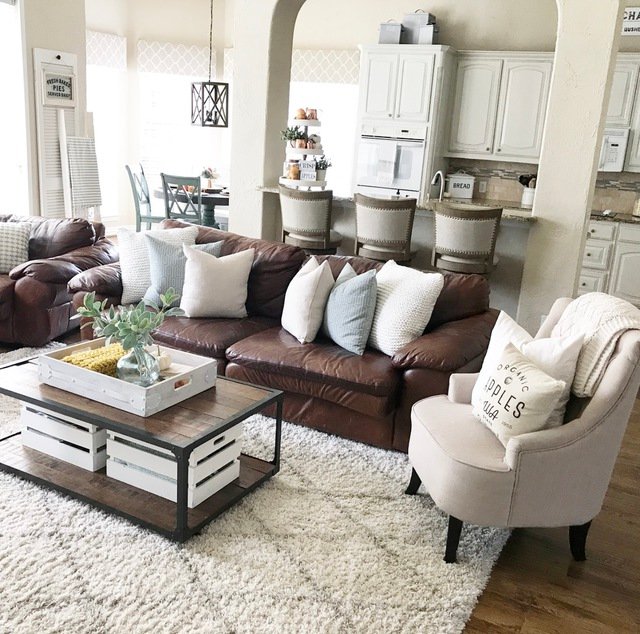 If it's your first time here, welcome!  I'm SO glad you stopped by!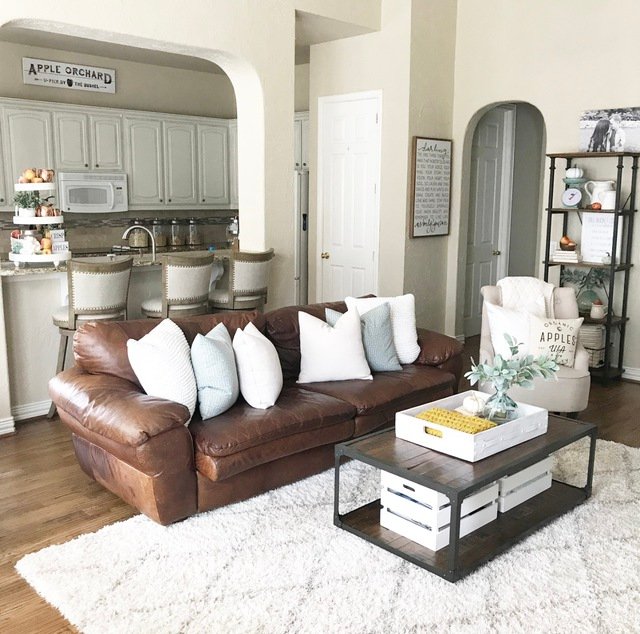 I'm sharing our living room which opens to the kitchen and breakfast nook.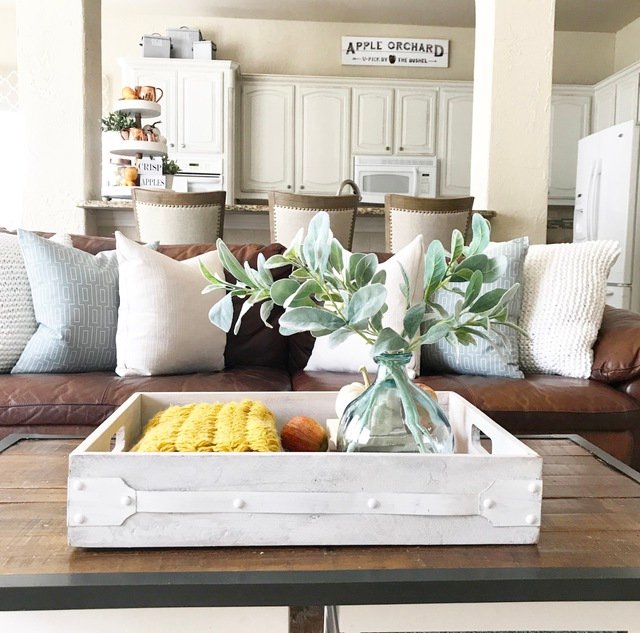 My name is Bethany, and I live in a suburb of Dallas with my hubby and two sweet, but rowdy boys, Logan (5) and Will (2).
I like our home to be pretty and polished, but more often it is covered in toddler toys and the backdrop for light saber battles, truck races and art projects…wouldn't have it any other way!
Most importantly, I want my people to feel cozy and comfortable to just be themselves here!
These shelves are one of my very favorite Amazon purchases (prime for life!) and get a makeover each season.
I made this print for these shelves, and can't wait to check off our fall favorites!  If you have never been to the State Fair of Texas you probably need to add it to your bucket list too…and have a Fletcher's corndog…or two, I won't judge!
This tray is another of my favorite spots to decorate! Going to need to make some Moscow Mules this season with all these copper mugs hanging around!
This breakfast table off the kitchen is where we eat most of our meals, so it is never set like this, but it was fun to play!
I love this copper and marble cake stand and will leave this here even when the dishes are cleared away!
I think these mini mugs are meant for shots, but I prefer them with a cotton stem…less headaches that way!
I dipped these apples in homemade caramel and placed each peanut piece myself…just kidding!  I bought them at Market Street!  Totally against my fitness goals, but I'll make the sacrifice…they fit the theme and brought back Fall childhood memories!!
A couple of weeks ago I also shared my Fall tablescape!
You can see it here.
Thanks so much for stopping by!  I hope your Fall is FULL of fun!
Fall Into Their Homes:
Please be sure to check out these talented ladies!  Their homes are all swoon-worthy!
Allie at Allie Cecil Blog
 Lindsay at Aratari At Home
Carissa at Bless This Nest
Meeghan at Cali Girl in a Southern World
Sarah at Dreaming of Homemaking
Nicole at My Autumn Farmhouse
Jessica at Patina Gray Home
Kayla at Plum Pretty Décor & Design
Randi at Rustic Meadows Home
Kaley at The Little White Farmhouse
Kelly at The Tattered Pew