Pumpkin spinach tortellini bake…..reading that title a few of you may have already turned up your nose…and I totally get it!
Before I tried pumpkin pastas I was skeptical too, but it has quickly become one of our favorite meals this time of year!  Just like in this pumpkin chili I shared last week, in this recipe we are just replacing tomatoes with pumpkin in an otherwise pretty traditional meal.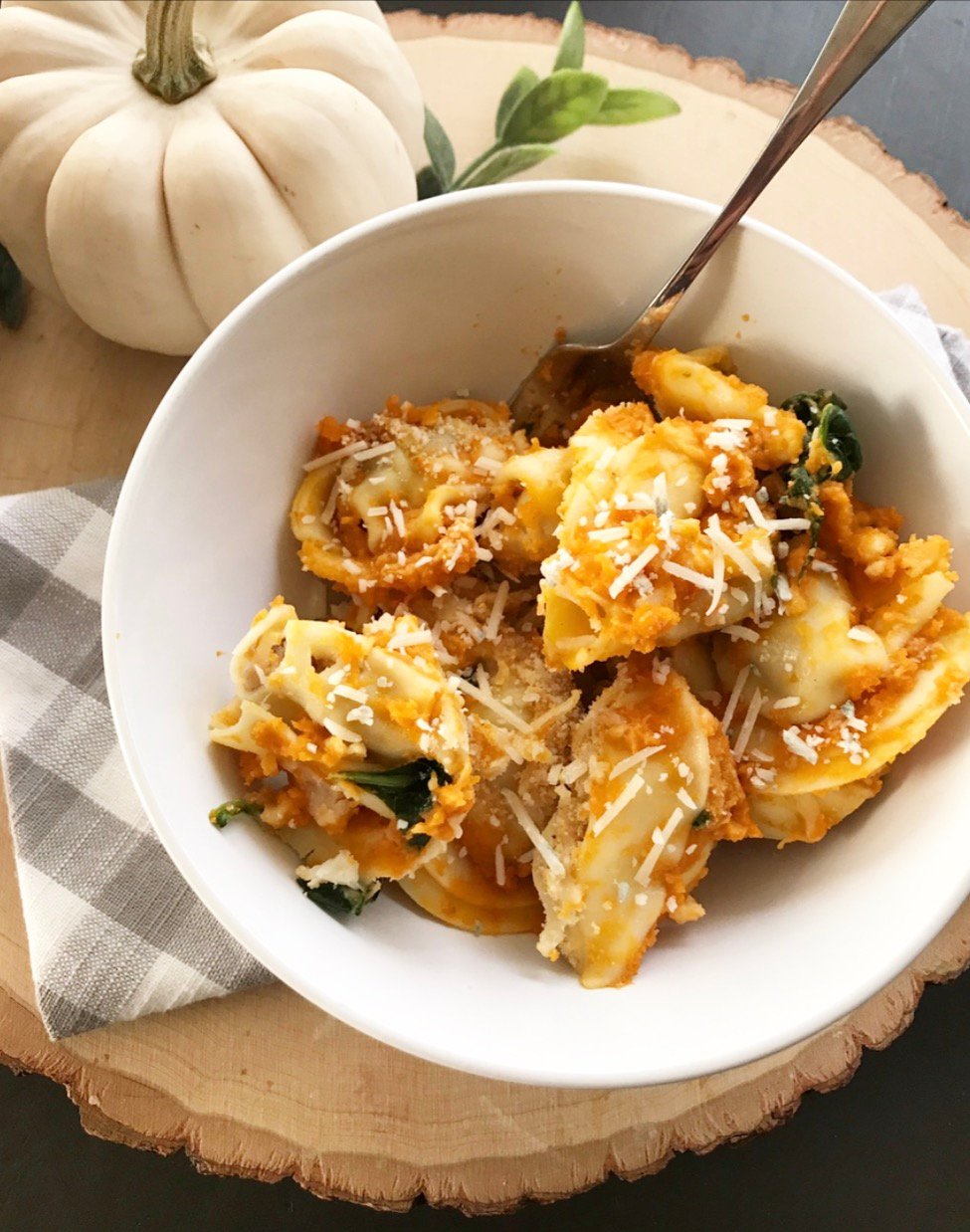 This hits the weeknight checklist for me:  easy, quick, hearty and sneaking the spinach in gives my kids some greens they will actually eat!
I encourage you to just give it a try!  It's a welcome change in our house in this season where we can't get enough pumpkin!
Ingredients:
Tortellini- we used 1 20 oz. package of Buitoni Italian sausage, but you could get cheese to make it a vegetarian option!
1 15 oz. can of pumpkin, not pumpkin pie filling, just pumpkin
1 medium onion, chopped
1-2 teaspoons of extra virgin olive oil
2-3 cups of washed spinach
Salt and pepper to taste
1 cup veggie or chicken stock
2 cups mozzarella cheese, divided
1/4 cup breadcrumbs or Panko
Directions:
Preheat oven to 400 degrees and spray a 9×13 baking dish and set aside.
Bring water to a boil in a large pot and cook tortellini (5-7 minutes)
While water is boiling, heat olive oil in a pan over medium-high heat.  Saute your onion and spinach with salt and pepper for 1-2 minutes.  Stir in pumpkin and stock, reduce heat and combine well.  Drain tortellini and add pumpkin/spinach mixture to tortellini.  Stir in 1 cup of mozzarella cheese and pour mixture into prepared baking dish.  Top with remaining cheese and bread crumbs.
Bake about 7-10 minutes or until bubbly and lightly browned.   Sprinkle with additional cheese if desired!
Easy, hearty and delicious…. the perfect fall meal!