Throw pillows are the stuffed animals of grown women…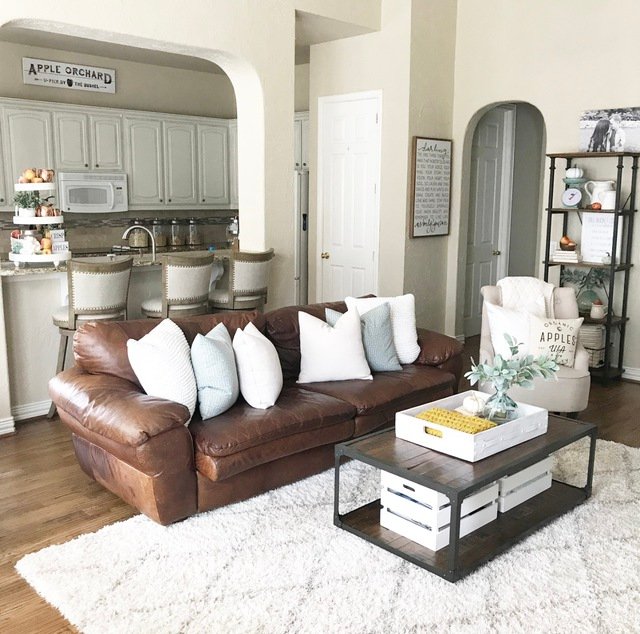 Though my husband would probably disagree, I firmly believe you can never have enough throw pillows!  When I saw that some of my very favorites were on MAJOR sale, I had to share in case any of you are on the same page, and need to add to your collection…which I'm sure you do!
A few years ago I started mainly purchasing pillow covers rather than pillows.
Pros of Pillow Covers:
I like to change things often, so switching out covers is an easy, inexpensive way to change up a space.
Covers are WAY easier to store.  I can just take a cover off, fold it up, and put it away instead of having a closet overflowing with pillows I'm not using.
There are so many AWESOME retailers and makers with pillow cover options!
My number one favorite retailer for pillow covers is….
H&M
For example, these pillow covers (the black and white and muted green color are pictured on my couch above) are $2.99 right now…..yup, $2.99!!  My Starbucks order costs more!  They come in four color options here.
I'll be honest, the first time I ordered from H&M, I fully expected the quality to be questionable because they are so inexpensive.  I was pleasantly surprised that the quality is actually great!  They are 100% cotton, have a quality zipper (never had one break) and they are constantly offering new styles and colors.
This is another cute option that is on sale for $5.99 and comes in 4 colors here.
These velvet covers would be great for fall/winter, come in 11 colors and are just $9.99 here.
If you are a crafty girl who can paint or have a Silhouette to play with text and designs, their plain cotton canvas covers are just $5.99, come in 11 colors and would be great for those types of projects.  You can find them here.
Inserts
A quality insert is important for your pillows to sit right and be comfy!   I found my down inserts at Home Goods, but H&M also offers inserts with "duck feather fill" on their site!
Find 20×20 inserts for $9.99 here.
16×16 inserts for $6.99 here.
Ikea also has 20×20 down inserts for $5.99 here.
Free Shipping
H&M has free shipping right now when you order $40 or more with the code 0400.
Kids Pillows
I think these are such sweet options for your littles and are only $5.99 as well!  H&M also has tons of cute kids' bedding options!  Find these pillows here and some kids bedding options here, here and here.
Christmas:
And don't be mad because I KNOW….we haven't even had Halloween yet, but….some of my FAVORITE Christmas pillow covers are from H&M too!  They just released some holiday designs for this year.
In years past I have been more impressed with the selection, so I am hoping there will be more choices coming soon!  So far I love these:
Available in green and red here.
Available in gold and gray here.
This one is my favorite because you could use it all winter long!  Find it here!
These would be super cute with these faux fur options! Here, here and here.
Pottery Barn
Pottery Barn is another one of my favorite retailers for pillow covers!  Their quality is top notch and their customer service is great…they stand by their products!  They have a tone of pillows and throws on sale right now too!  Here were a few of my favorites:
Pretty neutrals with some fun, cozy details on sale here, here and here.
Cute Christmas option here.
Plaid options for DAYS!  But this one was my favorite.  More plaid here and here.
And if you are a buffalo check fan, this is too cute! Comes in 3 color options here.
They also have ALL throws 30% off.  These buffalo check ones are $27 here.
And this super cozy pom pom throw is also just $27 here.   These would make a great gift!
Even at $40 off these three are a splurge, but oh so pretty and made to last. Find them here, here and here.
Free Shipping
Pottery Barn has free shipping until tomorrow with the code FREESHIP
Whew!  All this pillow talk makes me want to snuggle up on the couch and settle in on this rainy Sunday!  Hope yours is full of Jesus, cozy cuddles and rest!
Thanks for stopping by!