Halloween is next week, and we can hardly wait!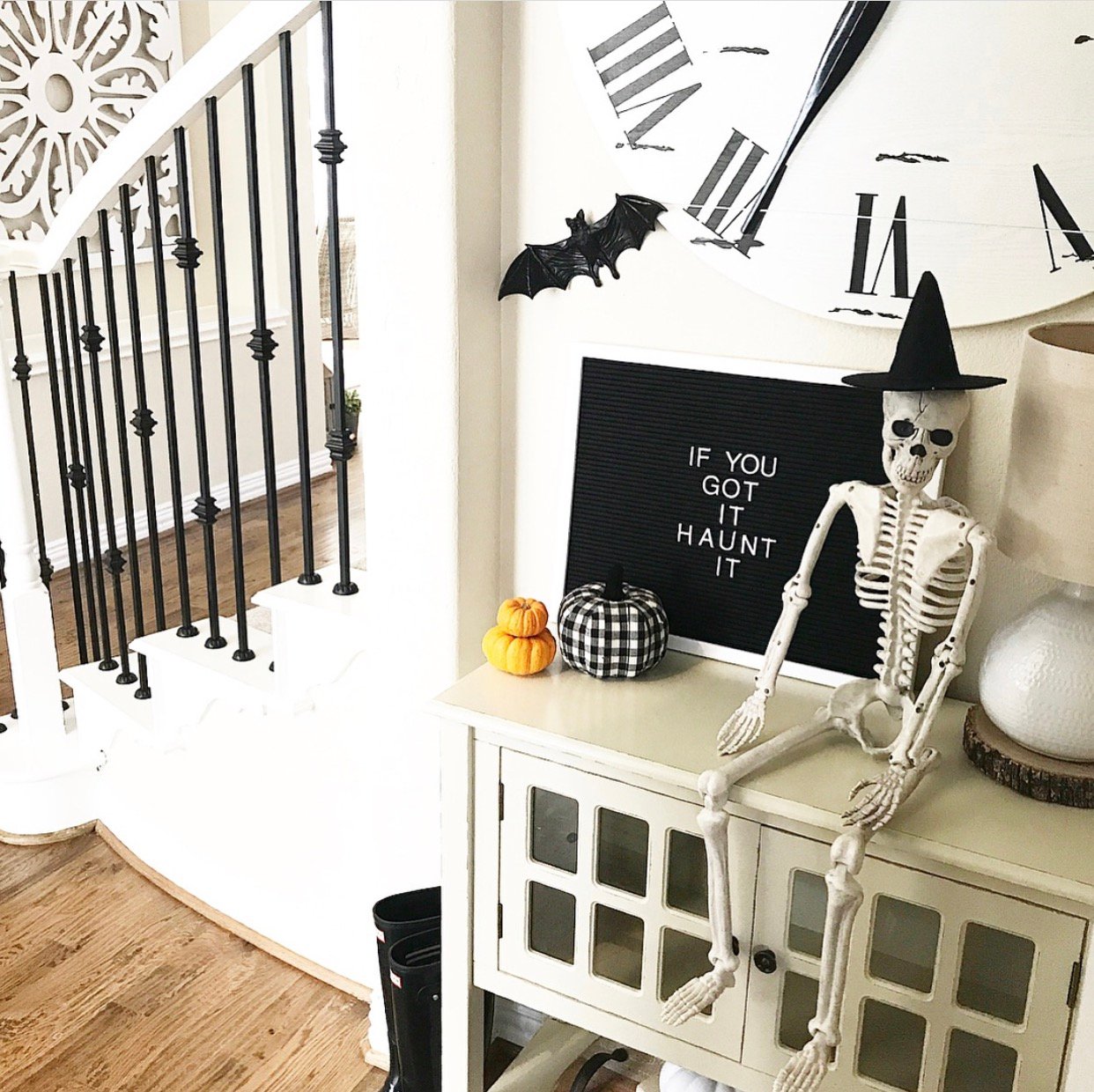 I don't usually decorate much for Halloween, but we have had too much fun with this skeleton!  Not everyone can pull off a witch hat, but Mr. Bones…nailed it!
Before we dive into the décor and treats, indulge me in a little Halloween flashback….
This lovely Adam and Eve were just dating when this pic was taken, but when this guy who HATES to be in the spotlight or draw attention to himself was willing to wear some leafy shorts for our couples' costume (I hot glued all those leaves myself! lol)….I knew he must kind of like me!  The blood was his own personal touch!
Fast forward seven years, Adam and Eve got married and were blessed with this itty, bitty Batman.  The days are long, but the years are short mamas!  I forget he was so very tiny!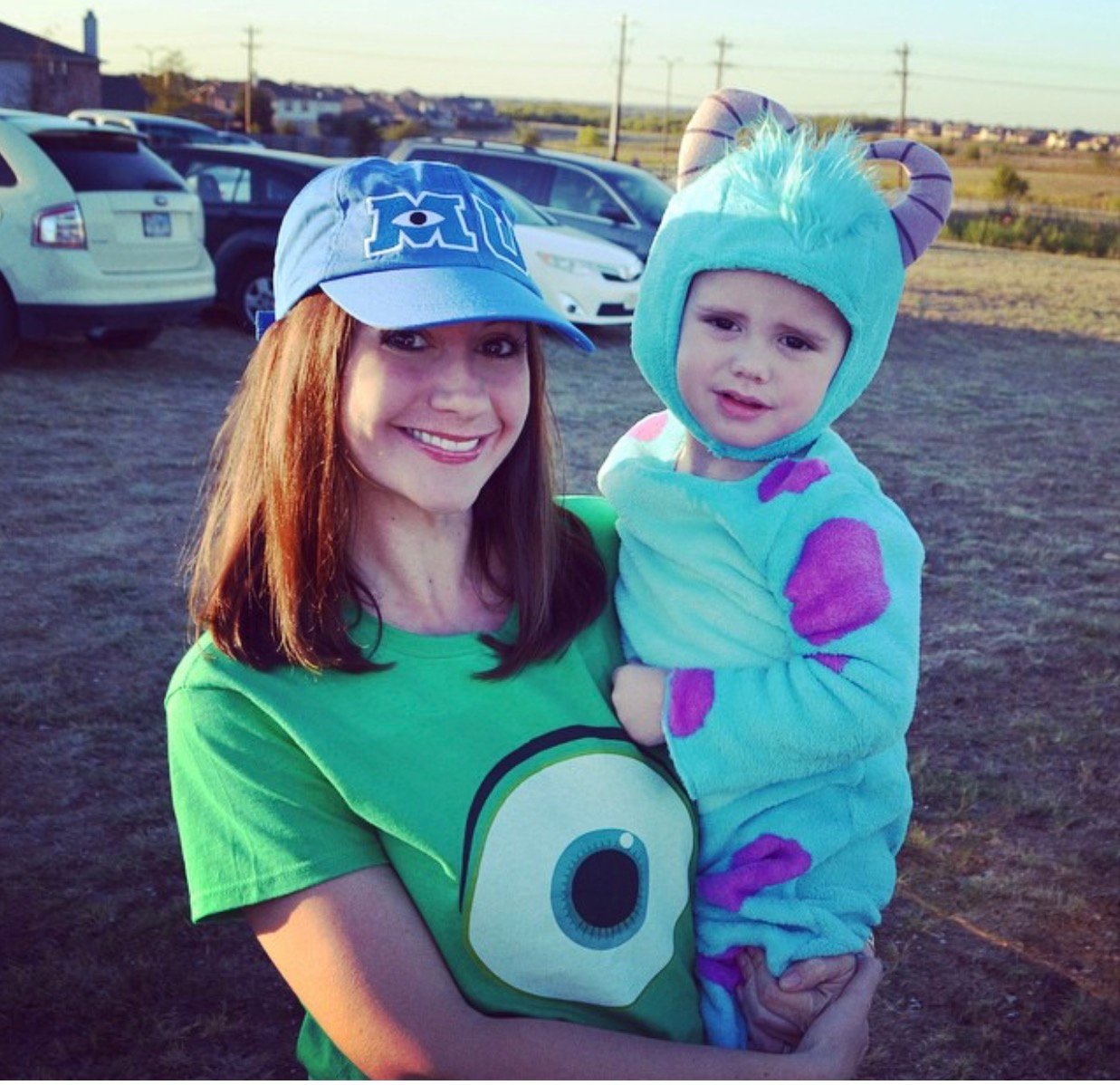 Pregnant with Will, Logan and I were Sully and Mike from Monsters, Inc. My round belly completed the look!  If Sully looks a little sad it's probably because two minutes after this pic was taken he puked ALL OVER ME!  That ended the trunk of treat pretty fast!
My sweet astronauts…Will could not be bothered to quit eating for a pic!
And my favorite….the cousins dressed as characters from The Wizard of Oz, a favorite of my mom's!  My Dad and I had so much fun making Logan's little tin man costume!  Dad is the KING of Halloween….costumes, yard decorations with dry ice, lights, music…the works!  He has always made Halloween so fun because he is a big kid at heart!
My outdoor décor pales in comparison to my Dad, but my kids were excited to finally get a dog….even if it is just a skeleton!  He fits right in with my dead mums!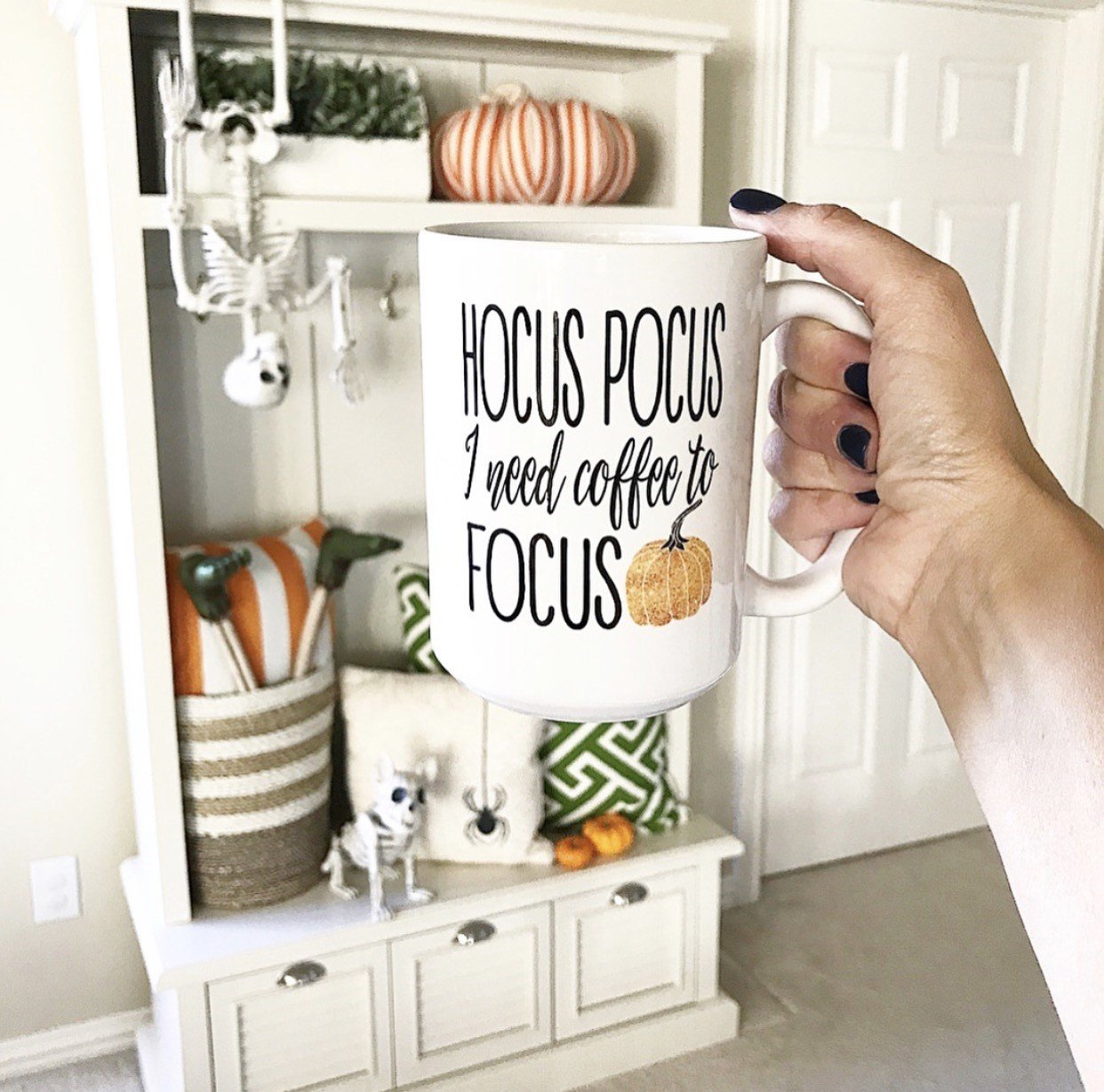 We also decorated the boys' nook upstairs with some fun monster feet, pillows, and pumpkins!  This mug is one of my favorites and gets busted out every October!  And yes, that is Mr. Bones again, just hanging out!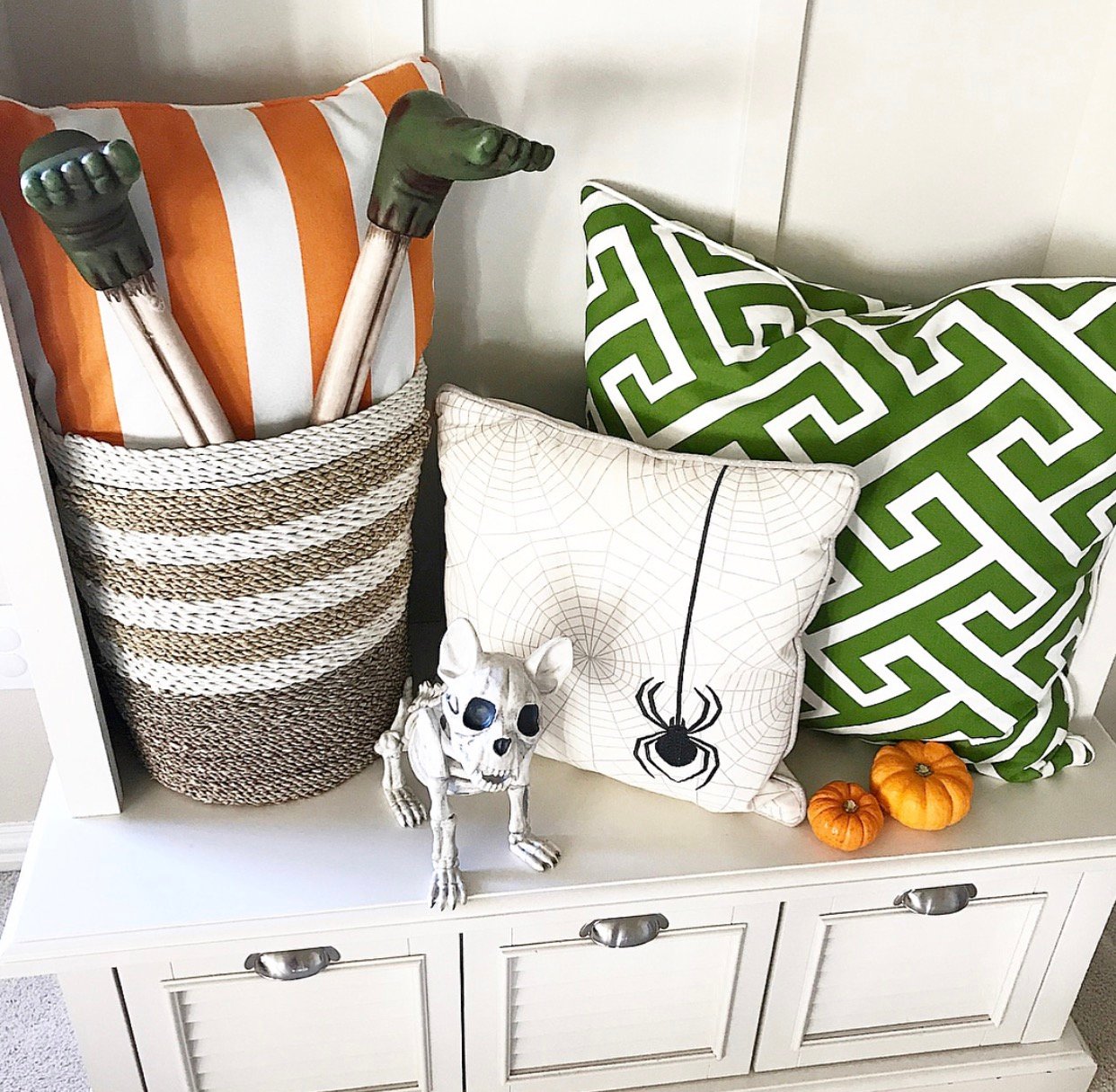 We have a weekend FULL of all sorts of Halloween festivities and can't wait!  We are bringing a few treats, so I made these tags and thought I would share them here if you would like to use them for your ghosts and goblins!  
Halloween Tag jpeg
Just download files above, print (preferably on white cardstock), cut along the lines provided, punch and hole and tie!
We found these Halloween Peeps that came in ghosts, Frankenstein and pumpkins at Target (although I've seen them lots of places!) and decided to include graham crackers and chocolate so our friends can make SPOOKY s'mores!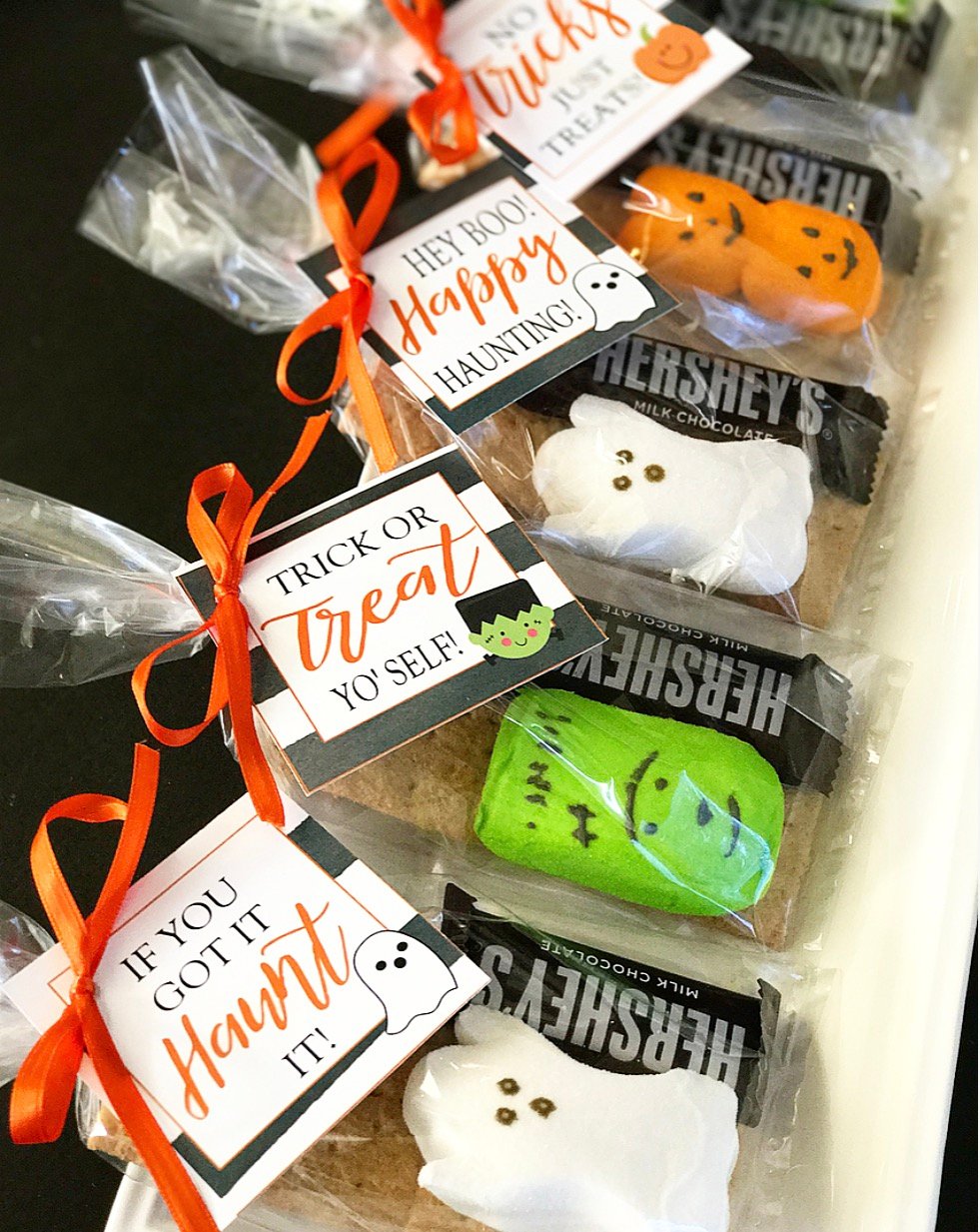 These Peeps would be so festive if you are doing a Halloween bonfire or have a backyard firepit!
Whatever your plans, I hope you and your boos have a weekend full of making memories!  And like Mr. Bones says, "If you got it, haunt it!"