Have you checked everyone off your list this Christmas?  I am personally only about halfway done and need to kick  it into gear!  Christmas is in two weeks people!
One of my favorite items to gift is gift cards!  Truthfully, I used to think gift cards were impersonal and lazy, but as I've gotten older, I've changed my tune!  Who doesn't LOVE a gift card?!?
I think they are especially perfect for teachers, co-workers and those people who make your life easier throughout the year that you just want to say a little thank you to at Christmas…postal workers, hair stylists, secretaries, crossing guards, school bus drivers, custodians…so many people that deserve a little happy this season!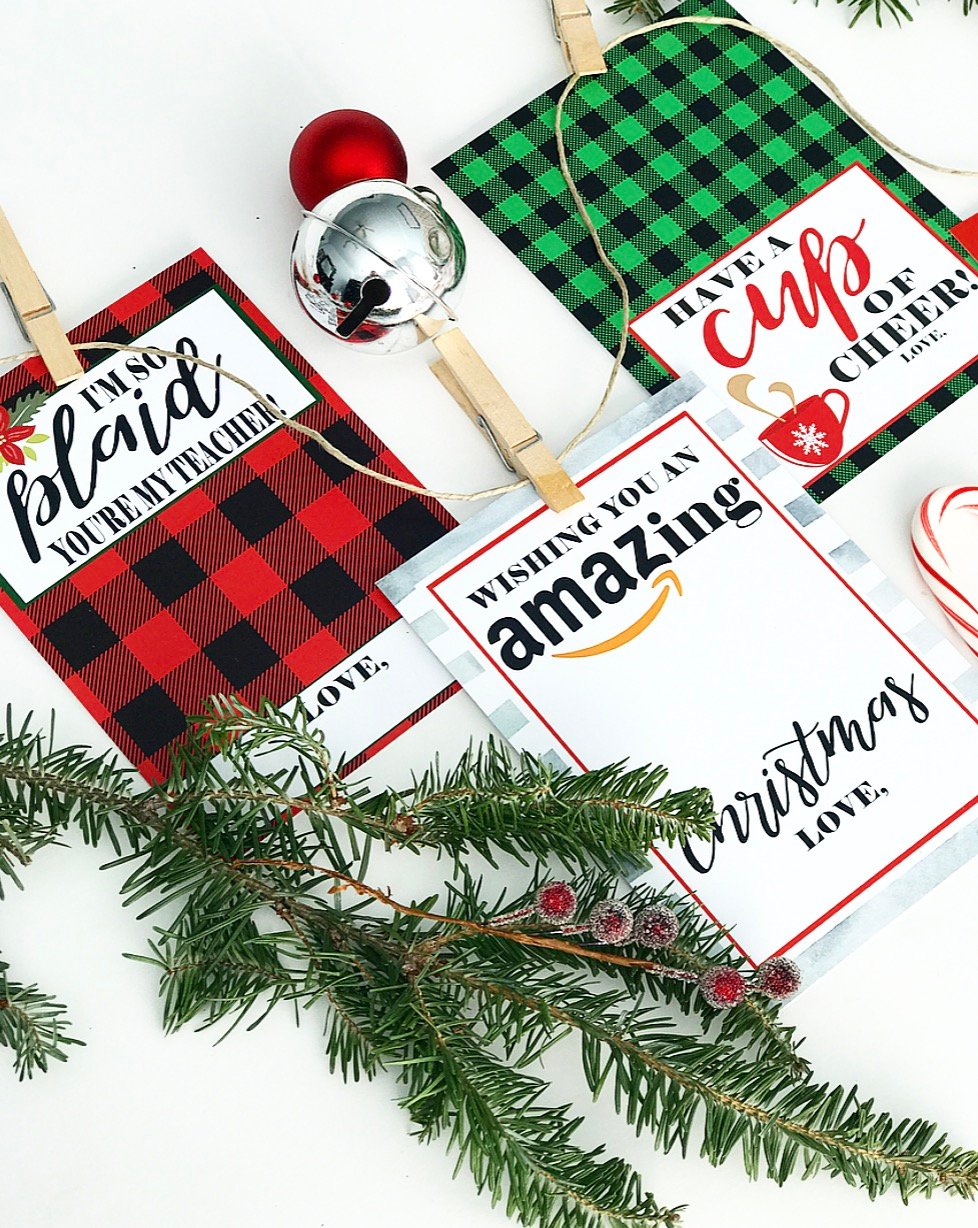 So in an effort to add a little cuteness to our cards, I created six Christmas gift card holders!  These are 5×7 cards that you just download, print and then attach your gift cards with tape or glue in the space provided!
I recommend printing on cardstock if you have it, only because it is sturdier!  My printer is not the greatest, so I usually send files over to a local print shop (could use Office Depot, Kinkos, etc.) and they print and cut for me quickly, and for less than a dollar.  I also provided jpeg files of these cards if you want to send to your local one hour photo printing and pick them up.  Just adds a little personal touch!
Click on the links below to download files and spread a little Christmas cheer!
Coffee Shop Gift Card Holders
Perfect for coffee lovers!  Pair with a gift card to Starbucks, Dunkin' Donuts or your favorite local coffee spot!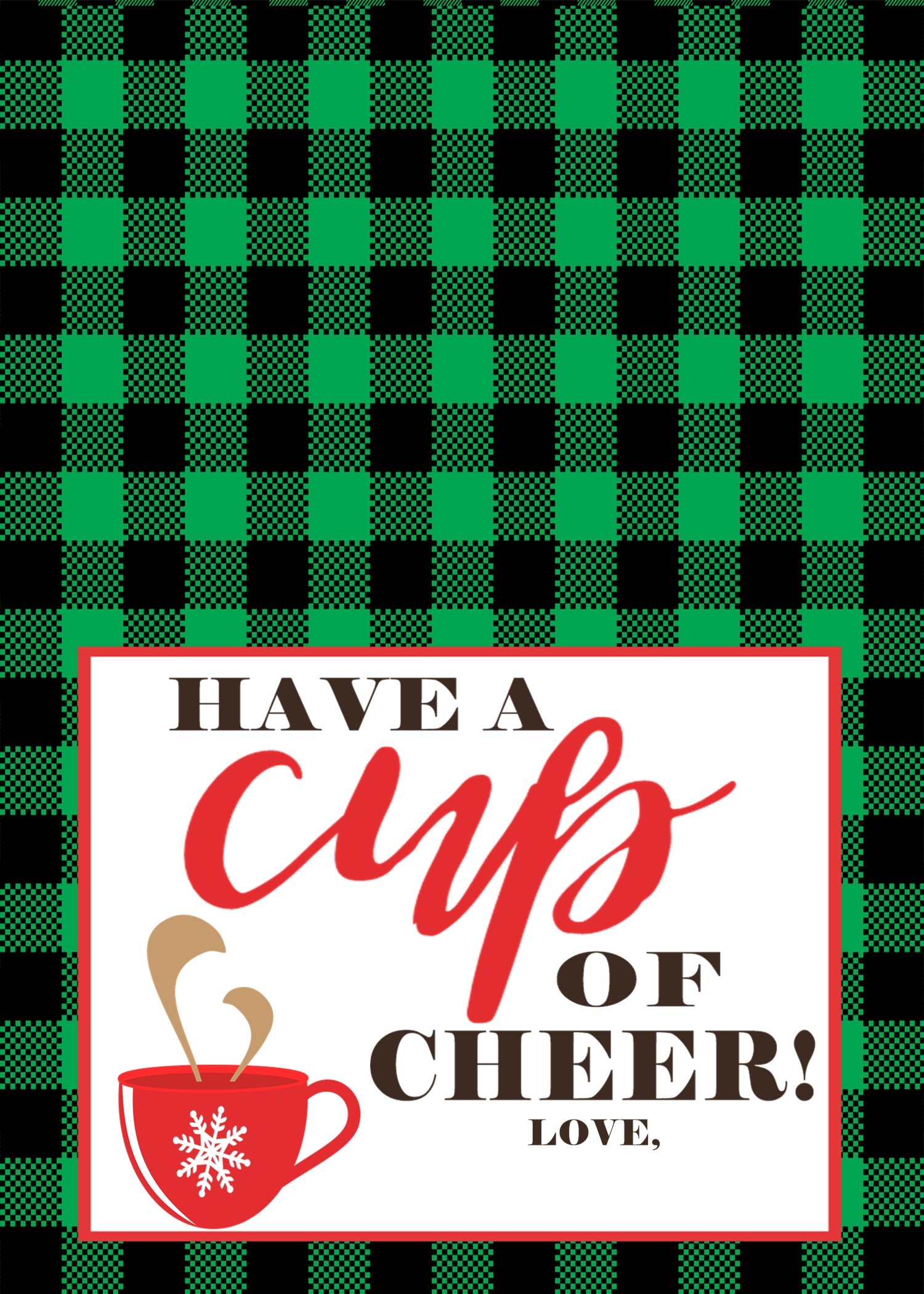 Cup of Cheer pdf.
These gift cards  would also but cute paired with these 12 oz. enamel mugs that are each under $5.  They are dishwasher safe, and all SO adorable for sipping all season!

Target Gift Card
There is literally something for EVERYONE at Target!  I can't seem to make it out of that store without allllll the things jumping in my cart!
For Teachers
I taught high school for 9 years, and I will tell you that gift cards were my FAVORITE gift to receive!  Find out your teacher's favorite stores, restaurants, or services (nail salon, massages, etc.) and treat them!  A heart-felt thank you note on the back of this card goes a looooong way too!  Teachers definitely do not do what they do for the fat paycheck…they love your children, and knowing that they are making an impact is the BEST gift you can give!
Amazon Gift Card
Amazon is another amazing retailer with something for everyone!
For Anyone
Anyone, any gift card! Simple and sweet!
Merry Christmas Gift Card jpeg
Merry Christmas Gift Card pdf.
Movie Night
Perfect for a gift card to your local movie theater or Netflix.  Throw it in a basket of movie night candy and snacks, and it's a gift anyone would love!
Restaurant Gift Card
This busy time of year not cooking dinner one night can definitely be an appreciated gift!
Wishing you and all the special people in your life a very Merry Christmas!  Now, go spread some Christmas cheer!
Feel free to pin and share!