Happy Monday!  We hosted lots of family and friends this weekend, which makes my heart and my coffee mug FULL today!  Just the way I like it!
I wanted to share this little hot chocolate bar that was a big hit!  This would make a fun addition to any party or shower this time of year when the temps are low and a warm drink hits the spot!  My boys especially thought all the toppings were fun!
I put hot chocolate k-cups near our Kuerig for people to make their own.  However, if you are serving a big crowd, it might be faster to do a big batch of hot chocolate in the slow cooker so it will stay warm, and people can just ladle it into their mugs themselves!
Ingredients/Supplies for Hot Chocolate Bar:
Hot chocolate
Whip Cream (optional)
Toppings – I used marshmallows, sprinkles, chocolate chips, Heath toffee chips, and peppermint chips!  Have fun with it!  There are all kinds of marshmallow colors and shapes too!
I loved these pink heart ones with Valentine's coming up!
Containers for toppings- I used mason jars!  Affordable ones here. 
Mugs or disposable coffee cups
Straws (optional)
Printables:
Supplies for Printables:
White Cardstock
Hole Punch
Scissors or 3 inch craft paper punch
Jute, string or ribbon
8×10 frame
Here are the toppings I included in my tags, but you may just want to pick 2 or 3 to keep it simple!
Print the tags from the file above and cut along the circle line or use a 3 inch craft paper punch. Punch a hole on either side of the mug, string ribbon or jute through and tie to your mason jar or other container.
Print the Hot Chocolate bar sign from the file above, frame and display!
Just a fun little setup that will definitely make your guests smile!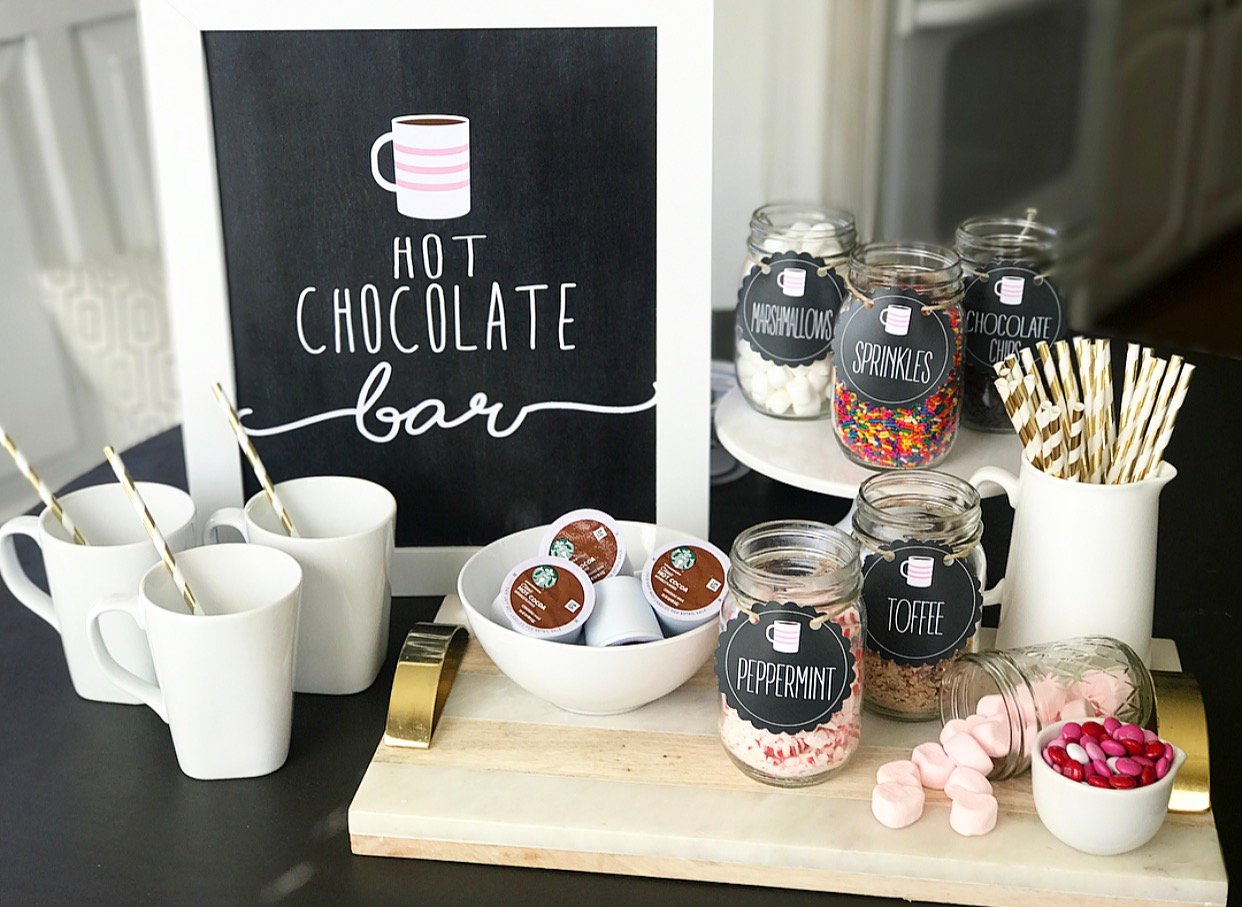 Cheers!
Shop the Post: