Welcome to our Easy Summer Styling Tour!
Today I am so excited to be joining a very talented group of bloggers in sharing some tips, tricks and inspiration for styling your home for summer!  If you are here from Laura's blog, The Turquoise Home, welcome!  I know you were inspired by her beautiful home!  And a big thank you to my sweet friend Kelly at The Tattered Pew for putting this tour together!  You are the best!
 "Keep your face always towards the sunshine and shadows will fall behind you." -Walt Whitman
Not sure if our friend Walt knew the importance of sunscreen when he wrote this, but regardless, I fully agree that troubles just seem to melt away when you are soaking in those beautiful rays!  Sweet summertime is here, and while my family is prone to spend most of our time outdoors, today I'll be sharing how I tried to bring a little bit of sunshine in.
If you are visiting for the first time, my name is Bethany, and I call Texas home with my sweet hubby and two rowdy boys (ages 5 and 3).  They hold my heart!  It is a little crazy around here at times, but we wouldn't have it any other way!
I have always loved being creative, and our home is often my canvas.  I am sharing our dining room today, and while it is rarely all set up like this (insert two boys running through in a sword fight and legos scattered all over the floor), the ideas here can definitely be incorporated into many areas of your home for summer…and did I mention there will be a sweet snack?  Maybe even a cocktail?  Yup, that's how we roll around here!
So let's get to it!
Play With Color
I am normally a pretty neutral girl, but summer just seems like an invitation to infuse some color into your home.
I decided to add these light teal bowls and coral napkins to my table for a bright pop of color.
The coral found it's way to the chair in the corner of the dining room as well…
and to the console that sits on the wall opposite the table.
These cheerful colors just scream summer!
Go Green:
Real or Faux
Greenery always makes any space come to life!
I used greenery all along the center of the table and in the dough bowl, making the centerpiece low enough that guests can still see each other across the table.
Feel free to mix different types of greenery and shades of green!  Mine here is a mix of faux greenery from Hobby Lobby and Pier One, but you can even explore your own yard for greenery to incorporate throughout your home!
Feeling Fresh and Fruity
Fresh fruit is one of my FAVORITE, inexpensive ways to spice up a space this time of year.
I used grapefruit and lemon here, but peaches, limes and oranges are all in season and would provide a pretty pop of color.
Lemon slices in water makes for a pretty arrangement for a party, shower, or anytime you want to add a little fruity fun!
Cruise the beverage aisle too!  I am a sucker for pretty packaging, and these bottles on a tray provide some simple pretty for your party!
Faux fruit works well too, and obviously lasts longer, but I never mind using decor I can eat!
Re-Purpose Your Edible Decor
One thing I love about using fruit in decor is that you can re-purpose it into yummy recipes!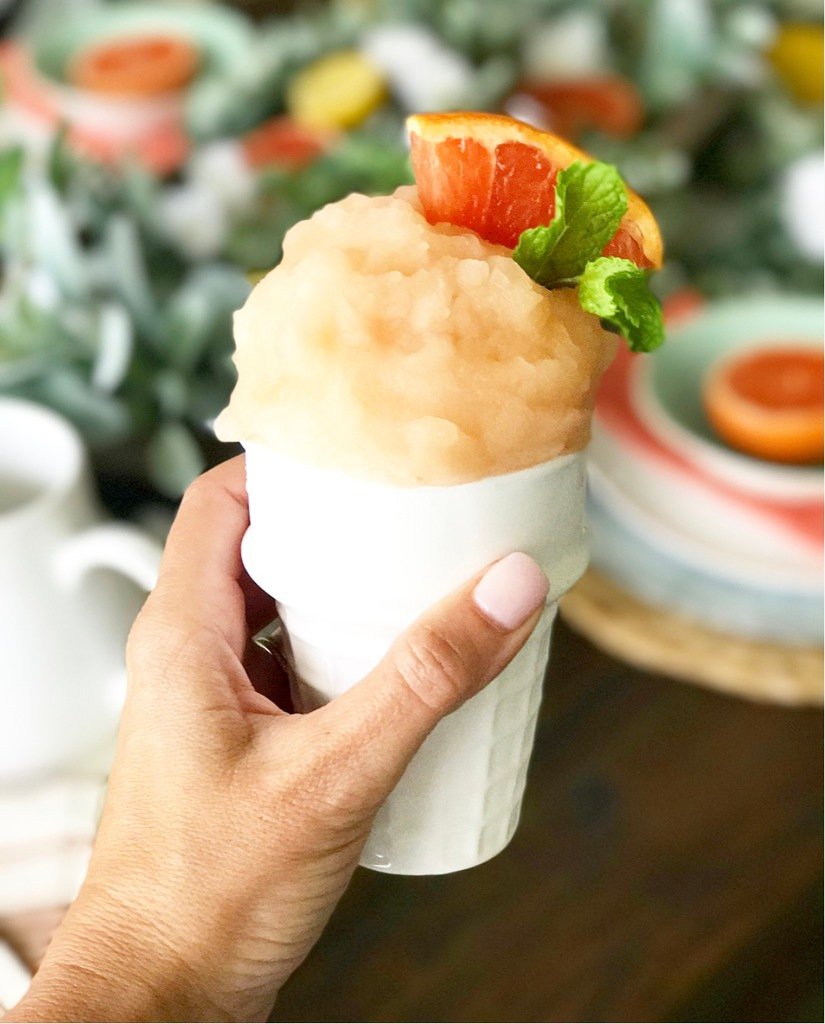 My family has been obsessed with this ice cream maker this summer!  We used it along with the grapefruit and lemon from this table to make sorbet that was sweet, light and refreshing for a hot summer day!  I will be sharing the easy (3 ingredient!) recipe later this week!
I also used some of the grapefruit to make this cocktail called a Salty Dog.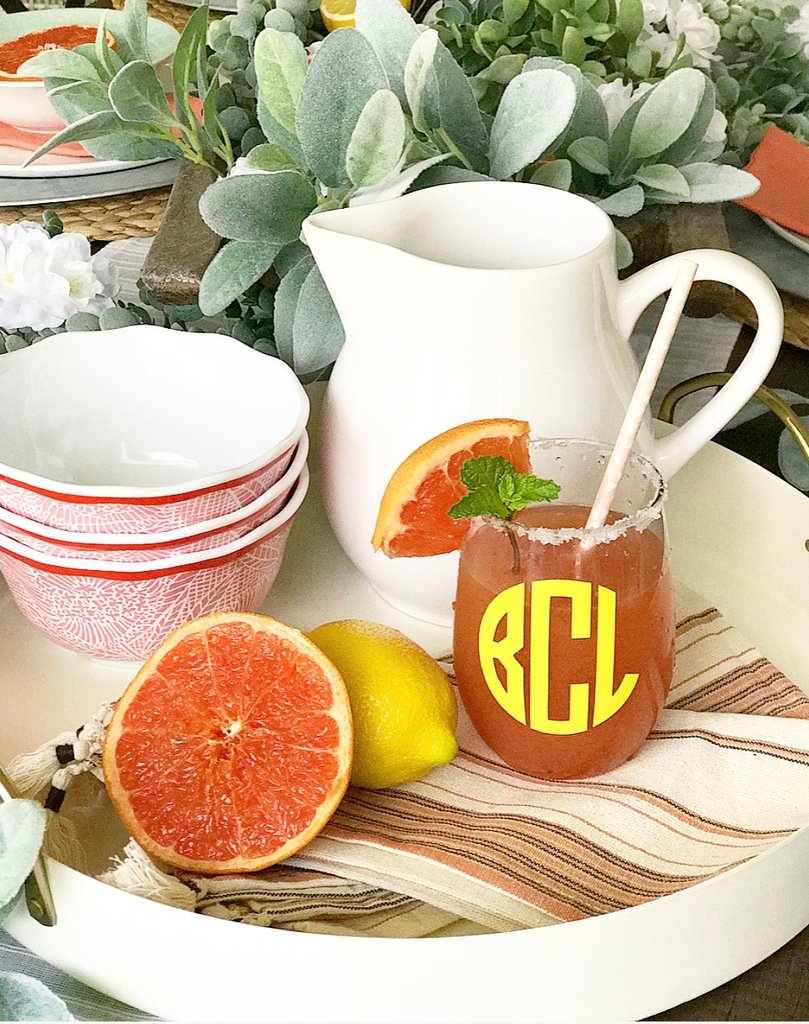 So simple to make:
Chilled grapefruit juice
One shot of chilled vodka
Line a glass with course sea salt, shake mixture well, pour over ice (optional) and I garnished mine with a slice of grapefruit and a little mint and boom..a yummy, refreshing drink to sip in that summer sun!
So let's toast to bare feet, bbq, baseball, tan lines, sandcastles, swimming pools and all the things that make summer such a special season!  As much as I love creating for my home, I love creating memories with my people so much more!! I hope you and yours make this summer one you'll never forget!
For more inspiration, be sure to head to Becca's blog, Adventures in Decorating, next and check out all the talented ladies below!
Tuesday
CityGirl Meets FarmBoy // The Turquoise Home // Crisp Collective // Adventures In Decorating
Designs by Karan // My 100 Year Old Home // Bless This Nest // Dreaming of Homemaking
Monday's Tours
She Gave It a Go // Aratari At Home // Grace in My Space // Midcounty Journal
Little Nest of 4 // The Tattered Pew // The Design Twins // Jenna Kate at Home