Today I'm sharing some early Fall decorating ideas!
So long Summer, hello Fall!
On the calendar it may not "officially" be Fall, but to me, Labor Day just seems like the last goodbye to summer…it's September, kids are back in school and I start looking forward to all the things that make Fall my favorite season!  You may not be ready to bust out the pumpkins just yet…temps where I live are still in the 90s…but if Fall decor just makes you happy, it's not too soon!
Today I have teamed up with some fellow bloggers to share some fall decorating ideas if you too are feeling the itch to switch!  If you are here from Sarah's blog, Grace in My Space, welcome!  Isn't Sarah so talented?! My name is Bethany, and I'm so glad that you are here!  To me, Fall is all about warm and cozy, so here are a few ways to bring that to your home this time of year, even if you are not ready to go full on pumpkin patch in your home!
Texture and Pattern Mixing
A variety of textures and patterns add interest and make a space feel warm and inviting!  If this sounds intimidating, I would encourage you to start by deciding on a general color palette you love.  Maybe it's just adding one extra color or two to your existing color scheme to change it up for the season?  Maybe you like to switch it all?  Either way, when you stay within a color palette, mixing patterns and textures still feels cohesive.
I recently switched out our rug to this cozy shag that is soft on your feet and brings some warmth to our living room.
You can find this rug here.
I then left some of our nuetral pillows and added a few new textured ones in some warm, fall colors.  This year I was drawn to more traditional colors for the season (green, orange, black, cream) but in more muted hues.   I've shared many times that pillow covers are one of my favorite, inexpensive ways to transform a space.
These patterned pillows were an Amazon prime find!  They come in a set of 4 for….wait for it….$32! Can you believe that price, $8 each?!  I questioned the quality when I ordered, but was pleasantly surprised!  They are 18×18, and I loved the interest the patterns added to my living room!
H&M home is another of my FAVORITE sources for pillow covers.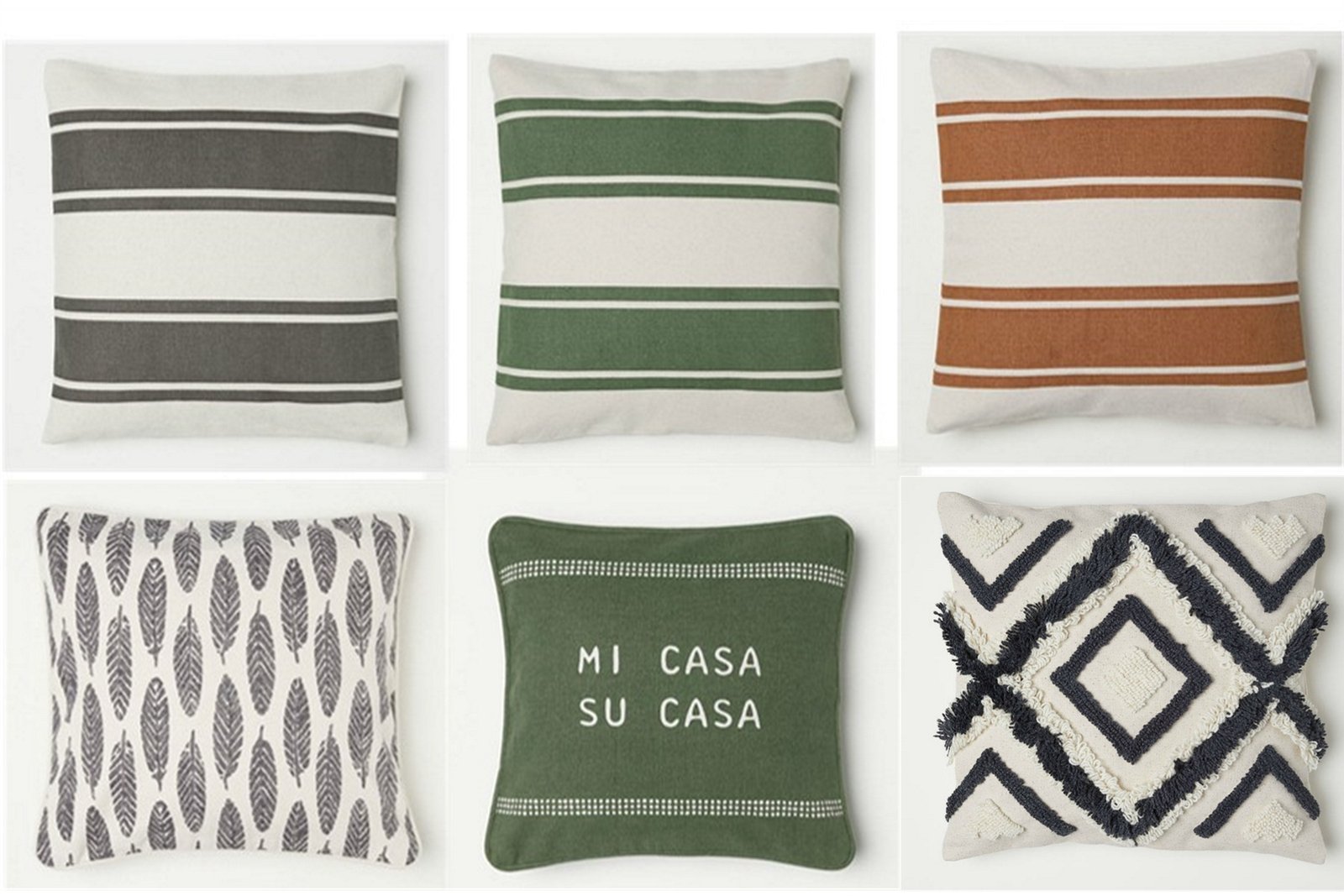 Every time I order from them I am impressed with the quality, especially for the price.  Mixing pillows that are textured, cotton, velvet, suede and other materials adds interest and warmth to your space.
I share more Fall pillow deals here.
Seasonal Greenery
Whether you prefer real or faux, seasonal greenery will instantly make it feel like Fall!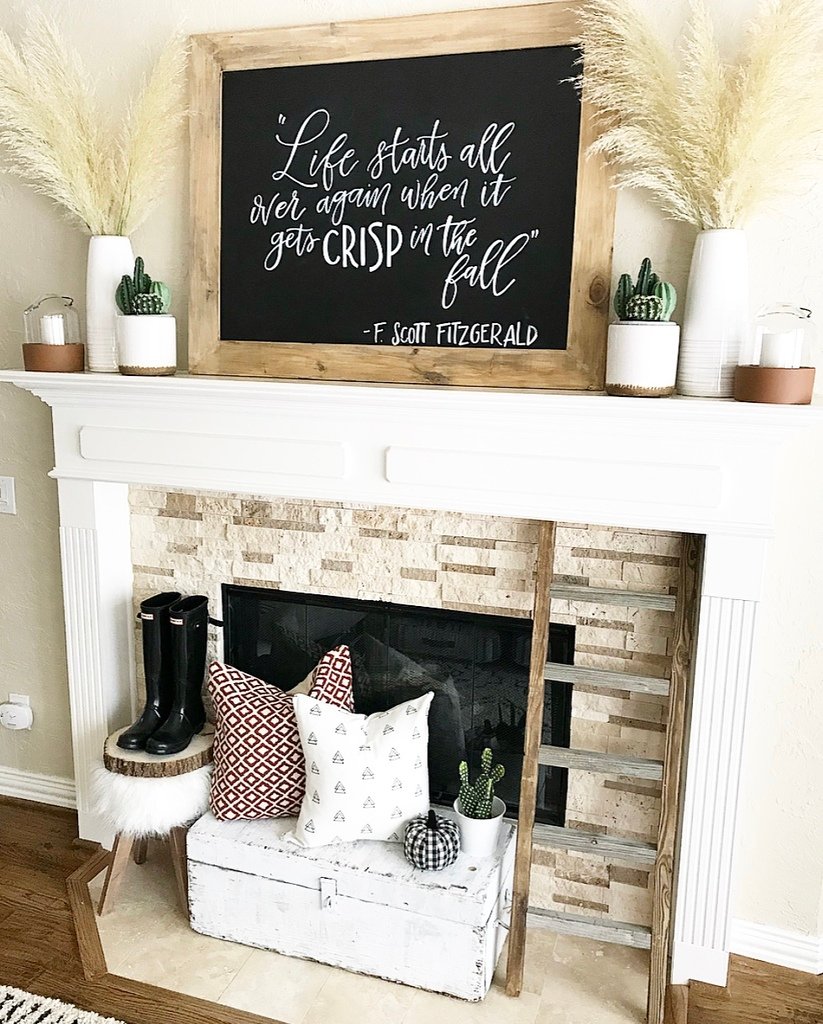 I actually cut the stems in these vases on my fireplace from a bush in my front yard!  Haha!  I love the color, size and whimsy they bring!  Our stores aren't really carrying live traditional fall plants yet (bring on the mums!!!) so until then, I encourage you to get creative.  Look in your own front yard for sticks or swigs you might cut from a tree or bush and bring inside.  You'd be surprised what you might find…and for free!
If faux greenery is more your jam, Hobby Lobby and Michael's are jam packed with seasonal greenery for every color pallette!  Throwing a few stems in a vase is always easy and effective!
Word Art
I have to watch myself because I could easily have signs and word art on every surface of my home!  I LOVE cute signs and sayings!!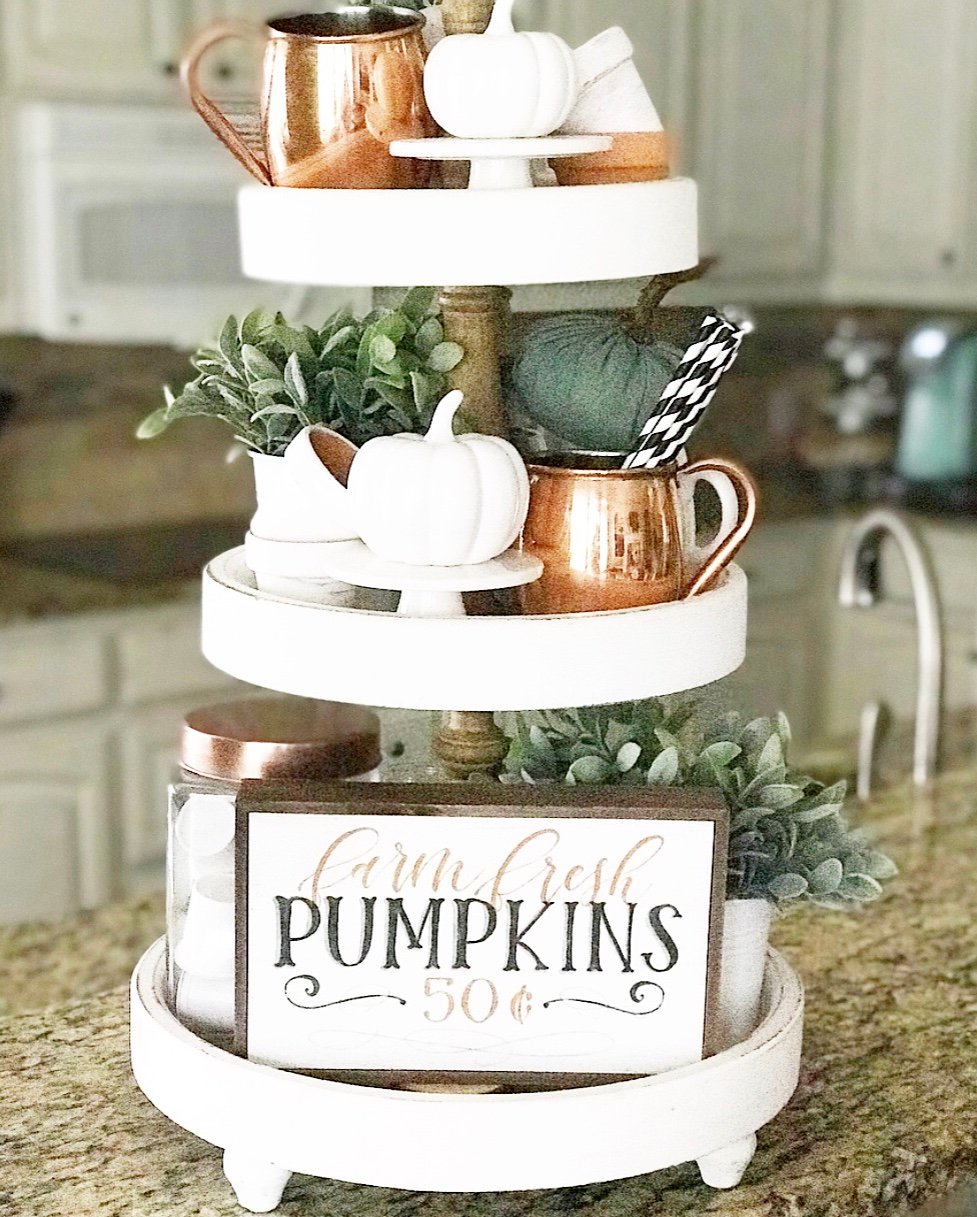 This tray is one of my favorites to decorate and this cute pumpkin sign came from Kirkland's, another great source for fun Fall decor.  I prefer real pumpkins, but until they make their appearance, the little pumpkins on this tray are all Target Dollar Spot finds!  They have lots of cute filler items for trays and vignettes!  Copper is another Fall staple I love!
I also encourage you to make a Fall Bucket List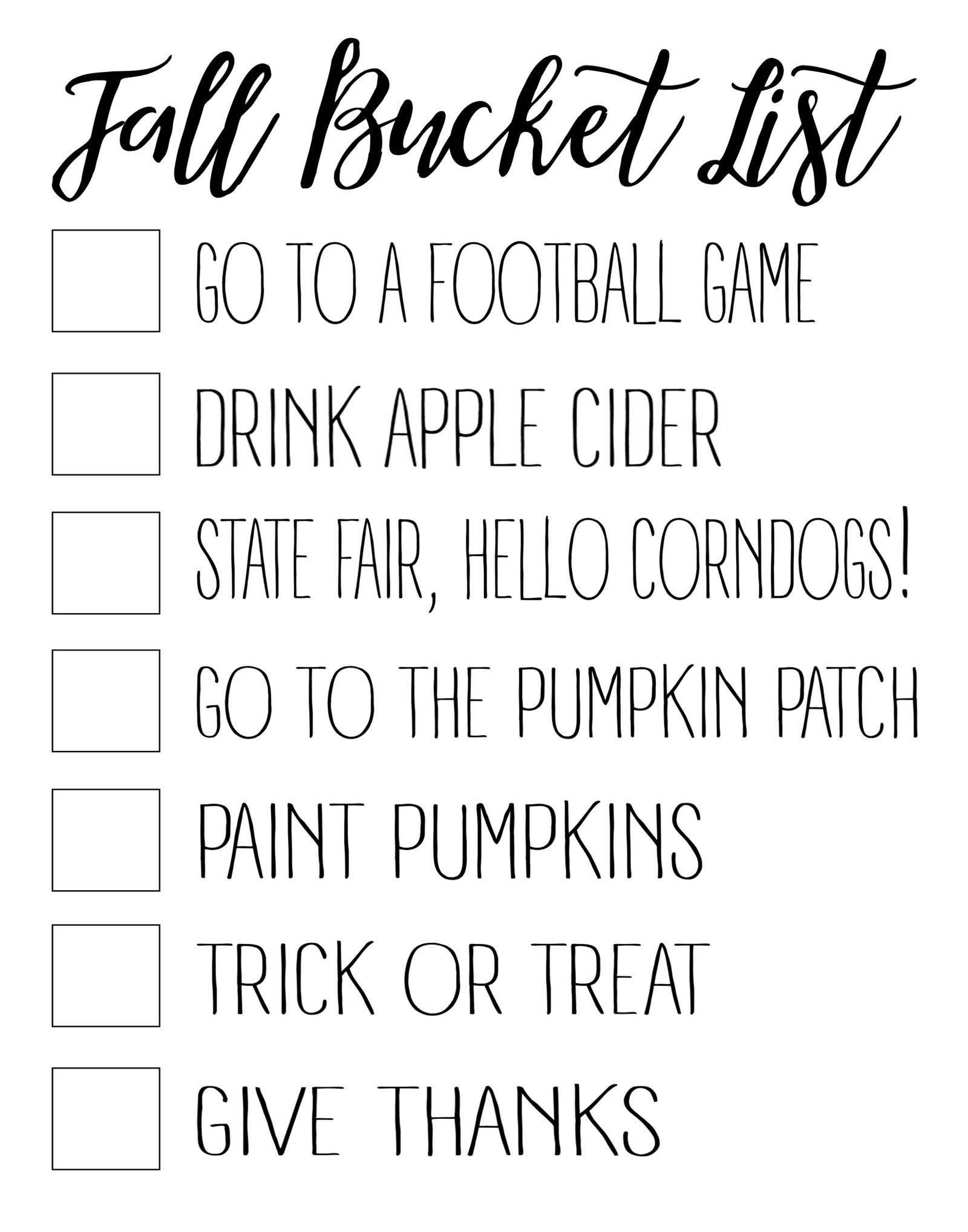 This is something I make every season with my boys, and it just makes us happy!  We love coming up with our list and marking things off throughout the season.  I created this one on my computer and printed it off, but chalkboards, dry erase boards, or just plain paper and pen work too!  Find a place to display it where you will see it often!  I think it's always important to have things to look forward to!
If you'd like a copy of our bucket list to use, feel free to save and print the files above!
I also created a few Fall printables you can frame and put in your home!  Just save, print (preferably on white cardstock) and frame.
All these files are made to fit in an 8×10 frame.
Give Thanks Traditional jpeg/pdf
Gratitude Changes Everything jpeg/pdf
Snuggle Up
Another way to prepare your home for Fall is to add elements that encourage people to snuggle up and get cozy!
I love these floor pillows!  They are used for pillow forts (momlife!), seating and to encourage people to make themselves at home!
Having blankets readily available also makes your home feel comfortable.  Grab a few to throw over your couch or put some in a basket for people to grab!
No matter how you decorate, I hope this season brings you joy, laughter and new memories with the people you love most….and a few pumpkin spice lattes never hurt!
Be sure to check out all the fall decorating ideas shared by the other bloggers on this tour!
Mid County Journal | Crisp Collective | The Tattered Pew | She Gave It A Go
Grace In My Space | Aratari At Home | Bless This Nest | Adventures In Decorating
Dreaming of Homemaking | City Girl Meets Farm Boy | The Turquoise Home | We're The Jones