Bed Bath & Beyond has always been one of my favorite places to shop because they really do have something for everyone!
In case you haven't checked your calendar….Christmas is TWO weeks away!!  This is not a drill!  If you have not knocked out your shopping list, have no fear, I've rounded up some great gift ideas for everyone on your list!  Bed Bath & Beyond really is a one stop shop….they have absolutely everything!
If you do not already receive them, make sure you sign up for My Offers here.  Bed Bath & Beyond sends out great coupons and offers all the time!!
All Things UGG
When walking through Bed Bath & Beyond, one of the lines I was MOST excited to find was UGG!  They carry an entire line of bedding that is just as dreamy as you'd imagine!
I grabbed this reversible comforter set that is a plush box stitch on one side and SHERPA on the other…it's like being snuggled up inside of an UGG boot!  AMAZING!!  It comes in 12 colors and includes the comforter and reversible shams.  Such a cozy gift for you or anyone on your list!
I love these patterns for a kid's bedroom also!
See all UGG bedding here.
I also grabbed this UGG sherpa blanket (draped on the corner of my bed in the pic above).  And yes, he's really sleeping….if you know Will, you know he would NEVER be this still for a pic!
It comes in eight colors and is under $50. I think this is one of those NO FAIL gifts that anyone would appreciate!
Find all UGG blankets here or click on some of my favorites below.
UGG also has a whole line for your pets!
We don't have a dog, but if we did….I guarantee he would be wearing this shera getup!!  SO stinking cute, comes in a variety of sizes and the hood is removable!
Find UGG's pet line here.
Holiday Baking
Making Christmas cookies and cookies for Santa are HUGE traditions at our house, as I'm sure they are for so many of you!
 I LOVED these personalized aprons for adult and kids.  They have a ton of color options and you can customize them to say whatever you'd like…
our "official spoon licker" approves!  These would make sweet gifts for any kids in your life who love to craft or help in the kitchen.
There are also tons of adult personalized apron options that would make a great gift for anyone who loves to cook or guys that grill!
Shop all aprons here or click on some of my favorites below.
This sweet plate and milk set will also be perfect for us to set our Christmas Eve and is a sweet gift your family can use year after year!
Bed Bath & Beyond has ALL THINGS kitchen, so any baking needs you light have, they have it!  I've linked a few favorites below!
Shop all kitchen here.
Personalized Gifts
I was surprised at just how many personalized gifts are available at Bed Bath & Beyond.  I always love gifts that are both practical and personal.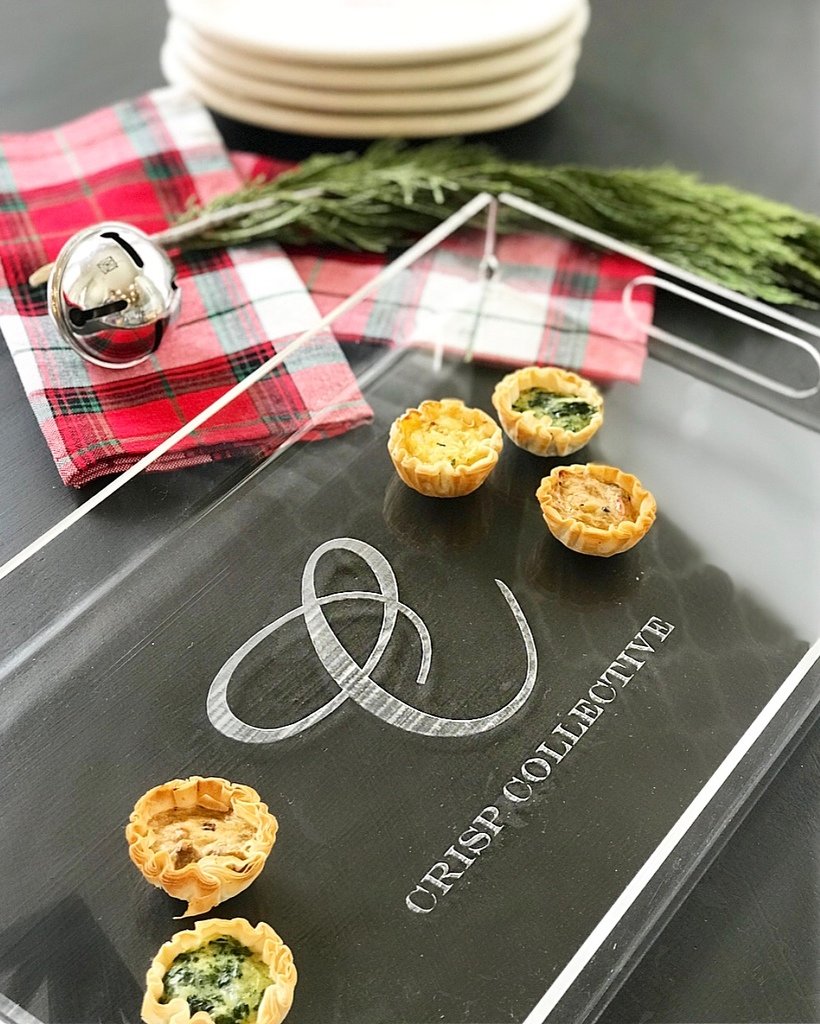 I grabbed this pretty acrylic tray that would be perfect for serving or setting out on a console or bathroom counter.  This would be a sweet gift for newlyweds with their new last name and names  below or monogrammed for your mom, sister or girlfriend.  You can choose an initial and two lines of personalization.
I have linked some other sweet personalized gift ideas below.
For the Entertainer
I have been searching for a beverage cart for forever and absolutely LOVE this one!
It would be a perfect gift for anyone on your list that loves to host!  I know I will be decorating this for each season and putting it to use everytime we have guests over!
You can shop all beverage carts here.  
Bed Bath & Beyond is also THE place for glassware and serving ware.  A pretty set of champagne flutes, a unique serving tray, or monogrammed cutting board…all PERFECT gifts for the person on your list who loves to entertain!
I've linked some favorites below.
Food Gifts Under $20
No one will ever be upset to receive yummy gifts like these!  These are perfect for teachers, co-workers, neighbors, your mailman, garbage man, hairdresser….anyone in your life that you want to be sure to bless with a little something this holiday!
I also made personalized tags you can download and print for these gifts below….just adds a personal touch! Find all my tags and gift card holders here.
More food gift favorites:
Shop all food gifts here.
Stocking Stuffers
If you like unique stocking stuffers, this is the spot for everyone on your list!
I am OBSESSED with these sherpa lined socks from Ellen Degeneres's line, ED!  They are SO cozy and would be a perfect stocking stuffer or small gift for anyone on your list!
I have rounded up some other fun stocking stuffer gifts for her, him and the kids below:
HER:
HIM:
KIDS:
I hope that helps you knock a few more people off your list, and if all else fails, I'm NEVER upset about a gift card!
You can shop gift cards here.
Merry Christmas and as always, thank you SO much for stopping by!
This post was sponsored by Bed Bath & Beyond, but all products were selected by me and all opinions are my own.