These slow cooker buffalo chicken nachos are such a fun, easy meal!
Although we are using this buffalo chicken here, you can honestly use whatever meat your family likes and it is a great way to use leftovers!  I line a baking sheet with sides and load up our chips with meat, cheese, corn, black beans, green onions….whatever we have on hand, and cook and eat straight from the tray!
When we're done I wrap up the foil, throw it out, and cleanup is done.  This is perfect for a busy weeknight or family movie night!  You can change this up tons of different ways!
Ingredients for Buffalo Chicken
1-2 lbs. of chicken breasts
2 1/2 cup of buffalo wing sauce- I used Frank's Red Hot, divided
1/2 cup apple cider vinegar
1/2 of a 1 oz package of ranch dressing seasoning- I use Hidden Valley
Ranch or blue cheese dressing (optional)
Directions:
Place your chicken in the slow cooker and cover with wing sauce, apple cider vinegar, and ranch dressing mix.
Cover and cook on high for 3-4 hours or low for 6-8 hours.
Remove chicken and shred with a fork.  Use remaining sauce to pour over chicken.
Ingredients for Nachos:
These are ideas, but of course, remix this however you want!
Foil
Your family's favorite tortilla chips- we usually get blue corn!
Cheese
Corn, drained
Black Beans, drained
Green Onions, chopped
Ranch dressing
Directions:
Preheat oven to 350 degrees.
Line your baking sheet, preferably one with sides, with foil.  Add a single layer of tortilla chips.
Top your chips with cheese, chicken, corn and beans.
Place tray in oven for 10-15 minutes, or until cheese is melted.
Remove from oven and add green onions and ranch.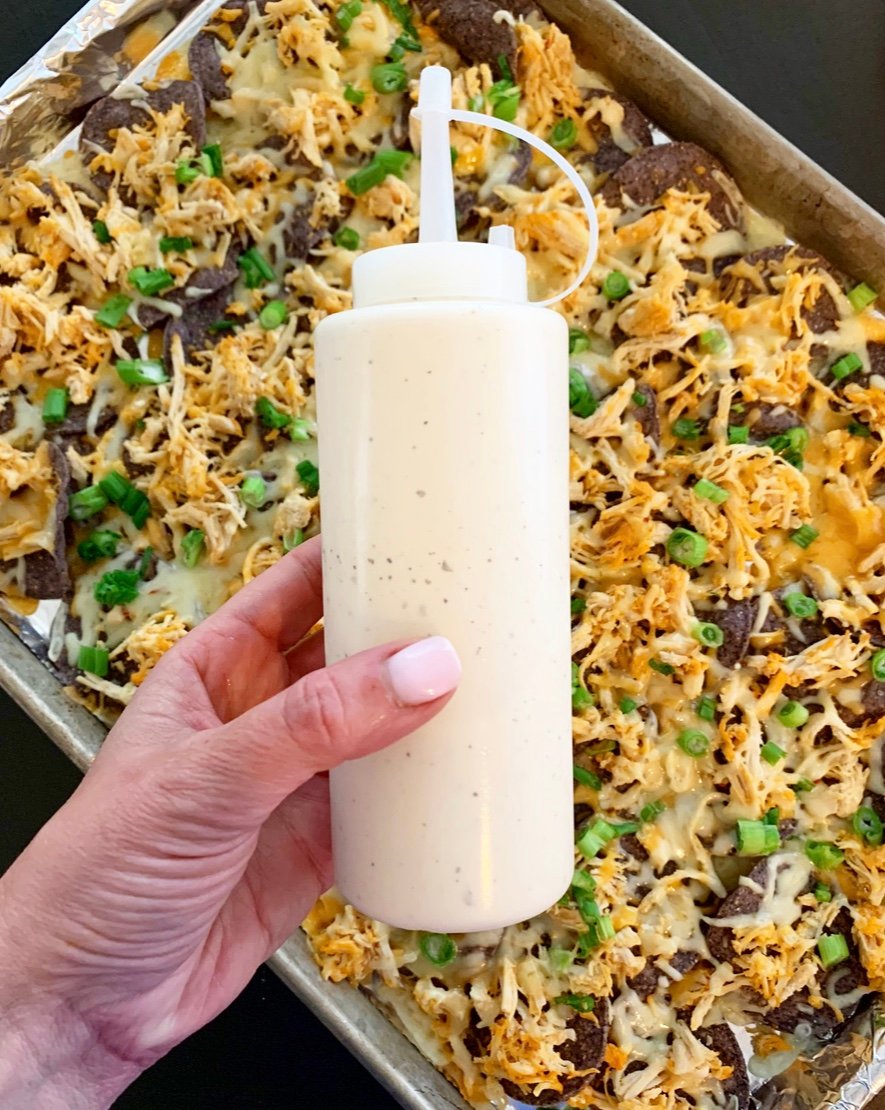 I like to use these squeeze bottles so that the ranch is distributed evenly over the nachos.  Find them here.
We sometimes also add guacamole to our nachos.
Find my favorite recipe here. 
Find the recipe here. 
And if you like this slow cooker buffalo chicken….
Find buffalo chicken sliders here. 
And buffalo chicken tacos here.