Tile selection is next on the to do list for our master bathroom reno, and this sums up how we feel about it…..
Is that face excitement or fear?!?  Maybe a little bit of both!  In a bathroom where there is SO much tile, picking the right one(s) can be daunting!
Speaking of daunting….voting for this Renovation Challenge also opened today!  I am competing against 10 other bloggers and would be SO grateful if you would take a minute to go vote here.  
Today I'm going to share a few tips I learned along the way, and the tiles I eventually chose!
5 Tips for Tile Selection
1. Pick no more than 3 styles of tile
For our bathroom we are choosing tile for 4 places:  the floor, the shower, the shower floor and the tub surround.  To avoid the space looking too busy or over-designed, I suggest picking no more than three styles of tile.  You want all of your tiles to look cohesive and not compete with each other…which leads to my next tip…..
2.  Choose only one statement/stand out style
Our goal at the end of this project is a fresh, clean looking bathroom.  It is hard to create a calm oasis if all your tile selections are all very bold and busy and competing with each other.  I recommend going classic and simple with all but one.  Let that one style shine!  It may even be easiest for you to pick that style first, as it may help guide the rest of your choices.
3.  Consider materials-maintenance and durability 
Consider the material of the tiles you are considering and the amount of maintenance they require.  For example, many natural tiles are very porous and hard to keep clean.  Also consider who is using the space most often, kids or adults?  Choose your materials accordingly in terms of stain resistance and durability!
4.  Scale
The scale of the tile is so important! Be sure to read the measurements carefully.  One thing I love about Jeffrey Court is that their tile is carried at Home Depot.  I am a very visual person, so it was extremely  helpful to me to go see the tile in person.  Even though the measurements are listed, seeing it, and in some cases buying a sample to take home and put in the space really helped me narrow down my choices quickly.
5.  Go with your Gut
Do your research.  Look at pics online, especially pics WITH the grout done.  The grout and grout color can change the look of a tile drastically!  But when it's all said and done, go with your gut!  If something looks beautiful to you, go for it!!!  Even if it is not the norm, at the end of the day, it is your home and should reflect YOU!
My Selections:
Floor:
I chose this porcelain hexagon tile.  I went with porcelain for the floor because it is less porous and more durable than ceramic tile, making it more stain and water resistant.  I loved the bright, white look with gray marbling and the shape.
Shower Walls and Tub Surround:
I chose this beveled ceramic subway tile for the shower walls and tub surround.  The beveled detail is a pretty twist on this classic tile.  I liked that is will provide a simple, clean vibe.  Another reason to go see your tile in person or order a sample:  online this looks almost cream, but in person it is a bright, vivid white, which is exactly what I wanted!
Shower Floor: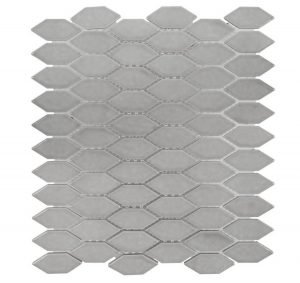 I chose this mosaic ceramic tile in this gray that pulls out the color in the marbled floor and provides a little pop!  I liked the mosaic look for this smaller space.  This will also look very different with the white grout I chose.
Getting This Party Started:
There is a LOT of space to be tiled in this bathroom, but we are getting the party started with the floor.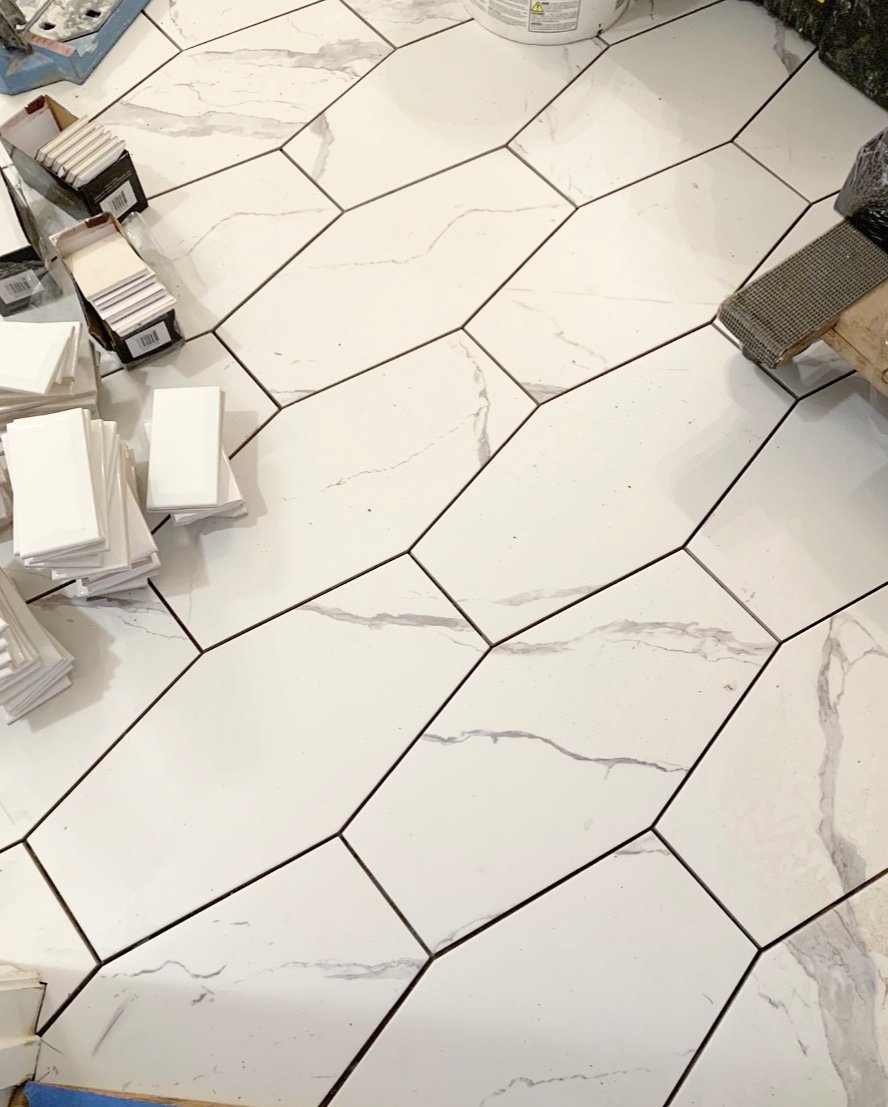 This is the hexagon tile, pre-grout!  Can't wait to see how these choices will transform the space!
   Thank you so much for checking in on my progress!  This has been such a fun project!!
Voting has begun for this renovation challenge!! I am competing against 10 other bloggers, and would SO appreciate your votes!  Plus, you will want to check out their inspiring projects as well!! Click here to cast your vote!!