It's finally time for THE MASTER BATHROOM REVEAL!!!
Can you believe it?!?  I won't lie….this is coming to you by the skin of our teeth!  We just barely made the deadline on so many aspects of this bathroom, but I am SO thankful to Jeffrey Court for the push and the opportunity!!  I love the way it turned out and cannot wait to FINALLY have our bathroom back!  Renovations truly make you appreciate the little things!
Here she is!!
Before and Afters:
I don't feel like you can truly appreciate this reveal without a side by side reminder of where we came from!  Who doesn't love a good before and after?!!?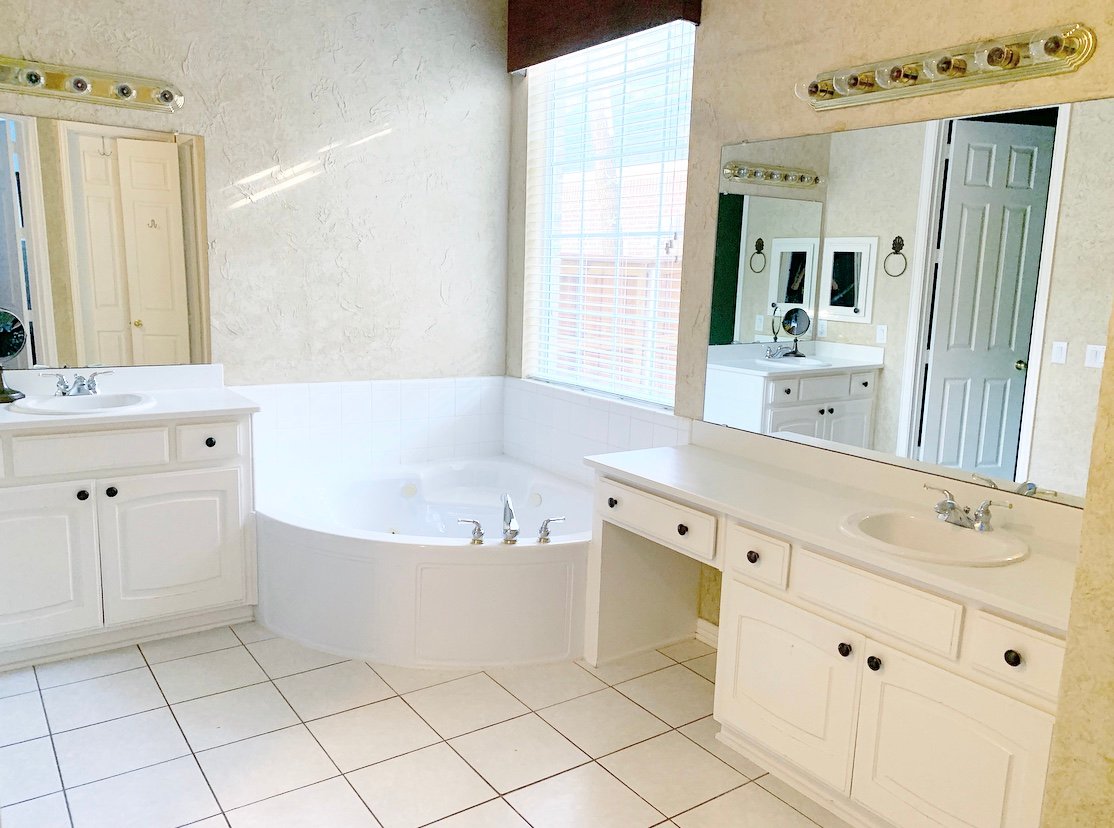 Who's ready to party like it's 1999?!?  Our bathroom was straight out of the 90's.  We had not touched it since moving in other than removing the grape, YES GRAPE, wallpaper!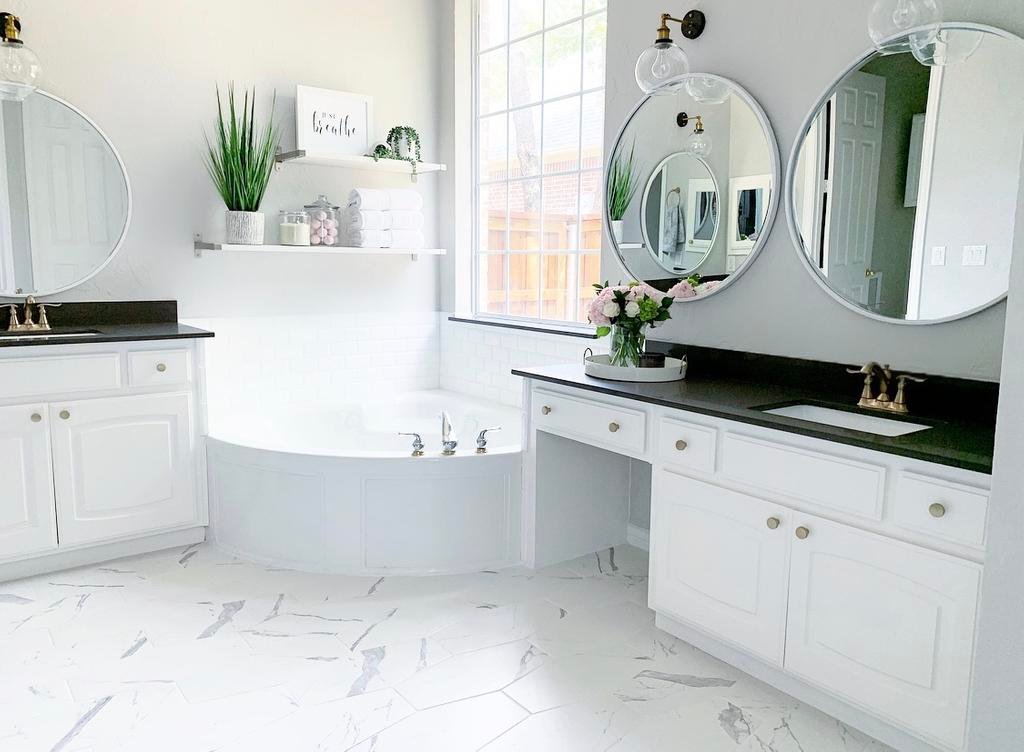 We wanted clean, polished and pretty, and I hope we accomplished that!

We took out the builder grade mirrors and replaced them with round gold ones.
However, after putting them up, I decided I did not like the light fixtures, faucet and mirror all being gold, so I went to painting and quickly painted all three mirrors white with an oil based paint!
The Shower
Our shower was probably most in need of an update.  The gold framework and cracked tile that was rusting in places was an eyesore and needed to go!
This tile was simple and classic, but I loved the beveled detail that gives it just a little flair!  Find it here. 
The new Jeffrey Court tile on the walls, pan and inset made all the difference!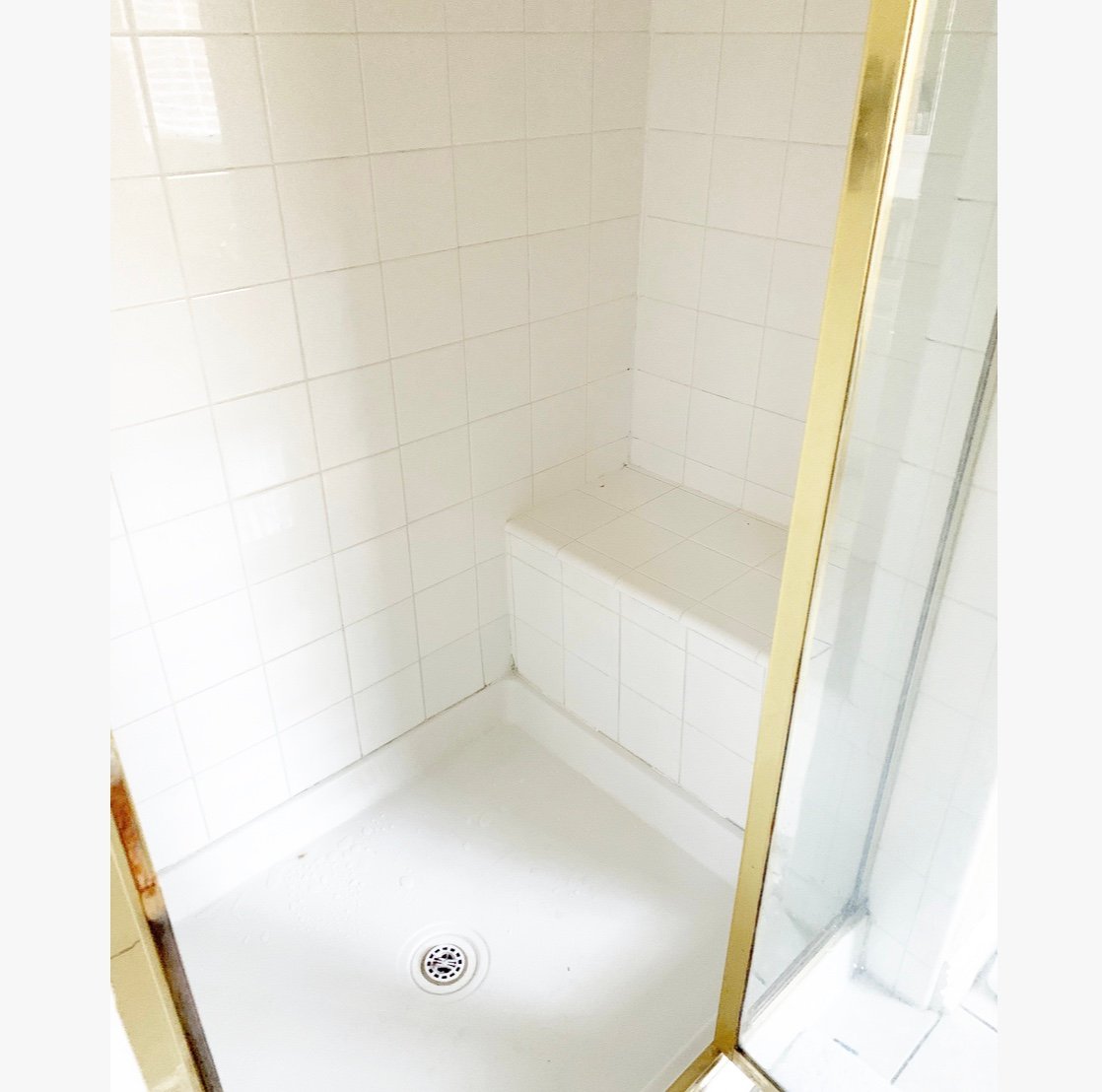 This tile was our one statement choice.  You can find it here. 
Although the area it covers is not huge, the impact it makes is!
The Floor:
This was our builder grade tile with dark grout.
I chose this hexagon marbled tile that I just LOVE!  You can find it here.
Looking at the floor pre-grout, I decided I wanted to go with white grout for a clean, simple look.  I bought a pre-sealed grout that I hope we will be able to keep clean.
It is amazing the difference these floor tiles make in the space!
Pretty and Polished
We did not change the layout of this bathroom, but we did change pretty much every aspect of it from a cosmetic standpoint.  At around 350 sq feet, it was a fairly large job to tackle in six weeks!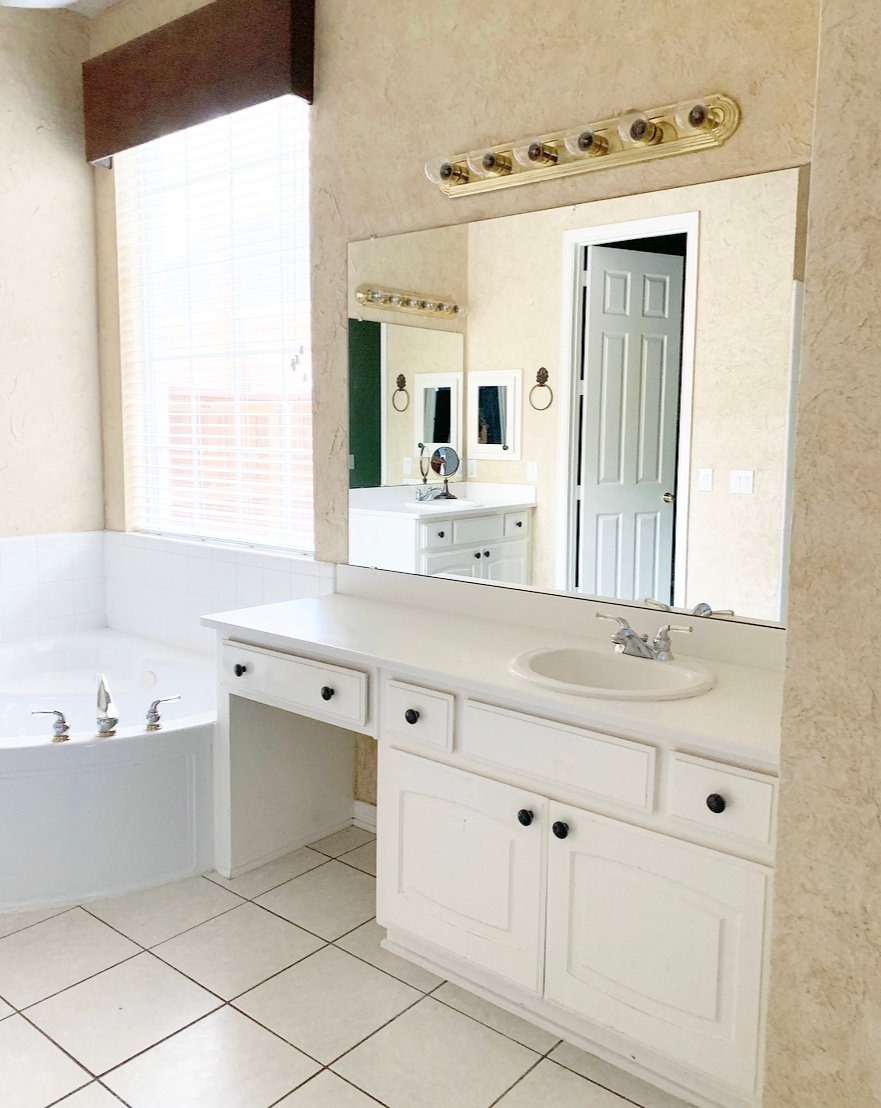 These dark charcoal quartz countertops create a contrast from all the clean white.
And changing the fixtures to brushed gold adds a subtle pop.  The vanities also got a fresh coat of paint and new brushed gold pulls.
The toilet area that was once painted a random green now fits seamlessly with the rest of the bathroom.
The walls are now a subtle texture, instead of the heavy texture from before.  Sherwin William's Agreeable Gray serves as a light neutral that makes the whole room feel brand new.
I wanted to add open shelving above the tub, I think it made a big difference.  I made a, "Just Breathe" printable, as well as ones that say, "Get Naked" and "No Diving" that I thought would be fun for this space.
I will share all three as free instant downloads soon.   Just print and frame for your bathroom!
I am still cleaning and purging so many of the toiletries I found in my bathroom when I cleaned it out….
I mean, how many body lotions does one girl need?!?
But I am on making progress toward organizing things in the way that makes the most sense for my husband and me!
Fresh flowers also never hurt!
This is our master bedroom that connects to our bathroom, and I finally feel like the two belong together!
Thankful for the opportunity to complete this project!  I have wanted to renovate this bathroom for the last decade!!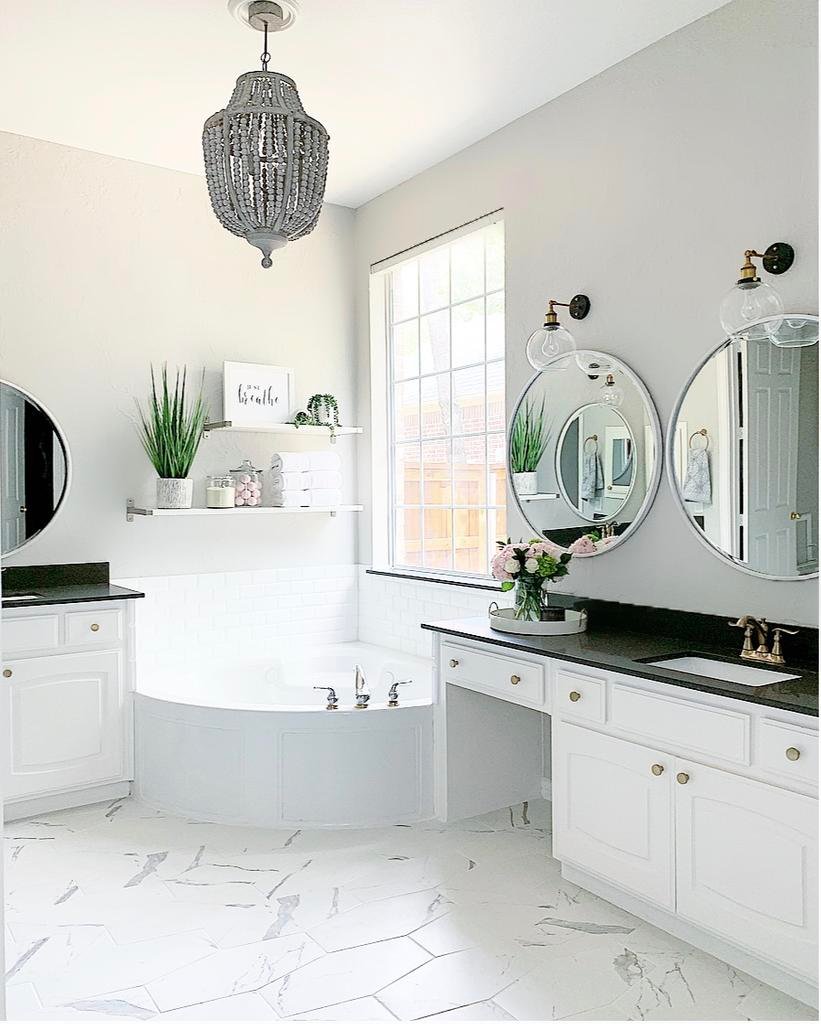 Thank you!!
This has been such an exciting, sometimes stressful, but overall, AMAZING experience!  I have truly learned so much and all the mess was WORTH IT!  Thank YOU for following along to the reveal, voting, and encouraging me on this journey!  I am beyond grateful!
I am also SO thankful to Jeffrey Court and Homes.com for this opportunity and the accountability to make all of this happen in a relatively short time period!
I was also blown away by the talent of all the designers that participated in this challenge!  Their projects are all so inspiring, and I hope you will take the time to check them out here.