With Thanksgiving just a week away, I thought I'd share some hostess gifts and printables!
You may have Friendsgiving celebrations and family get togethers this next week, and while it's not necessary, I always think it's nice to bring a little something for the host!  If you've ever hosted a crew of people at your house, especially for the holidays, you understand the time and preparation that goes into it!  I think it's always just nice to acknowledge that in some way and say thanks!
Wine and Wine Tags
While it might not be the most creative gift, I am never mad when someone gifts me a bottle of wine!  Meomi Pinot Noir is my favorite if you are ever wondering……haha!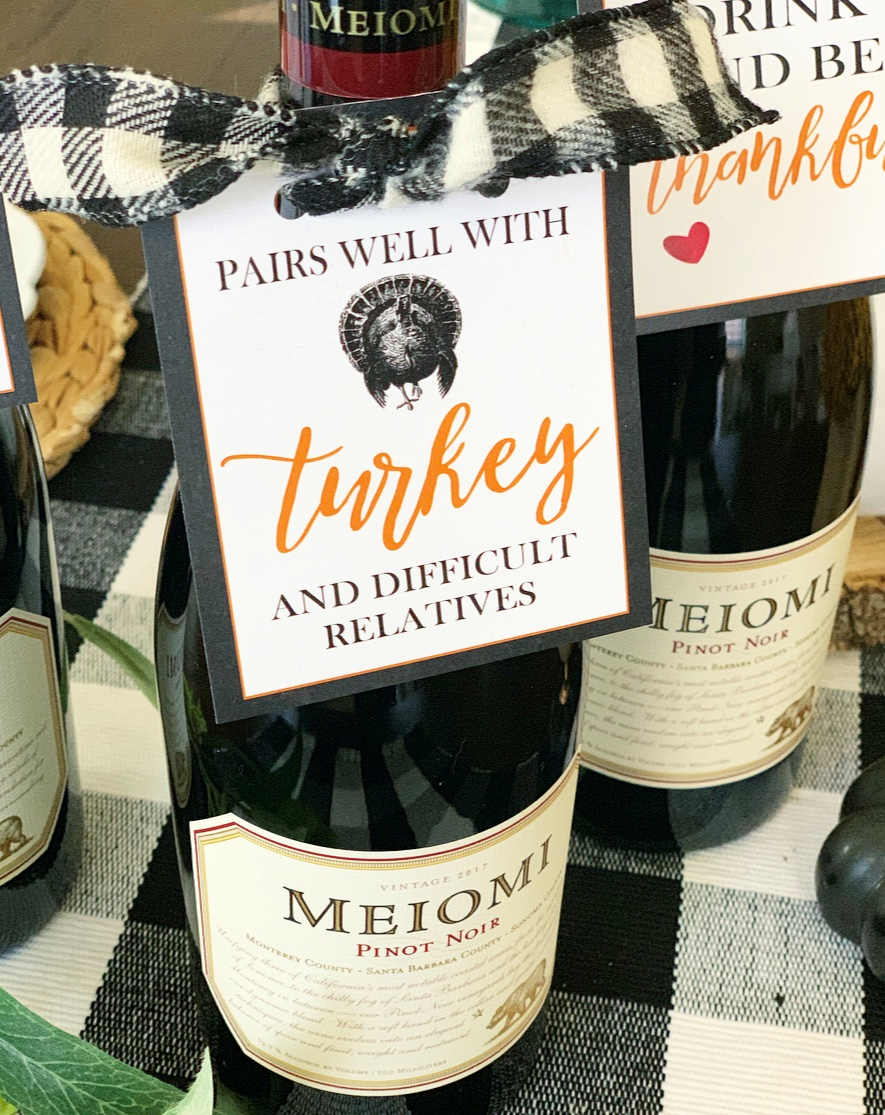 I made these tags just for Thanksgiving that you can tie of your wine bottle, just for a fun, festive touch!
Directions:
Below the image there is a pdf and jpeg file for the Thanksgiving tag printables.
Download and save the file to your computer.
Print the file from your home computer or send it to a print shop. They will look best printed on heavy white cardstock.  Sam's, Costco and Office Max are all great resources for printing.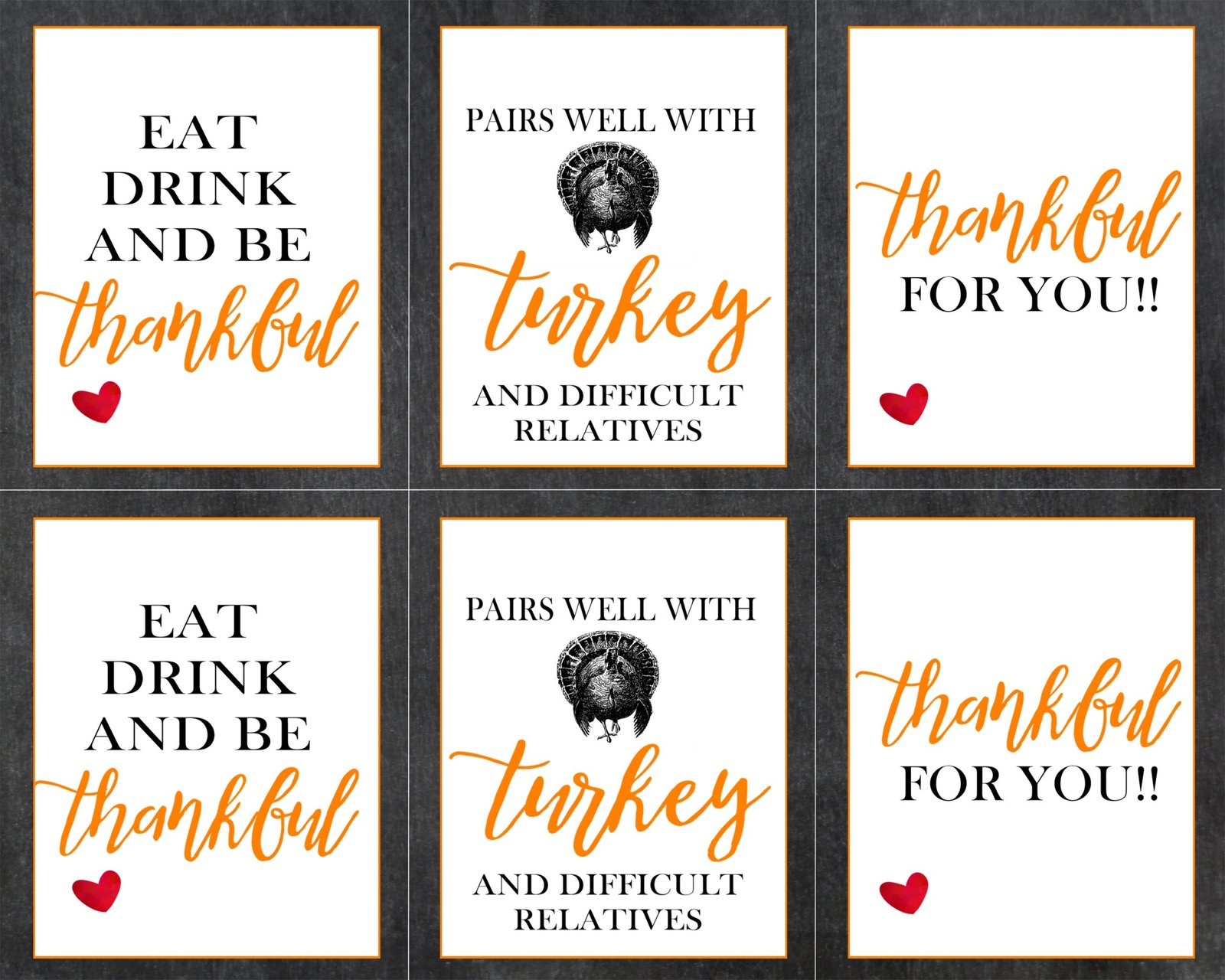 Christmas Movie and Mug Gift
As Thanksgiving leads right into the Christmas season, it might also be fun to gift your host a Christmas movie, mug and some hot cocoa!
I found this cute rose gold wire basket for $3 HERE. 
These mugs are all available at Target and are just $5.  Find them HERE.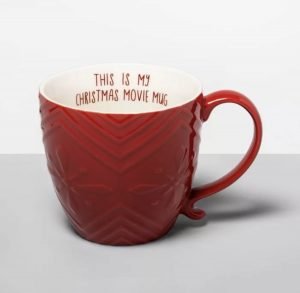 This one is my favorite!  Find it HERE.
You could go with a classic, a family friendly choice or a chick flick….click any of these favorites below to purchase!  Most are Amazon with quick, free shipping!
Christmas movies are one of my FAVORITE things about the season!
Other Hostess Gift Ideas Under $20:
This marble tray with the gold accent is SO heavy and great quality for just $14!  You could add some favorite snacks/drinks or just gift it by itself!  I tied some brie and a mini bottle of champs to it, along with a tag from above.  Find this tray HERE.
Amazon Hostess Gifts Under $20:
Maybe it's living in a house of all boys that has made me embrace bathroom humor, but I think this guestbook is hilarious!
My girlfriend Anithia gifted it to me and I keep it in our guest bathroom with a pen!
It is $14 with FREE same day shipping.  Find it HERE.
I think this makes a fun gift for the hostess that doesn't take herself too seriously!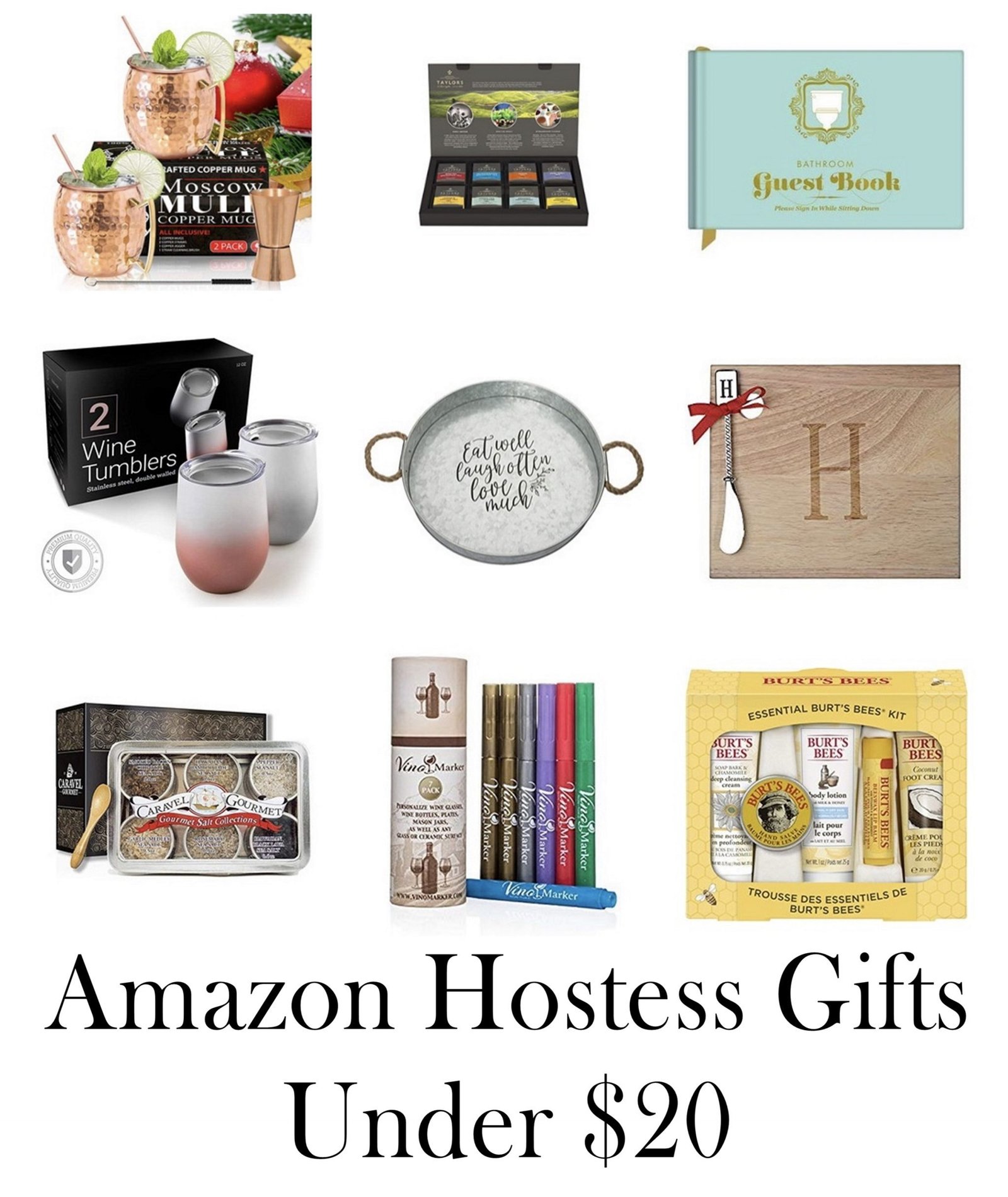 Moscow Mule Mugs// Tea Set// Bathroom Guest Book// Set of travel Wine Glasses// Galvanized Tray// Initial Cheese Board// Gourmet Spices// Wine Markers// Burt's Bees Essentials (just $10!) 
All these gifts are under $20 and are Amazon Prime!  Just a sweet gesture to say thanks!
Click any image below to be taken directly to the listing:
I hope you find this post helpful and show all those hard-working hostesses some love!