I'm excited to share five simple Christmas tablescape ideas with you today!
If you are coming here from Karen over at Sanctuary Home Decor, welcome!  Didn't she do an amazing job?  I'm joining six other bloggers all sharing tablescape ideas, and I know you will draw inspiration from their posts!  You can find links to them all at the bottom of this post, so be sure to check them out!  They are all so talented!
I don't always keep our table set (where would we fold the laundry?!), but I do think it's fun to pull out some pretty dishes and put together a little table decor, especially for the holidays!  All the ideas I'm sharing today are simple, budget friendly and achievable if you are wanting to get a little festive!
Greenery
Greenery is a simple way to instantly make your table more festive.
I bought a fresh garland from Trader Joe's ($7.99)to put at the top of our chandelier!  I love the way it looks and smells!
Trimmings that I got from Lowe's (for free!) are also spread at the center of our table, at each place setting, and in a vase on the console table!  Trader Joe's also sells a bundle of trimmings for $3.99.
Ribbon
Ribbon is an easy, inexpensive way to tie multiple spaces together and make them look cohesive!
I used a lot of ribbon in decorating our tree this year.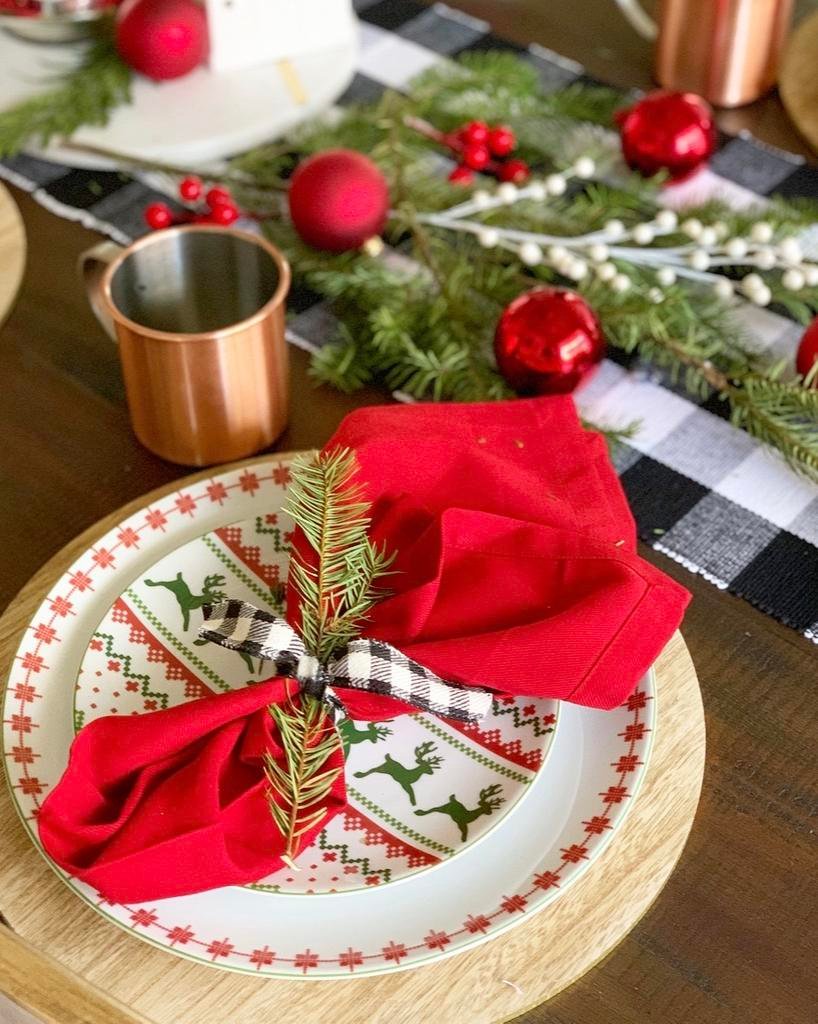 I took that same buffalo check ribbon and tied the napkins at each place setting with a sprig of greenery.  I also added the ribbon to a mirror and vase on the console table in this room, tying it all together.  Stores like Hobby Lobby and Michael's have big spools of ribbon this time of year for $5-$10.
Dishes
I have had these dishes that remind me of a tacky Christmas sweater for about fifteen years, and they just make me smile!
The rest of the year we almost always use basic, white dishes, but the holidays are a great time to throw in some fun patterns and colors!  I have shared a few affordable ones below if you want to mix it up a little bit this season!
Pops of Color
While I LOVE neutrals, one way to make your holiday table fun is to add pops of color!
Christmas is a perfect time to do something totally outside your normal decor and just have fun!  Pillow covers, centerpiece decor, ornaments and napkins are all easy ways to inject some color! 
I love this set of 6 napkins that comes in a ton of colors for $9.99 HERE. 
And find fun Christmas pillow covers HERE. 
Statement Signs
While signs aren't typically part of a tablescape, I thought I would share this one because it sits on the console table in this room!  Find it HERE.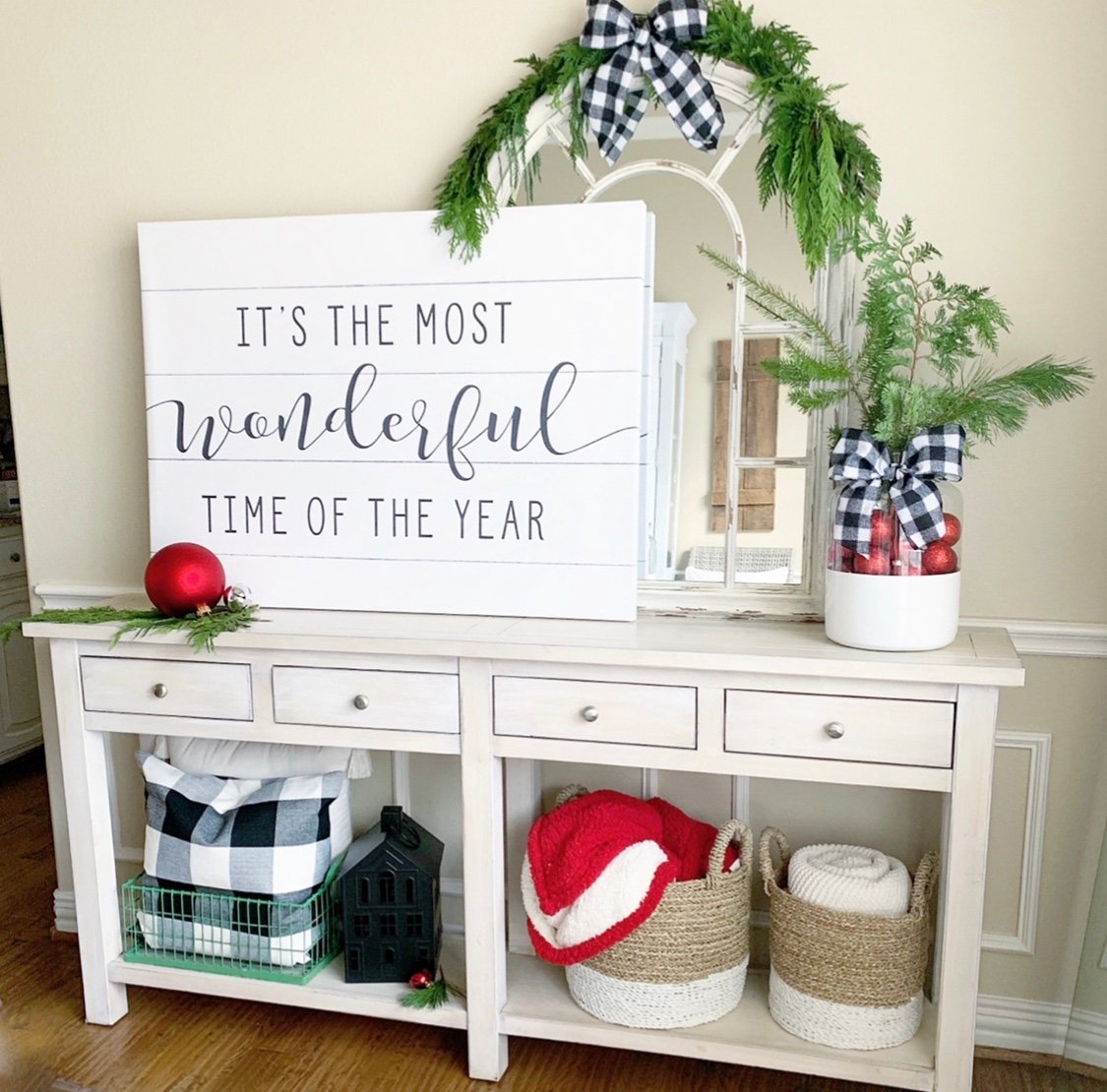 Dining rooms often have large spaces to fill with a mirror, a gallery or one large art piece.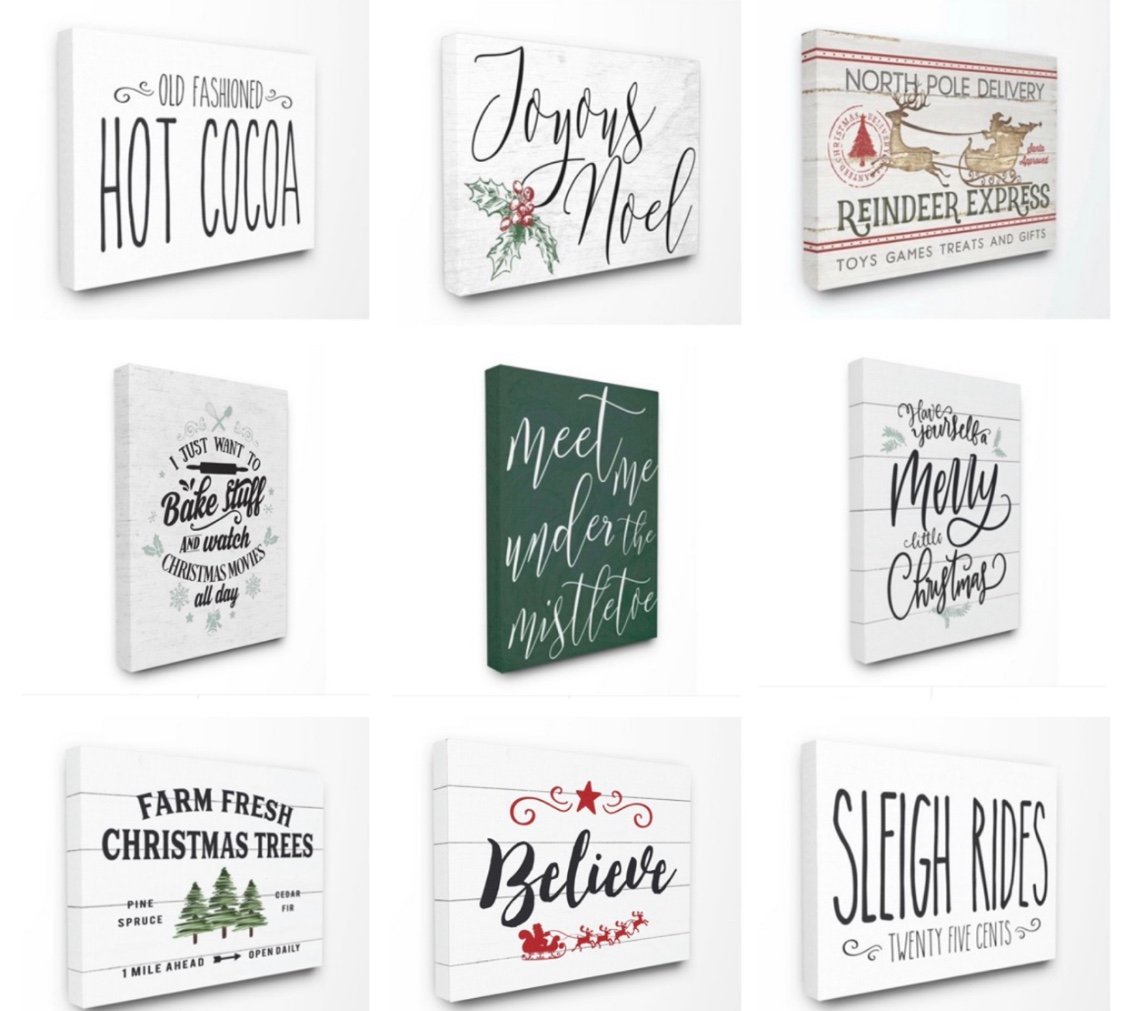 All of these signs come in several size options, as large as 30×40, and are VERY affordable!
Most of us don't want to spend big bucks on a sign that we will only use one month out of the year, so I love that these make a BIG statement for just a few bucks!
I hope these simple Christmas tablescape tips give you some inspiration to make some spaces in your home a little more festive!  Be sure to head over to my friend Sarah at Grace in my Space next!  She always has such beautiful style!
Shop the Post:
Find our chandelier 66% off HERE. 
Find our dining room rug on sale HERE.
You can click on each blog name to check out their post!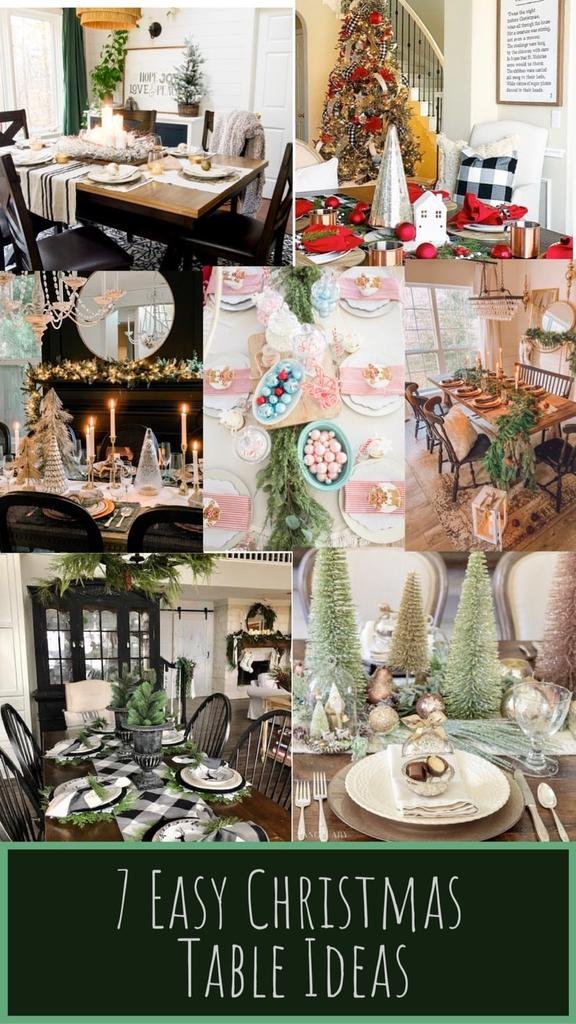 Christmas Table Blog Hop
Bethany – Crisp Collective
Sarah – Grace in My Space
Emily – Handmade Farmhouse
Deborah – Hip and Humble Style
Jaclyn – Jaclyn James Home
Leanna – Life by Leanna
Karen – Sanctuary Home Decor