Getting excited for Halloween over here with this Halloween snack board!!
My family always bonds over food, so boards like this are just a festive way to do that! This would be fun for a Halloween party or just a movie night at home!
The great thing about these boards is you really cannot mess them up! Just a fun sampling of things your friends and family will enjoy! I'm going to share some of the items I used and where I found them, but feel free to totally make this your own!
The Board
I searched and searched for a LARGE board that did not break the bank! THIS ONE from World Market is so nice and measures 13.75 x 35 and costs $59.99, sometimes less if they are having a sale! Similar sized boards can be $150-$200. Find this board HERE.
If you'd prefer to make this on a smaller board or tray, I rounded up some other affordable options below! I personally own this one, this one, and this one, and love them!
The Food
Once you have your board, we are ready to start! I made a few of the things on this board, but mainly purchased from the store! No need to stress yourself out trying to make every single thing from scratch!
Starting from the top, our Frankenstein is meant to be a sponge holder by your sink, but my boys thought him vomitting Monster Munch was pretty funny! I found the Frankenstein at the Target Dollar Spot. Monster Munch is a snack mix we make every year. We typically combine popcorn, candy corn, Reese's pieces, pretzels (Dots this year!), cashews, cheerios and rice chex.
Also on this top part: grapes, baby carrots, hummus, the skeleton hand (found HERE), bat and ghost veggie chips (found HERE), and cheese.
The "pumpkins" are cuties (found HERE) that we peeled, stuck a pretzel stick in the center of and added a green M&M to look like a leaf.
Moving down, the "spiders" are Halloween JoJos from Trader Joes, although Oreos work great too, with pretzel stick stuck in the center for legs and candy eyes (found HERE) attached with icing.
I found the orange chocolate covered pretzel rods HERE and strawberries, cheese, crackers, and grapes also fill in the center.
The mummy dogs were made in the air fryer with a hot dog cut in half, wrapped in crescent roll with mustard for eyes and extra mustard for dipping. I explain how to make these on this blog post HERE. For this tray, I just made a smaller version.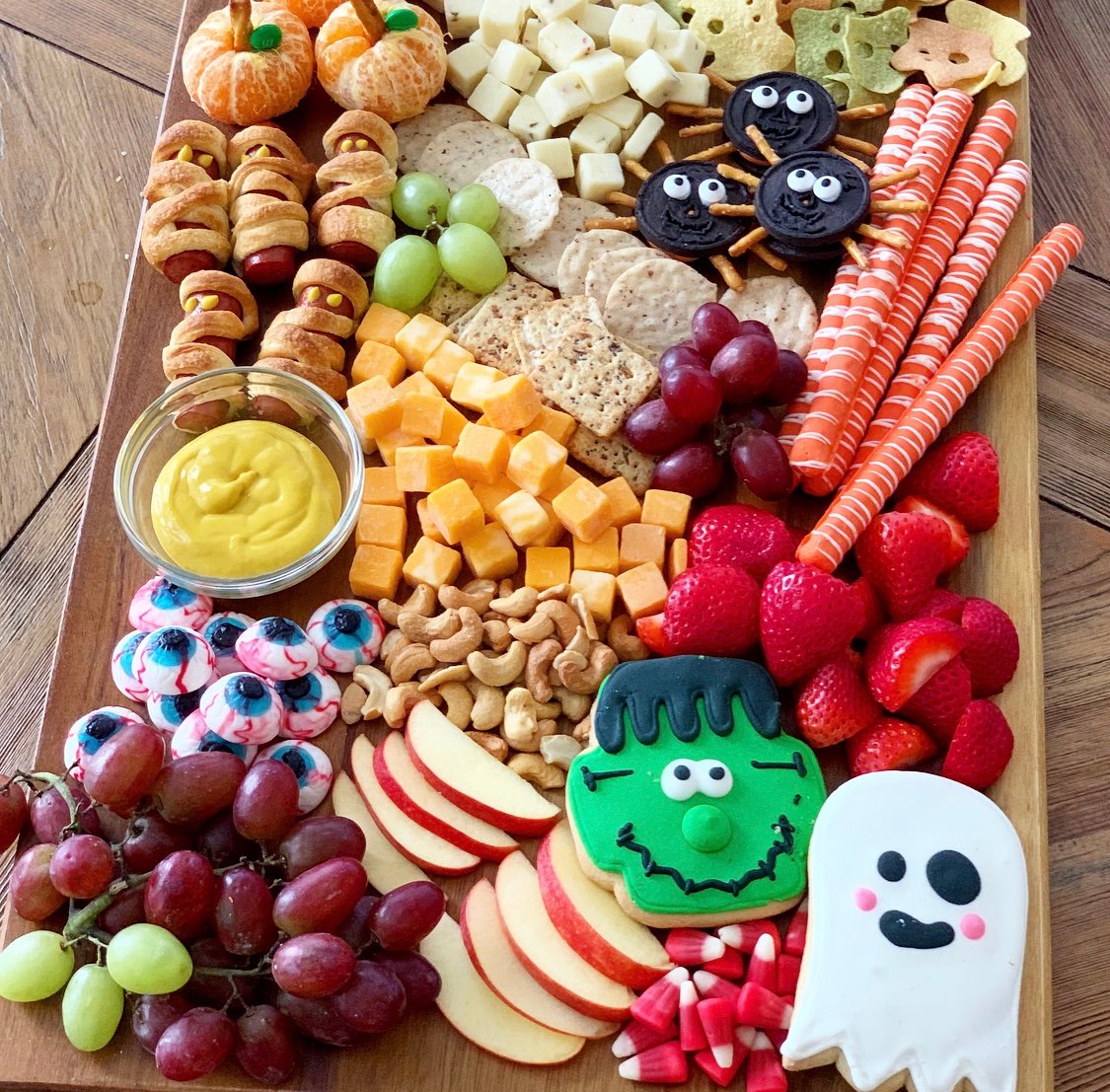 The bottom of the tray has cashews, gummy eyeball (found HERE), apple slices, grapes, candy corn and Halloween cookies.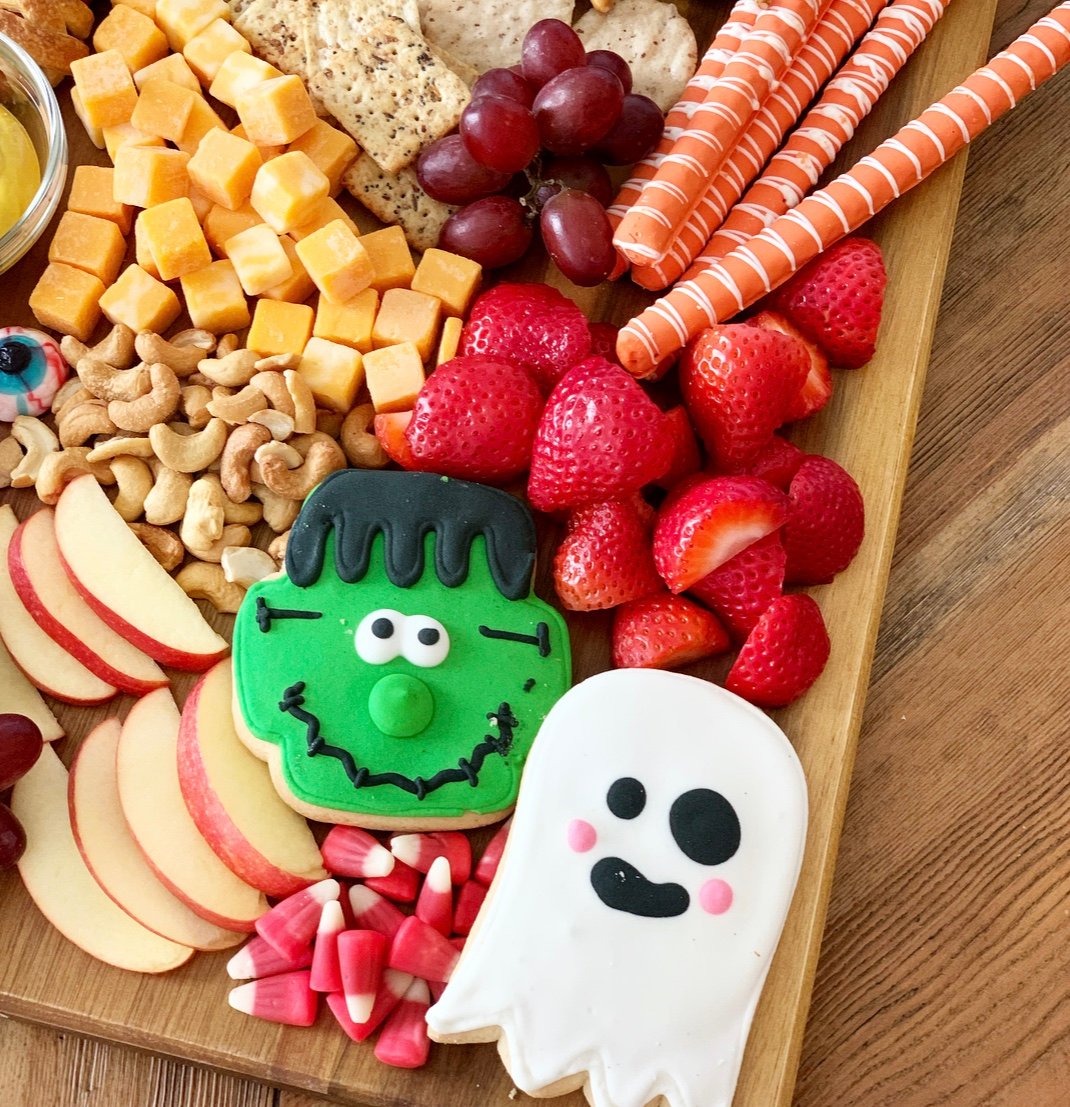 These cookies are not the best I've ever tasted, but they are super cute, and I love that they come individually wrapped! There are several other designs too! Buy them either as a variety pack in a tub HERE or grab individual cookies by clicking on the images below:
I hope this festive tray makes you smile and encourages you to create your own for your boos! The finished product may make it seem a little overwhelming, but just grab some snacks you love, a few festive items and start arranging. I generally place my bigger items on my board first and fill in the holes from there. I promise, it is easier than you think!
Shop the post by clicking any of the images below:
If you liked this Halloween snack board, be sure to check out these other Halloween food posts below:
Air Fryer Mummy Dogs
Find the post HERE
Monster Munch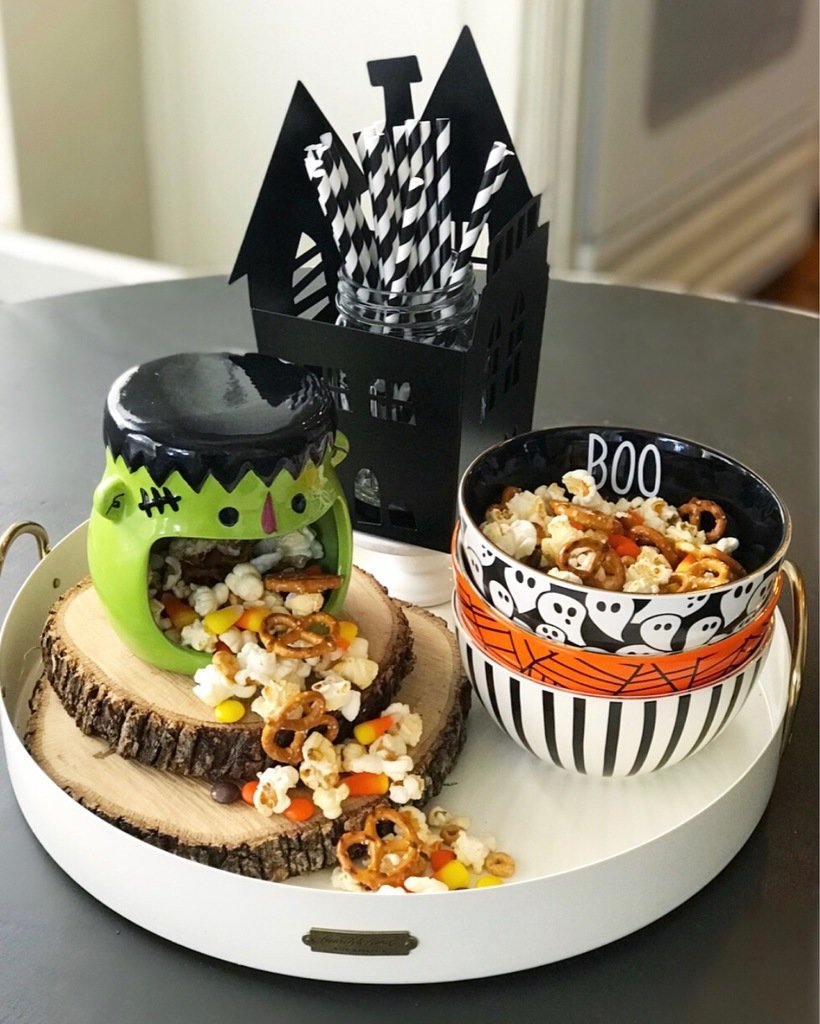 A fun snack idea for the season! Find it HERE.
Jack-o-lantern Stuffed Bell Peppers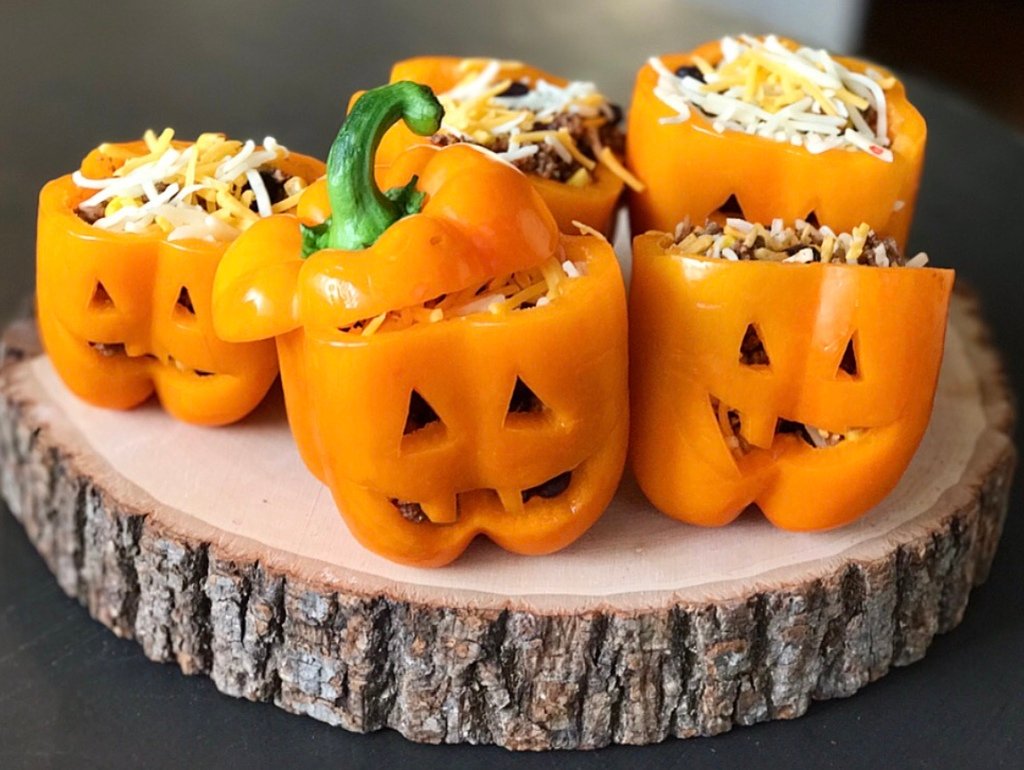 Find them HERE.
Spooky S'mores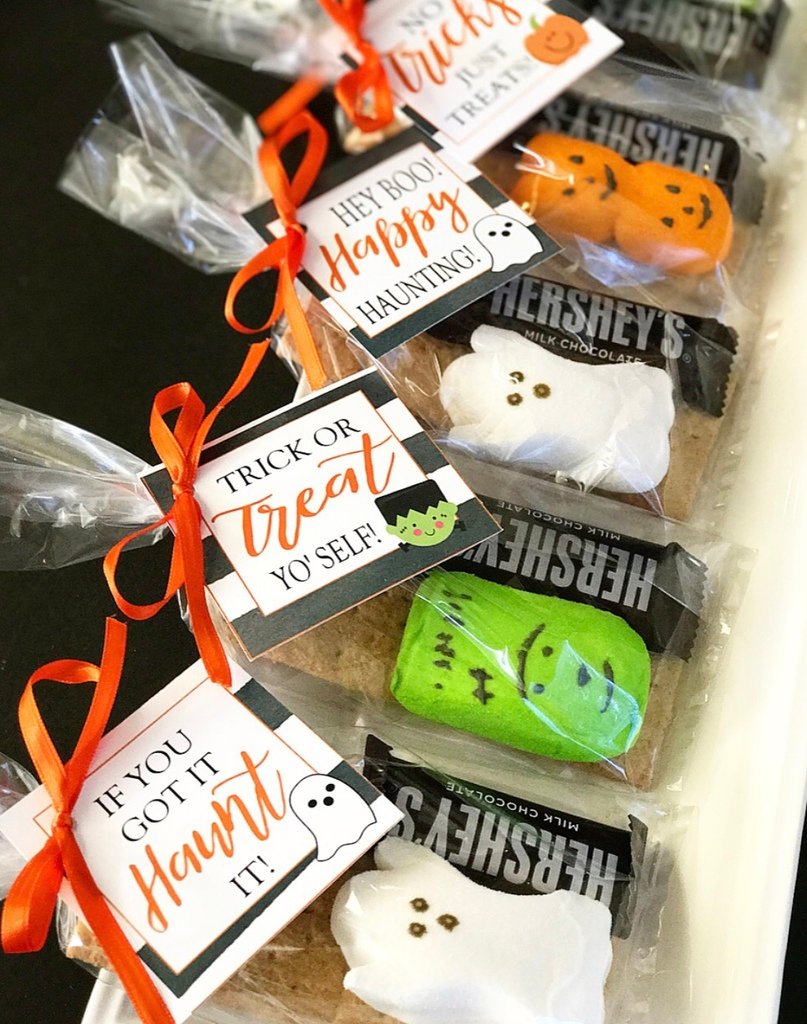 These are fun to hand out or enjoy at home over a firepit.
Find the free printables HERE.