Today I'm sharing a simple recipe for mini quiche, the perfect little appetizer or bite sized breakfast for Christmas morning, using Planet Oat Original Oatmilk!
This post was sponsored by Planet Oat and all opinions expressed in my post are my own.
A couple of years back my hubby figured out that he and dairy don't agree. He's not completely intolerant, but he just feels SO much better when he cuts dairy (and gluten!) out of his diet. Figuring out how to adjust some of our favorite recipes to fit his new diet has been interesting, but a healthy challenge for all of us!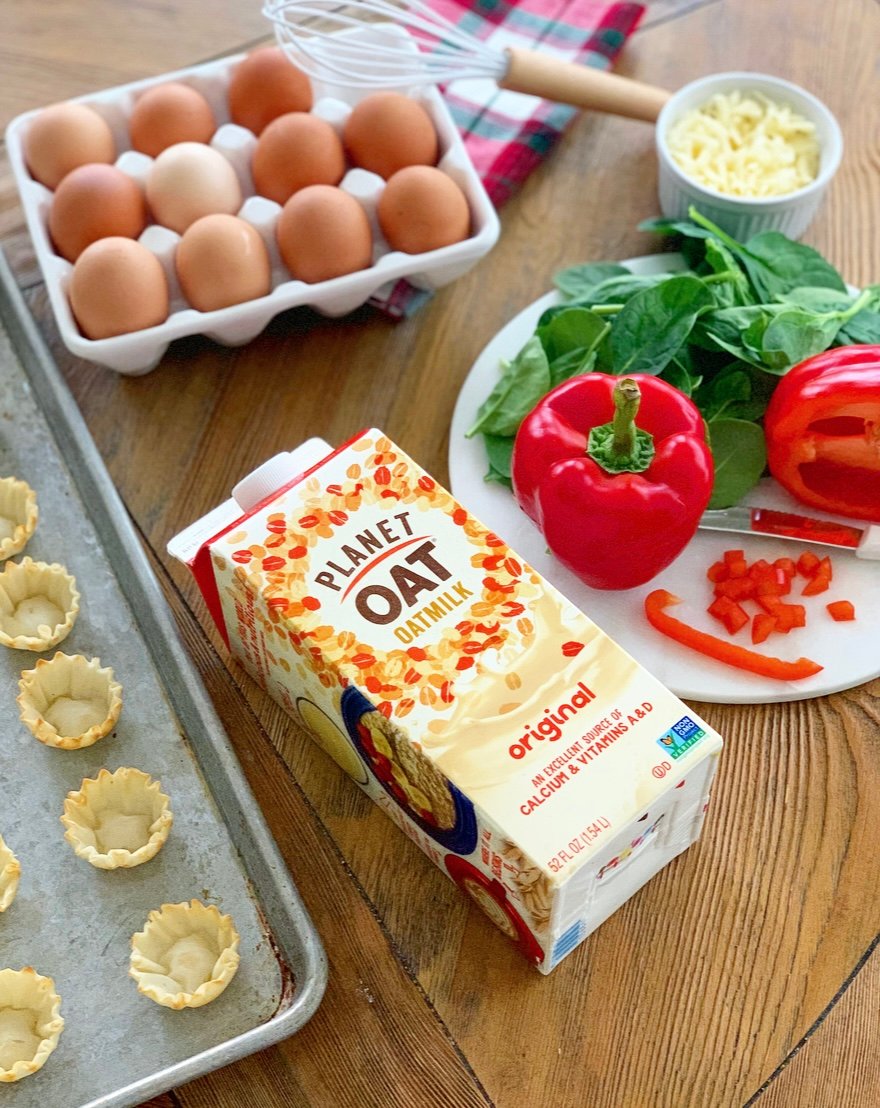 Planet Oak Oatmilk is an awesome alternative for milk! It is dairy-free, nut-free, gluten-free and most impotantly (to me anyway) it tastes great! It is an easy switch that keeps everyone feeling good, and when I sub it for milk in the recipes we love, I can't tell the difference!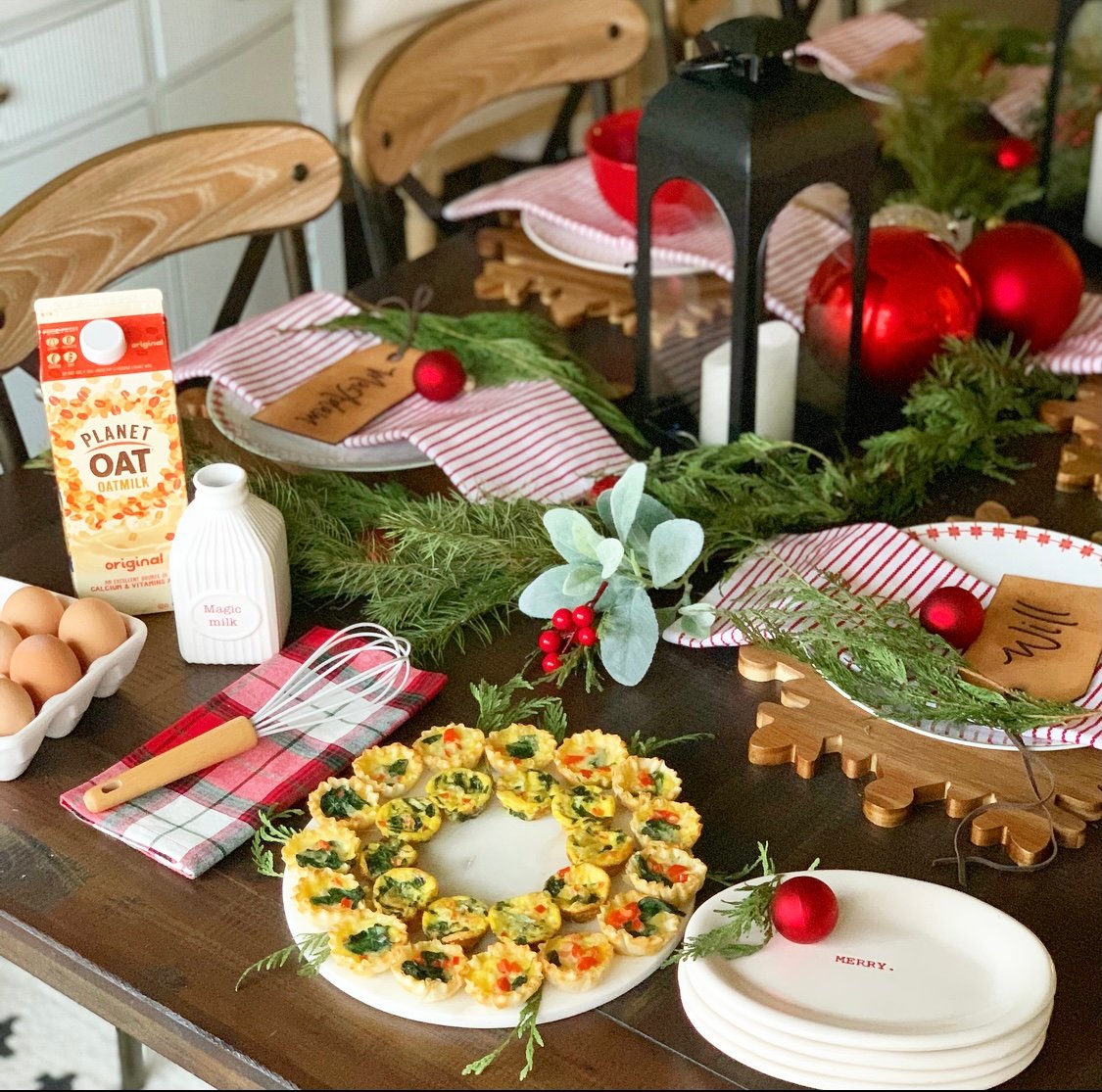 Holiday gatherings will be smaller this year, but that doesn't mean they can't feel festive! I made these quiche two ways: in phyllo shells and crustless (gluten free!). I also show you how to display them like a wreath….a quiche wreath! Haha! The other beauty of this recipe is that you can alter it to your family's tastes-omitting or adding different veggies, types of cheese, etc. This recipe makes 24-30 bites, and also freezes well if you choose to keep some for later! I feel confident they will go quickly, no matter how big the crowd!
Ingredients for Phyllo Shell Quiche:
EVOO
3 cups spinach, stems removed
3 eggs
1/4 cup Planet Oat Original Oatmilk -you can find where to purchase this HERE
1/2 cup shredded Swiss cheese or dairy free cheese of your choice
1/2 cup chopped red bell peppers
Phyllo shells- 2 boxes (24-30 total)
Salt and Pepper to taste
Directions:
Preheat oven to 350 degrees.
Heat EVOO over medium heat in a pan. Place 3 cups of spinach in the pan, stirring occasioallly and allowing it to wilt.
While spinach is wilting, add eggs, Planet Oak Oatmilk, cheese, red bell peppers, salt and pepper to a mixing bowl and mix well.
Once wilted, add spinach to your bowl.
Place phyllo shells on a baking sheet and spoon mixture into each shell.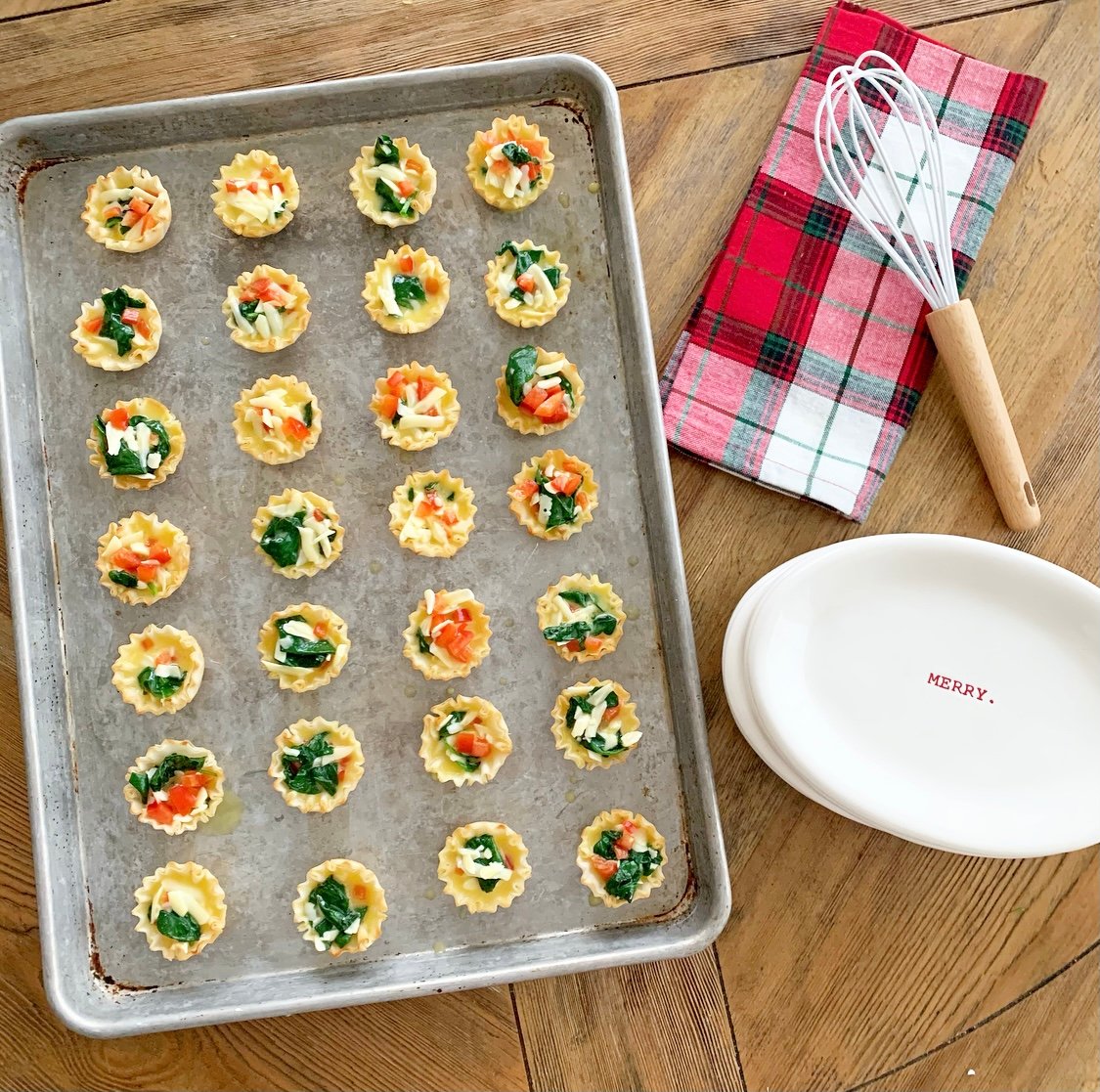 Bake for 12-15 minutes, or until eggs have set.
Let cool for a couple of minutes and enjoy!
Crustless Quiche
To make a crustless version (gluten free!) use all the same ingredients, minus the phyllo shells.
Spray a mini muffin pan with non-stick spray and spoon the mixture into each spot.
Cook at 350 degrees for 15-18 minutes, or until eggs have set.
Allow to cool for about 5 minutes before removing from the muffin pan.
Quiche Wreath
Say that five times fast….
To arrange your quiche like a wreath, grab a round tray or large plate.
Place a small bowl or ramekein in the center to give you a perfect circle. Arrange quiche all around. For an extra festive touch, add Rosemary or pine clippings to make it look more like a wreath!
Simple and fun! If you want to give Planet Oat Oatmilk a try, check HERE to find stores that carry it near you!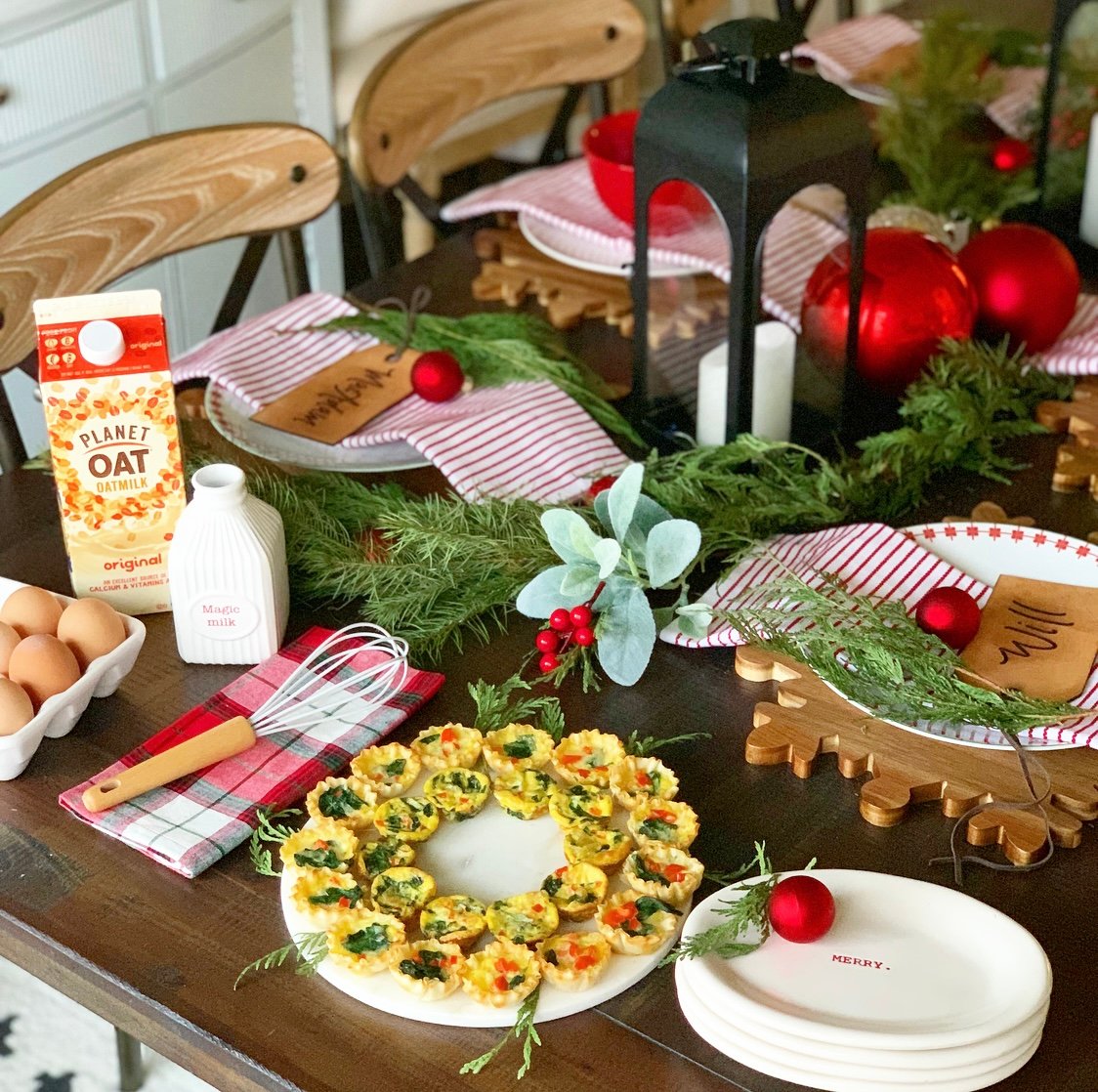 I hope these mini quiche make your holiday a little more merry!
Sharing is caring! Feel free to pin this recipe: