Pumpkin pasta…..reading that, a few of you may have already turned up your nose…and I totally get it!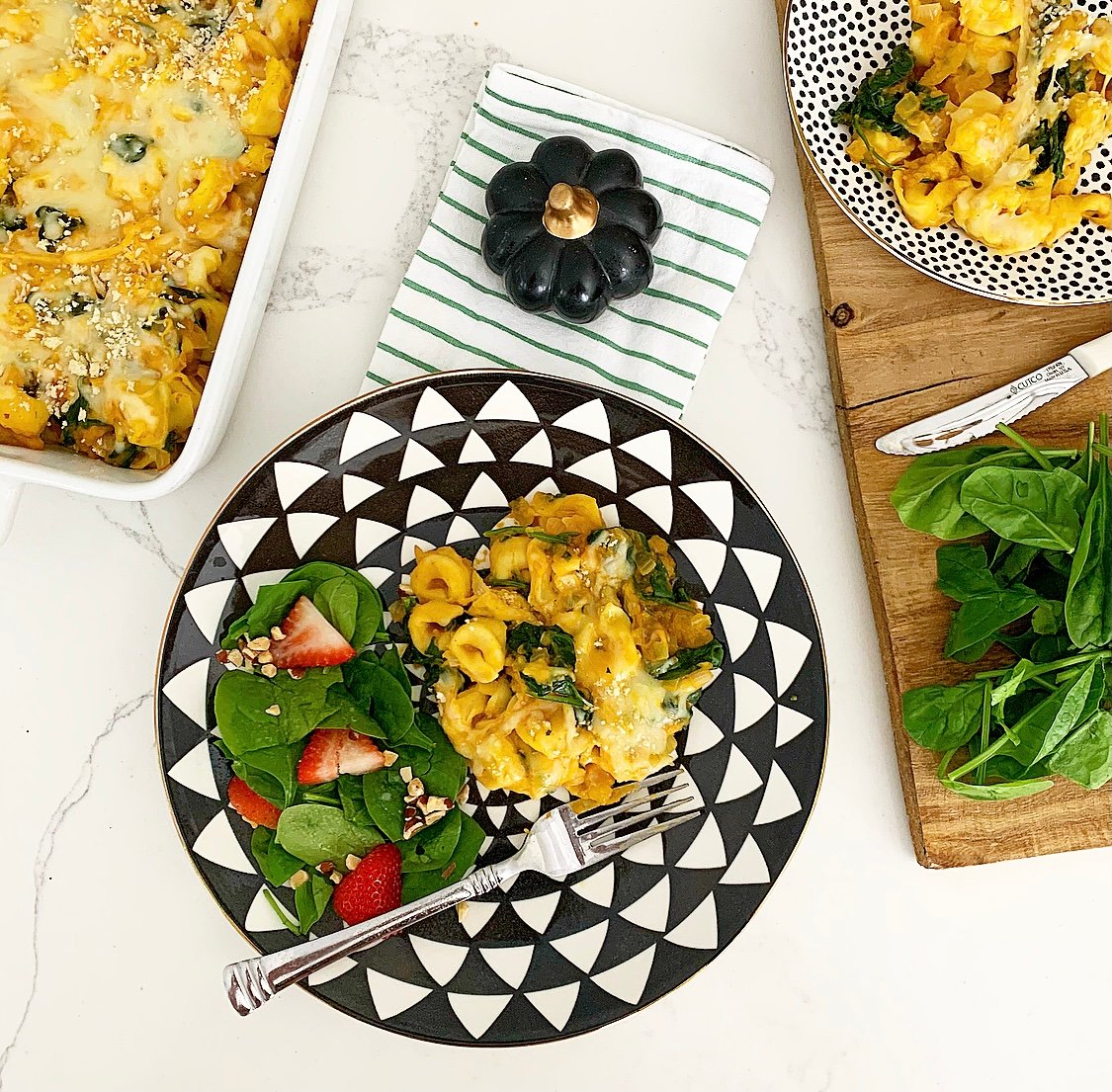 Before I tried pumpkin pastas I was skeptical too, but it has quickly become one of our favorite meals this time of year! In this recipe we are just replacing tomatoes with pumpkin in an otherwise pretty traditional meal. We actually do this with several dinner staples this time of year: pumpkin chili, pumpkin chicken enchiladas….may sound strange, but don't knock it 'til you try it!
This hits the weeknight checklist for me: easy, quick, hearty and sneaking the spinach in gives my kids some greens they will actually eat!
I encourage you to just give it a try! It's a welcome change in our house in this season where we can't get enough pumpkin!
Our Grocery Order
I have shared many times that our Walmart+ membership has been a game changer for us! I order my groceries on my desktop or on the Walmart app in about ten minutes and have them delivered to my doorstep same-day! SAME DAY! I would love to say my meal planning game is always strong, but many times I am treading water to get everything done, and being able to order items for dinner on my phone and have them show up at my door is amazing! Walmart+ offers free same day grocery delivery ($35 minimum, restrictions apply)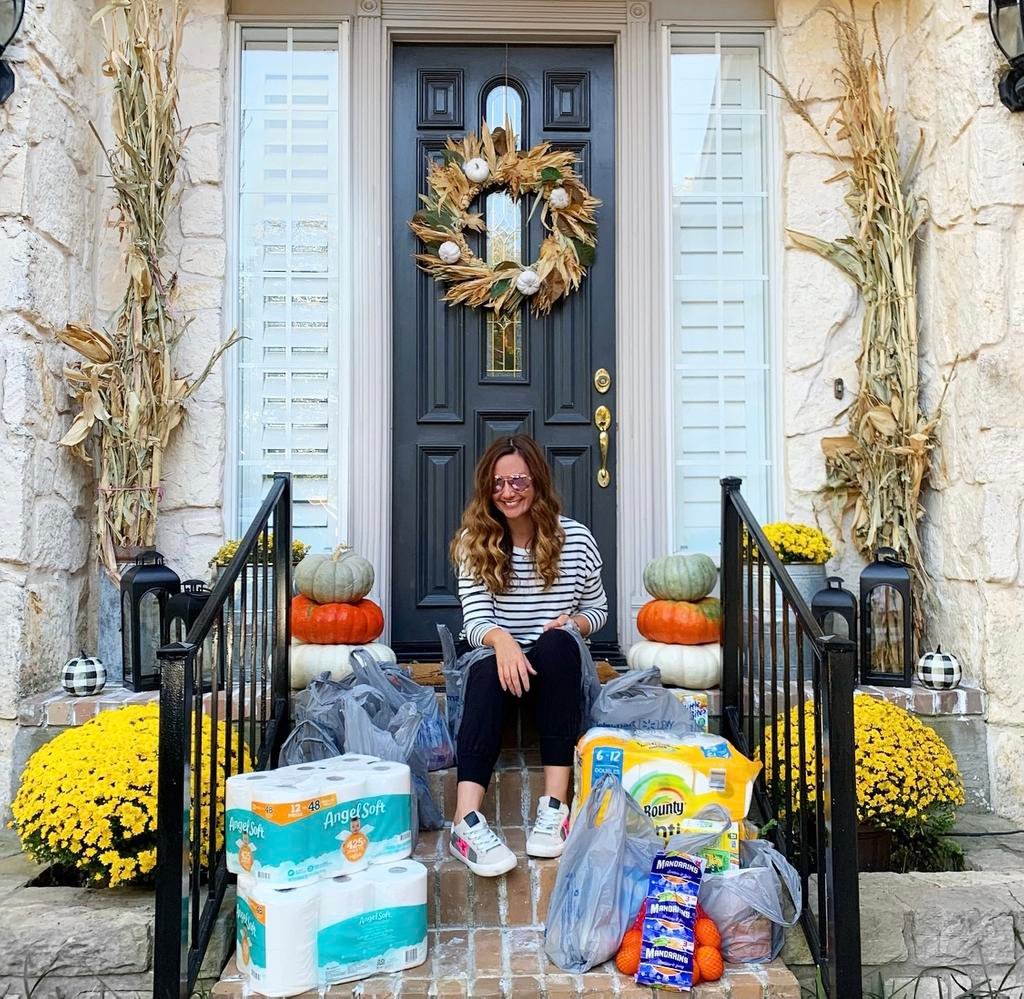 I rarely go inside to shop for groceries any more. It has saved me SO much time and money because I buy what is on my list and am not tempted by impulse buys. The Walmart app also saves your past purchase history, so I can easily add the items our family needs weekly (lunch items for the buys, fruit, etc.) If you have not tried it yet, I HIGHLY encourage you to just sign up for the 15-day trial membership and see if it is a good fit for your family!
You can sign up HERE!
So in this week's order I grabbed these items: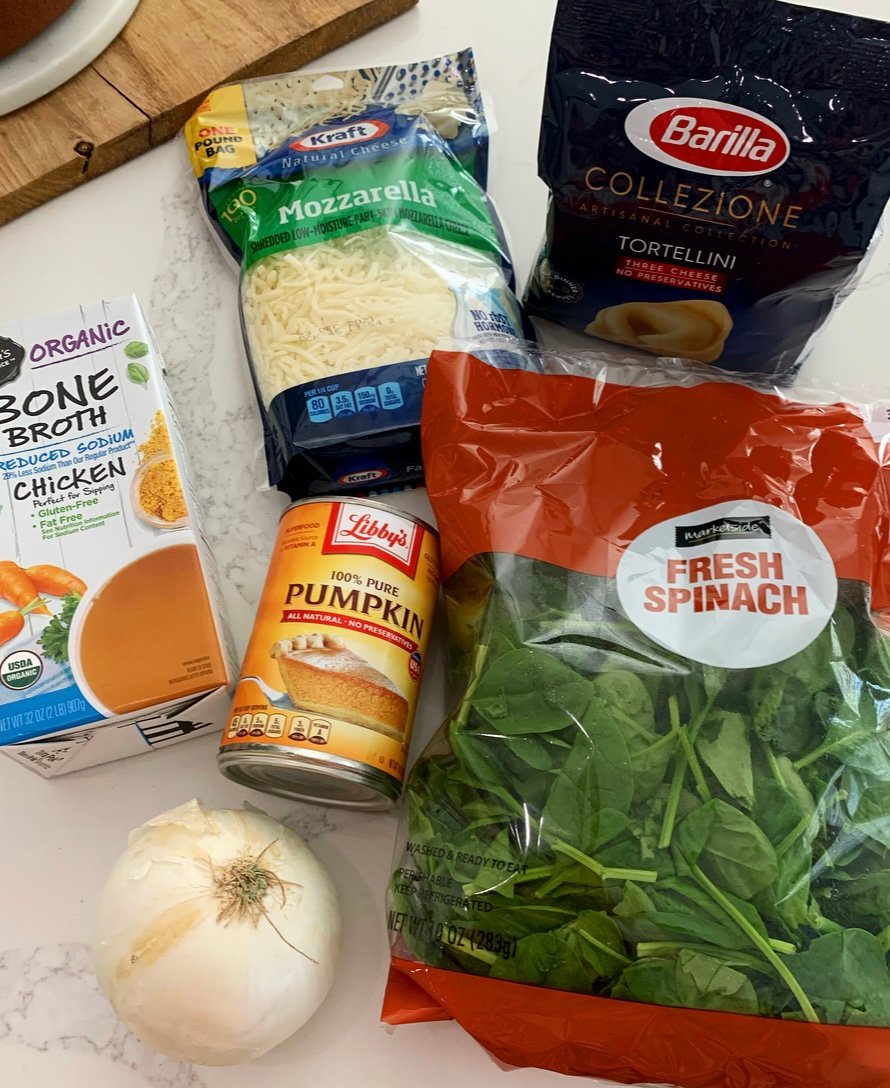 Tortellini- cheese or with sausage, gluten free option HERE.
1 15 oz. can of pumpkin, not pumpkin pie filling, just pumpkin
1 medium onion, chopped
1-2 teaspoons of extra virgin olive oil
2-3 cups of washed spinach
Salt and pepper to taste
1 cup veggie or chicken stock
2 cups mozzarella cheese, divided
1/4 cup breadcrumbs or Panko
Directions:
Preheat oven to 400 degrees and spray a 9×13 baking dish and set aside.
Bring water to a boil in a large pot and cook tortellini (5-7 minutes)
While water is boiling, heat olive oil in a pan over medium-high heat. Saute your onion and spinach with salt and pepper for 1-2 minutes. Stir in pumpkin and stock, reduce heat and combine well.
Drain tortellini and add pumpkin/spinach mixture to tortellini. Stir in 1 cup of mozzarella cheese and pour mixture into prepared baking dish. Top with remaining cheese and bread crumbs.
Bake about 7-10 minutes or until bubbly and lightly browned. Sprinkle with additional cheese if desired!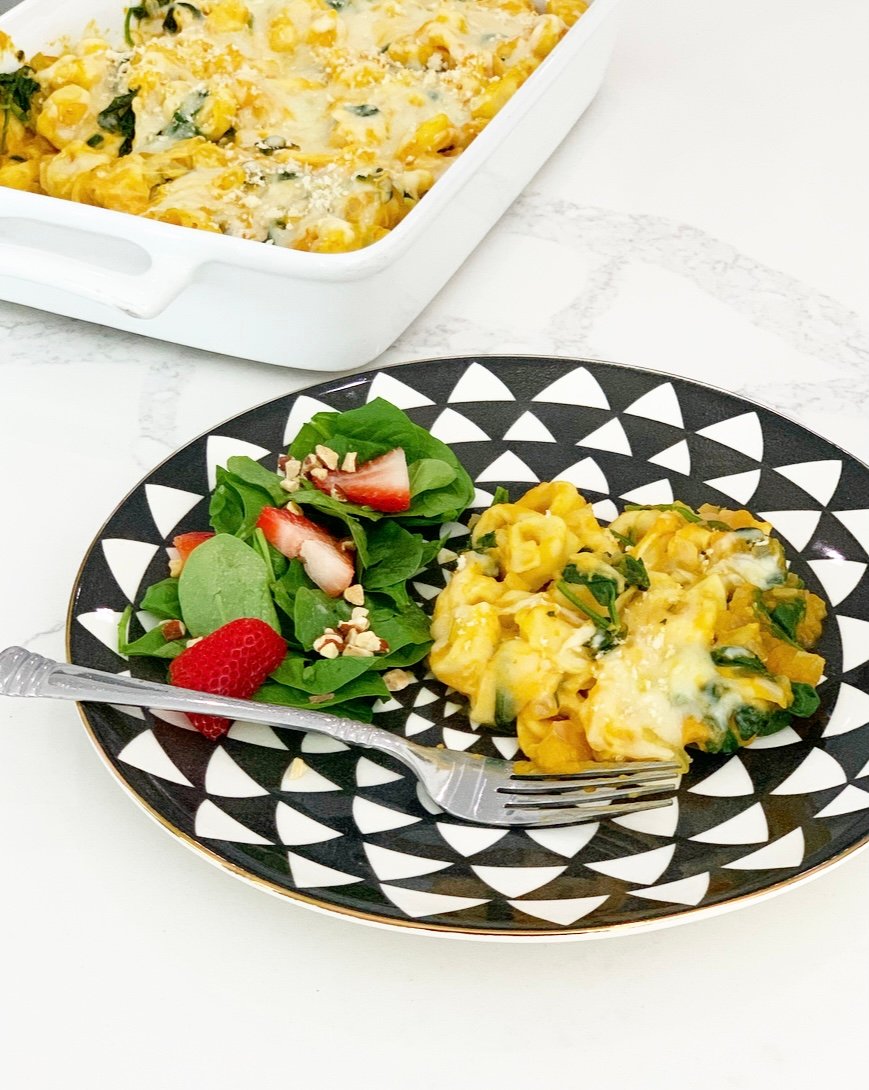 Easy, hearty and delicious…. the perfect fall meal!
Beyond Groceries:
Walmart+ delivery is always free and includes many other items beyond groceries!
A few kitchen items I am loving lately:
Click on the images or the description below to be taken to the listing!
Black, white and gold dishes// Dutch oven// Knife set// Air Fryer Toaster Oven// Patterned bowls// Toaster// Blender// Mugs
All items above ship FREE with your Walmart+ membership.
You can sign up for your Walmart+ 15 day FREE trail HERE.
This post was sponsored by Walmart, but all items were purchased by me and all opinions are my own.