I am excited to share Will's bedroom makeover with you today!
The Bittersweet Background
A little more than seven years ago, when I was pregnant with Logan, I coached the high school dance team.  One of my talented drill team mamas who painted most of our stage props offered to paint Logan's nursery for me as a gift!  She painted THE sweetest tree, owls and a diamond design that matched his bedding!  I just loved it!
Fast forward a few years and Will was born.  In true second child fashion. we switched out all the things that said Logan and kept this room pretty much the same.  Once he outgrew the crib, my hubby and my Dad built him a very special bed all his own!  He loves his new bed, but recently started asking if he could make some other changes.  As much as I LOVED the owls and the sweet thought behind it, I knew it was probably time!
It hurt my mama heart a little to let it go…..babies just don't keep!
Choosing a Theme
After much discussion, Will decided he wanted a beach themed room.  My in-laws live in Gulf Shores, Alabama, and it is Will's favorite place to visit!
We painted over the owls (sad day!) and found this fun Orange Beach print.  We were making progress…..
We then added some waves wallpaper to create a feature wall behind the bed!  I feel like it gave the room so much more character, but something was still missing…
Flower Kids
Enter Flower Kids, the new Drew Barrymore line at Walmart.  The line is full of colorful, playful pieces that I knew would add the whimsy that Will's room was missing!  The quality of every piece I ordered was SO good, and it all just screamed FUN!  After all, Will is only four, and I want his room to reflect his adventurous spirit!
You can shop the entire line here. 
I loved this sunshine art, and thought it would bring more color into the space!
Find this sunshine art here and a few other favorites below:
I also loved this ledge shelf that looks like a wave….the perfect subtle detail for our beach themed room!  How perfect is that?!?
You can find this wave shelf here.  It comes in seven color options, shown below:
There are also several animal themed shelves that I thought were so adorable!
I printed some pics of Will and our family in Gulf Shores, our happy place, and the inspiration for this room!  This was a fun, personal touch and these pics make me smile whenever I see them!  I used basic white frames you can find here, here and here  and added them to the wave ledge.  My boys play pretty rough, so I opted to take the glass out of the frames, just for safety!
The neon green rocker where I rocked both my boys to sleep each night (tear!) was replaced with this egg chair that Will just loves!  It is actually intended for outdoor use, but that is just the sort of durability we need for my rowdy boys!
Find this egg chair here.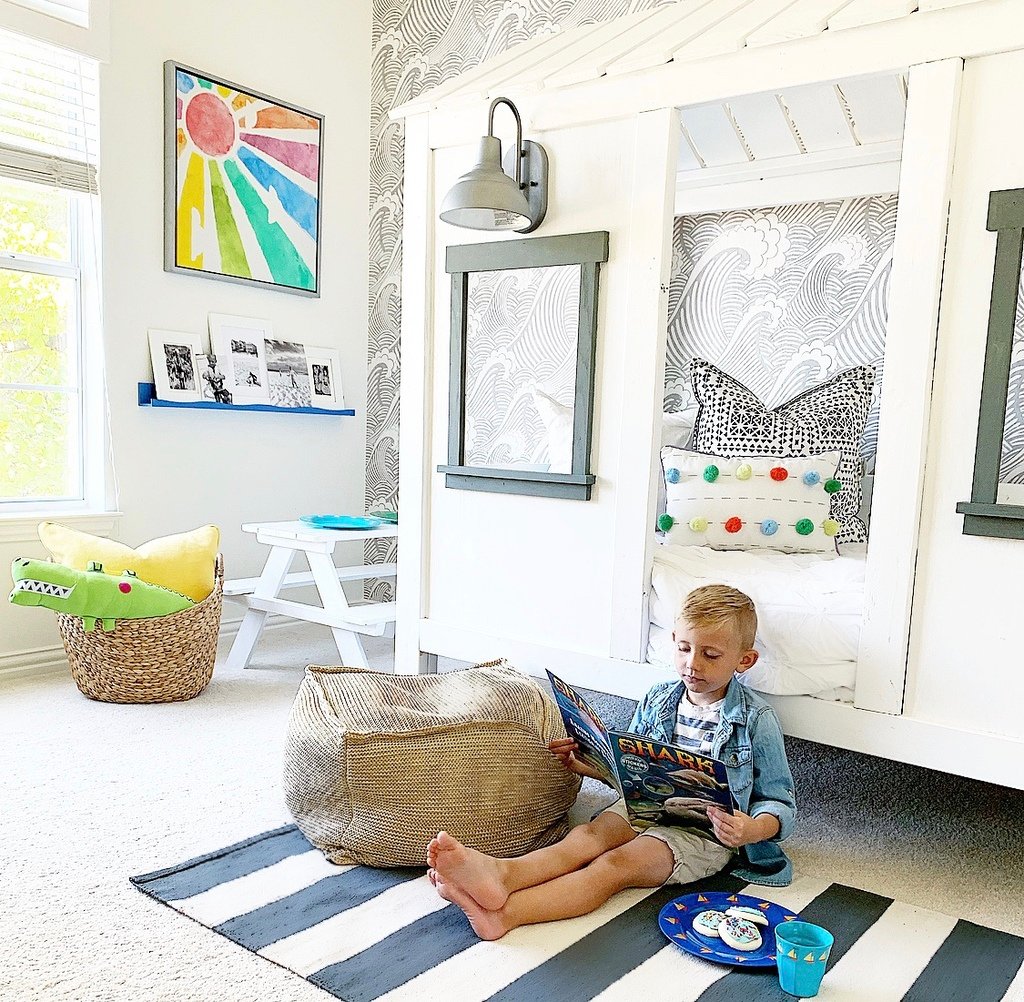 This alligator pillow and this pom pillow also added a little whimsy and color!
We also grabbed these sailboat plates, along with the coordinating cups!  I am a sucker for cute kids' dishes.  You can find these here and here.
They also have a girly version here and here.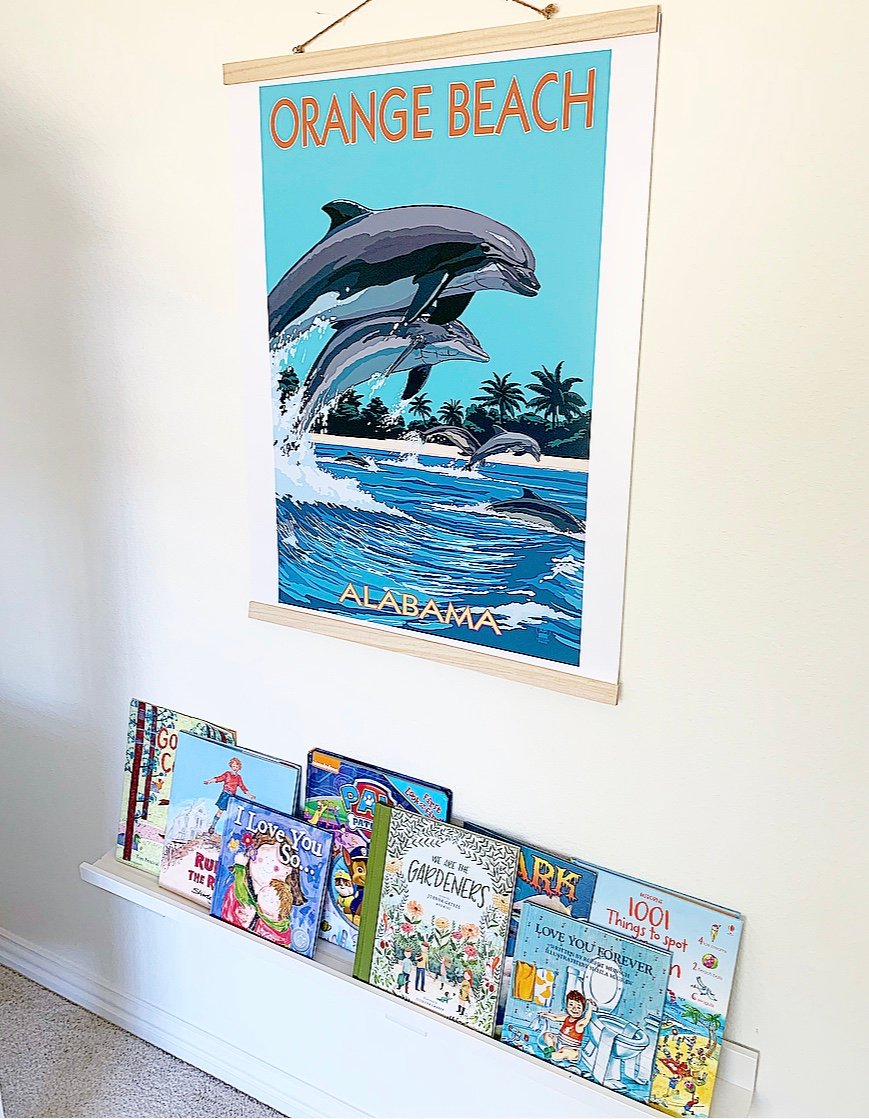 The Orange Beach poster that was our original inspiration made it's way to the other side of the room!  I love that these travel prints are so affordable and make such a statement.  They come in all sorts of destinations and the hanger (found here) is just $9 for a set of 2.
Bedroom Makeover Reveal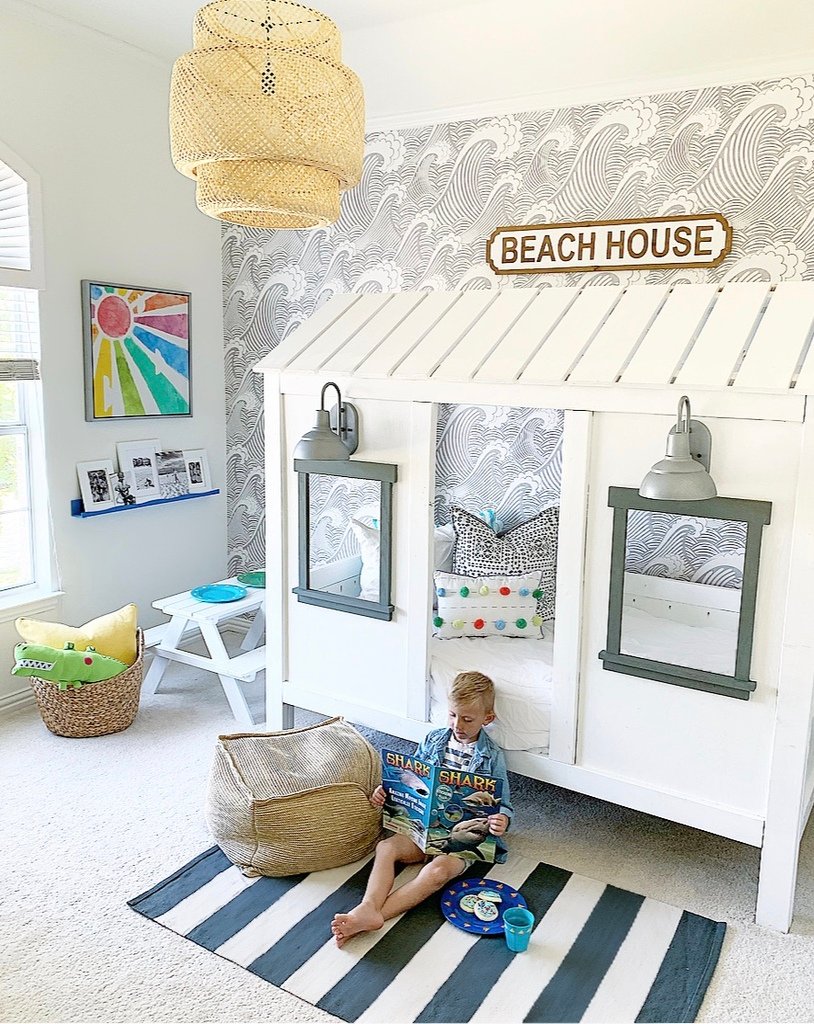 Although it hurt my Mama heart a little to see the nursery decor go, I could not be happier with how Will's room turned out!  This bedroom makeover was truly a fun project for us! He absolutely loves it, and I think the bright, fun pieces reflect his energetic personality!
Shop the Post: