Saturday morning breakfast is one of my favorite times all week!  My hubby is home with us and we can eat, giggle and make messes with the boys.  This blueberry bake is one that I have made again and again.  For Christmas I thought I would try it with cranberry and orange instead…and because I wasn't sure how we would like it, I made both….in the same pan!  Weird?  Genius?  I'm not sure, but we thought both sides were delicious!  This is a great option if you are having guests stay with you over the holidays because it is super EASY and yummy…my favorite combo.  I've given you the way to make these separately or together below!
Ingredients:
4-6 croissants torn into bite-size pieces.  I usually just buy these in the bakery at my grocery store
6 eggs
1 1/2 cups of milk
1 1/2 cups of half and half
My boys like to help tear up the croissants and put them in the pan.
Beat your eggs, milk, and half and half in a bowl.  Pour them over your croissants and mix it all really well so that the croissants are completely saturated.  Use your hands…I won't tell!
Here's where you have decisions to make…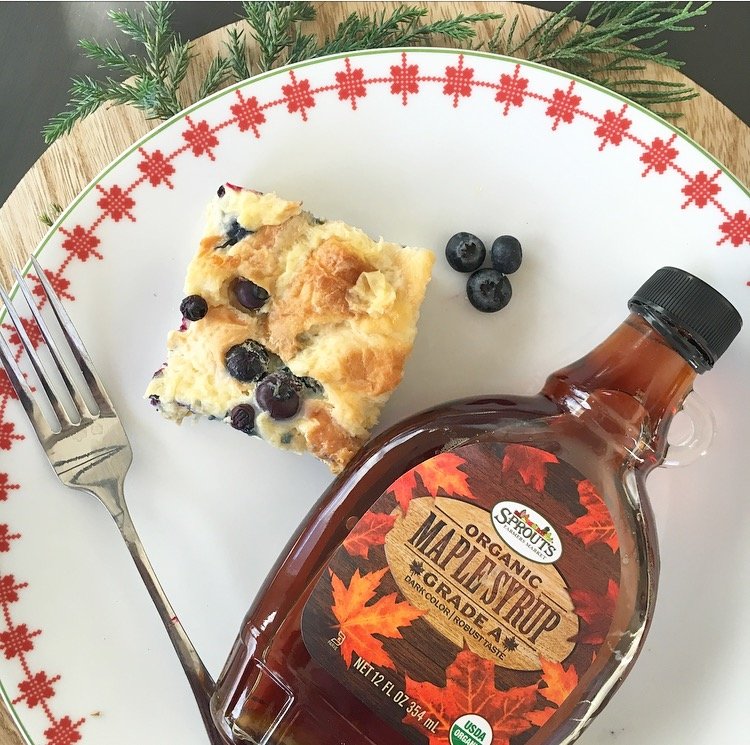 Just Blueberry
2 cups of fresh blueberries
2 teaspoons of vanilla extract
1 teaspoon of cinnamon
I sometimes add the zest of 1 lemon to this if you like lemon, but totally optional!
Mix these ingredients together in a bowl and stir into your croissant mixture.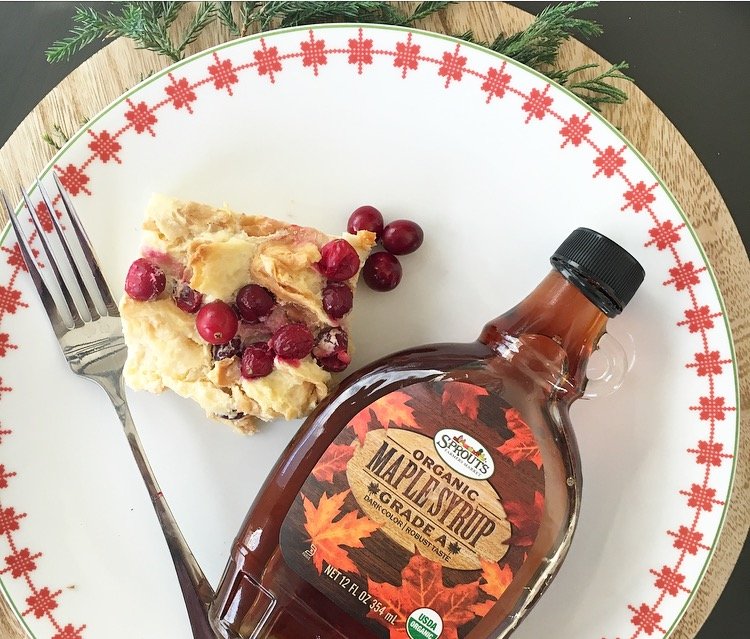 Just Cranberry Orange
2 cups fresh cranberries
2 teaspoons of orange extract or the juice from 1 orange
  Mix these ingredients together in a bowl and stir into your croissant mixture
1/2 and 1/2
1 cup fresh blueberries
1 teaspoon of vanilla extract
pinch of cinnamon
1 cup fresh cranberries
1 teaspoon orange extract or juice from half an orange
Mix first 3 ingredients and add to one side of your pan.  Mix last 2 ingredients and add to the other side of your pan.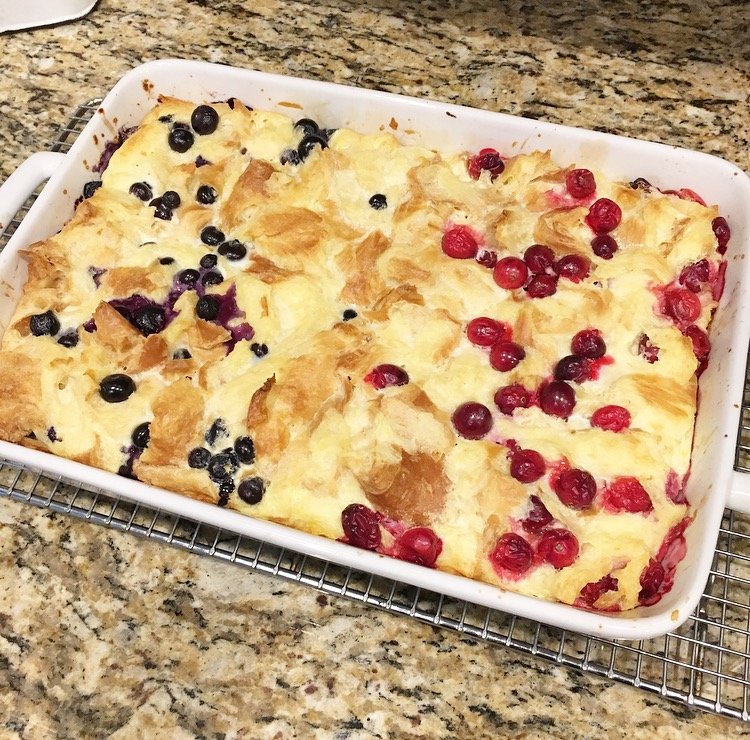 We usually put this together the night before so in the morning we can just pop it in the oven.  It tastes better when everything sets overnight!  Cover and put in the fridge.
In the morning, preheat your oven to 350.  Bake 40-50 minutes.  If you see it is starting to get brown after about 25 minutes, cover with foil and continue baking.  When it is finished baking, let it stand 10 minutes before serving.  We like ours with syrup, but it's also good on it's own!
Call me weird, but I don't like my food to touch.  I know it all goes to the same place, but when flavors mix on my plate that aren't supposed to…yuck.  That being said, I have no idea what the very middle of this 1/2 and 1/2 bake tastes like.  My hubby said it was great, but if you're like me, just stick to the outsides!
Add coffee…maybe some bacon…and this is Saturday morning right here!  Enjoy!