Are you ready for some football?  The Superbowl is this Sunday, and if I'm totally honest, all I care about is food, creative commercials and watching Lady GaGa kill it at halftime!  Love her or not, she is crazy talented and SUCH an entertainer….I feel like it could be the best halftime in years!  SO whether you are needing something to bring to a friend's party, hosting a party of your own or just watching at home with the fam, I have 4 easy snack ideas that are sure to please!  3 savory, 1 sweet, 2 healthy, 2 cheat!
 Kale Chips
I truly expected these to be gross the first time I tried them, but I love them, and so do my boys!
Ingredients:
Kale
Olive Oil
Sea Salt and Cracked Pepper
Directions:
Preheat Oven to 350 degrees.  Wash kale thoroughly and dry completely.  Tear into bite-sized pieces.  Drizzle with olive oil and use your hands to make sure all kale is lightly coated.  Season with salt and pepper.  Bake until the edges are brown (10-15 minutes)
 Buffalo Chicken Dip
This is a recipe that has been passed down from generation to generation in my family…just kidding…it's on the back of the Frank's Red Hot Bottle!  haha!  BUT, I do replace the blue cheese dressing with ranch and the blue cheese crumbles with different cheese, which, in my humble opinion, makes it taste better!  We are not big blue cheese fans!  I have taken this dip to get-togethers for years, and it is always goes quick!
Ingredients:
8 oz package of cream cheese, softened
1/2 cup of Ranch dressing
1/2 cup of Frank's Red Hot Sauce
1/2 cup mild cheddar cheese
1/2 cup mozzarella cheese (or any cheese you like!)
2 cups cooked chicken-I usually buy an already-cooked rotisserie chicken at the store to save time
Directions:
Preheat oven to 350 degrees.  Put cream cheese in an oven safe dish. Stir in remaining ingredients.  Bake for 20 minutes until hot.  I sometimes just put it in the crockpot on the low or warm setting.  Serve with celery or chips!
Fruit Dip
This fruit dip is super yummy!  My boys also think anything on a stick is fun, so fruit skewers are always a favorite!
Ingredients:
1 32 oz. container of low-fat vanilla yogurt
1 8 oz. container of lite cool whip
1 3.4 oz box of dry vanilla pudding mix
Fruit of your choice for dipping
Directions:
Mix all ingredients in a large bowl until completely blended with no lumps.  It may be a little gritty until the pudding dissolves.  Cover and chill for at least 30 minutes before serving with fruit!  This is an easy one to make the night before.
Crockpot Mac and Cheese
We made this crockpot mac and cheese for Will's Lumberjack Bash and it was so easy…..ok, it was mainly easy because my mother-in-law actually made it for that party…..BUT I made it again on my own too!  This is a great one if you are serving a crowd!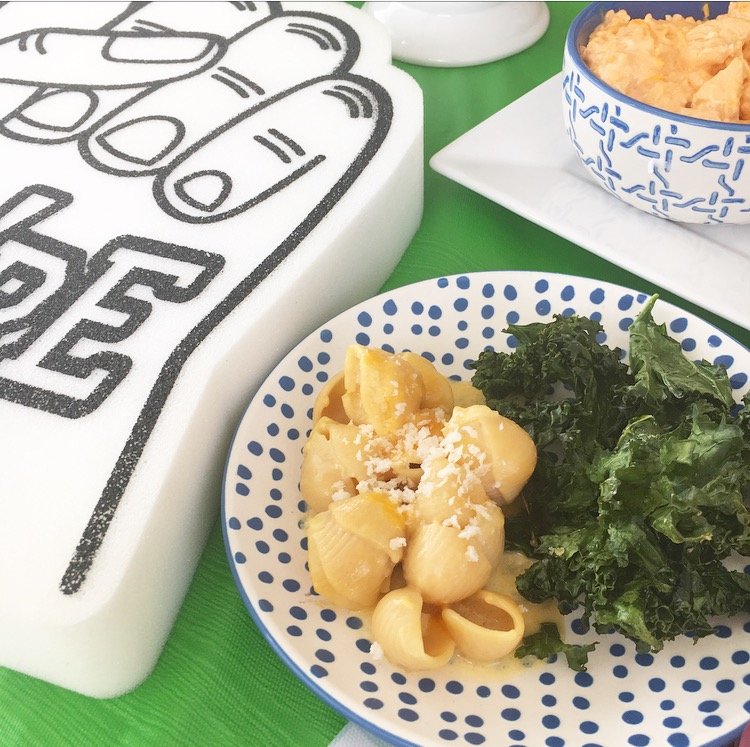 Ingredients:
1 lb, pasta of your choice (elbow, shells, etc.)
On a side note, we recently tried this brand that is made from chick peas and it was a good, healthier alternative "pasta."  They sell it at Target.
1 can pet milk
3/4 cup of milk
2 eggs, lightly beaten
1 stick of butter, cut in slices
1 lb velveeta cheese, cubed
6 oz. medium cheddar cheese, shredded or cubed
6 oz. sharp cheddar cheese, shredded or cubed
1 cup grated Parmesan, divided
Panko bread crumbs
Directions:
Cook noodles and drain-this can be done the night before! Line your crockpot with a slow cooker liner for easier cleanup.  Put pasta in crockpot and add everything in, stirring lightly.  Add 1/2 cup of parmesan on top.  Cover and cook for 2-3 hours on low, stirring occasionally.  We also added a little more milk when stirring if it was not looking as creamy as we wanted!  Add remaining parmesan and bread crumbs on top when ready to serve.
No matter which team wins, I hope your Superbowl Sunday is full of family, friends, fun and lots of yummy food!  Game on!