Today we are making jack-o-lantern stuffed bell peppers!
If you had mentioned moms cutting their kids' food into shapes to me a few years ago, I probably would have rolled my eyes and said, "Nope, I'm never doing that…"
Cue this post! Haha! One of the many, many lessons I have learned on this journey of motherhood is to NEVER say NEVER! As soon as you say, "I will never…" you're cutting jack-o-lantern faces out of bell peppers with your messy bun and yoga pants! #momlife
But here's the truth….if it makes my kids laugh and giggle for me to cut some triangles and a mouth out of their dinner, I will do it ALL.DAY.LONG!! My boys are five and two, and well, they thought this was the best dinner EVER! Plus, it was super fast, easy and tasty…mom WIN! I talk more about eating crow as a mom here.
These pics are the peppers before we baked them….their faces droop and "melt" a little in the oven, which was also a hit! If you're looking for a fun and festive meal before Halloween next week, this is it!
Ingredients:
4-5 large orange bell peppers, try to find ones that can stand up on their own/have level bottoms
1 teaspoon EVOO
1 lb. of ground turkey or ground beef
1 teaspoon taco seasoning
1 can of black beans, rinsed and drained
1 can of corn, rinsed and drained or 1 cup of frozen corn, thawed
1 cup of your favorite salsa
2 cups of cheese, divided-We used cheddar and pepper jack
Directions:
Preheat oven to 350 degrees. Wash and hollow out your bell peppers, removing all seeds.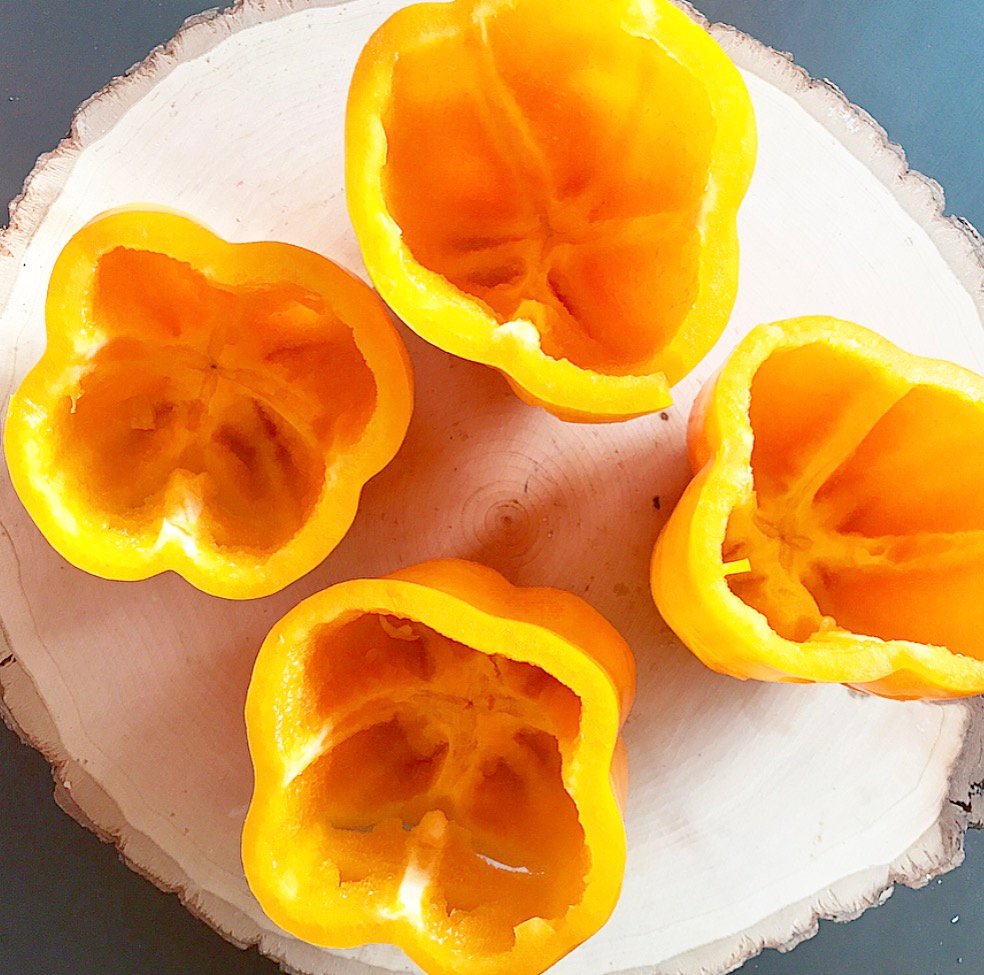 Add EVOO to a large skillet and brown meat over medium-high heat, adding taco seasoning as the meat browns. Once the meat is brown and crumbly, add rinsed beans, corn, salsa and 1 cup of cheese to the meat. Combine and reduce heat.
Cut faces into your bell peppers. If your kids are old enough, they can even help! Spoon mixture into each bell pepper. Place peppers on a lined baking sheet. I always cover my baking sheet with foil or wax paper for easy cleanup! Bake for 20 minutes uncovered. Take peppers out and sprinkle the second cup of cheese on top. Place back in oven for 5 minutes, or until additional cheese has melted.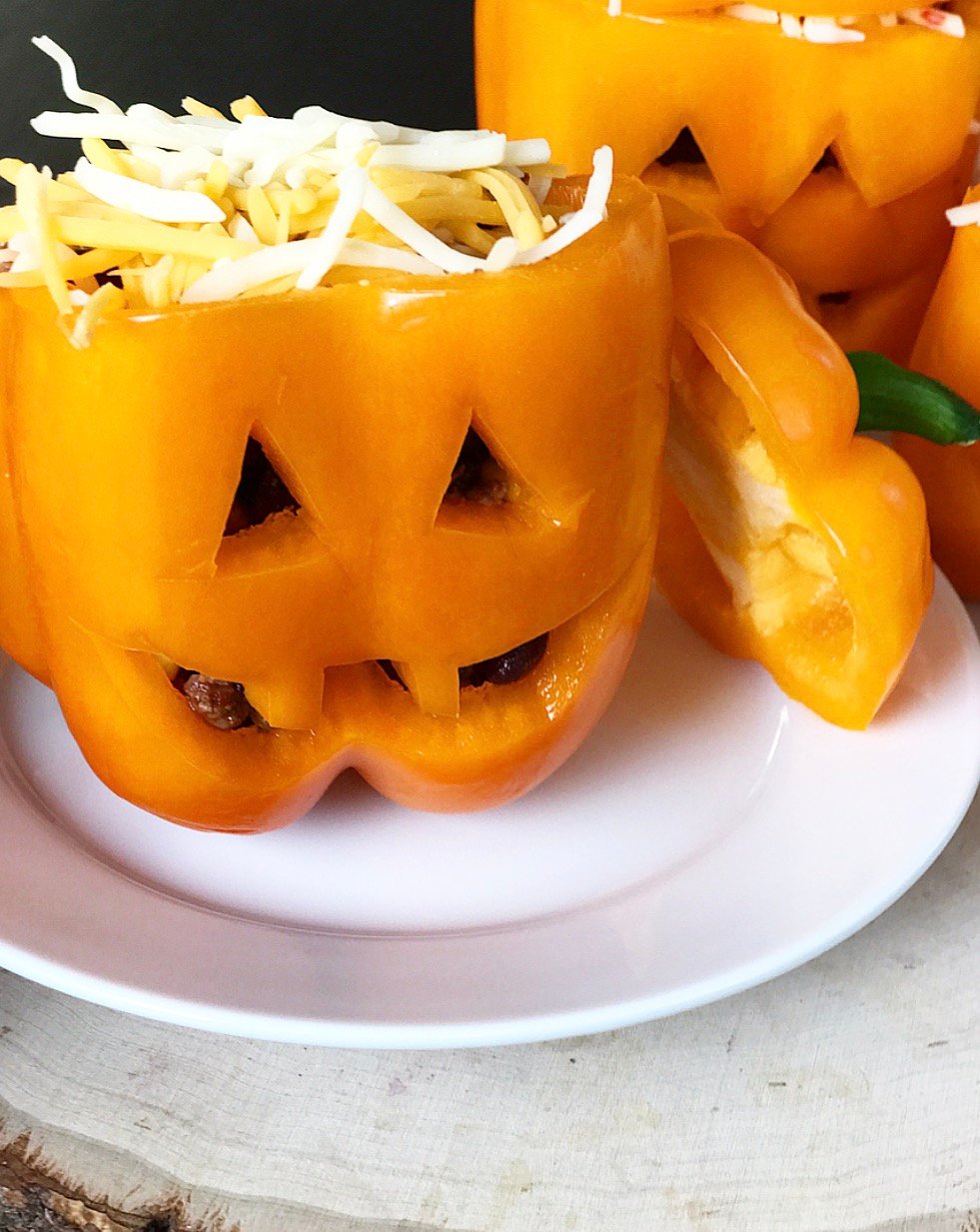 Remove, let jack-o-lanterns cool for 5 minutes, and serve! Easy, fun and festive for your little ghosts and goblins!
For more Halloween fun, be sure to check out the posts below: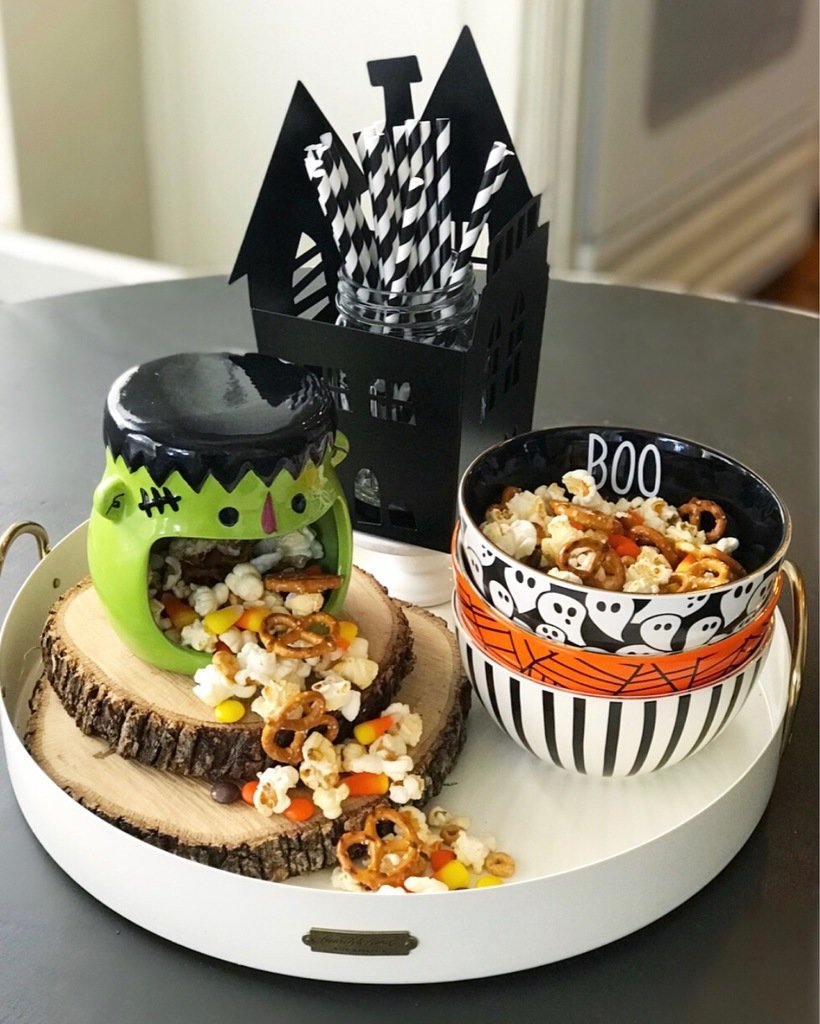 Monster Munch! Find it HERE.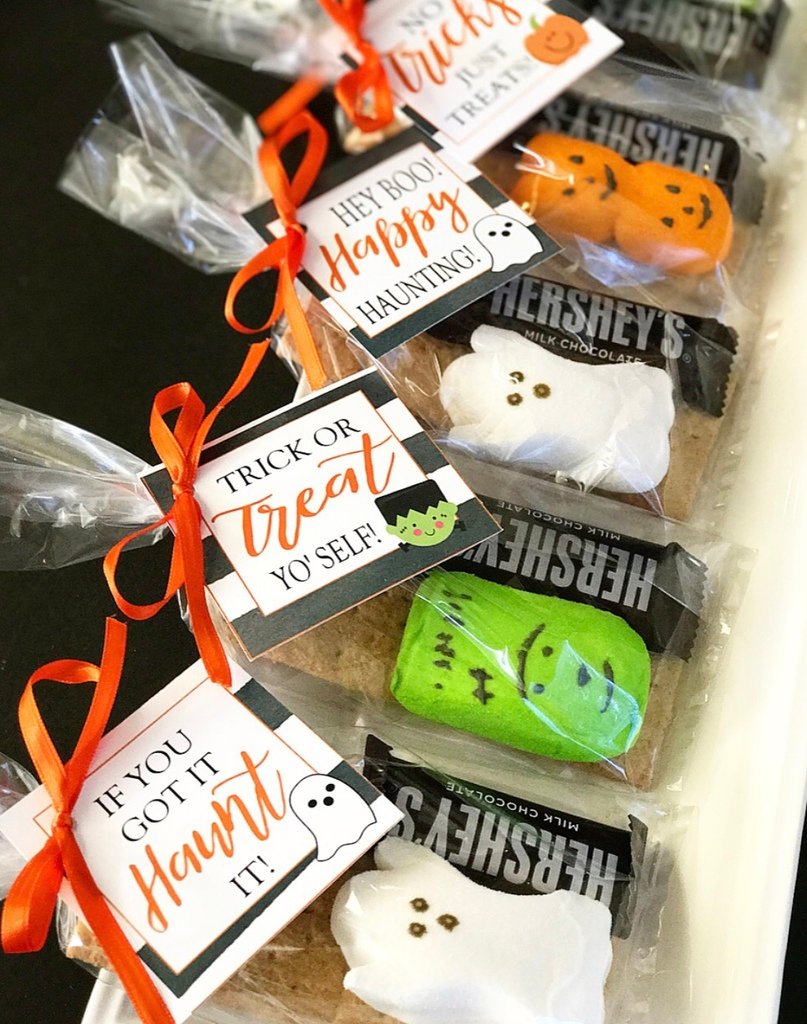 Spooky S'mores
Find them HERE.