Broccoli is one of my boys' favorite foods…and cupcakes…but I'll still take it as a win!
So I love this recipe filled with a veggie they will eat and warm, cheesy goodness!  Plus the Instant Pot makes it quick and easy to throw together!  I've made a lot of soup lately, so when I saw these sourdough bread rolls I thought serving our soup in them as a bowl might just be a fun twist!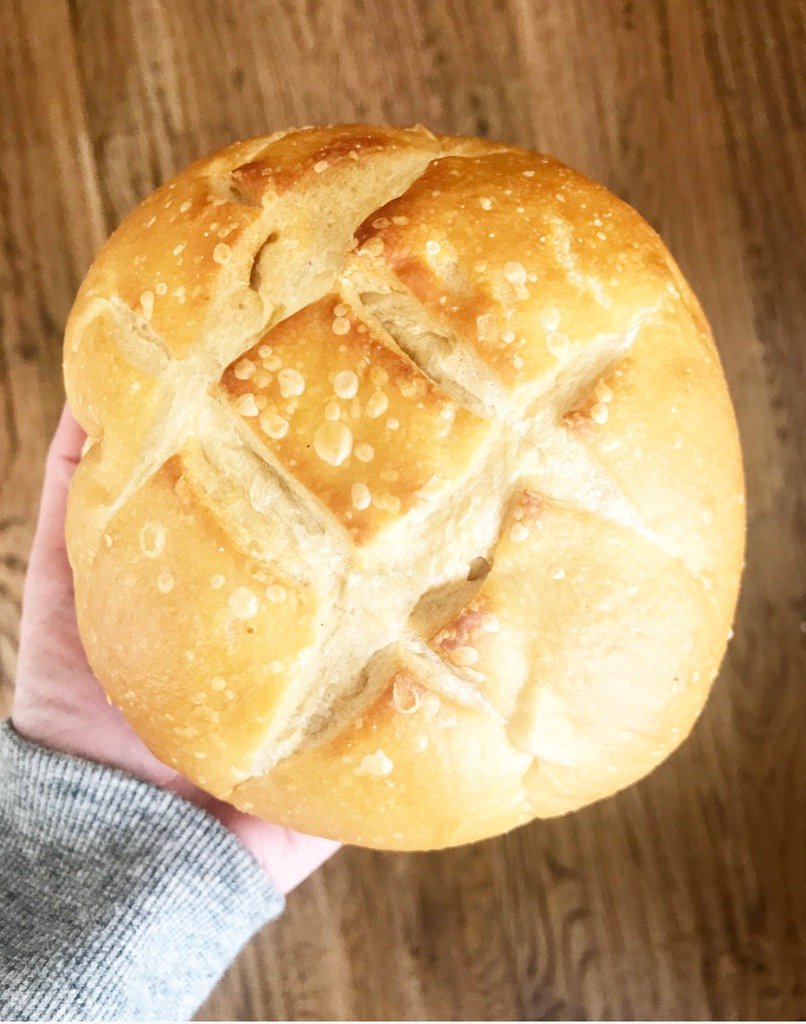 These were the perfect size and were located in the bakery at my grocery store.
I just used a knife to cut a circle in the top and hollowed out enough space in the middle!
Boom….bread bowl!  Plus less dishes to clean up when you can also eat your dish!
Ingredients for Instant Pot Broccoli Cheese Soup:
2 cups of chicken broth
2 cups of broccoli florets
1/2 cup of grated carrots
1/2 cup of instant mashed potato flakes
2 1/2 cups of shredded cheddar cheese
1/2 cup heavy cream
1 teaspoon hot pepper sauce (optional) – I used Cholula – my hubby puts it on everything!
salt and pepper to taste
Directions:
Place broth, broccoli, and carrots in your Instant Pot.  Close and seal the lid and cook on high pressure for 4 minutes.
Let pressure release for 5 minutes before turning the valve to vent.
Open the lid and use an immersion blender to puree the soup.  If you don't have an immersion blender, you can transfer the mixture to a blender or food processor, or I have carefully used a regular beater blender in my Instant Pot…just watch that the hot soup does not splatter!  Ouch!
Once pureed, stir in the instant mashed potatoes until combined.
Stir in cheese, cream and hot sauce.  Salt and pepper to taste
Best if served hot!  Enjoy!