My college girlfriends and I always get together around this time of year for a girls' Christmas party, and this year we took it to another level with a roadtrip to Fredericksburg!
If you are not familiar with Fredericksburg, it is a little town in central Texas known for its wineries, German heritage and bed and breakfasts!  It is the perfect place for a laid back girls' trip, family reunion or a romantic getaway with your honey!  When I mentioned on Instagram that we were going, many of you gave me great recommendations of places to eat and drink, and many of you said you were planning trips and needed recs….which leads me to today's post!
This was my first trip to Fredericksburg, so I am not an expert, but I wanted to share the places we loved, what we didn't, and the places that came highly recommended that we just couldn't squeeze into our short two day trip!  Just more reasons to head back sooner than later!
Our AirBNB
We stayed at an AirBNB called Boarding House 1915.  It was built in 1915 and is newly renovated!  It was PERFECT for our group of 14 girls.  Every room had a connected bathroom, fridge, and coffee station.  It says it sleeps 16+, but that includes the sofa sleepers.  With 14 everyone was 2 per bed, but at least we were in actual beds!  SO many AirBNBs count couches and fold-outs as beds…call me old, but I need the real deal!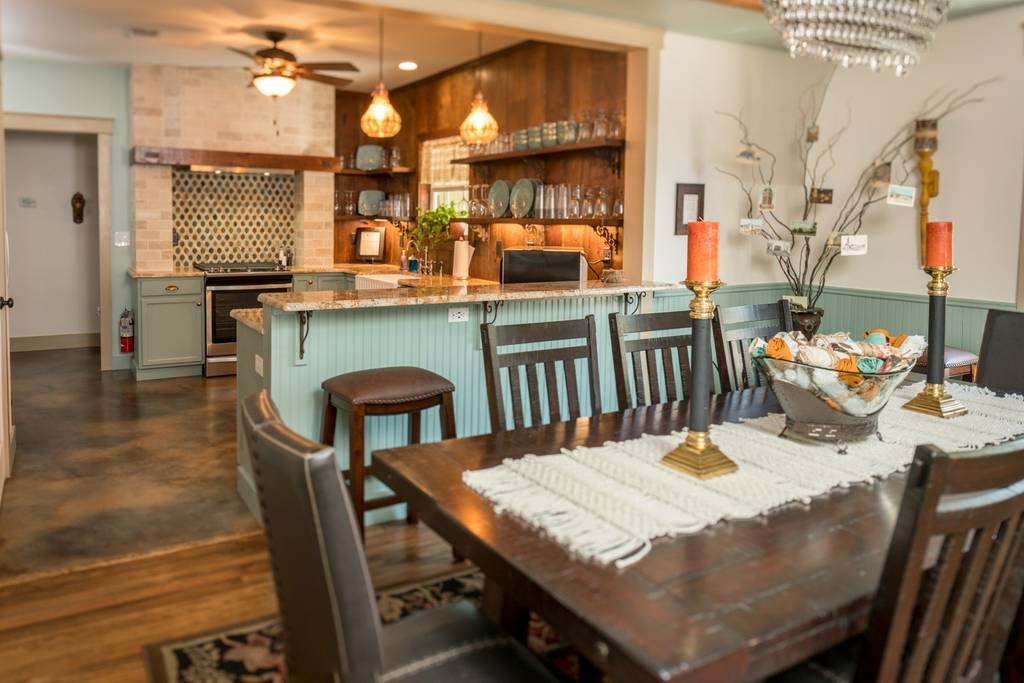 We cooked breakfast Saturday morning and were pleasantly surprised to find a fully stocked kitchen with such nice appliances!  Honestly, being in this house MADE our trip!  The late night laughs and kitchen dance parties are probably what I will remember most!    You can find more information about the house we stayed in here. 
Food We Loved
We ate lunch at Pasta Bella on Saturday, a quaint Italian food place that was SO good!  Fresh, authentic Italian dishes that were just the right size!  You can find their website here.
Hondo's on Main was Saturday night's dinner.  They had lots of American and Mexican food choices that I would call bar food…perfect after a day of wine tasting!  I had brisket mac and cheese (above) that was amazing, and a spicy jalepeno margarita! You order at the bar, so it's very casual, and seating is indoor/outdoor.  There was a live country band the night we went, and you better believe we showed off some moves….we all met on college dance team after all 🙂  You can find their website here. 
Herb Farm was Sunday's brunch before heading back home.  The restaurant is in a historic building and the property has little cottages you can rent, as well as a spa.  It was adorable!  The food was good, especially the tiny biscuits that were like little drops of heaven…note my New Year's diet started Monday….AFTER this trip! You can find the website for Herb Farm here.
Other Food Recs:
Unfortunately we only had 2 days and only so much room in our stomachs, but a few other recommendations:
Hye Market- known for their sandwiches.  Find their website here.
Grape Creek- known for their pizza, wine, and pretty view.  Find their website here. 
Food I'd Skip
We ate at Fredericksburg Brewing Company Friday night.  I cannot speak for the beer, as I did not have any, but the food was just okay.  They also seemed slightly annoyed at our large party, so if you are going with a big group, you might want to skip this one!
Wineries:
We called around to several recommended wineries and, unfortunately, many would not accommodate our large group of fourteen.  We ended up going to Kuhlman Cellars, and it was nice!  The wine was good, the view was pretty and they had several large seating areas for our group.  The weather was pretty so we opted to sit at picnic tables by the vineyard and enjoy the sunshine.  The venue (and most of the other wineries) are about a 20-30 minute drive away from Main Street, so be sure to have a designated driver or Uber.  Several girls in our group do not like wine, so they were happy to drive us.  There was some seating inside, but the majority was outside, so dress for the weather, especially if you are with a large group.
The Most Recommended Wineries:
As I said, we opted not to go to the most popular wineries because they would not accommodate our group and being all together was most important to us.  However, these are the ones that were recommended most often:
Becker Vineyards – This was recommended MOST as being the nicest venue and best tasting wine!  They are also supposed to have a great tour if you are interested in how the wine is made!  You can find information on their website here.
Fat Ass  Ranch and Winery – We were told this is where the "young" people go….not sure if they were including us in that group or not!  Haha!  They have a live band and food truck on Saturdays and boast a fun atmosphere where "every ass deserves a glass."  Find their website here.
Other recs:
Southold Farm and Cellar – said to have the best view.  Find their website here. 
Hilmy – find their website here. 
Tastings on Main
If you are a wine connoisseur and prefer to taste some of the wines before making the short trek out to the vineyards, most of them have small tasting rooms on Main Street.  This is also a fun way to try more wines if you know you will not have time to visit multiple vineyards during your trip.
Main Street
Main Street is full of all kinds of shopping and places to eat!  Everything from antique stores to coffee shops to a Christmas store to boutiques that carry brands you know like Free People and Kendra Scott….there is a little bit of everything!  We spent Saturday afternoon walking up and down Main, shopping and talking.  Most shops closed pretty early, between 5:00 and 7:00 p.m.
What to Wear
When visiting the wineries, many of the large seating spaces and views are outdoors, so be sure to dress according to the weather.  We went on an unusually warm weekend in January, so we dressed in layers.  The morning and evening were cold, but the afternoon got pretty warm.  If you are not familiar with Texas weather, it is hard to predict, so layers are always good…..unless you come in the summer, in which case the temperature is always hot or hotter.
We saw a few bachelorette parties more dressed up in dresses and jumpsuits, but for the most part, everywhere we went was very casual.  Dress comfortably so you can eat all the food and drink all the drinks and if you are hitting up Main Street, wear comfortable shoes.
Making Time for Girlfriends
These 14 mamas left 36 kids at home to make this weekend happen!  Shout out to all the husbands and grandparents that made that possible!  We are SO grateful!
I was reminded how important it is to carve time out for girlfriends, especially as moms!  It is rarely convenient and the dreaded "mom guilt" often tries to rear its ugly head, but it is a MUST!  Our husbands are wonderful, but no one understands this journey of motherhood the way another mama does!  It doesn't have to be a big event or a trip.  Just a simple phone call, coffee date or dinner can truly leave you refreshed and ready to go home and love your people even better.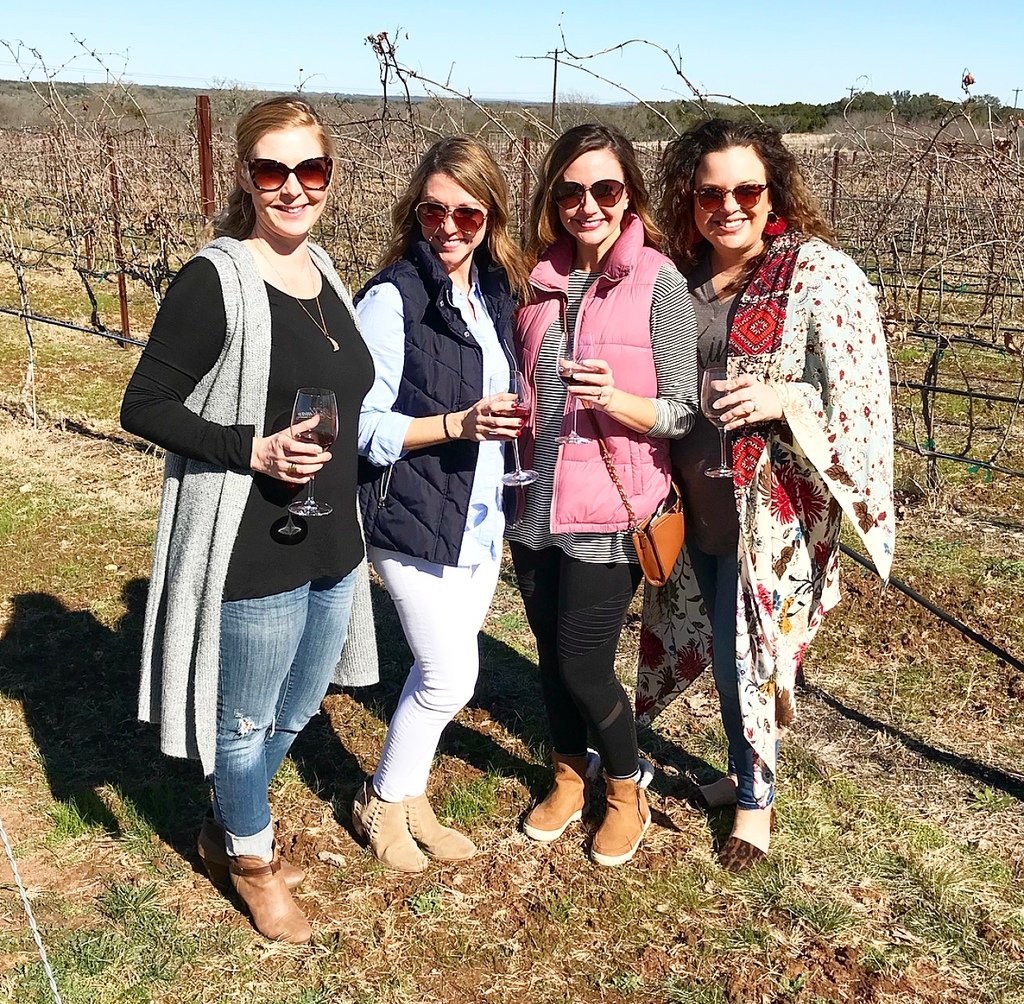 There is also something SO special about spending time with old friends.  I met these girls when we made college dance team 20 years ago.  Some I see often, and others I may only see once or twice a year, but we always pick right back up where we left off.  So much has changed, but deep down we are still those same teenage girls that were away from home for the first time, learned a few dances and became a family.  Being with them always feels a little like coming home!