This recipe is a Trader Joe's twist on traditional Frito pie!
Who doesn't love Frito pie?!?  It's just fun.  When I think of the places I've eaten Frito pie…football games, tailgates, the fair….yup, always fun! It also makes for hearty comfort food on a cold winter night!  It feels a little funny calling this a recipe….you are really just combining some ingredients in a pan and baking it for fifteen minutes…but sometimes that's just the kind of "recipe" you need!  Fast, easy and always a crowd-pleaser!
This was my family's first time trying Trader Joe's turkey chili, and we are definitely fans!  It is higher in fiber and has less fat than traditional canned chilis, which I generally don't like.  I also used their "organic corn dippers" which are basically TJ's version of Fritos….and don't we all want our comfort food to be organic?!?   Haha!
Ingredients:
2 cans of Trader Joe's turkey chili with beans
1 can fire roasted tomatoes
1 can of corn
1 bag of Trader Joe's organic corn dippers (or Fritos!)
1-2 cups of the cheese of your choice (I used mainly cheddar and a little pepper jack)
Optional toppings:  sour cream, green onion, avocado
Directions:
Preheat oven to 350 degrees.  Open can of corn, rinse and set aside.
In a large casserole dish layer 1 can of chili, then 1/2 the can of corn, then 1/2 the can of tomatoes, then sprinkle half your bag of corn dippers and half of your cheese on top.
Repeat these layers again starting with the chili.
Ready for the oven!
Place the dish, uncovered, in the oven for 15-20 minutes, or until cheese is melted and everything is warm throughout.
Take out of the oven, spoon into bowls and add toppings if you'd like!  We added a drop of sour cream and a few chopped green onions!
Fast, easy comfort food at it's best!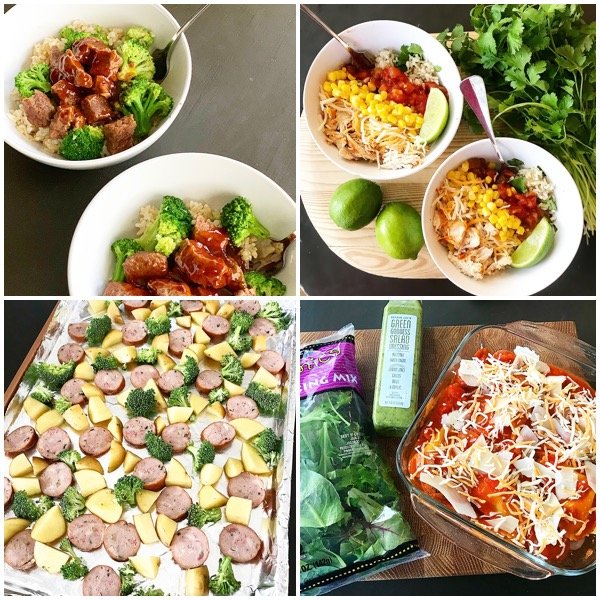 If you are a Trader Joe's fan, be sure to check out this post that includes recipes for four more simple suppers using Trader Joe's ingredients!
Sharing is caring!  Feel free to pin and share this recipe!