I thought I would share some recent reads!
I always love getting book recommendations from friends, so I thought it might be fun to share a few I've read lately!  I also asked my friends on Instagram for some recommendations, so I'll share at the end a few of the recs I heard again and again!
Audible
I have to first say that sometimes finding time to read is hard.  I am a HUGE Audible fan.  I like to listen to books while I'm running my boys around town, running errands, doing laundry or going for a walk.  While sitting and reading a hard copy would be my first choice (beachfront with a cocktail if we're dreaming here!), using Audible solely or doing a combination of Audible and a hard copy is the only way I am able to read a book in less than 6 months!
If you haven't tried it yet, they run deals for free trials or free credits all the time.  I highly recommend you give it a try!
You can find Audible here. 
Gratitude Journal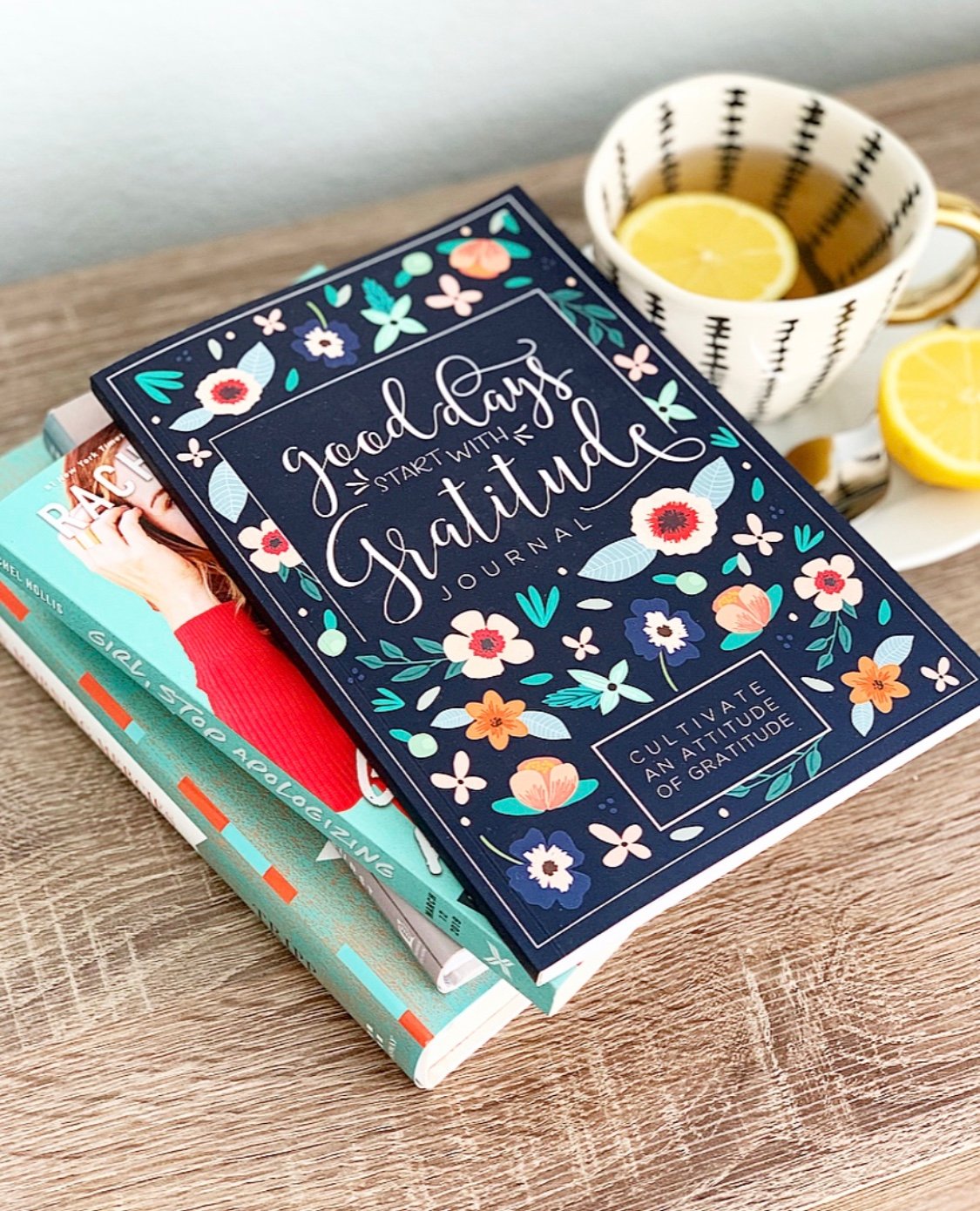 While not necessarily a "read" I wanted to share this sweet gratitude journal.  I bought my first one of these on Amazon a couple of years ago for around $5 and am now on my third one.  It is super simple, just three lines per day for you to write in three things you are grateful for!  You write in the date yourself, so if you miss a day, no biggie!  You don't necessarily need anything this official to practice gratitude, but I do think is makes a HUGE difference.  Something about taking a minute to write it down just puts your mind in the right place!  And although it says, "Good days start with Gratitude" on the cover, I usually do this at night.  Instead of reeling over all the things I need to get done or stresses of the day, I find more joy in taking a second to recognize and be thankful.  These make a sweet little gift too!
Find them here.
New Morning Mercies
If you are needing a daily devotional book, I LOVE this one.  It has a one page devotional for each day of the year.  I worked through it a few years ago and picked it back up this year to read again.  It's funny how things will sit differently when you are in a different season.  I also love having a hard copy devotional book to write notes, underline and highlight.  It's fun to see what I wrote the first time.
You can find this one here.
Girl, Stop Apologizing
Let me first say that I love Rachel Hollis.  I find her encouraging, hilarious and a breath of fresh air.  Last summer I read her book, "Girl, Wash Your Face."
I'm sure most of you have already read this, but if you haven't, pick it up immediately!  I loved her relatable and raw stories about being a young woman, wife, mom and everything in between.  I found myself laughing out loud, nodding in agreement and even shed a tear or two.  Such a good read!
If you haven't read it, you can find it here. 
 So when I was sent an advanced cop of her new book, "Girl, Stop Apologizing" I was giddy!  I could not wait to dive in.
This book is the same Rachel that I love, but it mainly focuses on her life as a business woman and entrepenuer, an arena where she has had much success!  While I consider myself a goal-oriented person, I am not really a very money-driven person, so truthfully, I found a few of her examples in the book hard to relate to personally.  I think we just have different goals in many areas.  Please understand that I don't think my goals are better or worse, just different.  So for that reason, I didn't find myself whole-heartedly nodding with each chapter the way I did with her first book.  However, I do think the book is full of encouragement, tangible advice and definitely worth the read for the business minded gal!
You can find it here. 
It's Not Supposed to Be This Way
I'm in a book club that meets every other month and this Lysa Terkeurst book, "It's Not Supposed to be this Way" was our book last month.  I had read Lysa's book, "Uninvited" and done the study with some friends a few summers ago, so I was excited to dive in.  I love Lysa so much!
This book is not a light read, but if you or someone you know is in a hard season, it is SO good!  It's raw and real, and I think it was so brave of her to write it.  Lysa candidly shares about her struggles in her marriage, with her health and with so many hard situations that seemed to snowball at the same time.  She points back to Biblical truth and gives encouragement through her tears!
You can find it here.
Recs from Instagram
I asked for recs on Instagram, and here are a few that came up again and again!
This was the number one rec and the reviews are SO good!  My book club chose it for our next meeting, and I can't wait to dive in!
Find it here. 
Who doesn't love Reese Witherspoon?!?  Lots of recs for this cute book!
Find it here. 
This one is on my list too!
Find it here. 
Not sure if I can emotionally handle this one, but the reviews are so good!
Find it here. 
Would love to know some of your recent reads!