It's week 4 of the Jeffrey Court Renovation Challenge, and we are dancing toward our deadline with everything we got!!!  All the designers in this challenge are doing amazing things!  If you have a second, be sure to check out their progress here!
I shared our tile selection in last week's post (here).  This tile is sure to brighten up this space, and give it the fresh, clean look we are hoping to achieve.
This week the goal was to get all the tile installed!  These beauties elevate this bathroom so much!  This was pre-grout!
I love the clean, classic look of the floors with the white grout and the mosaic shower floor!  We also decided to take this beveled subway tile on the shower walls all the way to the ceiling!  It's crazy how much bigger it looks!
Our shower still needs fixtures, trim, a shower door, and quartz for the bench, BUT….look at that tile!!  We are going to focus on the positive, although the clean white of this tile makes me cringe at our our yellowey, beige walls even more…the dangers of home improvement!  You want to change it ALL!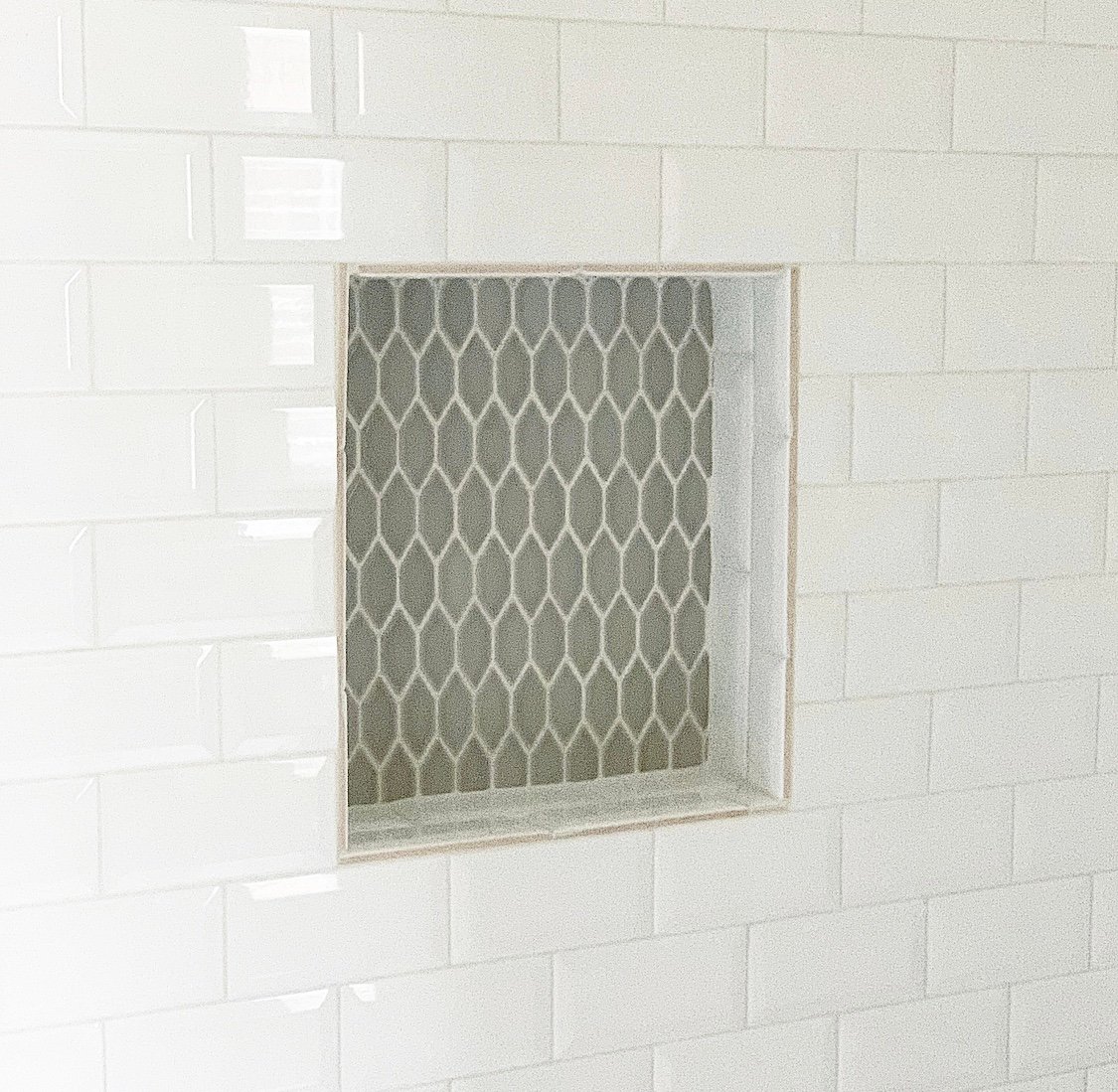 It still needs trim, but I LOVE this little nook with the mosaic tile to match the floor!  The white grout makes it really pop!  We did not have any nooks in our previous shower for shampoo, conditioner, etc. so I was excited about this….gotta celebrate the little things!
Renovation Tips
If you are considering a bathroom remodel, or any major home improvement project, here are a few tips we have learned from our experiences:
*Be realistic about your DIY skills.  If you have the time and expertise, go for it!  If not, it often costs you more in the end.  For this project, we chose to hire out for almost all of the work!  I will be sharing the aspects we chose to DIY in future posts.
*When using a contractor, whatever amount of time he gives you for the entire project to be done, DOUBLE IT!  It's often unforeseen delays, especially in a project like this where there are many different types of work (plumbing, tile installation, paint, electrical, etc.) that must be done in a specific order.  If it ends up taking less time than that, you'll be pleasantly surprised, but if it's two weeks until your whole family comes for Christmas, and the contractor says it will take two weeks to finish your bathroom, chances are Santa will be showering somewhere else!!
*Communication is KEY!!  Communicate your timeline and vision specifically and repeatedly when experts are working in your home.  Don't assume your contractor has already done that.  Contractors are often juggling many jobs at the same time, so be sure to be in constant communication to avoid delays.
*On that note…..expect delays, be flexible and be kind.  Renovations are time-consuming and sometimes complicated.  It RARELY will go exactly as planned, so be ready to roll with the punches and adjust as needed.
*It will be messy and probably a little stressful, but it will be WORTH IT in the end!
Before: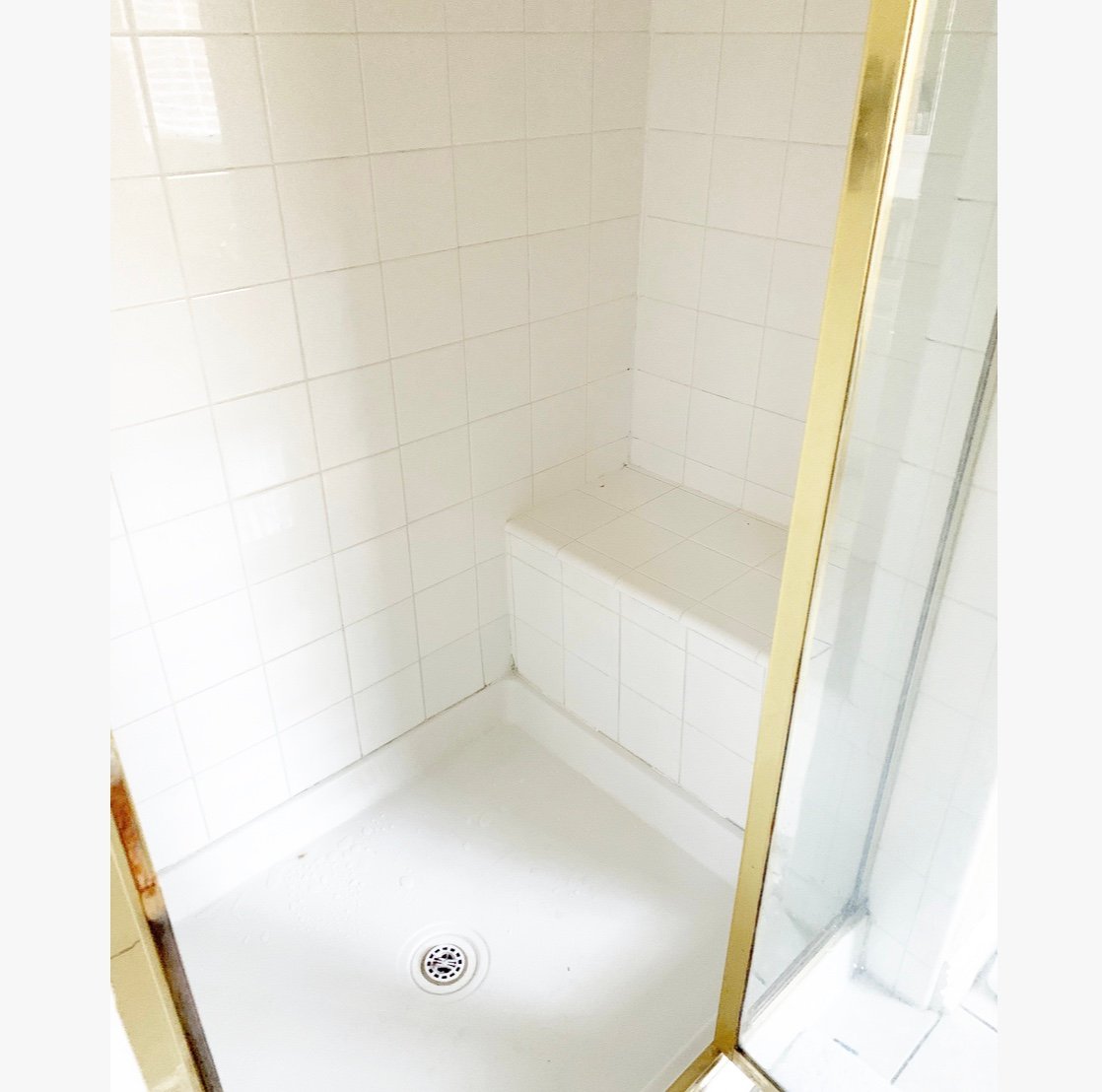 Progress:
Before:
Progress:
We still have SO much to do for our bathroom to be complete, but I am loving the progress so far!!
Thank you for stopping by, and if you have a minute I would LOVE for you all to take a second to check out what all the other designers are doing and maybe even vote for me here.