Summer in a cup is THE perfect cocktail for summer!
As we prepare for the summer heat, this drink should be your GO TO! It is light, refreshing, low cal and well, summer perfection! And it only requires three ingredients!!
I promise it's super easy and will have your guests asking for another round!
Ingredients:
Lemonade – I used this Simply Light Lemonade that is only 25 calories.
Minute Maid also has a version with just 15 calories. Any lemonade you like will work, but I personally like that these don't have as much sugar….super sugary drinks and summer heat are never a good combo for me!
Vodka
Cucumbers
Ice
Straws and cucumber to garnish (optional!)
Directions:
I typically make these one at a time rather than in a big batch. You will need two cups, even though you are just making one drink.
Peel and slice your cucumber.
Fill 1/2 your cup with ice. Then add cucumber slices. I typically put about 1/3 of an average cucumber per drink.
Add 1-2 shots of vodka and fill the rest of your cup with lemonade.
Pour this mixture back and forth between two cups to mix it well and muddle the cucumbers a bit! You can use a shaker if you prefer, but this way you know it will fit in your cup correctly!
That's it!! Cheers to summer!
Make and Take:
This time of year we attend a lot of pool parties and BBQs! This is a great drink to make and take too! For this drink dispenser I used:
1 1/2- 2 bottles of Simply Light Lemonade
1 1/2-2 cups of vodka
2 cucumber, chopped
Pour all ingredients into your dispenser, mix well and serve over ice! I linked some affordable dispenser options at the bottom of this post!
Printable Drink Tags
I made these tags to make sure people know there is vodka in this drink! Don't serve it to ya kds! Haha!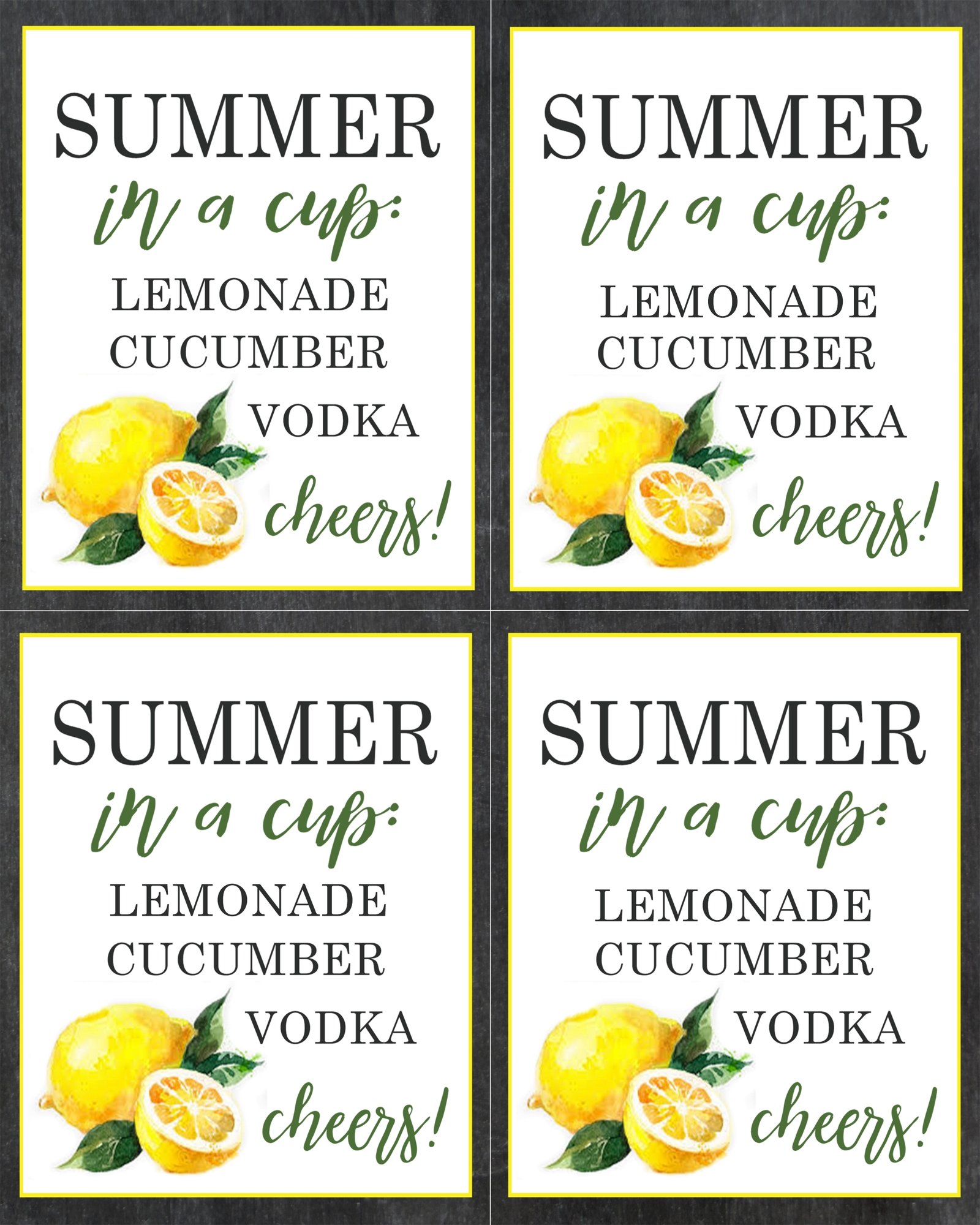 Simply download one of the files above, print, cut out and tie on your pitcher or drink dispenser! I recommend printing on white cardstock or I sometimes just send files to my local print shop.
Hostess or Stock the Bar Party Gift
I also think gifting the supplies to make this drink is a fun hostess or stock the bar party gift! Easy and fun!
Walmart has a whole line of these adorable galvanized tubs that are perfect for using outdoors!
I linked some supplies here:
Put them all together in a basket or drink tub and they are ready to gift!
I hope this drink finds it's way to your summer celebrations!
For more summer cocktail recipes….
Visit this post here.
Sharing is caring:
Feel free to pin!