Can you believe it's already July?!?
Summer needs a speeding ticket….it has seriously flown!  Our summer looks very different than we thought it would, but we are making the most of it!  In just a few days we'll be cooking out, watching fireworks, and partying like it's 1776, so I thought I would share a few sips, snacks and last minute outfit options to make your fourth a little more festive!
All-American Sangria
This little drink would be perfect for the fourth!  Fresh, fruity and festive!  Find the recipe here.
Star Spangled Serving
A few fun ideas if you are hosting this fourth…
Adding flags to your existing plants or a white pitcher is so easy but makes a big impact!  I found my flags at Target for a dollar!
I cut these napkin holders from old jeans for a party back in the Fall, but I think they work perfect for a summer BBQ, picnic or the 4th!
Fighting the crowds this weekend may be a pain and I am ALL FOR easy, so here are a few Amazon Prime serving ware options!  Note all the plates are either melamine or paper!  Perfect for outdoors!
Flag Fruit Tray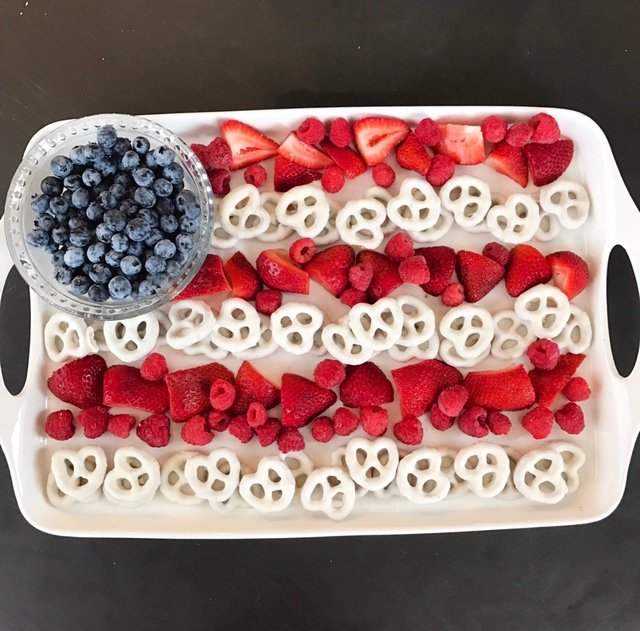 I've made this many, many times and I love that it looks so festive, but seriously takes five minutes!  This is a great dish to take to a party…easy, kid-friendly and ends up gone every single time.  Blueberries, strawberries, rasberries, and yogurt covered pretzels…yes please! If you need a white tray, you can find one here and here.  
Star Spangled Sundaes
A mini sundae bar is a fun, easy way to beat the heat this fourth!  My kids LOVE when they get to put their own toppings on anything!  Some M&Ms, strawberries, blueberries, chocolate chips….the sky's the limit!  I used this tray to organize this one.  I like that it takes less space on the table this way!
If you follow me on Instagram you know we have been OBSESSED with using our ice cream maker this summer (insert a little fluff around my middle, but a lot of fun!),  so we have stayed stocked on the essentials…you know, like sprinkles!  Speaking of…
Sprinkled Ice Cream Sandwiches
We made some vanilla ice cream and got pre-made cookie dough, so that all our cookies were the same size!  We put together our sandwiches and then rolled the edges in red, white and blue sprinkles.
They looked super festive, and the boys loved that they could help!  You could also just buy pre-made ice cream sandwiches and let the kids handle the sprinkles…I'm all about keeping it easy!  The main thing is SPINKLES = FUN!!
Pro Tip:  Eat ice cream sandwiches outside, shirtless, and be aware of BRAIN FREEZE!
And can we talk about that farmer's tan?!?  Love you boo!
Star Spangled Style
Do you dress up for the fourth?!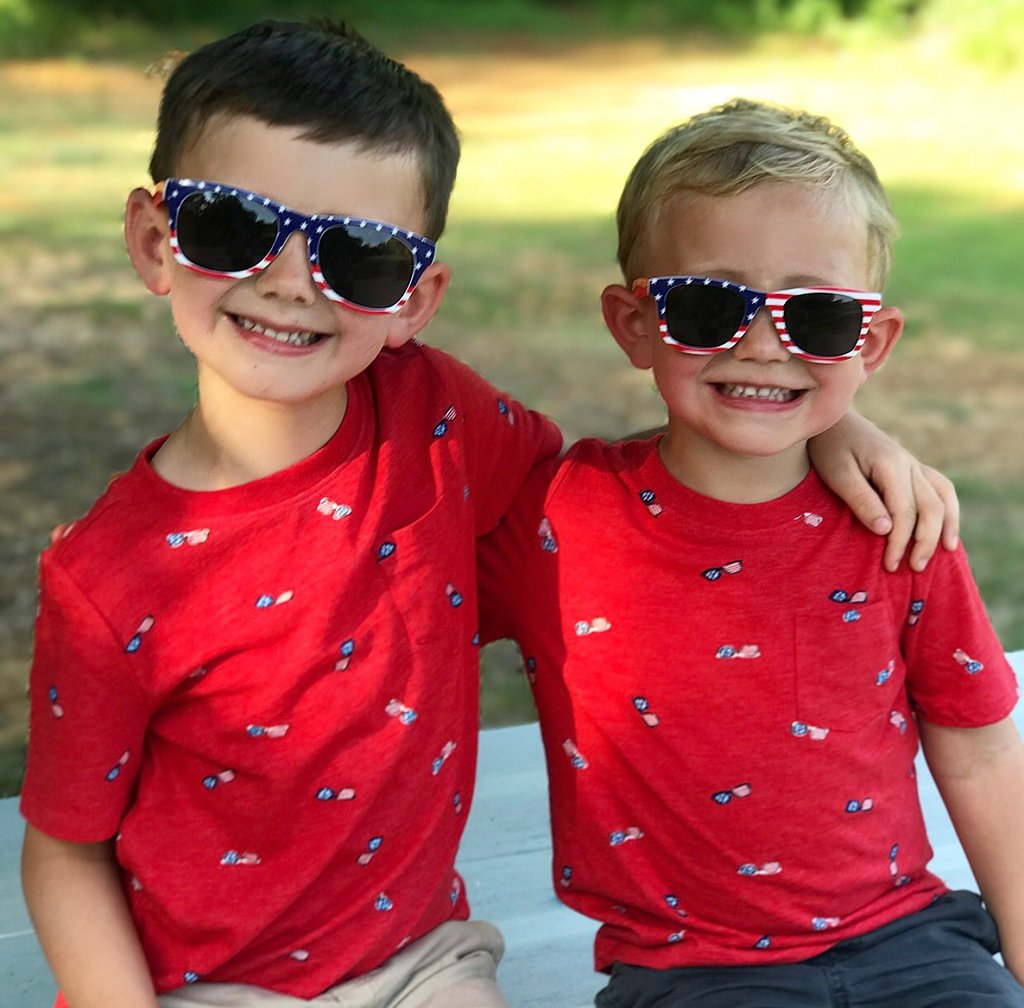 We usually do…and by we, I mean me and the littles….my hubby is not usually into the forced festiveness…although occasionally he gives in!  If you are wanting to dress the theme, I rounded up a few options that are available at retailers that offer in-store pickup.  This means you can go to their site, see if the style and size you need is available at the store nearest you, purchase it online and then pick it up!
At this point these retailers would not be able to ship it in time, so this in-store pickup option allows you to be sure you can get the items you are wanting without driving all over town!  Yes please!
WOMEN
BOYS
GIRLS
Whatever your plans this fourth, I hope they are filled with family, friends, food, fun and a BIG celebration of all the awesome freedoms we are so blessed to enjoy!