SO excited to share our kitchen remodel today!!
This has been a HUGE project….we've laughed, we've cried, we've eaten WAY too much Chick-fil-a…but it was WORTH it!
Before
I have wanted to renovate our kitchen since we moved into our house about 13 years ago. Instead, we did a cosmetic makeover….repainted the cabinets a soft white, rather than orangey oak, and changed out the countertops and backsplash.
Our cooktop was cracked at one corner, our double ovens were original to the house (late 90s) and did not always keep the correct temperature, and I was not a fan of the huge microwave.
The space is not large, but I felt like there were lots of ways we could use it more efficiently.
THE biggest change I wanted to make in doing this renovation was removing this arched wall and making one, single level island.
We prayed it wasn't load bearing, but after having a structural engineer come out, we learned that it was! Boooooo!!
The Process
Mac really tried to convince me to just leave the columns, as all the electrical ran down them and plumbing would have to be moved, but I stuck to my guns. I really felt like the hassle and expense would be worth it!
Where we live, you are required to apply for a permit before making structural changes to your home. We worked with our contractor and a structural engineer to draw up plans. We then had to submit plans to the city, as well as the names of all the workers who would be part of the project, and wait for approval before we could begin. This process took several weeks.
Lumber is in short supply right now, but our contractor was able to find the beams needed to take the columns out. Electrical and plumbing were re-routed for the new design.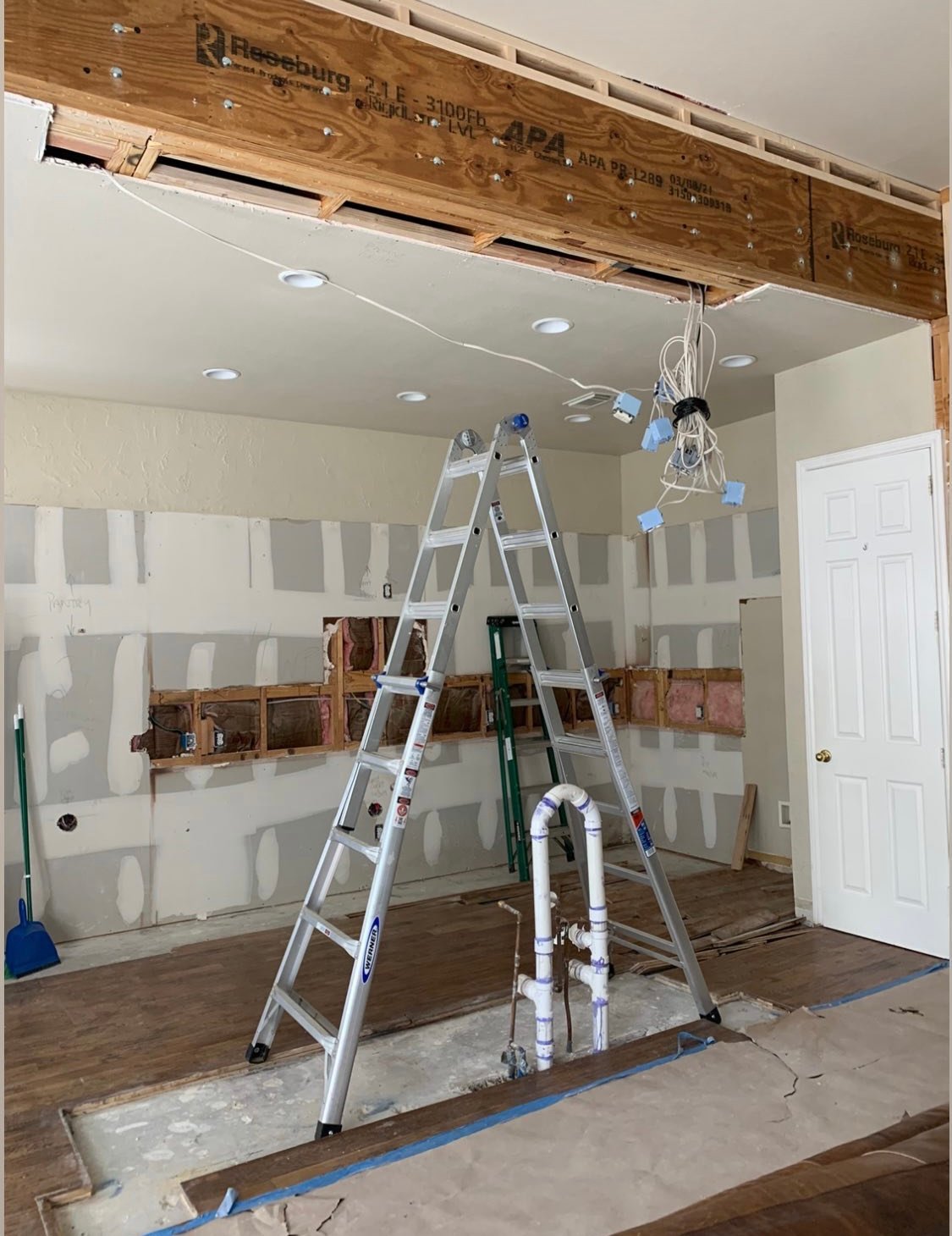 We worked with a local cabinet maker who helped us draw out our kitchen design. He was very helpful in talking us through some storage ideas and laying everything out in a way that was logical and most efficient for the space.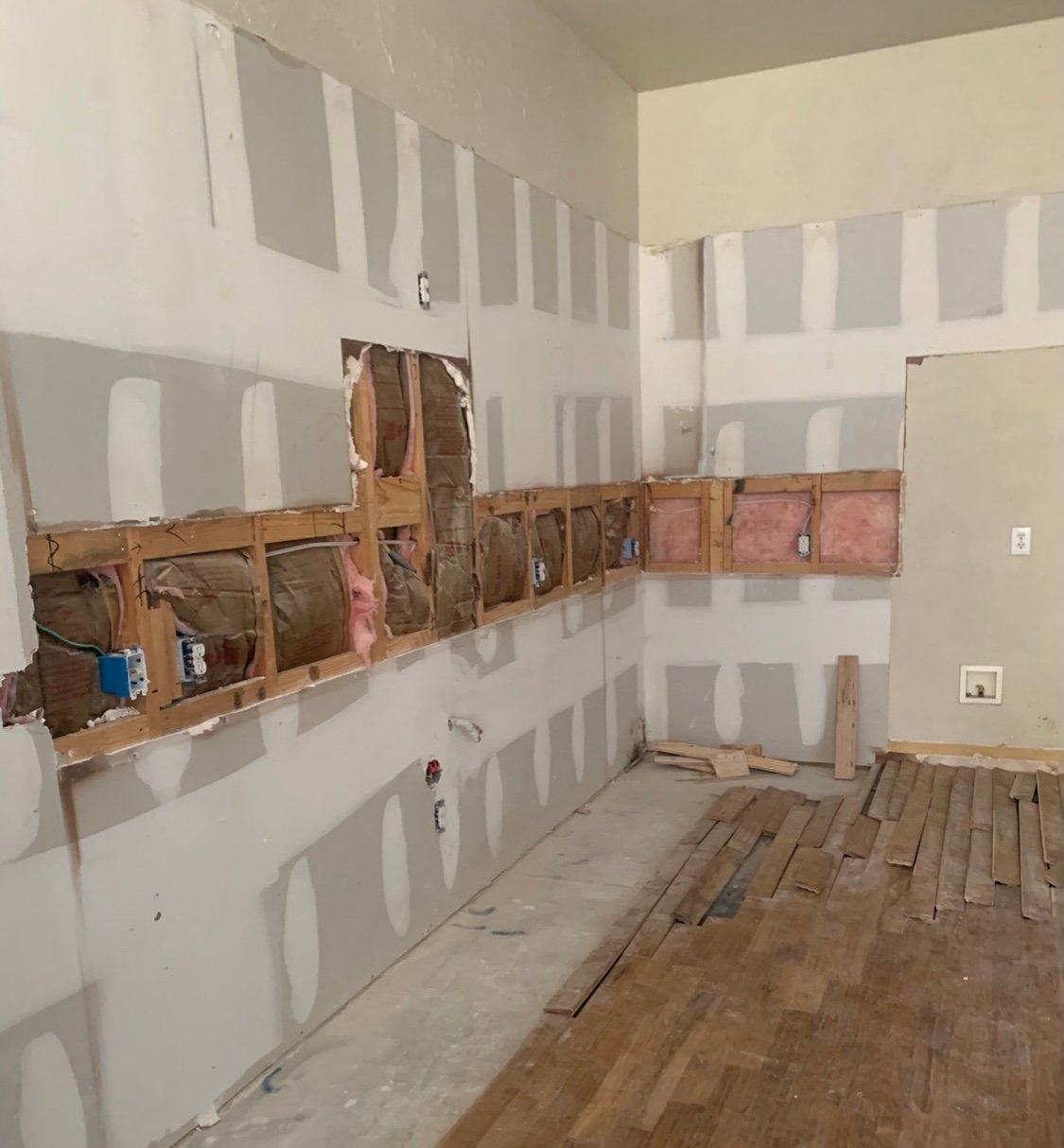 We started getting estimates in October, knowing that our cabinet maker had several projects that were in line before ours. We had engineers come out and finally got approval in March. Demo began in April. Once demo started the entire project took 13 weeks- demo, electrical, plumbing, cabinet installation, countertops, backsplash (twice), appliances, and painting the cabinets and all the walls in the main area of our home.
Did everything go flawlessly? No. Was the timeline as quick as I would have liked? No. BUT with all renovation, I think you have to be patient and flexible. I am thankful for the time and talents of all the guys who worked to make it all happen, and when things didn't go according to plan, they kept working to make it right! Can't ask for more than that!
The After
Such a difference, right?! The space feels bigger, lighter and brighter!
I fretted over paint colors for weeks, but LOVE what we chose. The cabinet color is Sherwin Williams Crushed Ice. The ceiling is SW Extra White and the walls are SW Alabaster.
I LOVE these stools! You can find them here and here. They were a splurge, but I was able to find 2 of the 3 at a slightly lower price. Time will tell how they hold up with my boys, but so far, I am impressed with the quality! We stained the wood on the hood to match the legs on the stools. After several rounds of stain, we settled on Sherwin Williams Elm Gray.
Countertops are Merrick quartz, selected through our contractor.
Pendants can be found HERE (also comes in black).
Fridge is KitchenAid HERE.
Our range is from Hallman Industries. I love the look of it, but I also really love that it serves as our cooktop and double ovens in one spot, opening up a lot of space where our double ovens used to be. Our other cooktop was electrical, but we were fortunate that there was already a gas line in our kitchen (thank you Jesus!), so we did not have to have one installed. This is the 40 inch model in white (not antique white, which is more of a cream/yellow). Hallman has TONS of custom color options and sent us a sample ahead of time so I could pick cabinet paint accordingly. I will warn you that I ordered this in October, and it did not arrive until May (7 full months)! These are produced in Italy and because of the pandemic, production is way behind. I'm sure that will not be the case forever, but something to consider. So far, I absolutely love it and think it was worth the wait!
You can find the Hallman website with all the size and color options HERE.
They also sell Hallman at Home Depot HERE if you want to read reviews.
We did have to cut a hole to the outside of our home for this new hood design and purchase a new hood that our cabinet builder built around.
I chose this hardware because it mimicked the handles on the range, and I love the way the brass/gold pops against the gray. Handles are from R.K. International and come in several finishes. I ordered as many as I could on Amazon HERE and the rest from MyKnobs.com.
I did five inch handles for most of our drawers and cabinets, 8 inch for the large pantry.
You can find our backsplash tile HERE. It's a long story that I won't bore you with, but this was our second round backsplash, and I think I actually like it better than the first, despite my initial disappointment! Sometimes things work out just as they should!! We used white grout.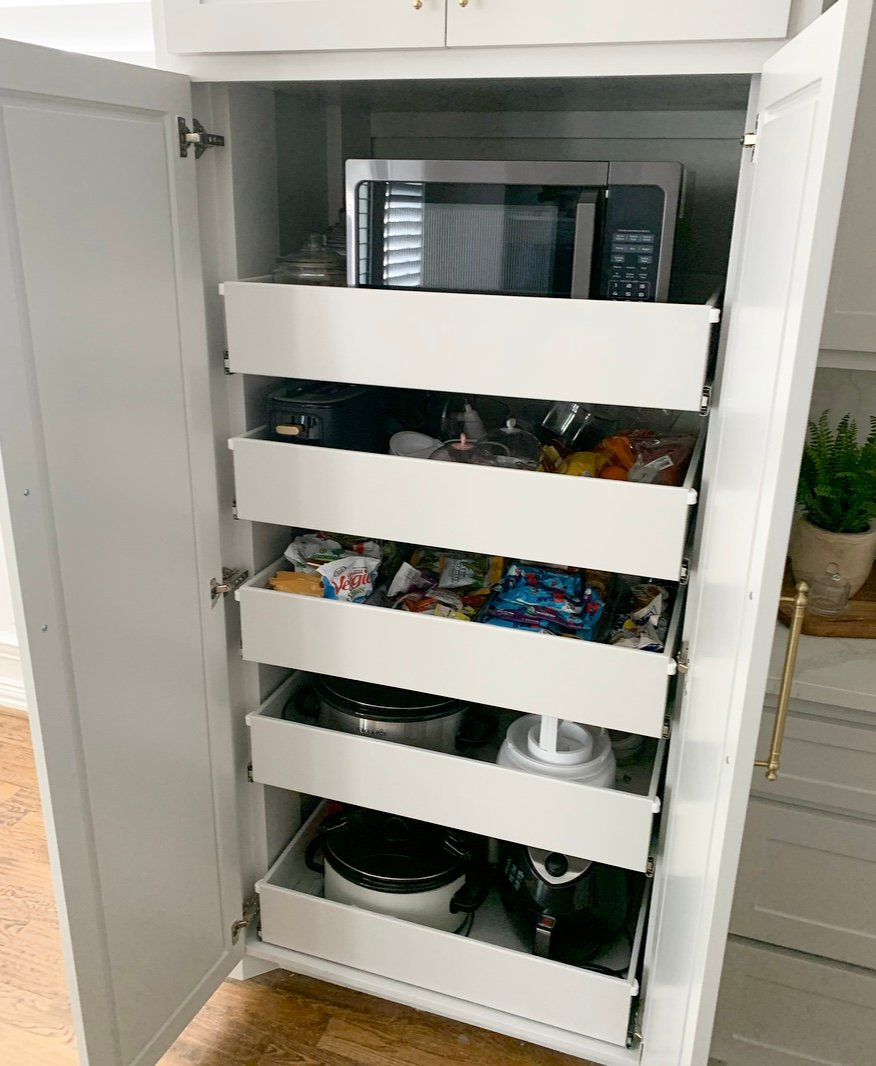 Where are double ovens used to be there is now this large pantry with pull out drawers. This is home to many of our small appliances, including the microwave. Electrical was installed in this cabinet so that we don't have to take it out to use it. Our cabinet builder is coming back to install hinges on the top shelf so it can be flipped down to open the microwave door.
Since we have a smaller pantry (see our pantry organization HERE) I also used one of the shelves as a snack drawer for the boys!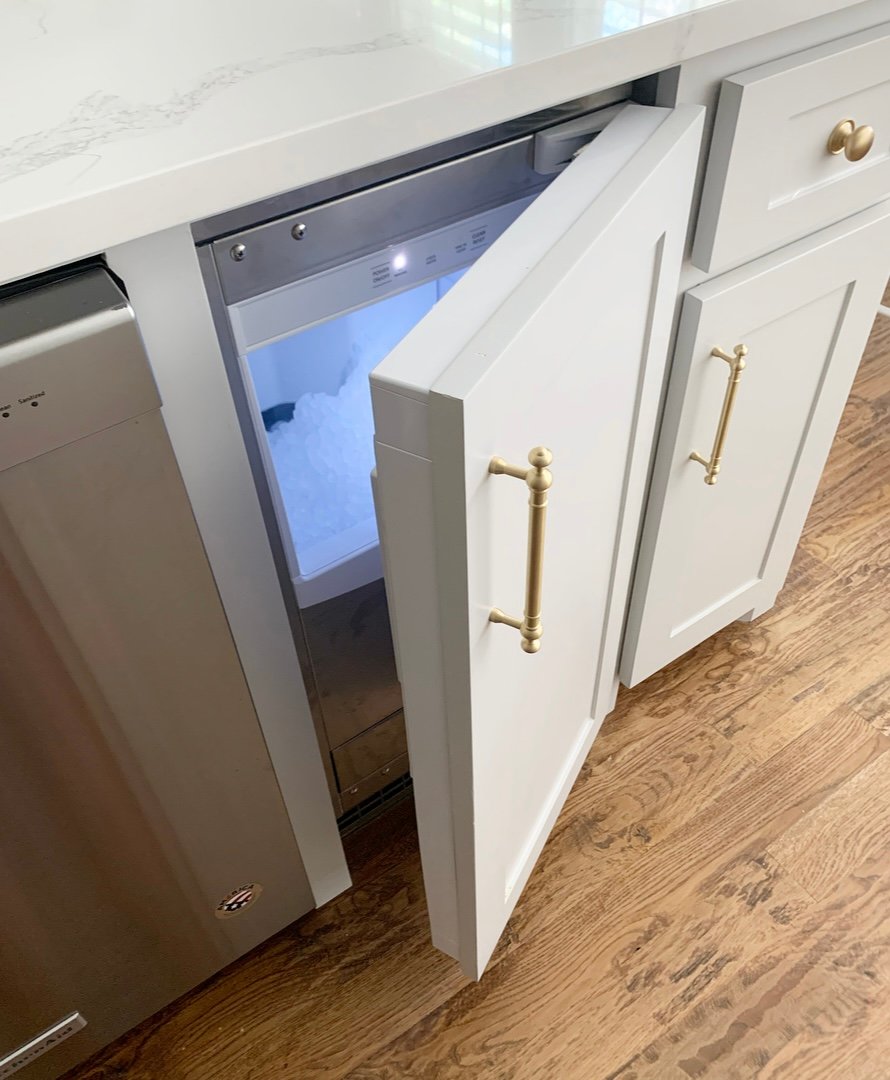 This built in pellet ice maker was also a splurge, but if you know me, you know I LOVE Sonic ice, so having it in my kitchen was a dream come true! Haha! You can find this ice maker HERE. NOTE: The ice maker itself does not come with a door. There were several negative reviews saying that, even though it is clear in the description. It is meant to look built in, so you have to provide your own door or you can buy a stainless door separately HERE. What we didn't know is that depending on where you place it in your kitchen, you may have to buy a separate pump….which we did. You can find the pump HERE. Grrrrrr…..but overall, we still finished within our budget!
We purchased our farmhouse sink HERE and faucet HERE. We kept the dishwasher we already had, as it was only a few years old. It is also KitchenAid, like the fridge. Find it HERE.
Storage Solutions
A few fun storage ideas, courtesy of our cabinet builder!
We have a corner that in the past was just dead space since you couldn't really reach back in there. He installed these double peanut shelfs that slide out. You can position the distance between them however you like. I found similar ones HERE.
On one side of the range this pull out drawer has three buckets to hold all of our utensils and the bottom has a shelf to hold oils and spices.
I also have lots of spices in my cabinet that I organized as a quarantine project. You can find those tips HERE.
The other side has a pullout with space for cutting boards, baking sheets and muffin tins. The top holds more utensils.
Our trash cans are also tucked away in a drawer now instead of in our pantry! One is for trash, the other for recycle!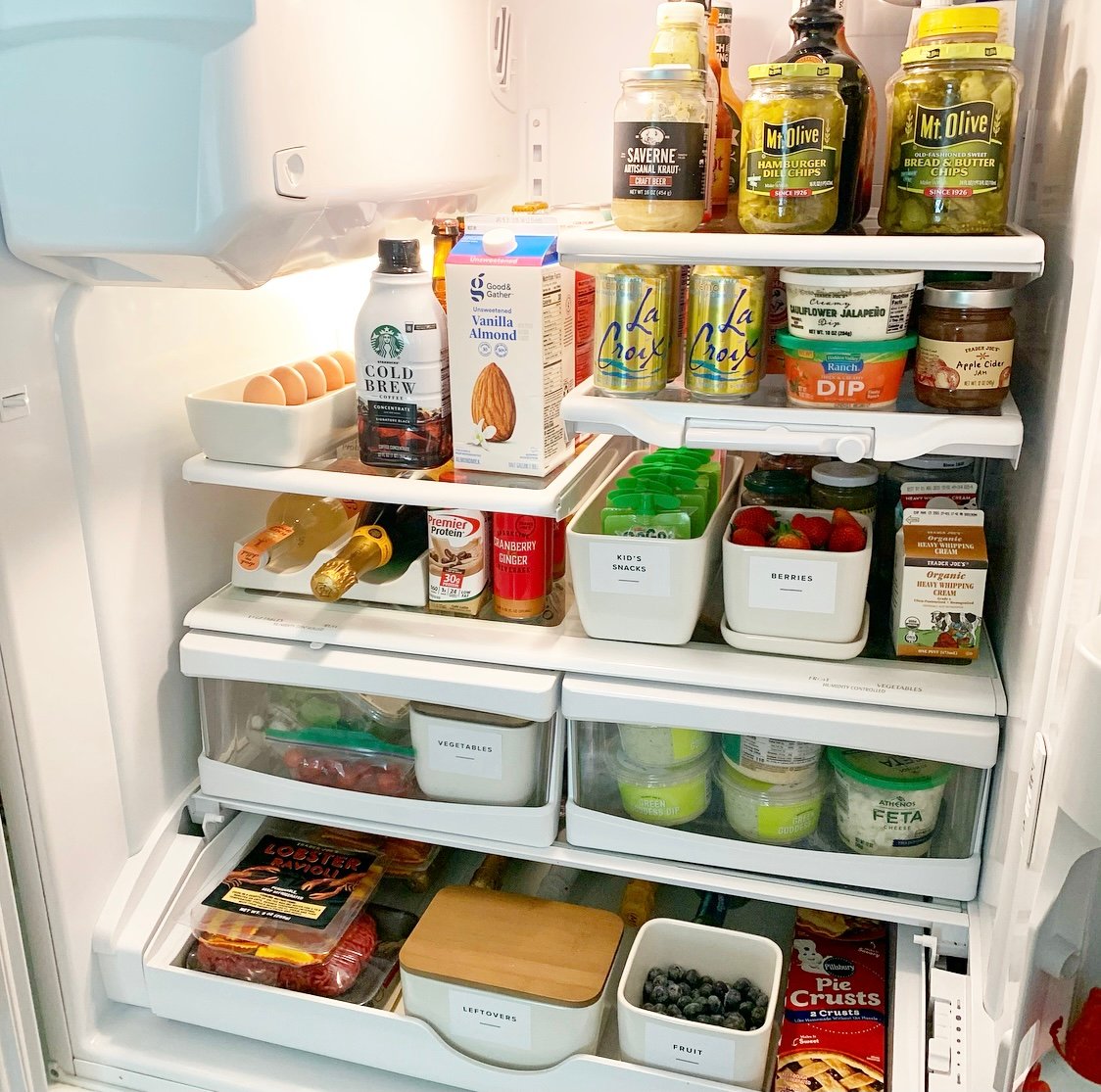 I also have a post about fridge organization/storage HERE.
A Few More Things….
I want you to know I only share these kitchen details to be helpful! We saved a long time for this kitchen reno, and I am SO grateful for it, but I know embarking on a project like this is scary! We did not use a designer, but I did spend hours looking at kitchens online and asking questions to find what we liked and what I felt would make our kitchen most efficient for us. I asked our cabinet maker TONS of questions (thanks for your patience Casey!) because he sees kitchens and does this every day. If you are looking to renovate, I encourage you to not be afraid to ask questions and spend the time to figure out what you like as much as you can ahead of time. Once it starts, there are so many decisions to make that can feel overwhelming if you haven't thought them through, especially when you are spending so much!
Make a budget and get multiple estimates. Estimates varied as much as 20K for the work we had done….that is a big difference! Ask for references and go with your gut. You want to like and trust the people you are working with.
I would have liked our timeline to move faster….three months of living in chaos with no kitchen was rough…but other than that, I have no complaints. I am SO happy with the quality of work that was done, and honestly want to pinch myself that this is our kitchen! Not an expert….just some thoughts after just getting through it!!
Appreciate the work these guys put in!
Cabinet Maker: CCR Designs by Casey Reeves 469.464.8161
Contractor: Cornerstone Handyman Paul Atkinson 214.364.5040
Structural Engineer: CCM Eng 972.691.6633
Cabinet Painting-Eber-I have NEVER used a painter who was SO detail oriented! He is a perfectionist! 469.774.9622
Wall and ceiling paint: Fresh Coat Painters of Denton, Bret Mitchell 940.304.0569