I'm excited to day to share with you a simple summer table idea!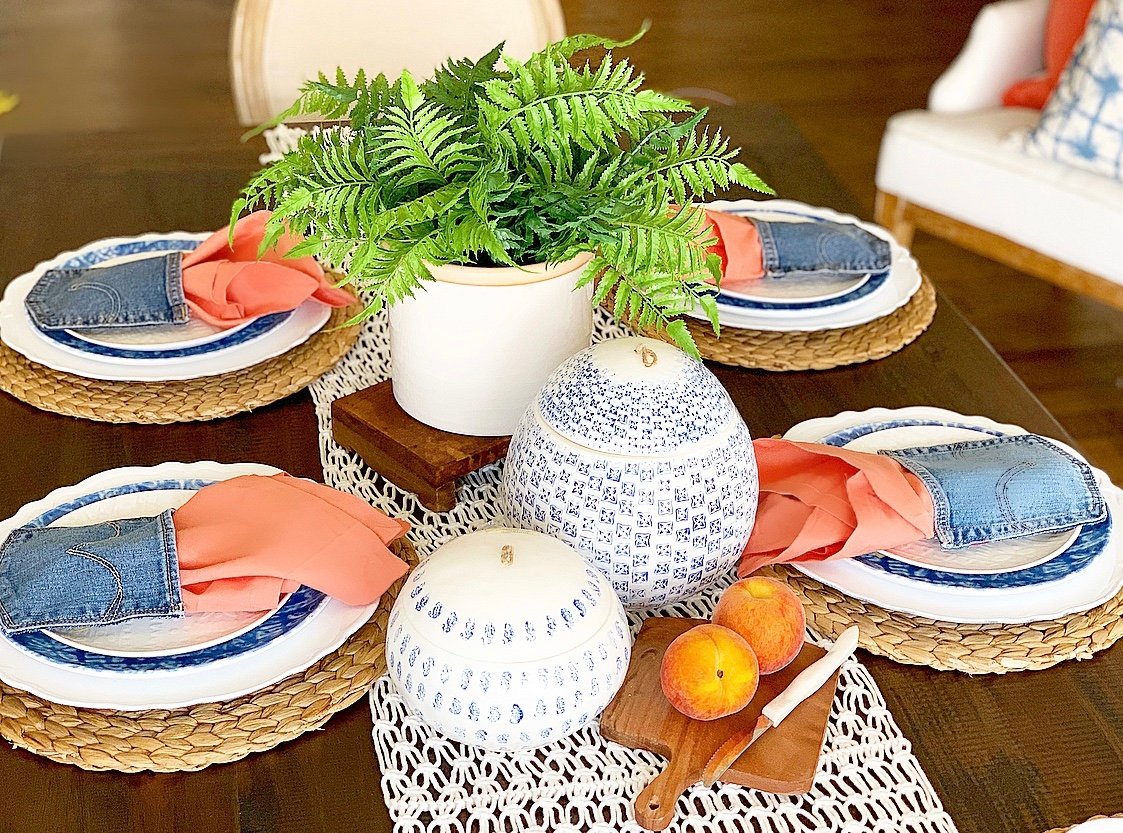 I know not everyone sets their table and leaves it out….mine is often covered in laundry or my boys' craft projects….but hopefully this will give you some ideas should you want to add some fun details for your next summer BBQ, pool party or just a summer dinner at home with your family!
Today I am excited to join a group of talented bloggers who will also be sharing summer decor inspiration from their own homes!  My sweet friend Kelly at The Tattered Pew brings a group together for this summer tour each year, and it always leaves me inspired!  If you happened to wander over here from Desiree's at Camelot Art Creations, welcome!  I hope you find some fun ideas and will check out the other posts listed at the bottom of the page!
Peaches
Today's table started with thinking about peaches!  My boys and I visit a peach farm with friends each summer and always love it!
We have not gone yet this year, but when I think of summer, I think of peaches….plus, as I mentioned here, I am really crushing on the color coral this summer!
Outdoor Friendly Place Setting
Even though this table is set up indoors, the place settings are all malamine (plastic) and would absolutely work for outdoors as well!
I started with this woven round charger and this plastic white charger from Hobby Lobby.  These are both inexpensive, but the layering is simple and pretty for any colors you want to use!  I keep these out almost all year long because they go with everything!
I found these blue dinner plates on sale here.  They are a thick durable plastic, dishwasher safe and bpa free.
Then I layered this white plastic plate from the same line on top.
A couple of year ago I cut these denim pockets from some jeans that no longer fit…..perks of eating too many tacos?  Sure, let's call it that! haha!  I have used them many times and think they are just fun, especially for a casual party or BBQ.  I stuffed them with my coral napkins that I found here.  You could also fold your napkin and put silverware inside as well!
More melamine dish options for summer:
Centerpiece
In the center of my table I found these two jars that were in the same line as my plates!  I loved the blue and white for summer!  This faux fern is pretty and bonus, it can't die!  Brown thumb over here!  A couple of peaches also sit on a small cutting board, just for fun!  I grouped these items in the middle of my table to create a centerpiece.
Putting it Together
I loved this macrame runner for summer!  It comes in two sizes here.  I also added some new pillows to my side chair in coordinating colors!
I swear this is not an ad for La Croix….in fact, I haven't even tasted to see if I like this flavor….but I saw them in the store and thought, "Those cans match my table perfectly!".  Then they jumped in my cart!  These are things that make my hubby roll his eyes!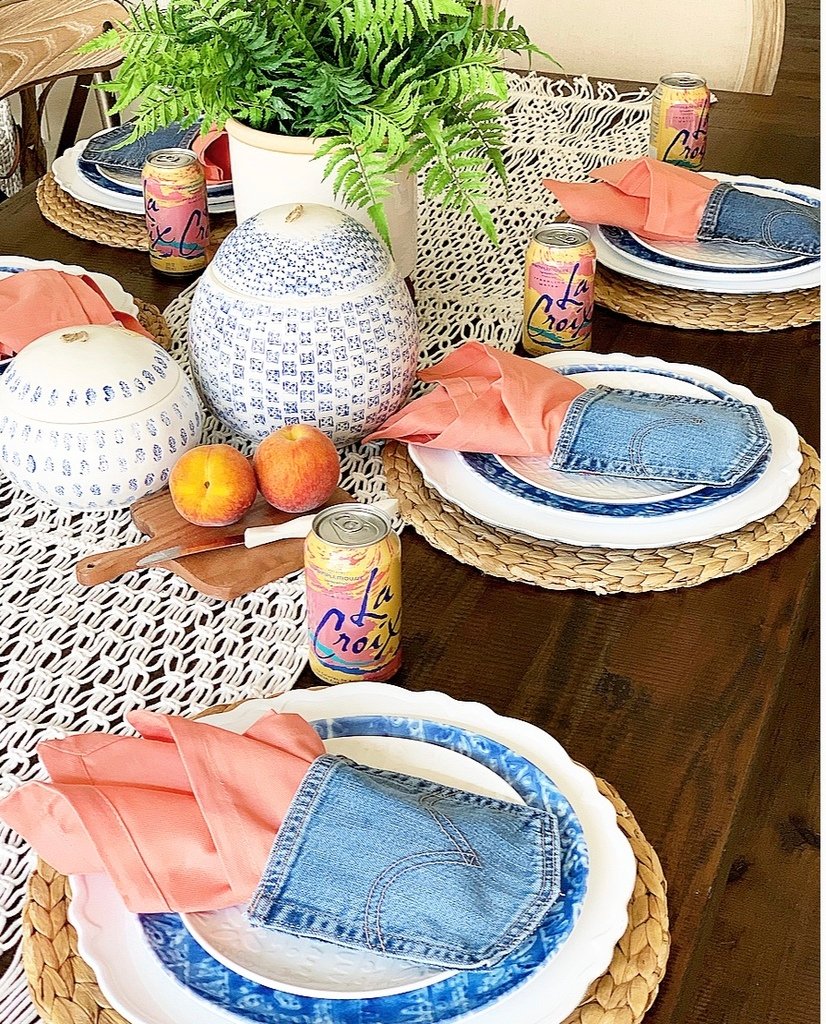 And that's it!  A simple, outdoor friendly table for summer!
Easy Switches
And because so many of these pieces are great basics, you can easily switch this table up!
For example, I grabbed this set of six red napkins for the fourth of july.
I changed out the coral for the red at each place setting.
Then I replaced peaches with a small vase with two flags.  Simple patriotic table for your BBQ next week in two easy steps!
More patriotic dining table options:
More Summer Spaces
I also shared some other spaces in my home styled for summer here.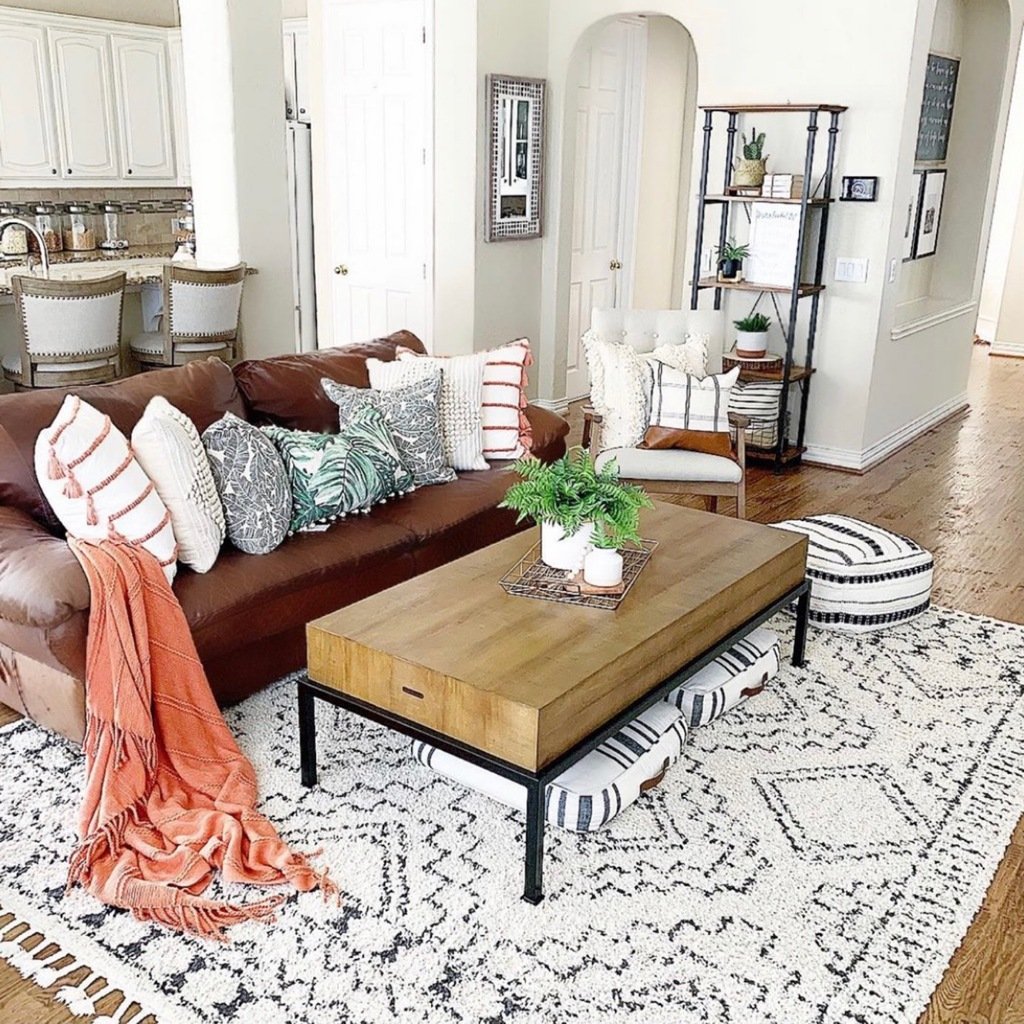 I hope more than a pretty table, you take time to create pretty memories with your people!  Grab a peach, soak up the sun and make it a great summer!
Be sure to head to my friend Kelly's blog, The Tattered Pew, next to see what summer inspiration she has to share!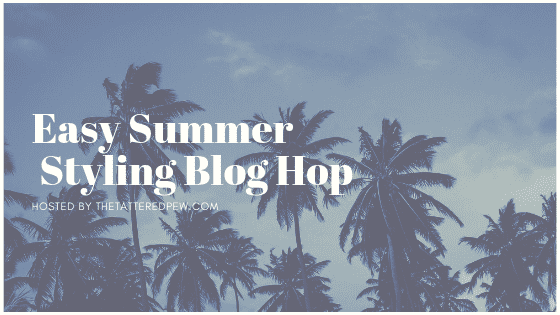 Come enjoy 13 talented bloggers sharing some easy summer styling this week! Sharing with me today are…
Wednesday

And sharing tomorrow…
Thursday


Sharing is caring:
Feel free to pin away!