Today I'm sharing some Trader Joe's essentials. If you have been around here awhile, you know my love for Trader Joe's runs deep!
I love all their unique Trader Joe's specific items, the fun, seasonal items they add every few months and the fact that their pricing is affordable!
So with your help via Instagram, I put together a list of Trader Joe's essentials. If you have never visited a Trader Joe's, hopefully this will serve as a grocery list of sorts to help you grab the "essentials" that are unique to TJ's.
Just download, save and print the file above!
If you are a seasoned Trader Joe's shopper, maybe this will introduce you to a couple of new things! There are a few on this list I had never grabbed until you all suggested them!
If you feel something amazing has been left off the list, please don't hesitate to let me know! These are my personal favorites and items that were recommended again and again by those of you that follow on Instagram!
Side note: How cute is this heart succulant planter? This was a seasonal item for Valentine's Day!
Flowers and Greenery
As you enter a Trader Joe's be sure to check out their seasonal flowers and greenery! They always have a beautiful selection at great prices! I am so ready for peonies!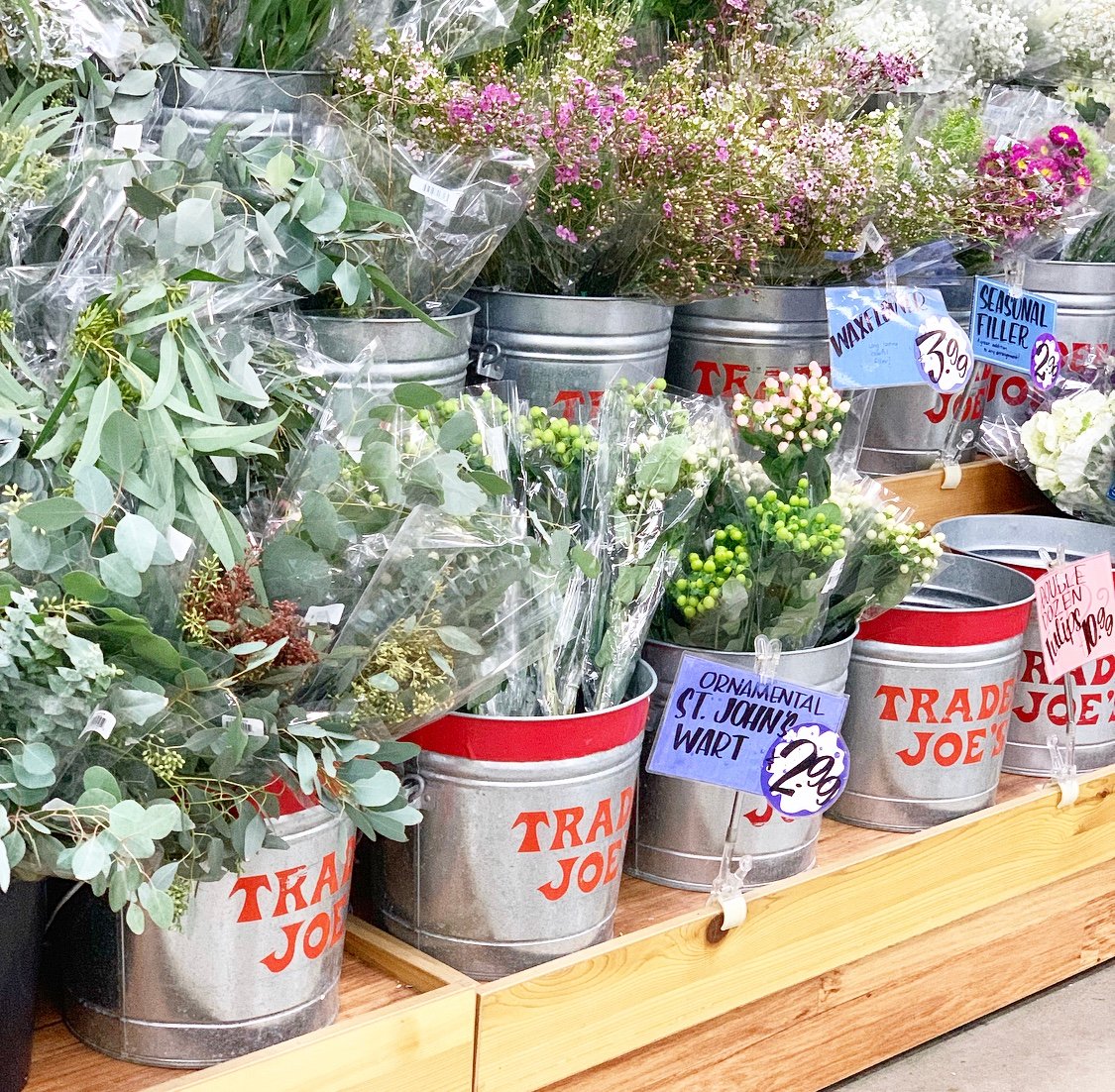 Cards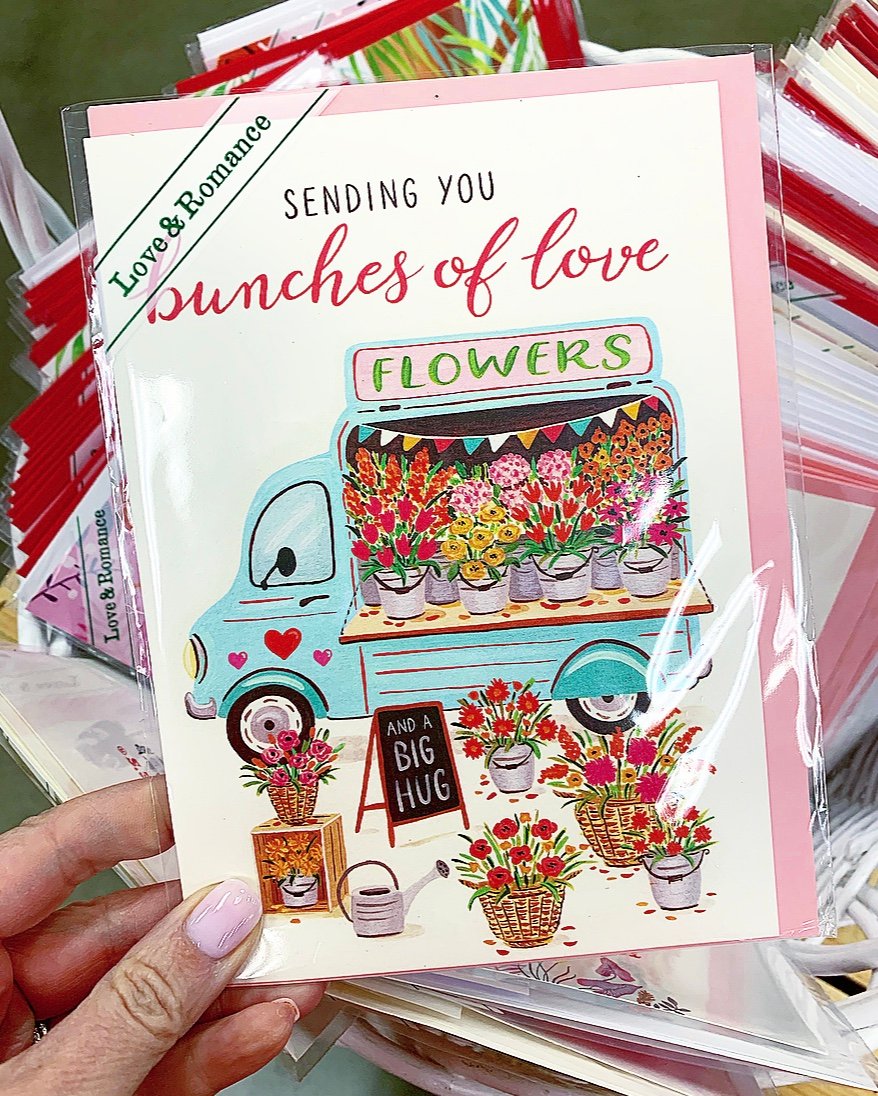 TJ's has some of THE cutest cards that are very inexpensive (.99-$1.99)
Green Goddess Salad Dressing
In the produce section and SO good! Check out their salad kits too! They have some unique ones that are great!
Hummus
Trader Joe's has their own brand of hummus that comes in lots of unique flavors!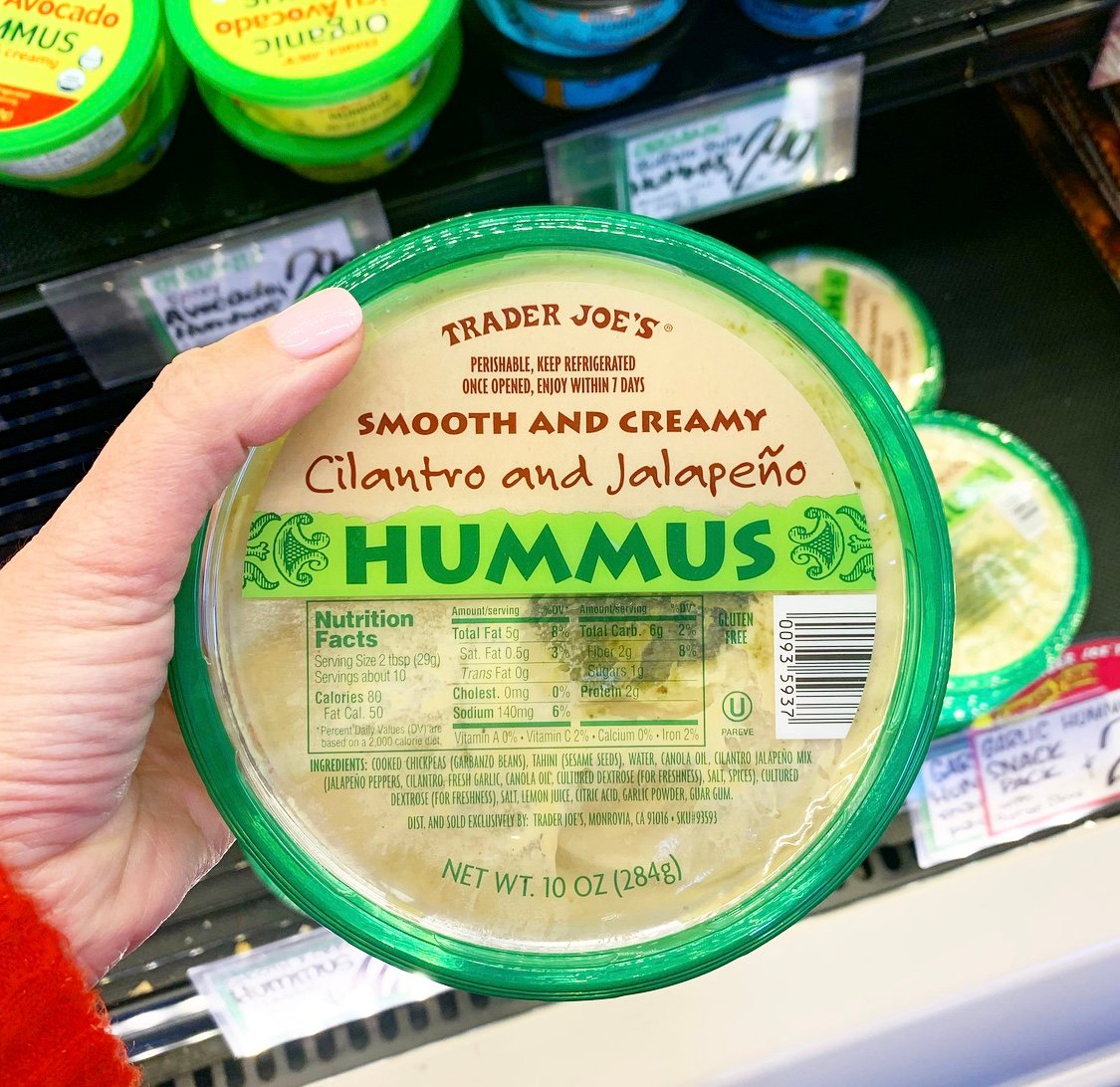 The cilantro and jalapeno is my personal favorite.
Bacon Cheddar Ranch Dip
Check out all the dips, but this one is my new favorite with their corn dippers or elote chips!
Unexpected Cheddar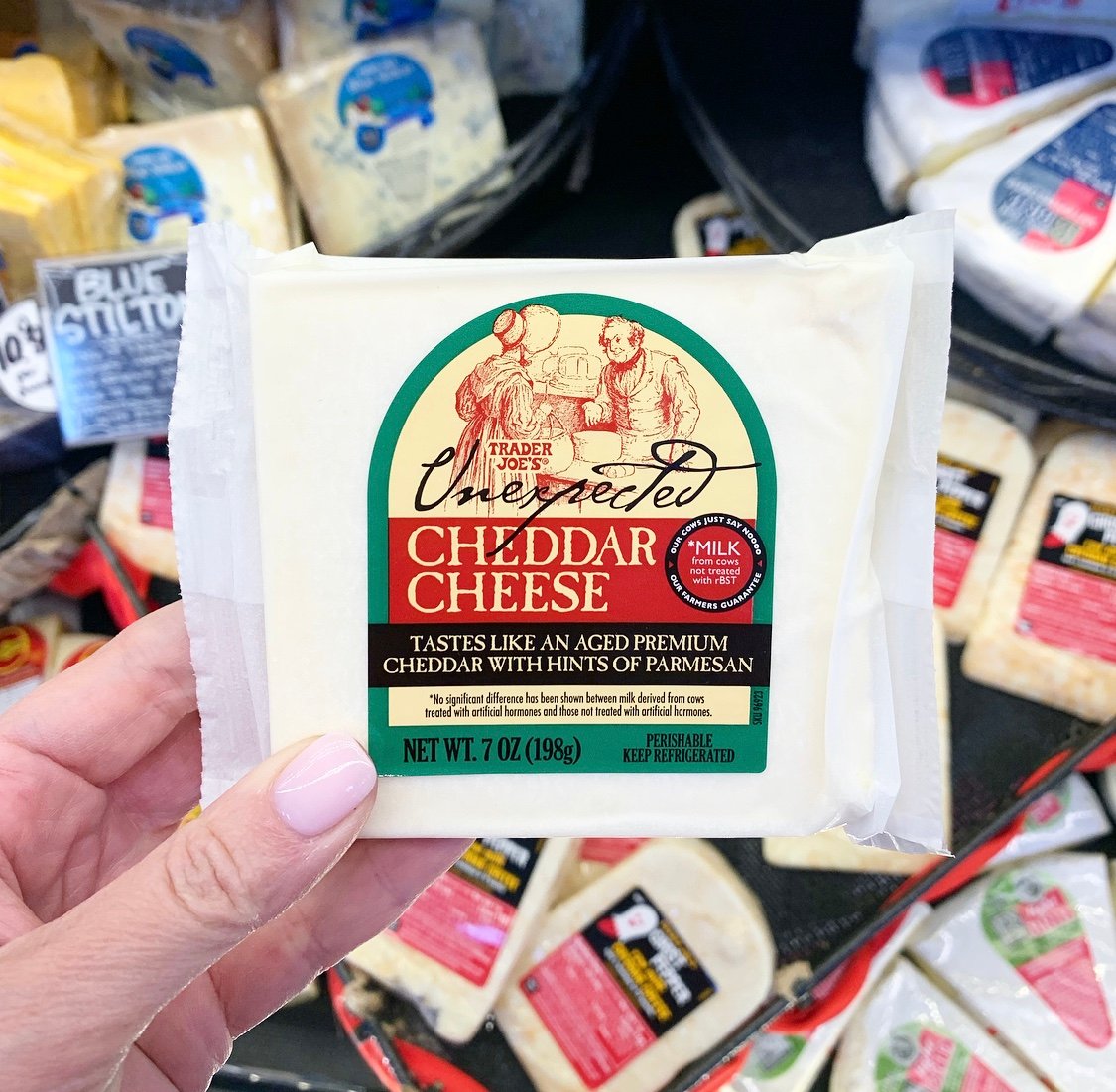 This is one that SO many of you recommended. The different flavored brie was also recommended!
Carne Asada
The flavor of their carne asada is SO good! I used in a recipe HERE.
Antipasto Assortment
If you are making a charcuterie tray, grab one of these!
Just $9.99
Sausage, Ravioli, and Vodka or Tomato Basil Sauce
These three things make an AWESOME, easy meal. The ravioli flavors vary but I promise you will find one that sounds good to you. Pick a chicken sausage to go with it, and grab either the vodka sauce or tomato basil. This is one of my boys' favorite meals. I share how we make it HERE.
Sriracha Ranch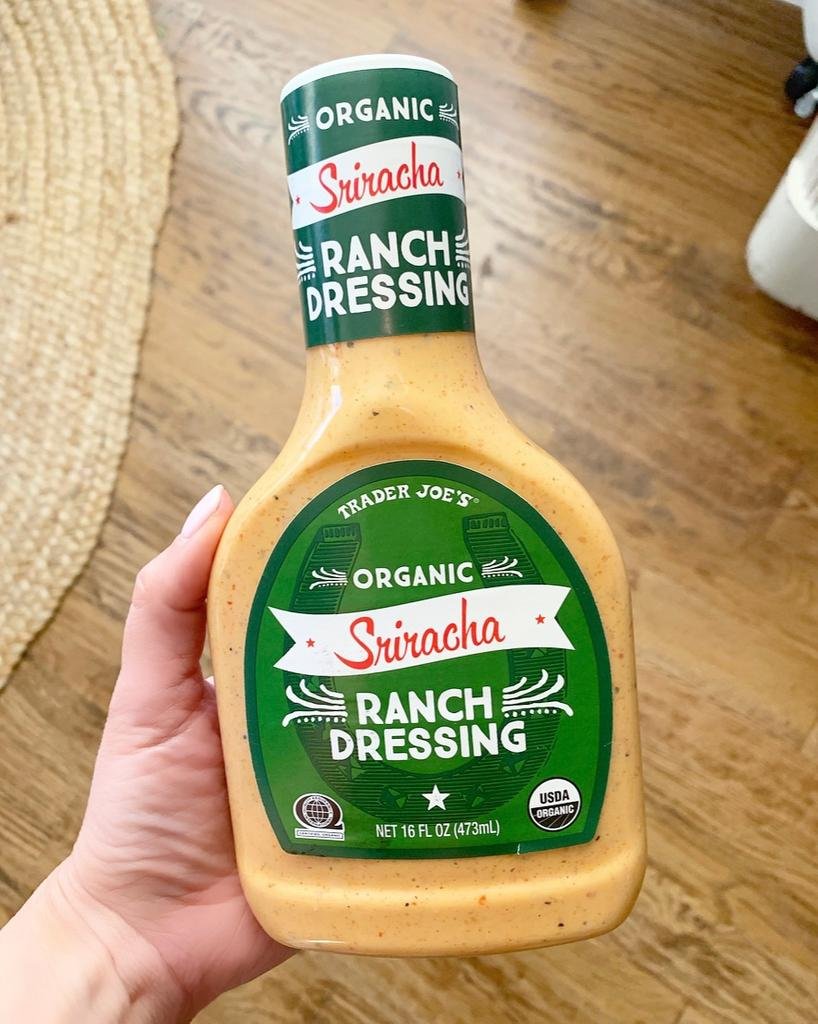 This is one I had not tried, but many of you recommended!
Green Dragon Sauce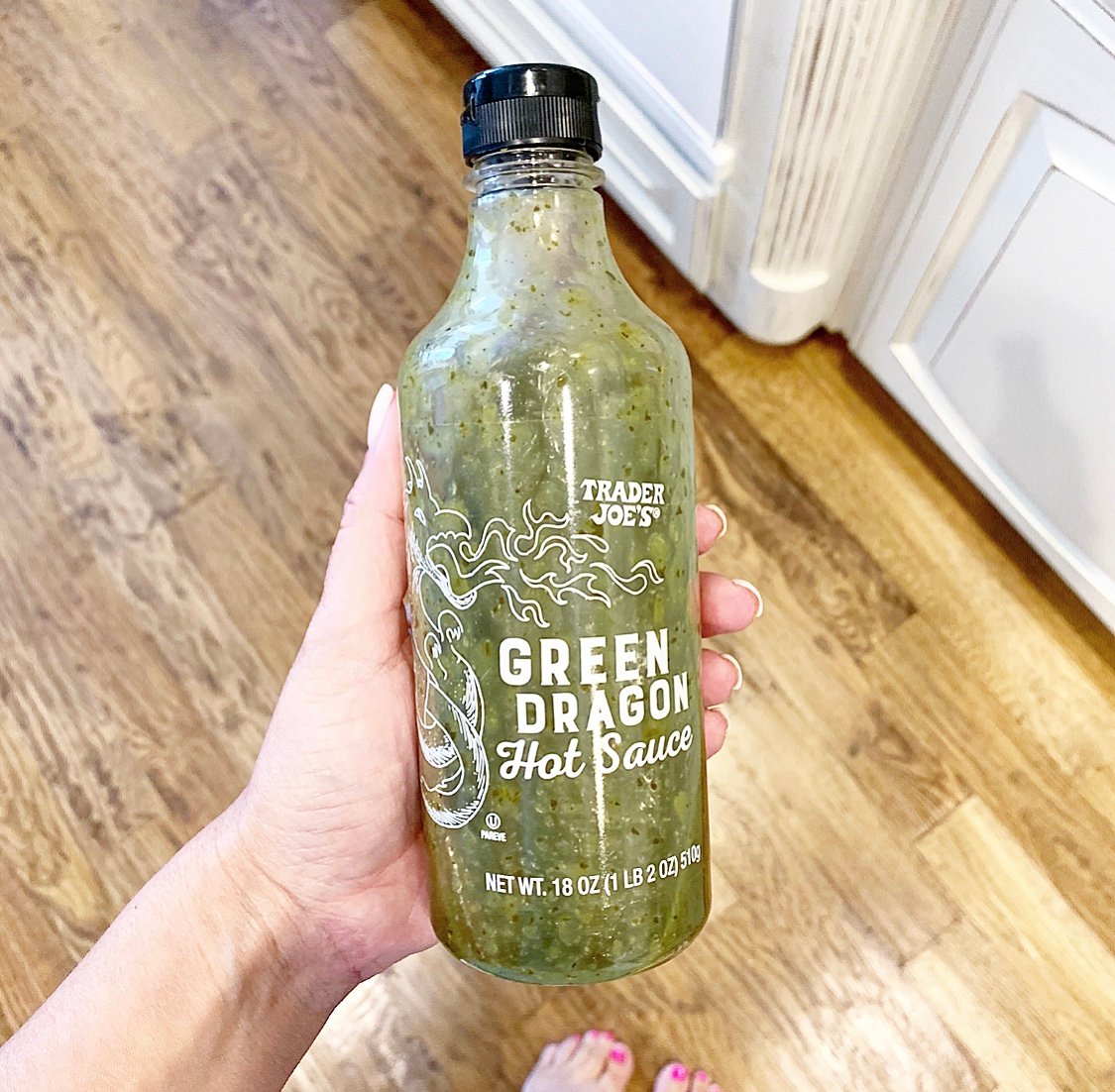 Another spicy option that is SO good! I used it as a marinade HERE.
Everything But the Bagel Seasoning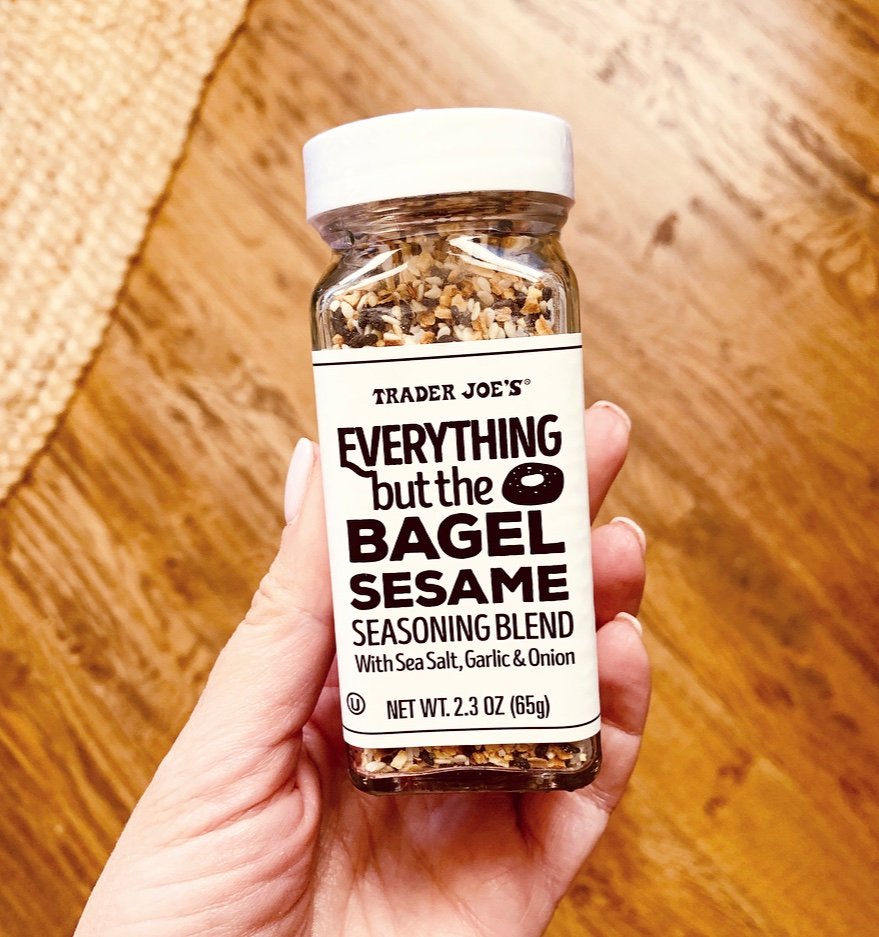 This seasoning is awesome on SO many things! Eggs, popcorn, avocado toast….it is a MUST!
Chili Lime Seasoning
Perfect for seasoning chicken and fish!
I used it for chicken burrito bowls HERE.
Cookie Butter
You will love me or hate me for introducing you to this if you have never tried it! It's not healthy, but it's AMAZING!
I shared five recipes using it HERE, but it's also just good on apples, bananas, pretzels or by the spoonful!
Frozen Mashed Potatoes
This was another rec from you guys that I just bought to try!
Frozen Roasted Corn
This corn has great flavor and is great to use in all kinds of recipes.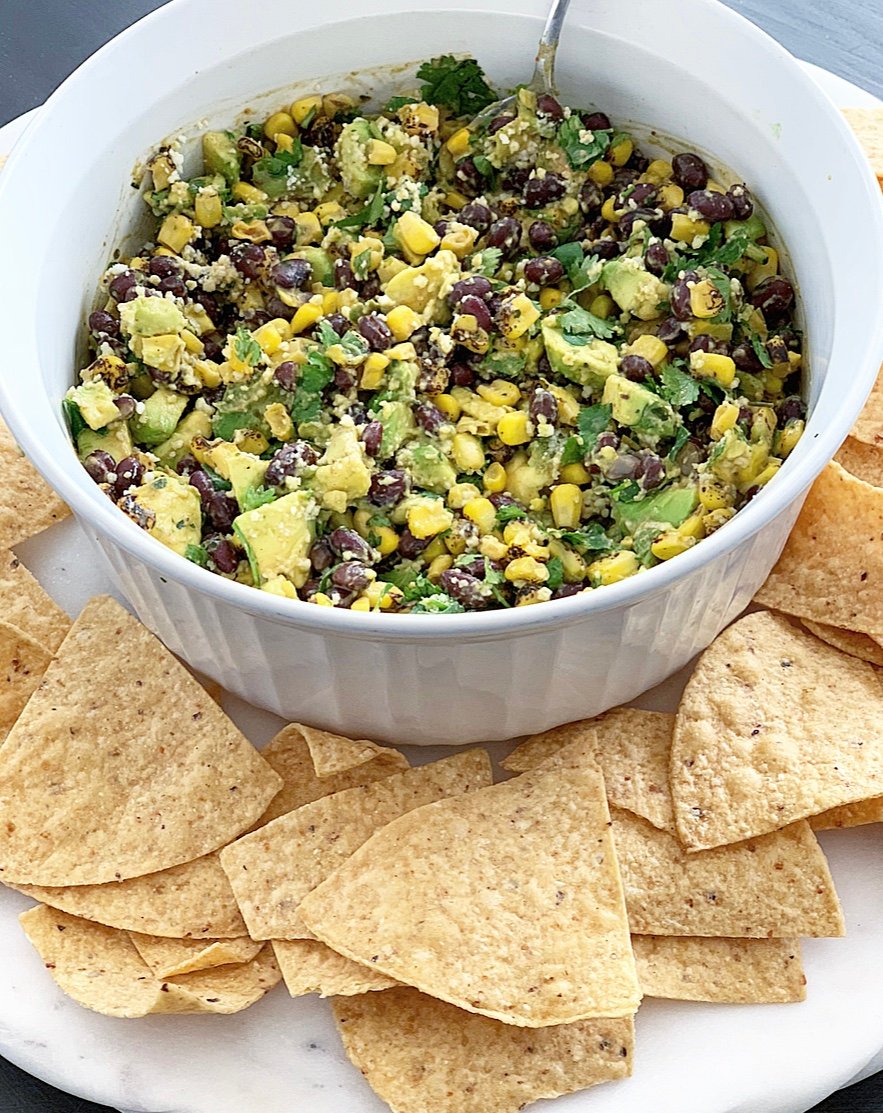 I also use it to make this dip HERE.
Frozen Spinach and Artichoke Dip
This is a great dip to just have on hand at home because you make it in the microwave in less than five minutes!
Gnocchi
I feel like Trader Joe's gnocchi is very polarizing….people LOVE it or hate it.
I like the cauliflower and sweet potato best, and recommend grabbing a bag to try for yourself if you are there!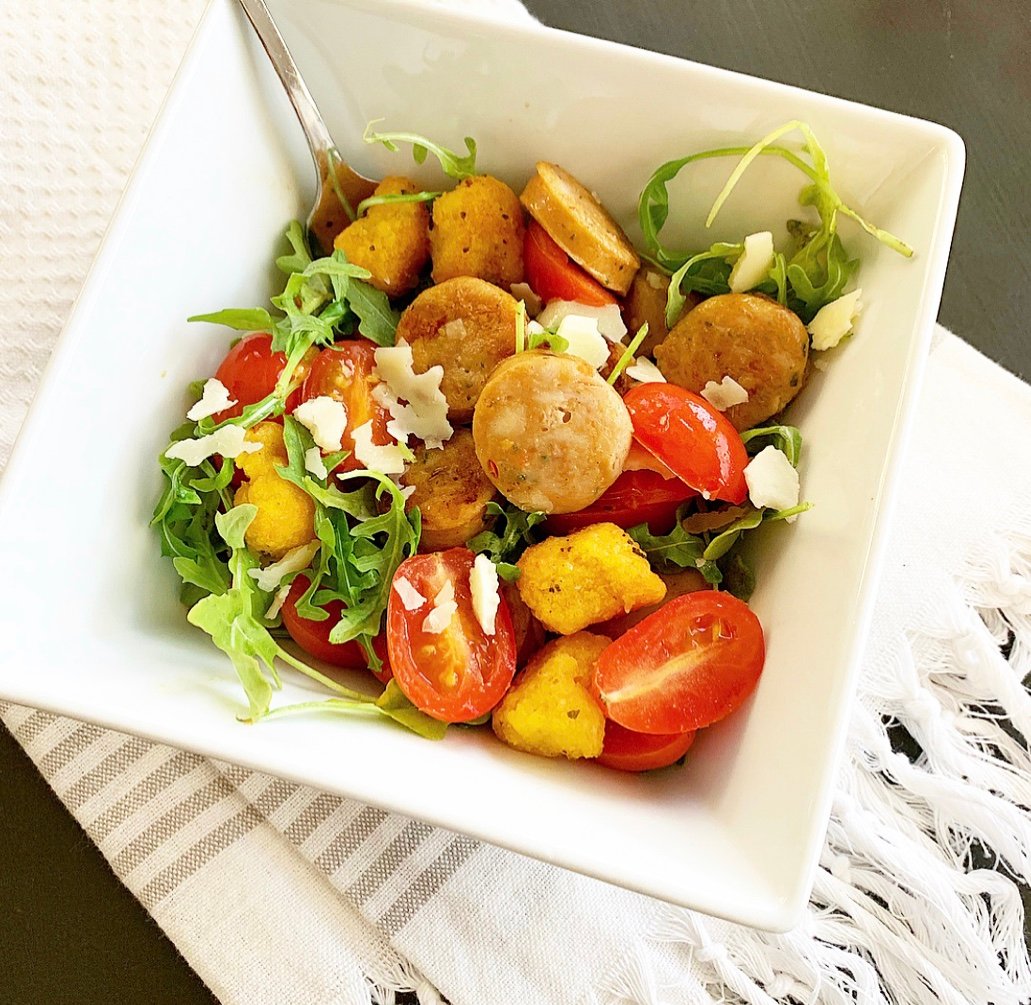 I made this recipe using the sweet potato gnocchi HERE.
Gone Bananas and Gone Berry Crazy
My kids request these frozen chocolate covered bananas and strawberries every time.
Orange Chicken, Fried Rice and Riced Cauliflower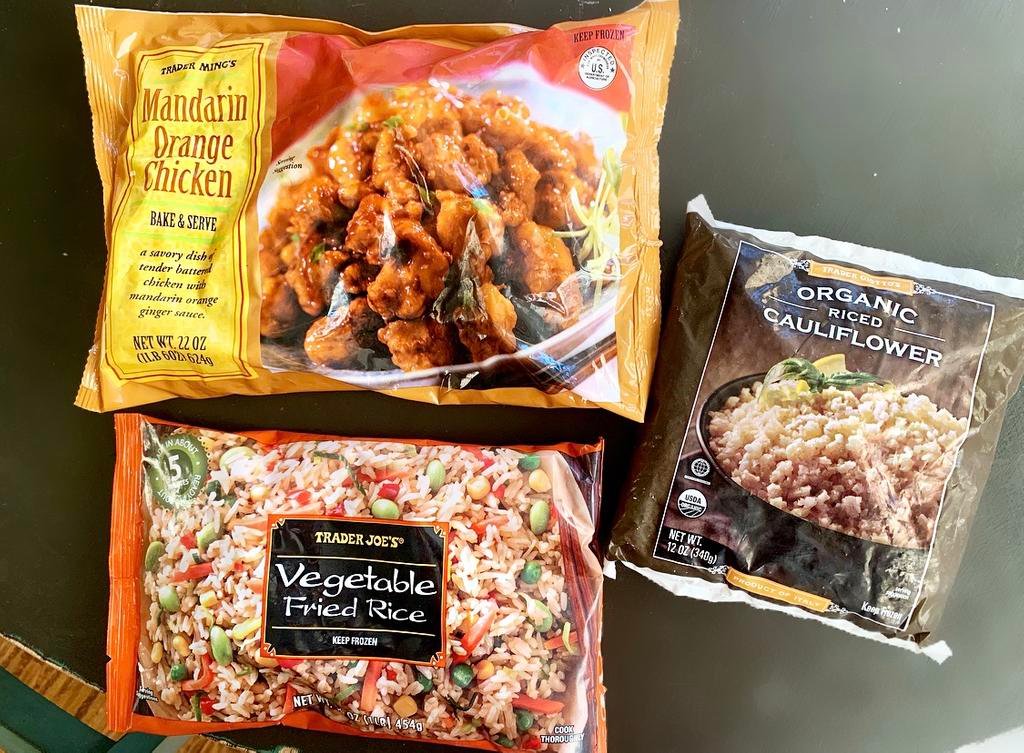 These three items from the frozen section make a quick, easy meal and are SO good! I also sometimes add an egg to the fried rice…..it's just like Benihana up in here! Haha!
Pancake Bread
This loaf tastes like a stack of pancakes with syrup! It is another one of my boys' favorites!
Gluten Free Cinnamon Raisin Bread
Again, for my GF people, this is the best we've found! It also is great to use for french toast!
Gluten Free Cornbread
My hubby tries to avoid gluten, and Trader Joe's hands down has the best GF cornbread mix.
Kringle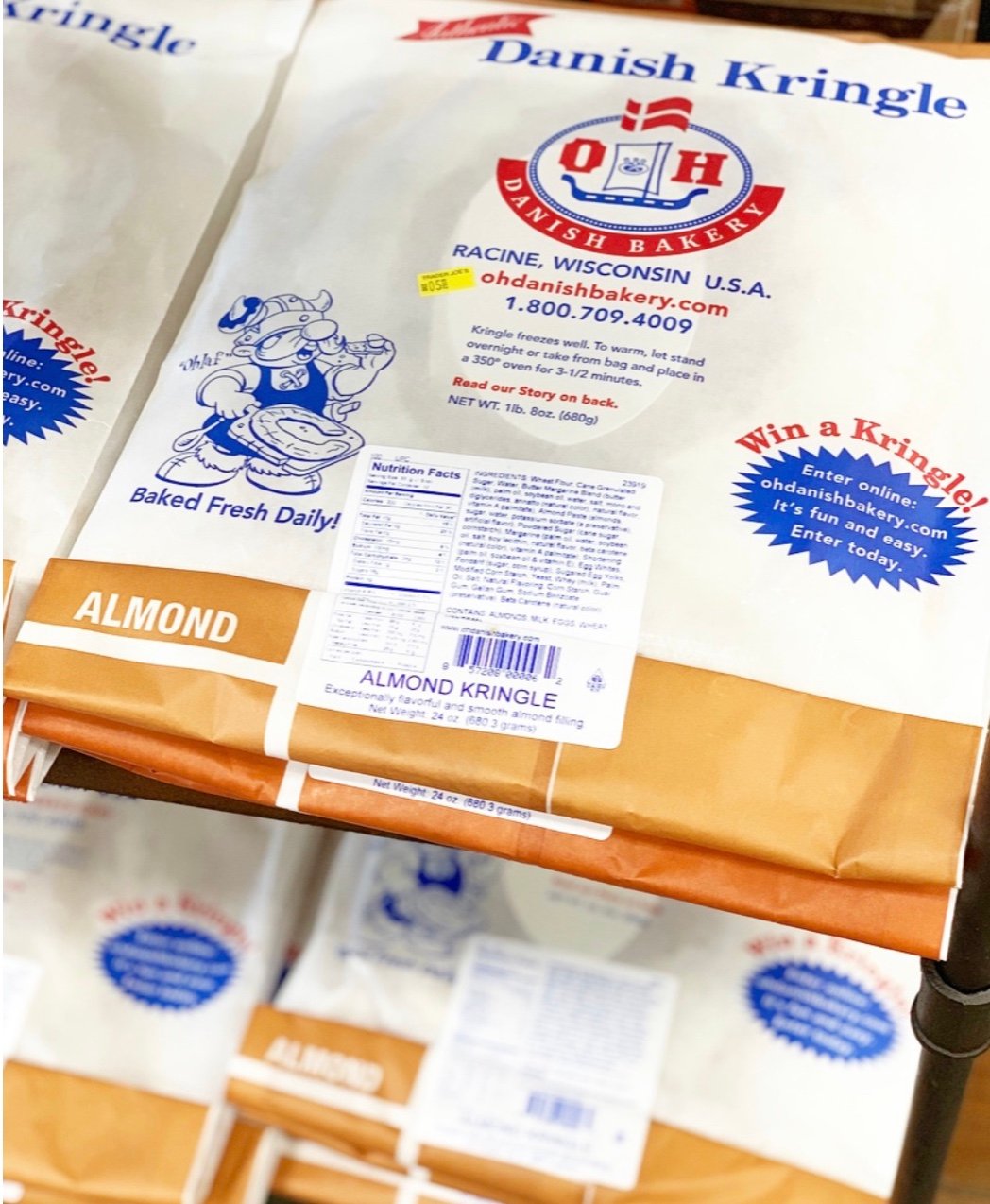 These Danish pastries freeze well and are ready in minutes! They have new flavors each sesason (almond is my favorite!). I keep a couple in our freezer at all times!
Supreme Hydrating Eye Cream
This is a newer item that many of you recommended! The hair mask was also a big rec from y'all! Can't wait to try!
Wine
Trader Joe's is famous for it's "Two Buck Chuck" , aka Charles Shaw wine, that used to be $1.99 and is now $2.99 a bottle. I personally am not a huge fan, but for three bucks, you might as well grab a bottle and try it for yourself!
And if you need motivation to drink, take both your kids to Trader Joe's with you….kidding boys….sort of!
I hope this list is helpful for all you first-timers to Trader Joe's!
Be sure to check out these posts about seasonal favorites as well!
Find my Trader Joe's FALL favorites HERE.
Find my Trader Joe's Christmas favorites HERE.